This is the harness thread, post your questions about car wiring and we will try to help you. If you make diagrams and can contribute, great. If you have suggestions for the first post, let's hear them!
I am no longer in the harness making business, but I am happy to help out!
Anyone can make their own harness, I didn't have any experience when I started, just needed something to work, and here we are today!
Crimpless - Solder joints are a much better connection, acts like a solid piece of wire. *subject to debate*
Heatshrink - your best friend for a watertight seal - electrical tape is ok, use it liberally. Heatshrink is also necessary for mechanically stabilizing solder joints. For example when you don't have a proprietary connector; solder wires on, and then heatshrink 4 layers or more on and around the plug so that when the wires are yanked, they pull on the plastic heat shrink tubing not the solder joints.
Relay sockets - so you can replace your relays if they die and the user can actually do it themselves. female 1/4" spade clips are ok, but if you unhook them from the relay, you lose what wire goes where.
No diodes! - unless you are using them for a specific purpose like passing power/ground to low beams from high beams in order to keep lows on while hitting your highs... IMO they are unnecessary. A relay socket replaces the need for a diode across the coil. If Bosch wanted diodes on their relays, they would have specified them. Replace the relay if it dies, don't alter your wiring to possibly extend the life of the relay.
Split loom - makes a nice clean finished appearence the higher the temperature rating, the better.
Silicone sealed relay sockets - to seal out moisture
Wire - 14 gauge is about as large a gauge as I personally would use. 16 gauge is also fine for lengths < 6 feet.
OEM male connectors - to attach to stock wiring to get your "triggers" for your relays. SUVLights or Rallylights has them for ~6-8$ a piece. Or you can cut off a bulb, solder wires on, and use heat shrink tubing to mechanically stabilize the socket. see heat shrink tubing.
Hints
A Butane torch is VERY useful for large solder joints of 3+ wires. Good joints should have the solder flow into the wire so it looks like a wrinkled rasin, not a ripe one!
Some heatshrink tubing is rated at it's final shrink size, and some is rated at it's before shrunk size. There is 2:1 shrink or 3:1 shrink, also there is a dual wall kind where the inner layer melts, oozing out, creating a water proof joint.
Radio shack heatshrink tubing sucks, don't write it off if you've had bad experiences with it.
Helping hands are a necessity.
Quick strip tools work great:
Start with a Messy Table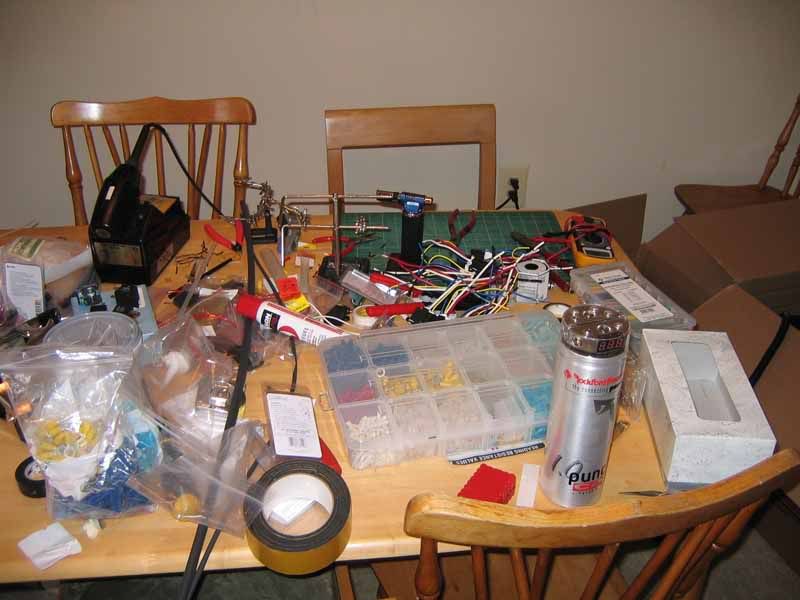 Get LOTS of wire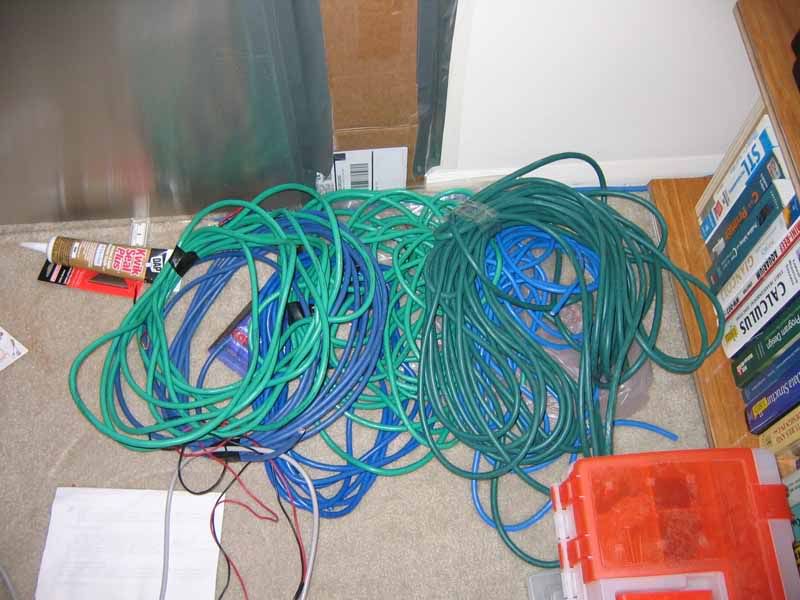 Box of Split Loom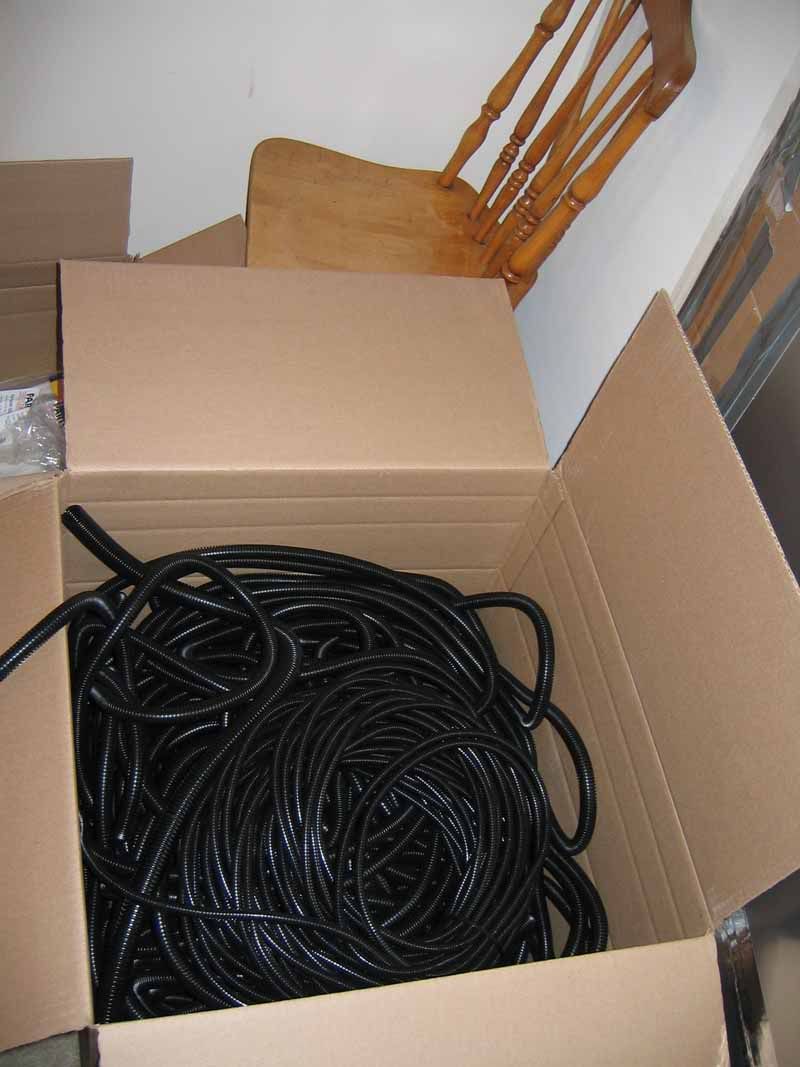 Tons of Cable Ties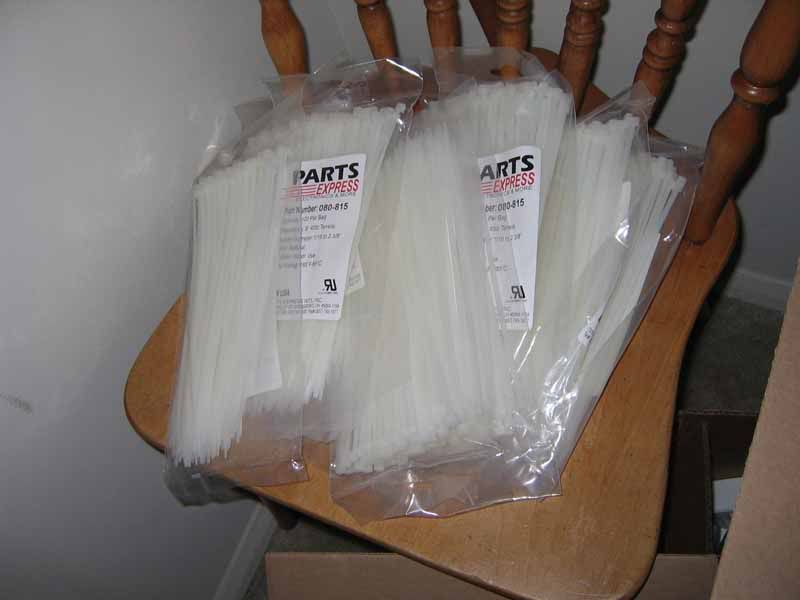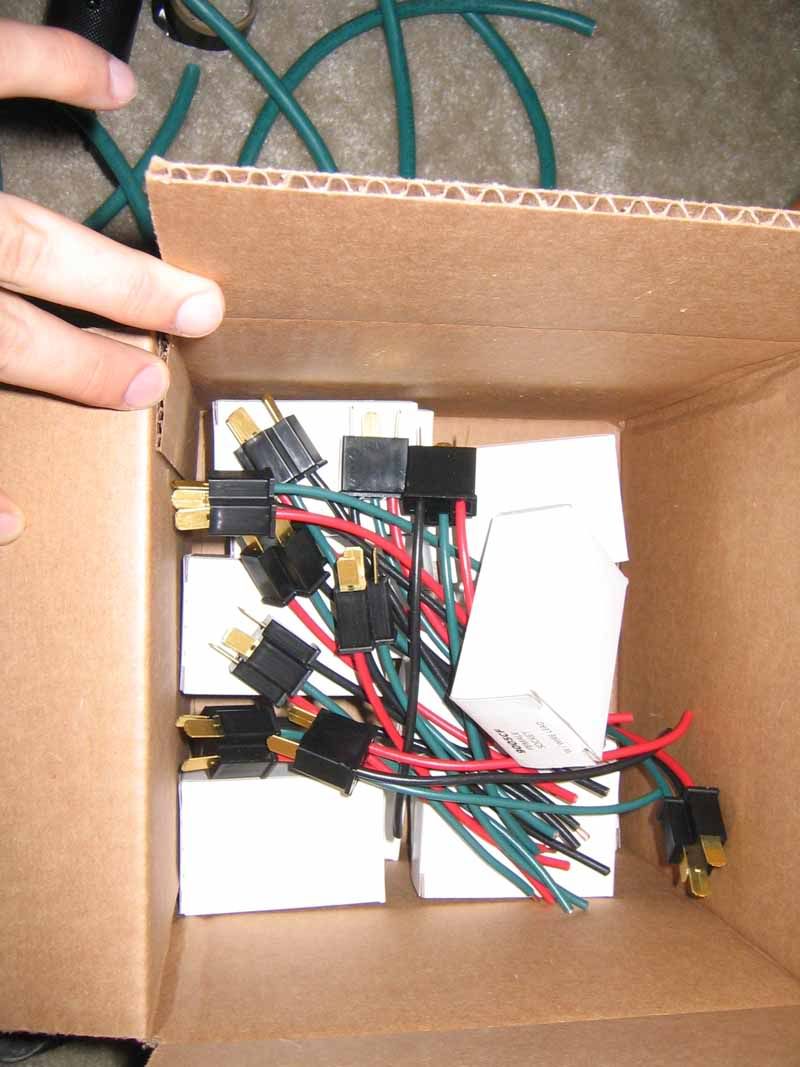 Nice little butane torch for heatshrinking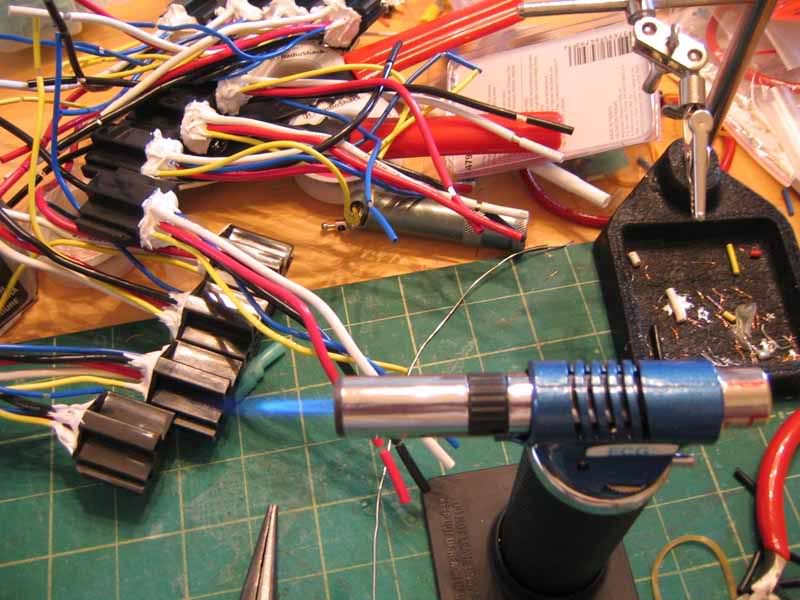 Soldering Station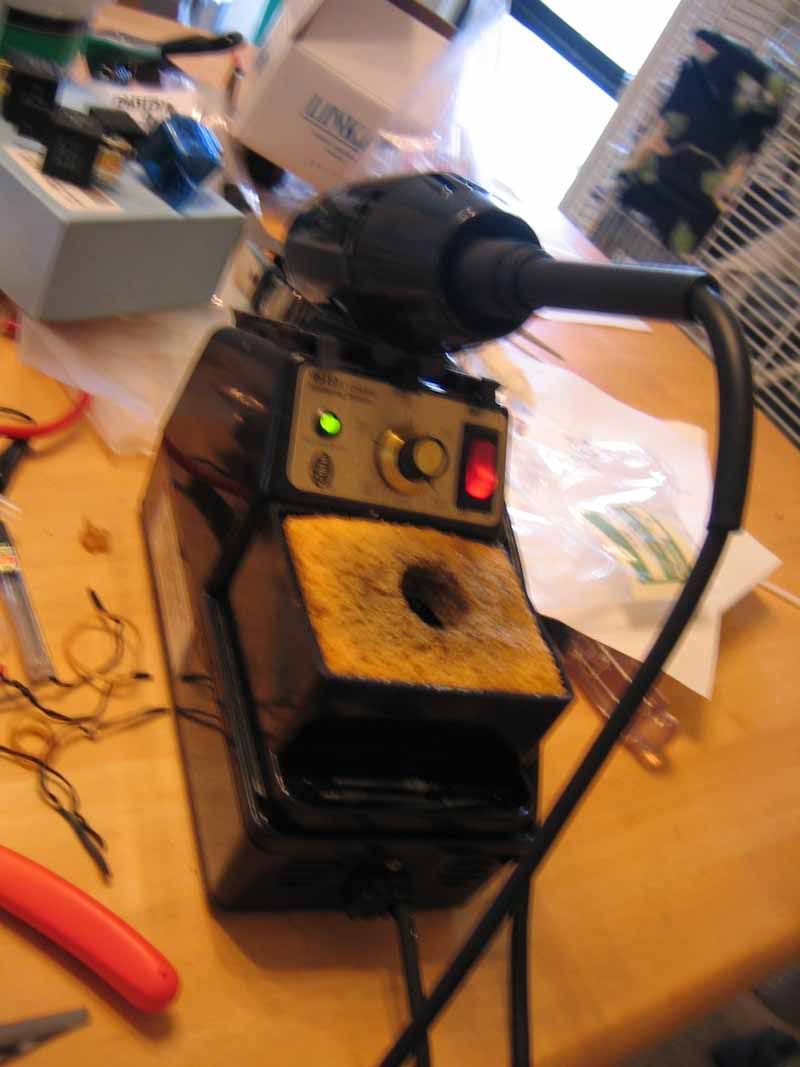 Strip back outter Jacket: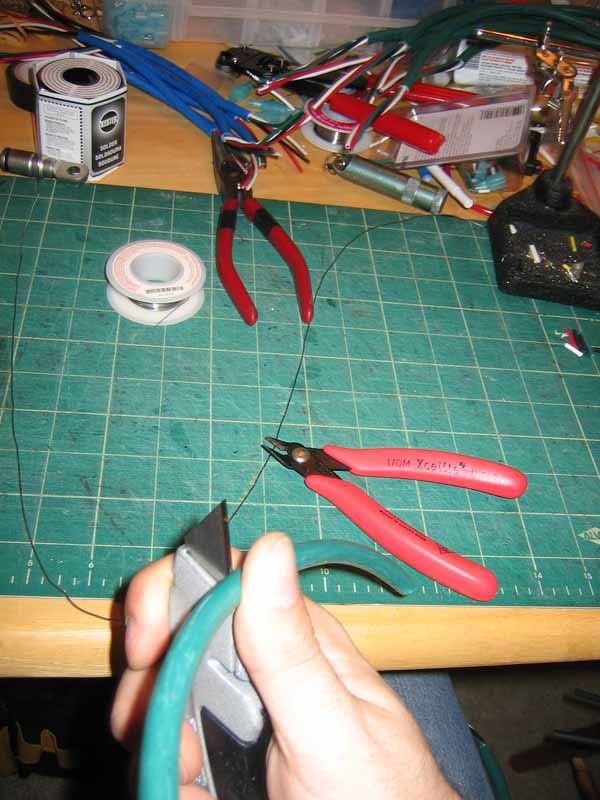 Good solder joints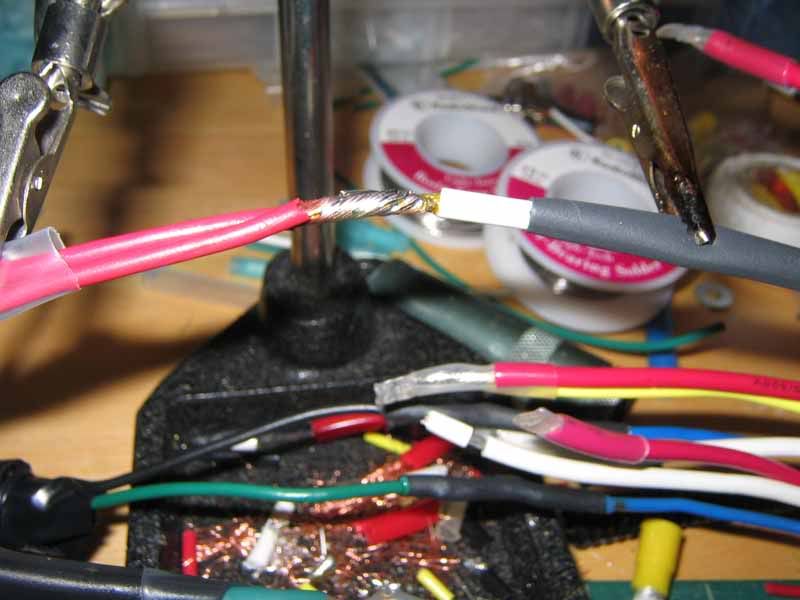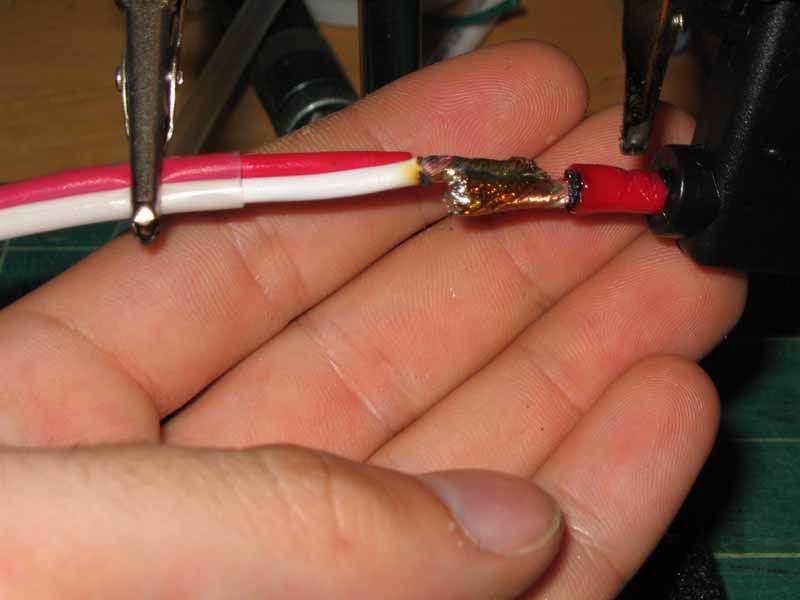 Torching heatshrink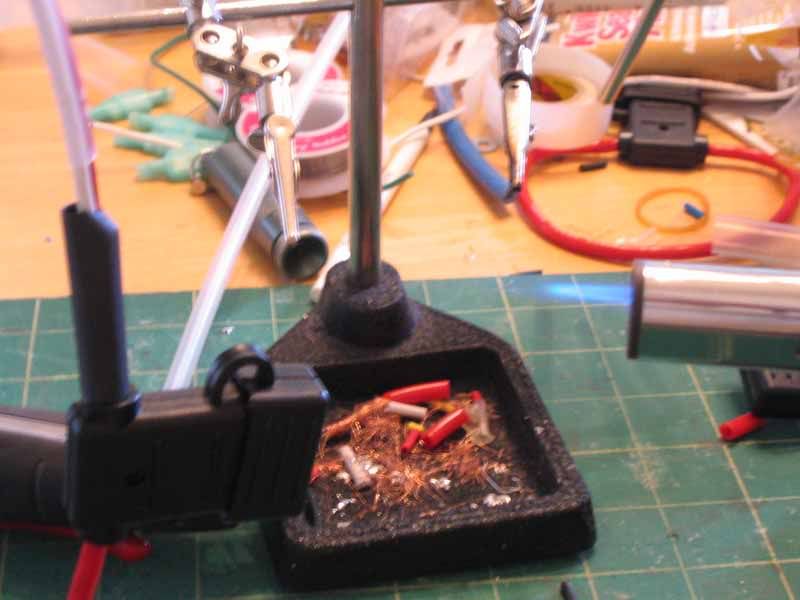 Every joint gets heatshrink (or tape)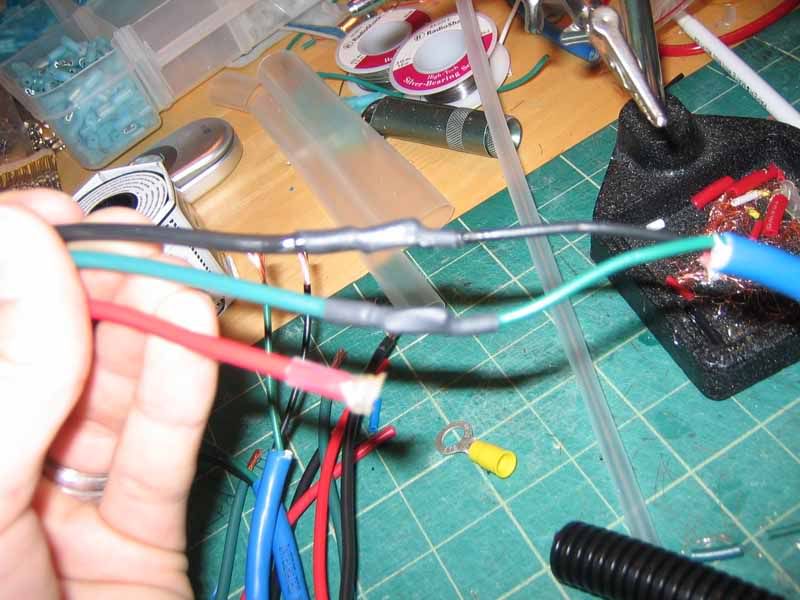 Lots of connectors
You can see this heatshrink tubing has an inner layer which melts, and oozes out to make a water tight seal. This is the good $hit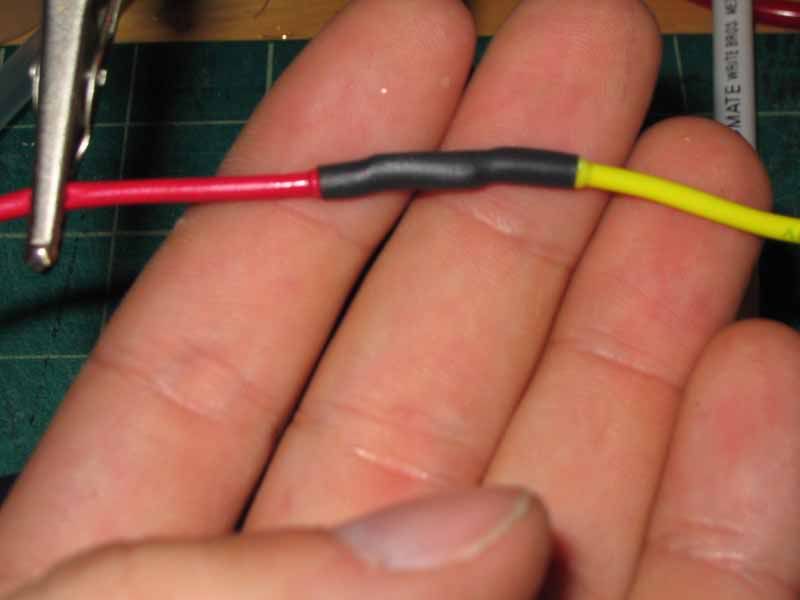 Unused wires get terminated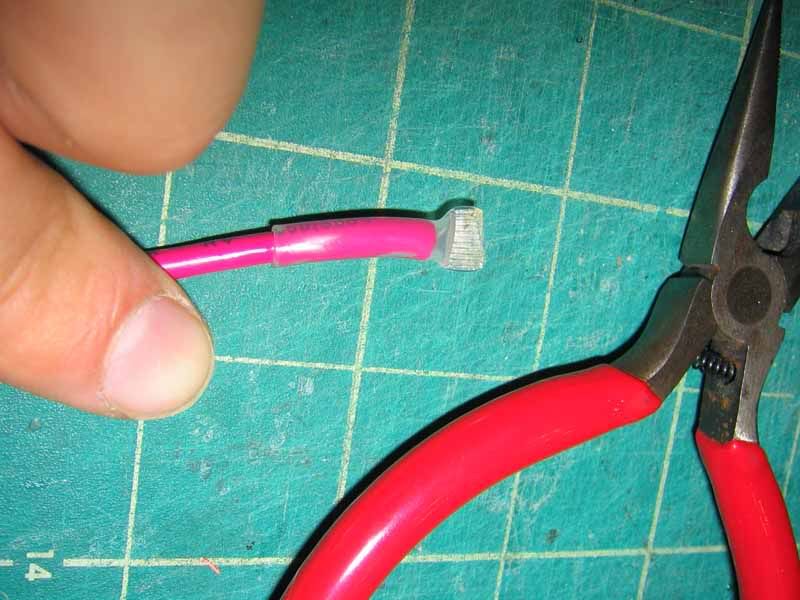 Battery Terminal:
Final Product 9006 for 04/05 harness: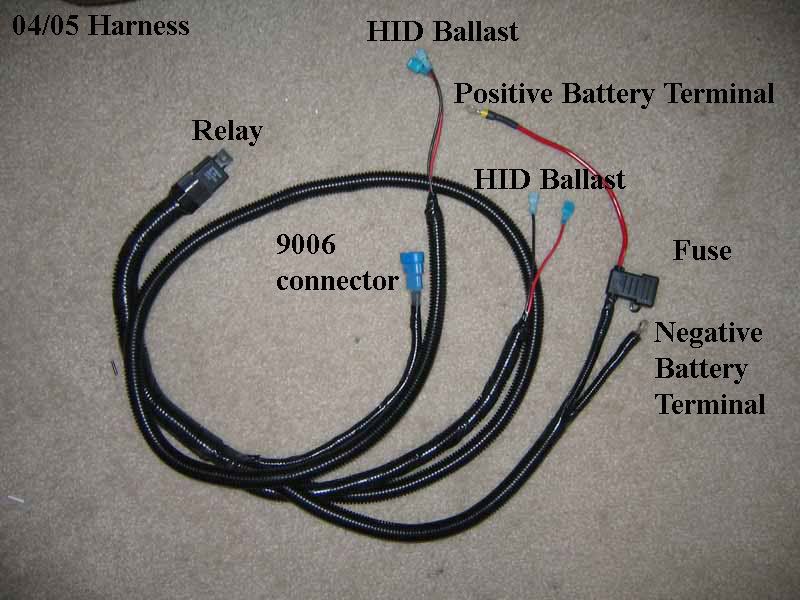 Final Product for H4 02/03 harness: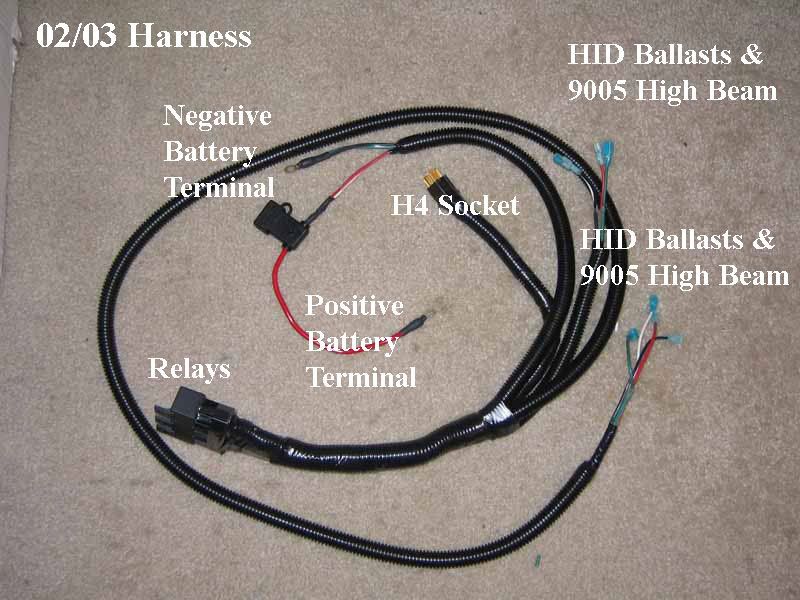 3 completed 02/03 harnesses for ECU EP, TrafficJamsEp, and Psylovibe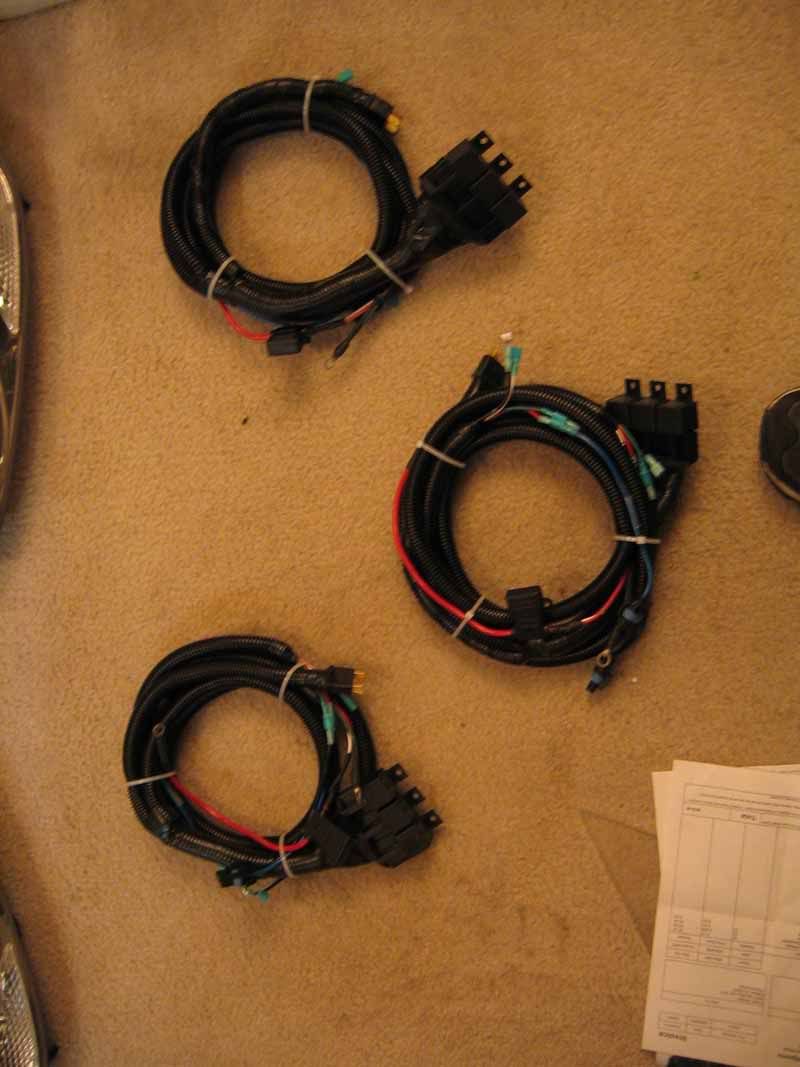 Back of Headlights, quick disconnects soldered and mechanically isolated with 5 layers of heatshrink tubing.
*Update, some diagrams*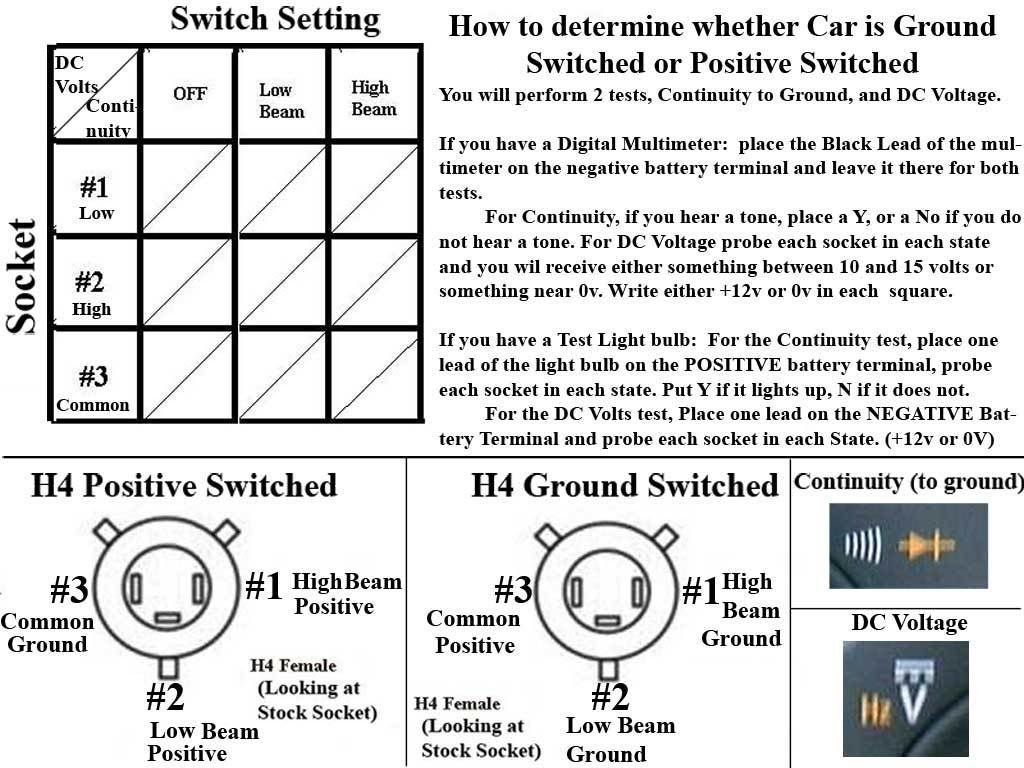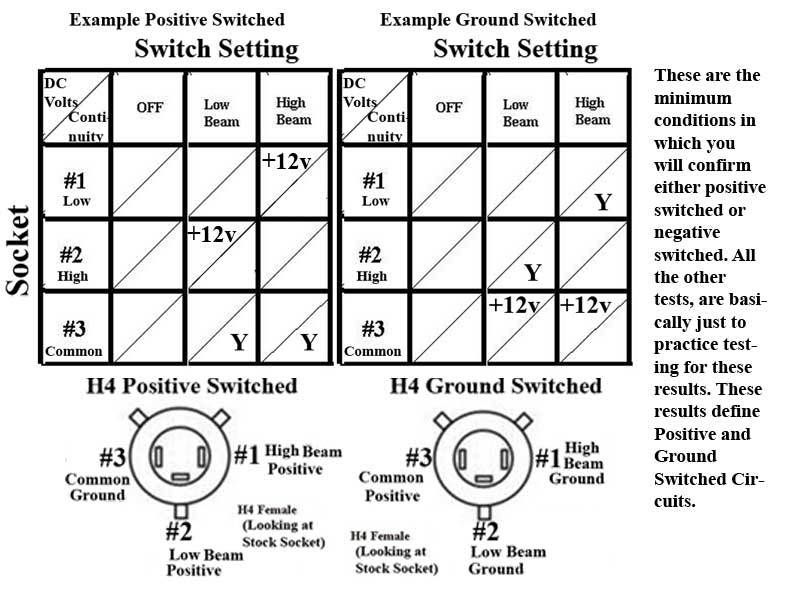 9006/9005/H1/H7 or any 2 pin bulb Upgraded Harness: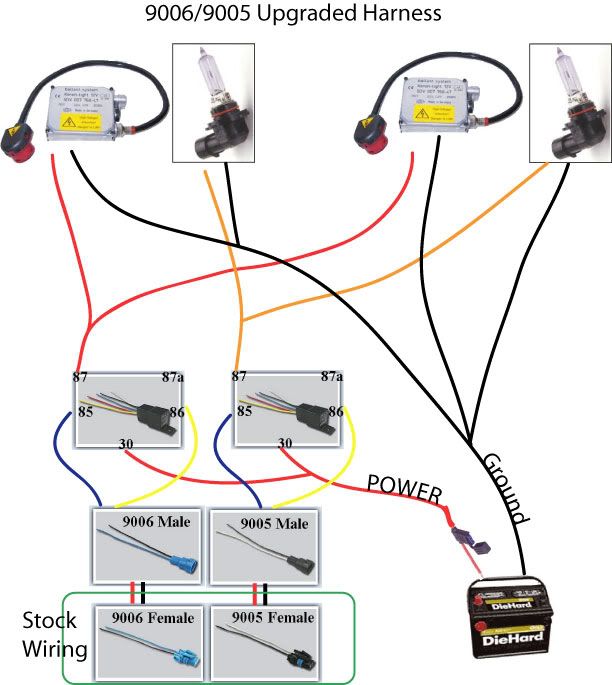 Same thing but just 1 harness... You can use this for H1, H3, H7, H11, H9 etc... but NOT H4, 9004, or 9007. Any OEM bulb which takes 2 wires, you can use this for.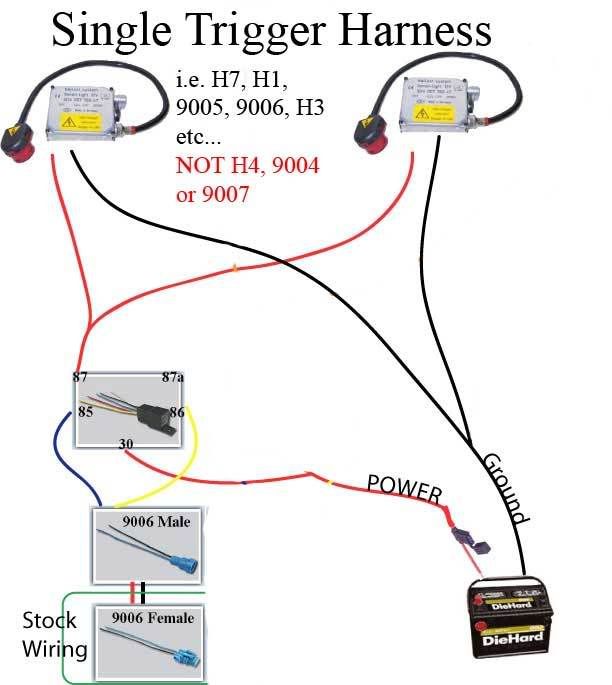 H4 to 9005/9006 (dual filament bulb to 2x single filament bulbs)
GROUND
switched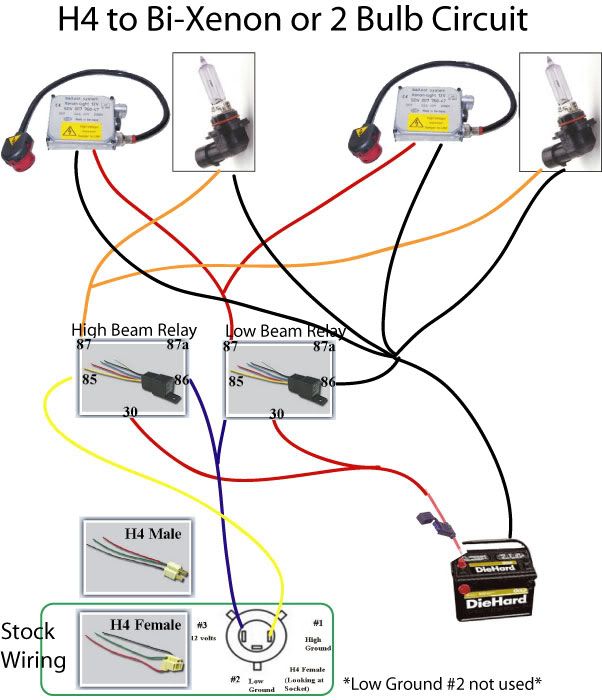 http://img.photobucket.com/albums/v5...on_Harness.jpg
H4, 9007, 9004 Positively Switched Bi-Xenon Only harness
And an excellent schematic nicely donated by JAZZ (pg11)
GROUND
switched
You have to know whether you have positive switched or ground switched. Honda civics 1999 and before are positive switched, 2000+ are ground switched.
Ground switched and positive switched means exactly that, you are passing either power or ground. Positive switched is the most logical, you have ground always available, and just get a +12volt signal when the time is right. In a ground switched vehicle, you have a common positive always available, and get a ground when necessary.
In an H4 socket, you have 3 wires, common, low and high. You basically need to find out if your common wire is positive or ground in the low beam position. Look an Sarosh's diagram below... this is what a positively switched H4 layout gives you:
And here is a working schematic for
POSITIVE
switched H4 cars.
Here is an additional schematic which keeps the low beams HIDs on when you flash to pass for up to 1 minute. Excellent for Bi-Xenon... Also by JAZZ
GROUND
SWITCHED ONLY
H4 Single Low beam HID Setup:
GROUND SWITCHED ONLY!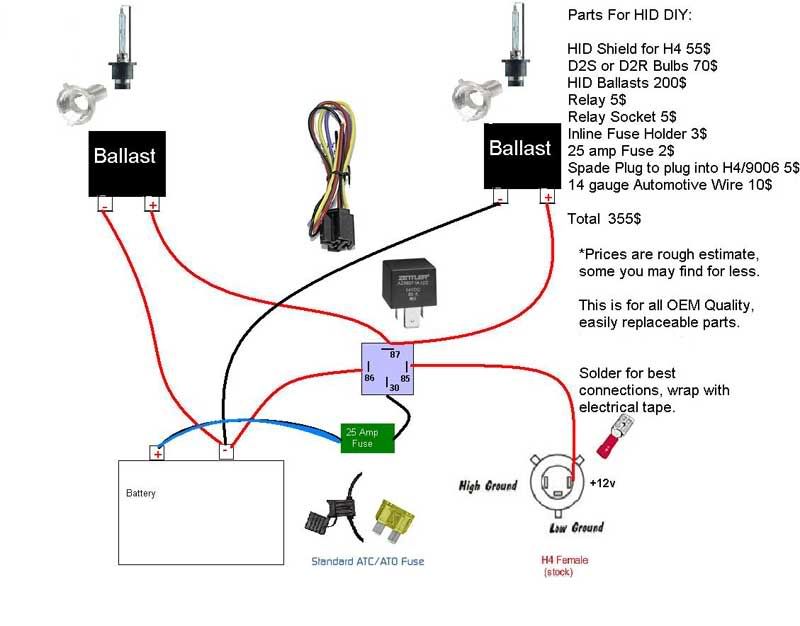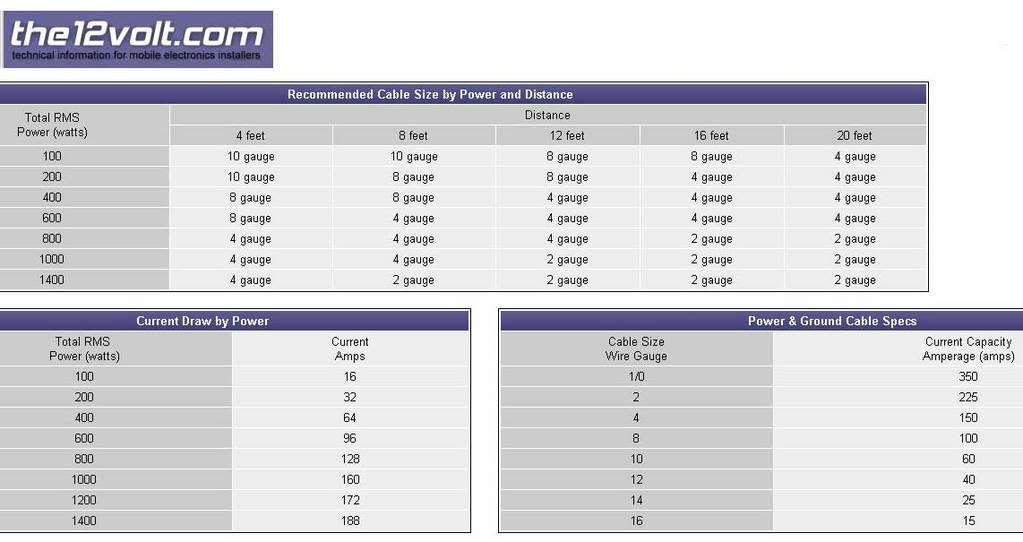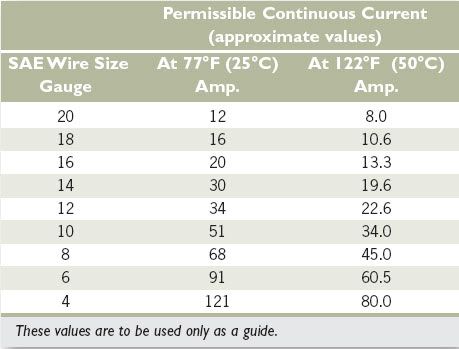 Many people wanted the low down on crimp vs. Solder... here's my opinion:
Criming is definetly NOT better than soldering. Soldering is definetly NOT better than crimping. Each has a strength and weakness.
My personal preference still is with soldering. I have seen many many crimped joints fail where as I have yet to see a solder joint in a harness fail.
It's impossible to get 4, 12 gauge wires to stick in a crimp terminal, and this is often the requirement when making a harness. For small gauge wire up to 16 gauge, you can probably get up to 3, but forget using a crimp for anything greater than 16 gauge.
I don't use a soldering iron because the gauge wire we use in harnesses makes all but the largest duty soldering irons ineffective. I use a blow torch. It gaurantees you will not have a cold solder joint, and it will wick up to create a much stronger joint than a crimp terminal could ever hope.
However I do use crimp terminals for all quick disconnects, and will continue to do so. I also use them in small quick jobs, and have seen them used appropriately when you don't need to joint multiple wires.
Crimps are quick and easy, and people tend to make more mistakes because of this. Soldering requires alot more concentration, and has the ability to make a much stronger joint.
If you think about crushing metal together versus melting solder, resistance and durability wise, solder wins hands down.
As for gas/water resistance, I use electrical tape. I use TONS of it, I may use half a roll per harness. Solder is cheap, crimp terminals like you suggest can be 0.50$ a piece... like these:
http://www.partsexpress.com/pe/showd...number=095-914
Imagine the price of stocking crimp terminals... it's very expensive and adds to the cost significantly.
Here is the tool that I have:
http://www.partsexpress.com/pe/showd...number=360-642
Ratcheting Crimp terminal with various dies for stamping.
Here is the torch I use for soldering harness joints:
http://www.partsexpress.com/pe/showd...number=372-208
If you're going to do this professionally to make money, it's faster to use crimps. But it is impossible to make good joints with multiple large gauge wire for harnesses like these require. And it creates a greater resistance than a good solder joint makes.
The key is that it depends on the person making the harness. If you're sloppy, it's going to turn out sloppy with either method you use. If you want the best possible connection, solder offers a stronger joint (no arguing that metal is stronger than plastic) and you can make it every bit as water/gas tight with heatshrink that has a melting inner layer, or just wrap the shit out of it with electrical tape which I find to be the easiest and strongest mechanical joint because you can make it as thick as you want.
Good solder joints are stronger, lower resistance, and cheaper than crimp joints. But they do take more time.
Good Crimps are strong, minimal resistance, a tad expensive, but much quicker if you are going to churn out a ton of these.
Each has it's strong points and benefits, and I've made hundreds of harnesses, and I will continue to use solder on all critical joints, and crimps on anything I want quick disconnects for. The readers are welcome to make up their own mind.
Originally posted by houstinojillian
pic from there:
__________________________________________________ _________
Wire Gauge Question:
Originally posted by koojo
Here is an excellent site to prove that you're not losing much power to use 18 gauge wire... and you could use 18 gauge all the way around. Let's prove the benefits/problem with using various sized wires.
When you use too small of a wire, you lose voltage because there is a resistance of the wire. Greater wire size, less resistance. But 18 gauge is not that much worse than 10 gauge really since there is such a low resistance already with 18 gauge.
http://www.powerstream.com/Wire_Size.htm
Standard 55watt Halogen Low beam @ 12 volts = 4.583~ Amps = 1100 lumens (halogen produces 20 lumens per watt) If it was really recieving all 12 volts it would be 1100 lumens, but since there is some resistance it's going to produce less. Let's be fair and say 10 feet for the longest run of any car/truck could use.
18 gauge Wire = Voltage at load end of circuit: 11.397 so 4.583 * 11.397 =52.23watts *20 lumens/watt = 1044.65 lumens = 66 lumens lost.
16 gauge wire = 11.618V so 4.583 amps * 11.618v = 53.245watts * 20 lumens/watt = 1064 = 36 lumens lost
14 gauge wire = 11.762V so 4.583 amps * 11.762V = 53.905 watts * 20 lumens/watt = 1078 = 21 lumens lost
12 gauge wire = 11.85V so 4.583 amps * 11.85V = 54.309 watts * 20 lumens/watt = 1086 = 13 lumens lost
10 gauge wire = 11.906V so 4.583 amps * 11.906V = 54.565 watts * 20 lumens/watt = 1091 = 9 lumens lost
6
Now hot much is a lumen? A lumen is roughly 1 5mm LED... roughly, see here:
http://led.linear1.org/lumen.wiz
So you're getting diminishing returns, the difference in going from 18 to 10 gauge incrimentally is 30 - 15 - 7 -4
So imagine 30 LEDs, is it worth it to go from 18 to 16 gauge, sure... what about from 16 to 14 gauge, you gain 15 LEDs... ok, sure... how about 14 to 12 gauge, now you gain 7 LEDs... mayyyyybeee... now 12 gauge to 10 gauge you gain 4 LEDs... It's just not worth it to me to go to 10 gauge.
But for HIDs, the ballasts are a constant current/voltage power source, so no matter if you feed 10 volts or 15 volts, it will ALWAYS produce the same 85volts AC, no matter what. This is like a discrete number, either on or off. It either works or it doesn't with HIDs, so there is no point going past 16 gauge, 14 if you're pushing it.
For the 10 inches of relay wire, you could use 22 gauge and probably not notice any voltage drop, go ahead and try it on the page above to prove it to yourself. 10 feet is a big distance, 10" is not.
I can understand running 12 gauge for Halogen bulbs, but for HIDs, 16 gauge is plenty, and 14 is overkill.
I'm going to put this on the front page because it was a good question, hopefully this answers your questions.