This is for some people who have inquired as to how I used a cheap old Computer power supply to run my ballasts in my house.
It's a great source for a cheap power supply. You can get 5 volts, 12volts in the 10 amp range for very very cheap. They also have short circuit protection so you don't fry them or have to replace fuses
*Disclaimer* This can be dangerous, the voltages inside can be lethal if power is running through the capacitors, always drain the power supply before working inside of it. If it has been off for some time, it is probably safe. YMMV I've never had problems.
I just want to spread a little education when it comes to opening your computer's power supply unit.
I've taken one electronics college class way back in 2001. However, there was an individual who also took the class that was working as a tech who repairs those cabinet arcade game machines. Yup, the voltage running around in there can kill on contact. Yup, same for the computer's power supply.
This is very simple, all you need are some leads such as these
http://www.maplin.co.uk/images/Full/GW921039.jpg
Simply take the black lead (black always means ground) and insert the right angle connector into the GROUND connector on an extension cord. Basically you are plugging the lead into the ground of an extention cord.
Now with the pointed part, sweep it over ALL THE INTERNALS of the power supply. This will effectively discharge all the stored voltage to earth ground. Now you can grab those parts with your bare hands without dying Ya winkles
I've played around inside my old CRT by doing this. I do think my hand brushed something cause I got 3 little circle "burns" which I have no idea how that happened.
PS: I am not (repeat) NOT responsible nor liable for any mistakes you make in following my post. This information is provided for educational purposes only.
There are 2 kinds of Computer PSU (Power Supply Units)
AT style, used up until pentium 1. This is the cheap kind since it's no longer used. I found 3 for 20$ on ebay... You are looking at the amperage of the 12 volt line mainly. basically any AT style power supply will run 1 ballast fine, 2 ballastst probably. 10 amps is perfect, 8 amps ok, 12 amps great.
The P8 and P9 connectors determine whether it's a AT or ATX...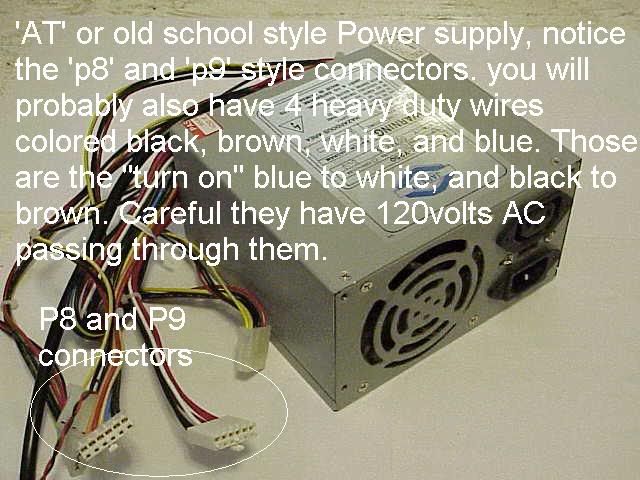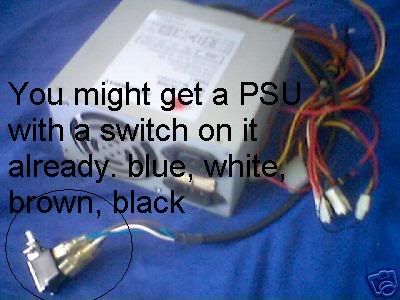 The newer ATX style power supplies have a different motherboard connector, and do not have any switch directly linked to the power supply like the AT do.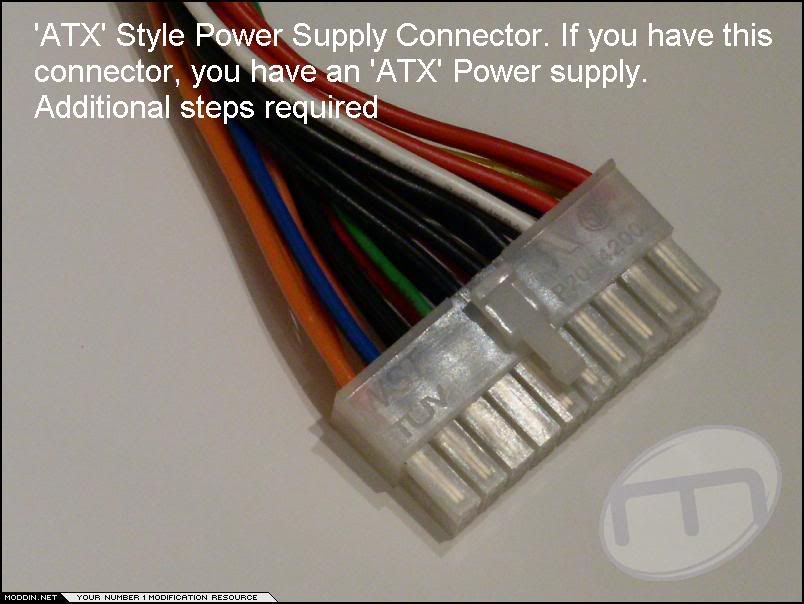 Now you can use either one, but they vary in how you modify them.
Basically this is what we're going to do, take all of the extraneous wires coming from the power supply and either ignore them, or do what I did and desolder them from the motherboard.
But there are SOME wires we need to keep, and it depends on which kind of power supply you have.
Both AT and ATX power supplies have multiple voltages coming out of them. on the standard molex connector seen here: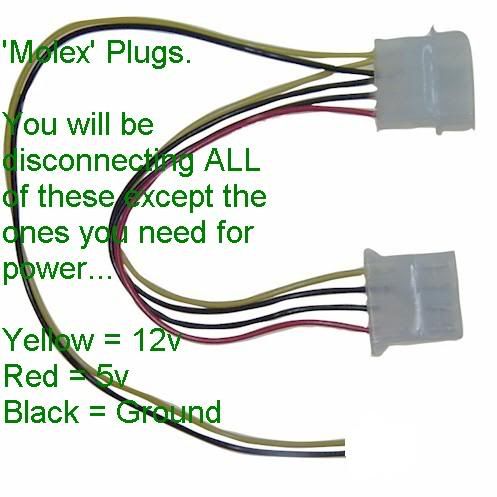 I desoldered every molex wire except I kept 1 which I saved the 12 volts for my eventual alligator clip test leads to my ballasts (yellow and black) and I saved the red and black to run the fan so it would be quieter.
These power supplies are called switching power supplies, voltages can be very dangerous, make sure there is no stored power inside, and NEVER work on them while plugged in. The power supplies need the 5 volt line (red) to have a load on it. I had a turn signal from my car lying around and it worked fine. Without the load the 12 volt line will fluctuate and usually it will not even turn on.
Before we start taking all the wires off of the power supply, what wires do we want to keep?
AT:
from the above picture the blue/white and brown/black "switch" wires, leave those alone. this will be your switch wires eventually.
Also leave 1 set of molex wires for your 12volt leads and to load the 5v line.
ATX:
On your big 20 pin connector, save the # 14 wire which is green, AND a black wire. this will be your switch eventually to turn it on.
Also leave 1 set of molex wires for your 12 volt leads, and to load the 5 volt line.
This list of wires taken from overclockers.com...
Table 1: AT PS M/B Power Connectors

Letter Signal Color Connector
A Power Good Orange P8
B +5v Red P8
C +12v Yellow P8
D -12v Blue P8
E GND Black P8
F GND Black P8
G GND Black P9
H GND Black P9
I -5v White P9
J +5v Red P9
K +5v Red P9
L +5v Red P9



Table 2: ATX PS M/B power Connectors

# Signal Color # Signal Color
11 +3.3v Orange 1 +3.3v Orange
12 -12v Blue 2 +3.3v Orange
13 GND Black 3 GND Black
14 Power ON Green 4 +5v Red
15 GND Black 5 GND Black
16 GND Black 6 +5v Red
17 GND Black 7 GND Black
18 -5v White 8 Power Good Brown
19 +5v Red 9 +5v_VR Purple
20 +5v Red 10 +12v Yellow


ATX PS's have a wire (no.14) on the M/B power connector called POWER ON, colored green (see Table 2). If you connect this to the next wire (no. 13 or 15, GND, colored black), the PS will start. So, take another simple switch, affix it on the empty bay cover & connect it to the POWER ON & GND.
Now some pics to show what I'm talking about. I am using an AT power supply as an example
Final product, all cleaned up, only 2 wires coming out, I kep the grommet to keep the wires from chafing.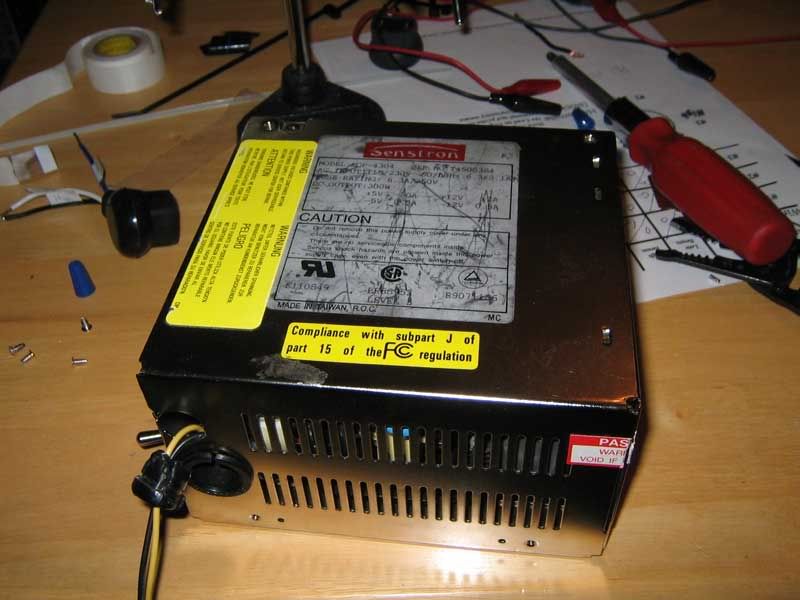 Your internals may look slightly different, but basically all you care about is keeping the wires you need as in above, the 2 fan wires which we will splice on to the 5 volt line (so it's quiet), and your switch wires. All the other random wires have no purpose for us, and you can desolder or cap them off inside.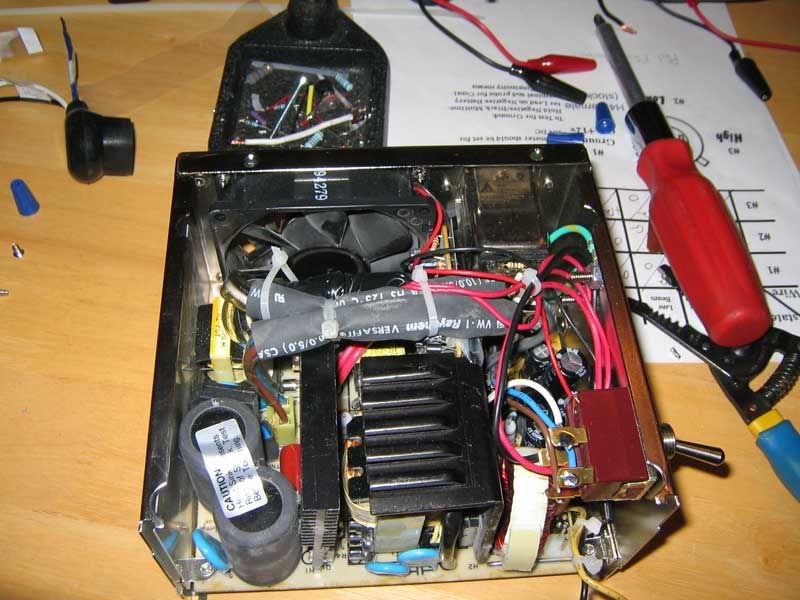 You can see all the wires pretty much are clumped together, 5volt will all come out of one area, 12v the same area, ground another area... I personally desoldered ALL the wires and added 12 or 14 gauge wires, since the stock wires are kinda puny, meant to be shared amongst 12 molex connectors...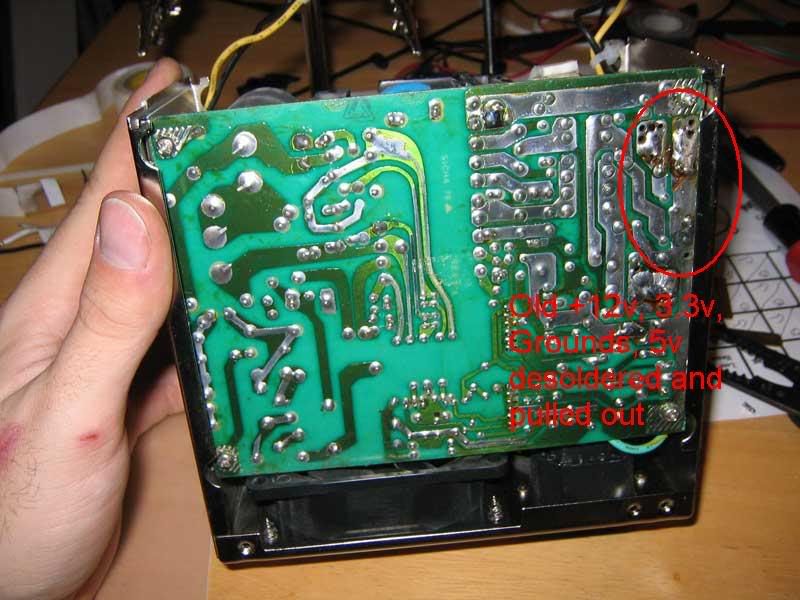 You have saved your "switch wires" either 4 (blue, white, black, brown) for an AT power supply, or your green and black from your ATX motherboard 20 pin connector. Here I put in a Dual Pole, Dual Throw switch in my AT power supply so it connects blue to white, and brown to black at the same time. You would only need a dual pole, single throw switch if you have an ATX wire (since you only have to connect green to black)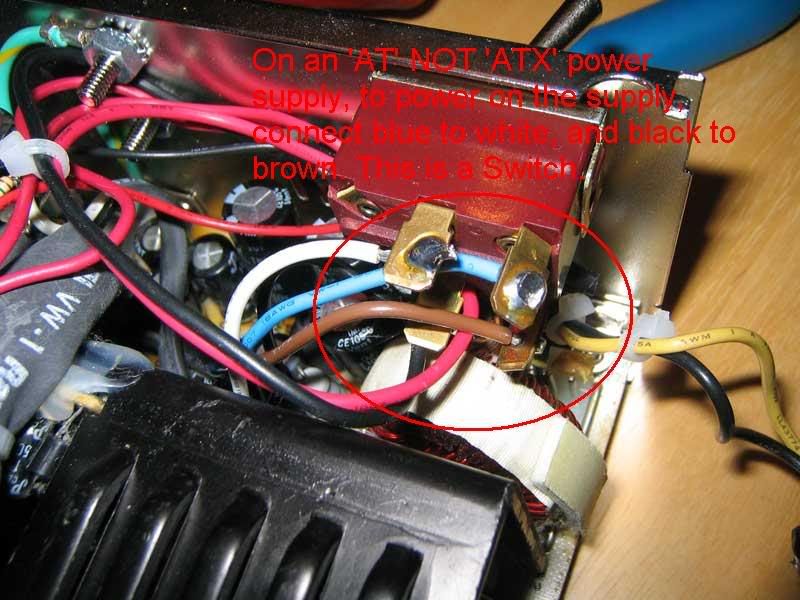 So I don't forget which is "on"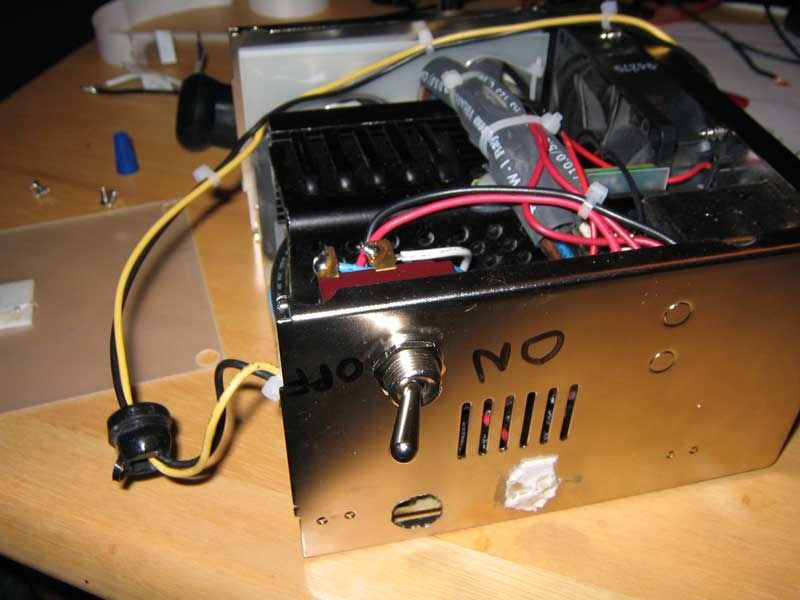 Here you can see how I soldered wires to a turn signal bulb and connected them to the "used to be" molex plug 5 volt ( red and black) I also have the fan connected to these wires. Some people may not need to load the 5v, it may be 12v or 3.3v, but 90% of the time, it's going to be your 5v line, try it, if it doesn't work try another line.
Turned on and working: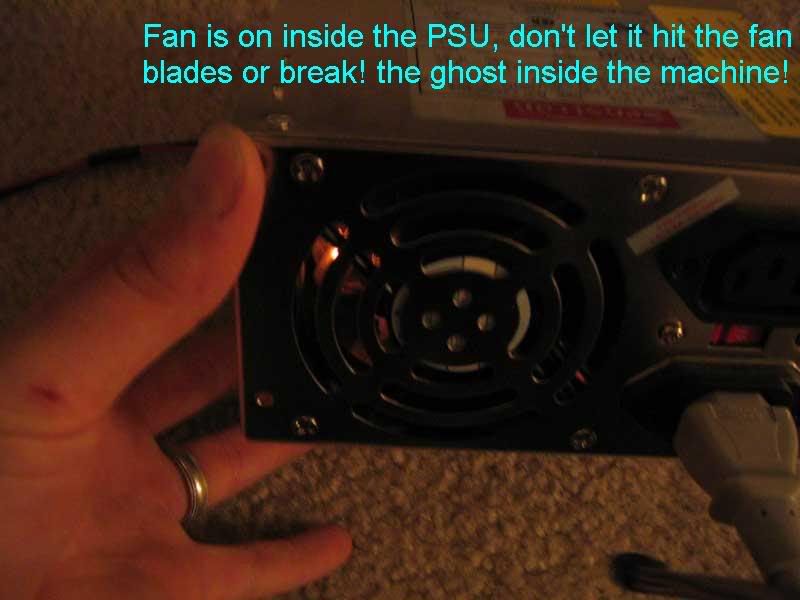 That's all I can think of at the moment, feel free to ask Questions if I left something out.