Honda Civic 01-05 Ground Switched H4
Honda Civic <00 Positively Switched H4
Toyota Tacoma 98-00 = neg. switched -superjoe83
Toyota Yaris 2007 ground switched -Violin
1992 Taurus SHO 9007 (+) switched
2001 Nissan Maxima = H4 ground switched
Saturn Ion Ground Switched
1997-98 infiniti Q45, Ground controlled H4
Mitsubishi Montero 1986 Positive Switched H4
Toyota MR2 - mk1 / 1985-1989 - Ground switched
1995-1999 nissan maxima- Switched power
2004-2006 Chevy Aveo --> H4 Positive Switch
1991 lexus ls400 ground switched
2000 toyota corolla positive switched
2003 Volkswagen Jetta TDI - Positive switched This could possibly go for all american Jettas 1999-2004 (9007, wire colors: Yellow/low, Brown/Ground, White/High... kind of rhymes!)
1991 Toyota 4Runner - Ground Switched (h4/6054 sealed beam)
1997 Pontiac Firebird - Positive Switched
Honda Pilot: H4 Ground Switched
2007 Honda Ridgeline RTL - positive switched (H4)
1999 toyota solara H4 is Positive switch
1997 Toyota camry is ground switch
96-02 Toyota 4Runner - H4 Ground switched

Guys, Gals,
I would like to start a thread for reference whether your vehicle is positively switched or negatively switched. This is really only important to those of us with a vehicle with a dual filament bulb, i.e. H4, 9004, or 9007. Because all the others, 9005,9006,H1,H7,H9,H11 etc... have both and it's inconsequential. So let's hear it, if you know what your vehicle is, please state the make, model, year, and bulb type and I'll make it a reference for everyone. Thanks -Oce
*A big Thank you to anyone who participates ahead of time"
The easiest way to test is with a multimeter, but you can also use a test light. I have provided a form which basically has spots for results for 2 different tests, Continuity to ground, and Positive voltage (nominal 12v ranges 10-15v).
Continuity to ground just means it's connected to your ground, switching ground systems use this to make the connection, leaving 12v active at the switch and just make or break connection to ground. Positive switched means that power is switched on, and ground is always available. The way to think about the two differences is, which commodity is most available. In a ground switched circuit, positive voltage is always available, and ground is the hard to find commodity. In a positive switched, ground is always available and positive voltage is a rare commodity. Positive voltage switching is what you probably learned in school.
To fill out the chart with a multimeter, you are going to do 2 tests. One for continuity to ground, meaning the black lead on the negative battery terminal and the red one probing the 3 sockets. The other test (for positive voltage) is with the same black lead on the negative terminal and probing with the red one, but this should be on voltage usually denoted by an equal sign = instead of the squiggly equal sign ~ which means AC. You test all three sockets in all three states, off, low and high beam (high beam in the full on state, not flash to pass high beam).
If you don't have a multimeter, you can use a test bulb... For the continuity to ground test, start with one lead on the positive battery terminal, and probe each socket and see if the bulb lights up. If the bulb lights up, this means continuity to ground. Now for the +12v (nominal may range between 10-15v) test, start with the bulb's test lead on the negative battery terminal and probe each socket, if it lights up, you have a +12v signal.
Fill in the chart and feel free to post it back and I can tell you what it means. I will post people's names by their car's test, so future people can know who to thank.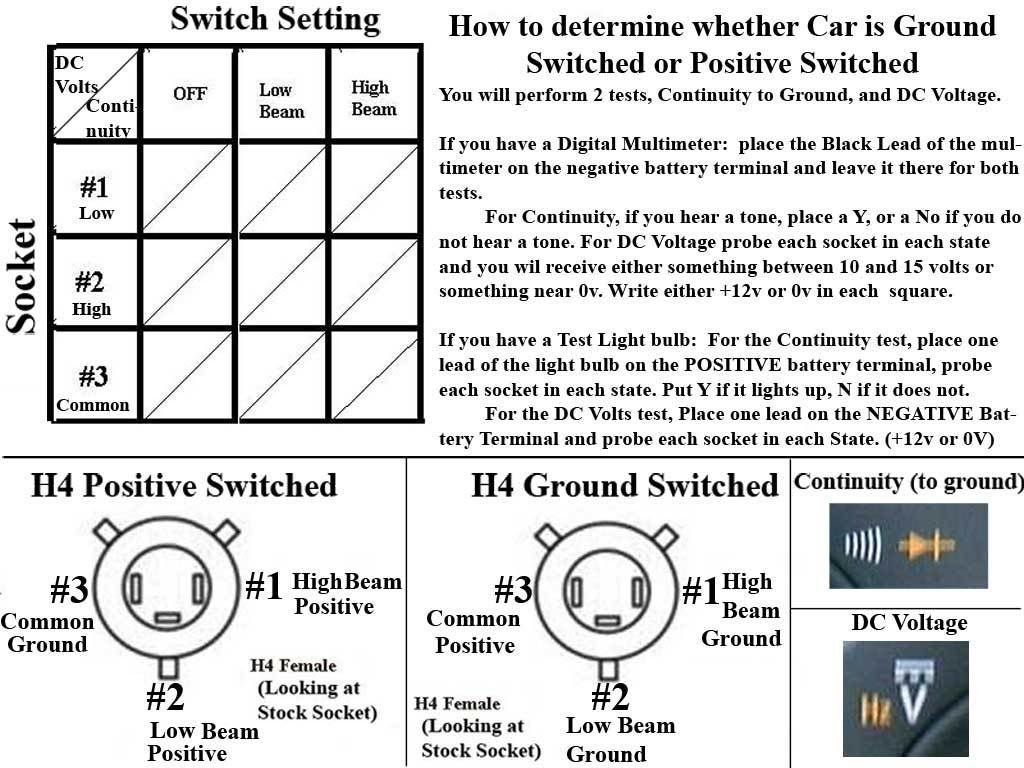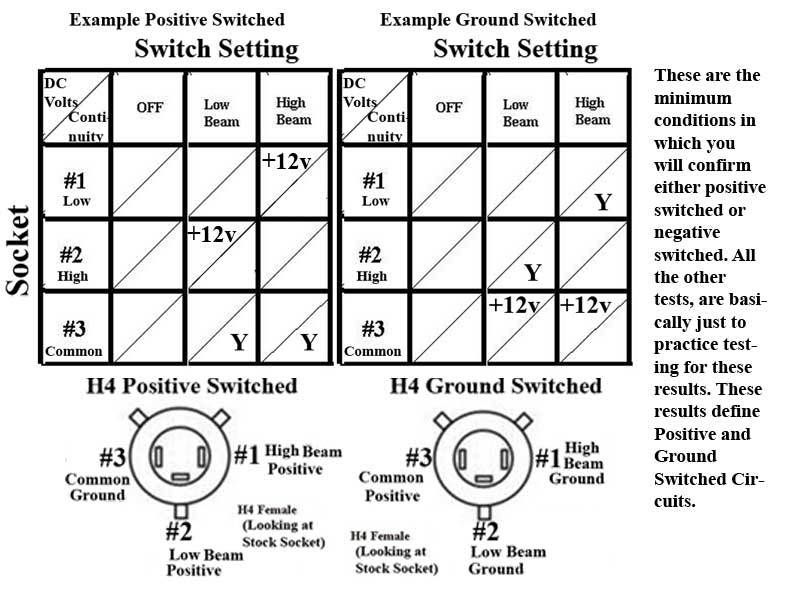 For those of you with 9004 or 9007, you can apply these same tests to your sockets, and just modify the drawings to reflect that... Here are the pinouts for various dual filament bulbs. Ignore the Polarity, just use Common, Low, and High, and run the tests above.