We wanted to provide a step by step process in how we go about a full lens restoration on any headlight. This will help many understand the proper process to a full restoration. The only way to make a headlight lens look brand new again is to go through a complete wet sanding and polishing procedure. Once the original coating is worn off, it is important to protect the lens again to in order to prolong the life of the lens. Up until now we have always use the Collinite #845 wax which was long lasting, but still eventually would wear away like any other wax. Now Phil at detailersdomain.com introduced us to this new Nano Coating called Optimum Opti Coat 2, which is more of a permanent coating. We have tested this product a number of times already and its excellent. I can't wait to follow up with a review in a year's time to see how it holds up. It' comes in a small bottle that can be used on pretty much any surface. If you have any questions, just contact Phil at Detailersdomain.com and he will be able to answer anything you throw his way. Anyways, on to the good stuff….
*Please note, if you decide to do this procedure, do it at your own risk. Lightwerkz cannot be liable for any damages that may occur.
Materials Used:
Uber Microfiber Towels
Gloves
Metabo Rotary buffer
4″ Uber Foam Pads
-Yellow Compound Pad
-Orange Medium Polish Pad
-Green Polish Pad
-Blue Final Polish Pad
Optimum Opti Coat 2 Nano Coating
Ultimate Menzerna Polish Kit
-1 quart of Power Gloss
-1 quart of Super Intensive Polish
-1 quart of PO106FA
-1 quart of PO85RD
Sandpaper
-600 grit
-1000 grit
-1500 grit
Sanding Pad or Mechanical Sander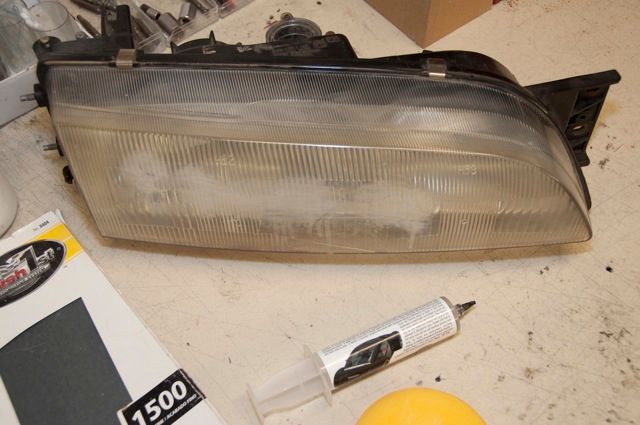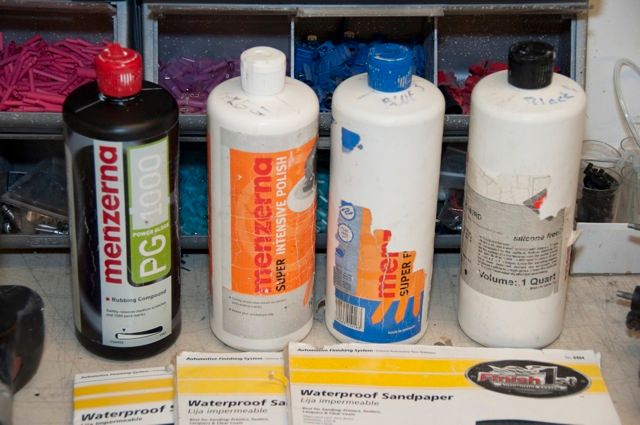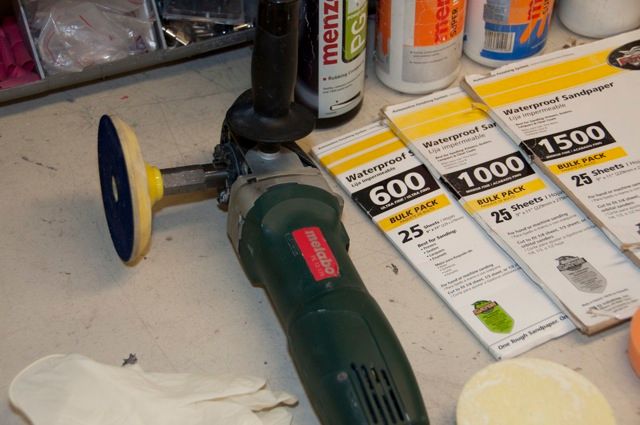 You want to start off with the 600 grit sandpaper. Its strong enough to eventually get through the original coating to expose a fresh layer of the lens. Anything under 600 will also work, it will simply be tougher to remove all the scratches the paper itself leave behind. You can do all the sanding steps by hand, but its easier with an electric sander if you have access to one.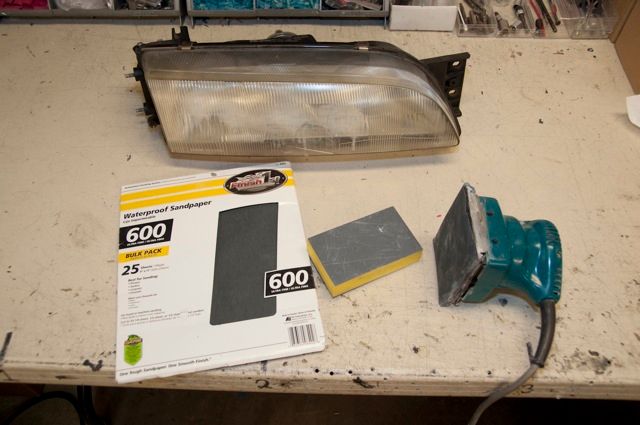 Get it really wet, this will lubricate the paper and expedite the process. We use a garbage bag underneath. Just a note, this will get messy!

Finish up my hand for smoother results

So this is what you are left with after some work. You can see the original layer is completely gone and you have exposed a new fresh layer of the lens that will be suitable for the restoration.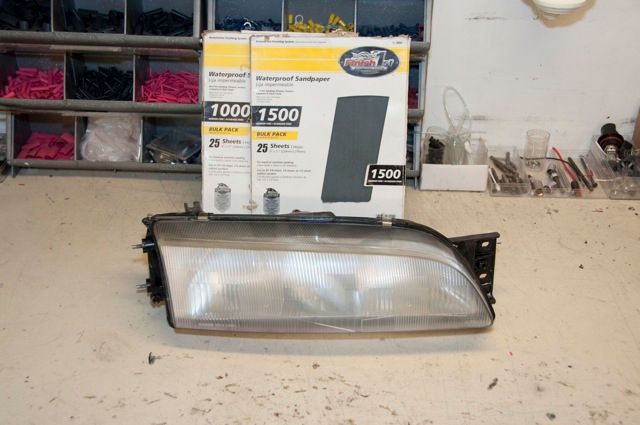 Repeat the same results with the 1000 and 1500 grit paper. You will notice a little bit of an improvement.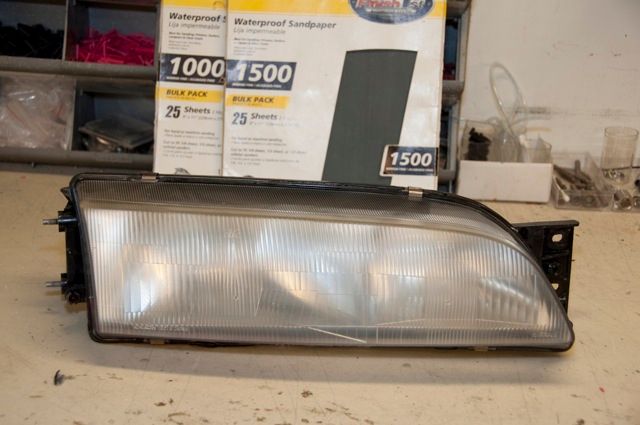 Now onto the compounding and polishing. You want to use a high quality compound, we used the Menzerna Power Gloss. This is going to restore the luster in the lens. Apply a small bit to your pad and go over the lens with your hand to rub it in. Next place the pad on the backing plate of the rotary or orbital buffer and work on the lens until you see the desired result. Your main scratches should come out and there should be alot more clarity in the lens.
Final result after the compounding

Repeat with your yellow polishing pad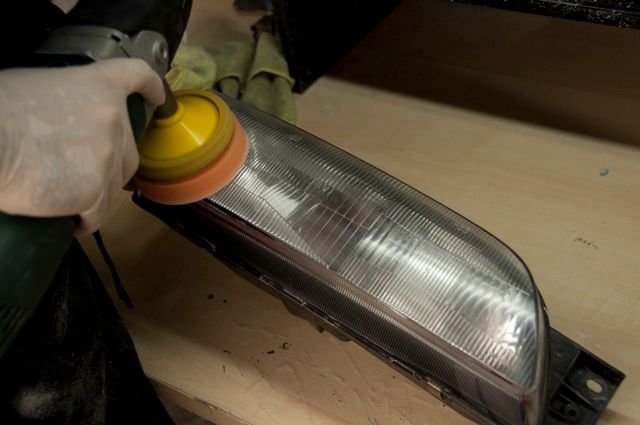 Results after polishing pad

Repeat with the green and the blue pads. You will want to use a true polish on these. We also used the Menzerna line which we feel gives the best results.