This is a retrofit I did for a member on Detailers Club Norway recently in February/March 2015.
Hardware:
TYC replica headlights for Audi A6/S6 C4 1994-1997
Philips 85122+ D2S bulbs
F3 Fast Bright 35W ballasts
M̶o̶r̶i̶m̶o̶t̶o̶ ̶F̶X̶-̶R̶ ̶3̶.̶0̶ ̶2̶.̶5̶"̶ ̶b̶i̶x̶e̶n̶o̶n̶ ̶p̶r̶o̶j̶e̶c̶t̶o̶r̶s̶ D̶e̶p̶o̶ ̶X̶5̶ ̶2̶.̶5̶"̶ ̶b̶i̶x̶e̶n̶o̶n̶ ̶p̶r̶o̶j̶e̶c̶t̶o̶r̶s̶ G37 Sedan 3" bixenon projectors
AMP<->D2S adapters
This was supposed to be a relatively straight-forward and easy retrofit, but as usual very little went according to plan. I had a hope of just swapping the halogen projectors with bixenon projectors, close them up and ship them back, but that didn't happen...
Started out with opening the driver's side headlight. I expected these to be sealed with butyl, as the seal was rubbery and soft, so at least it wasn't permaseal. They were closed with four clips and a reusable gasket. Since I erroneously assumed they were butyl sealed and the headlight lens was made of glass, I thought I'd try to open them with brute force and without heat first. My experience is that glass doesn't like being heated up then poked and pried at with a sharp screwdriver.. splinters, shards and lots of blood on the wrong side of my skin usually is the result. Anyway, as the lens wasn't glued shut and the lights were new, it came off rather effortlessly. As I assumed butyl I put a lot of effort into it and nearly fell off my chair...
Here it is opened, rubber gasket and glass neatly separated without damage: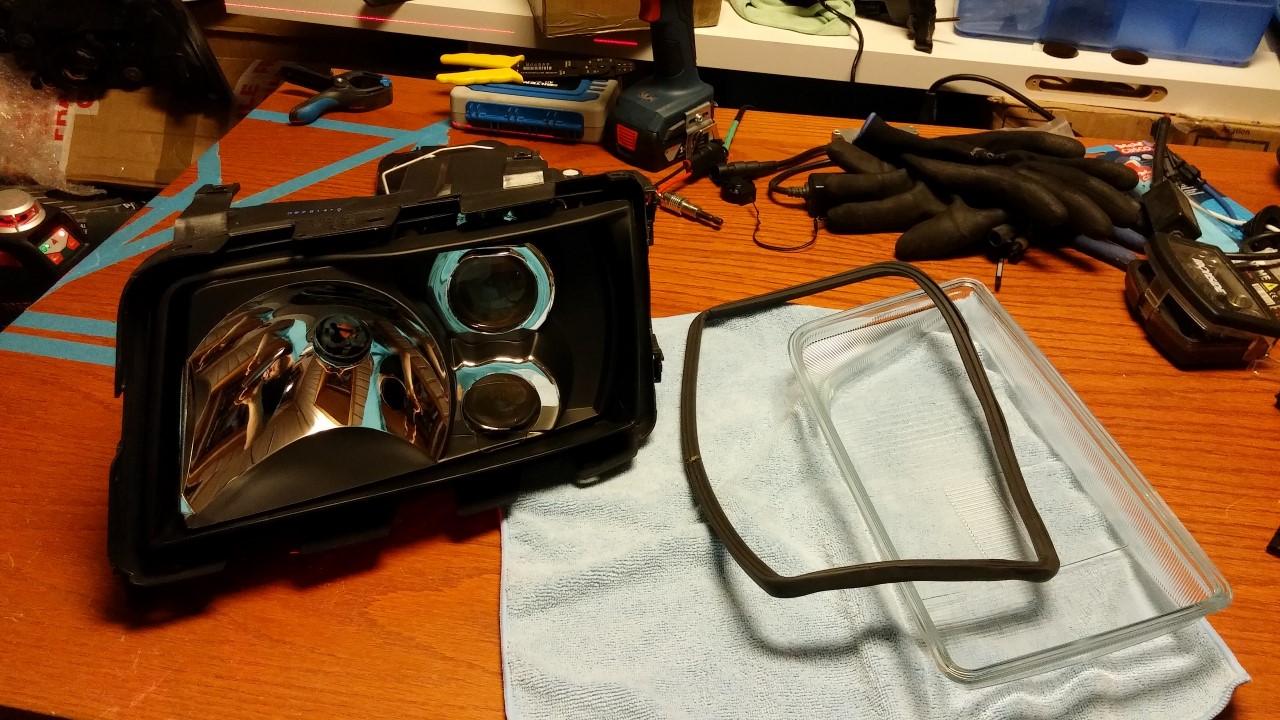 After some messing around I got the outer trim off and undid the innards via the adjusters at the rear of the housing:
Halogen projector output - not too impressive. Granted, it's low beam only, but the entire hotspot is visible below and to the right of the elbow, indicating that the bulb seat or the optics isn't fully up to scratch. The bulb used is a standard Philips H1 bulbs bought at a gas station ages ago. An interesting thing about these projectors is that the shield is adjustable from completely flat to insane wide angle like in the picture, likely to accommodate different countries' legislation, as well as not blinding people if going to a left hend traffic country (like the UK).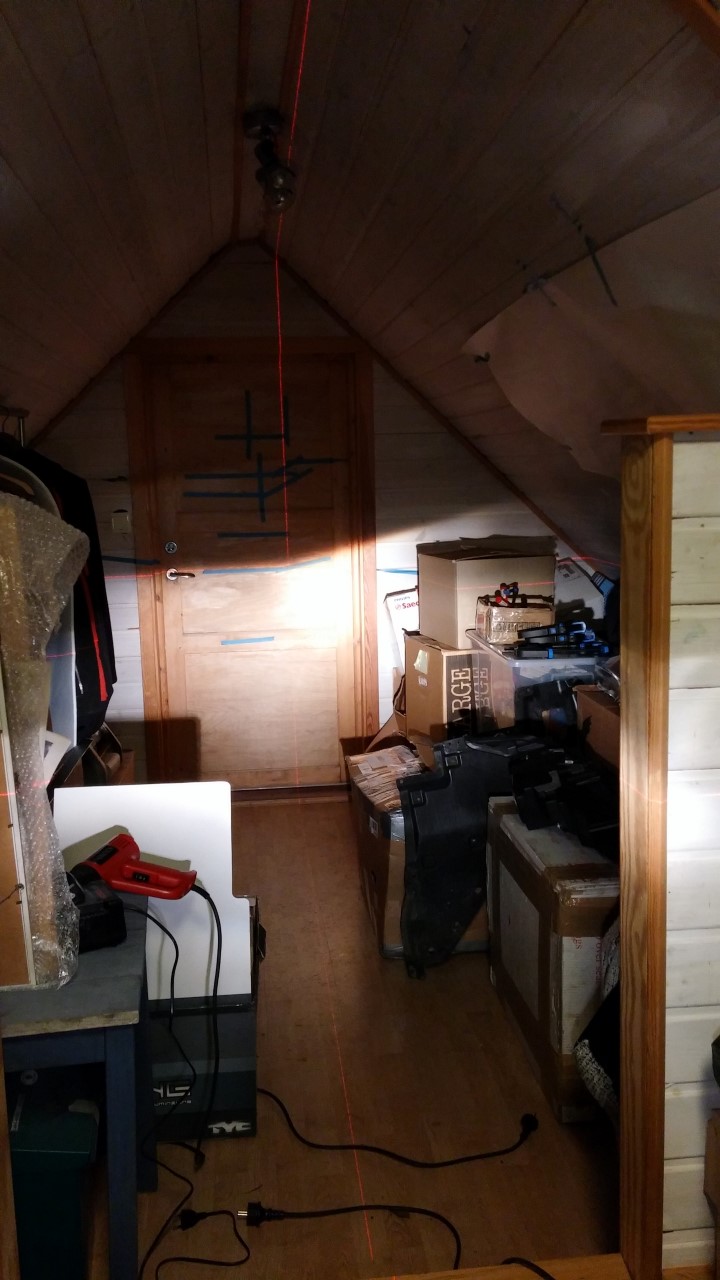 Halogen projector out, and a size comparison with the FX-R going in.
Top: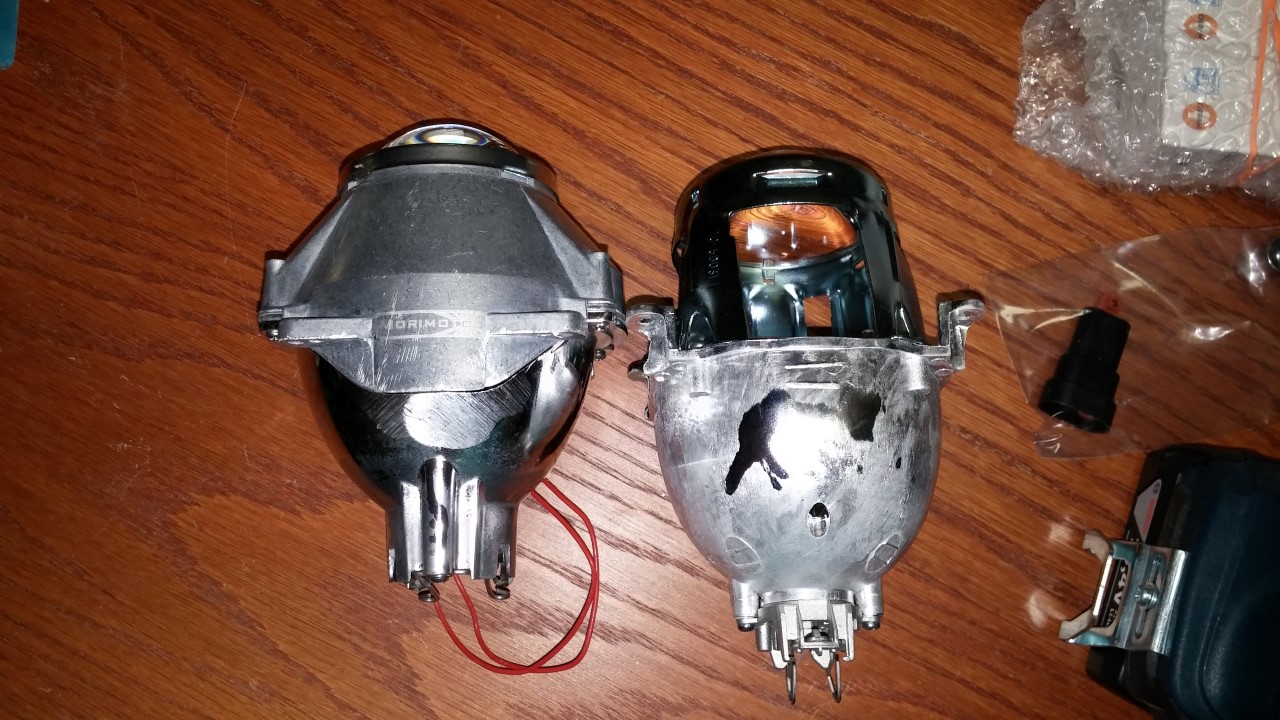 Rear: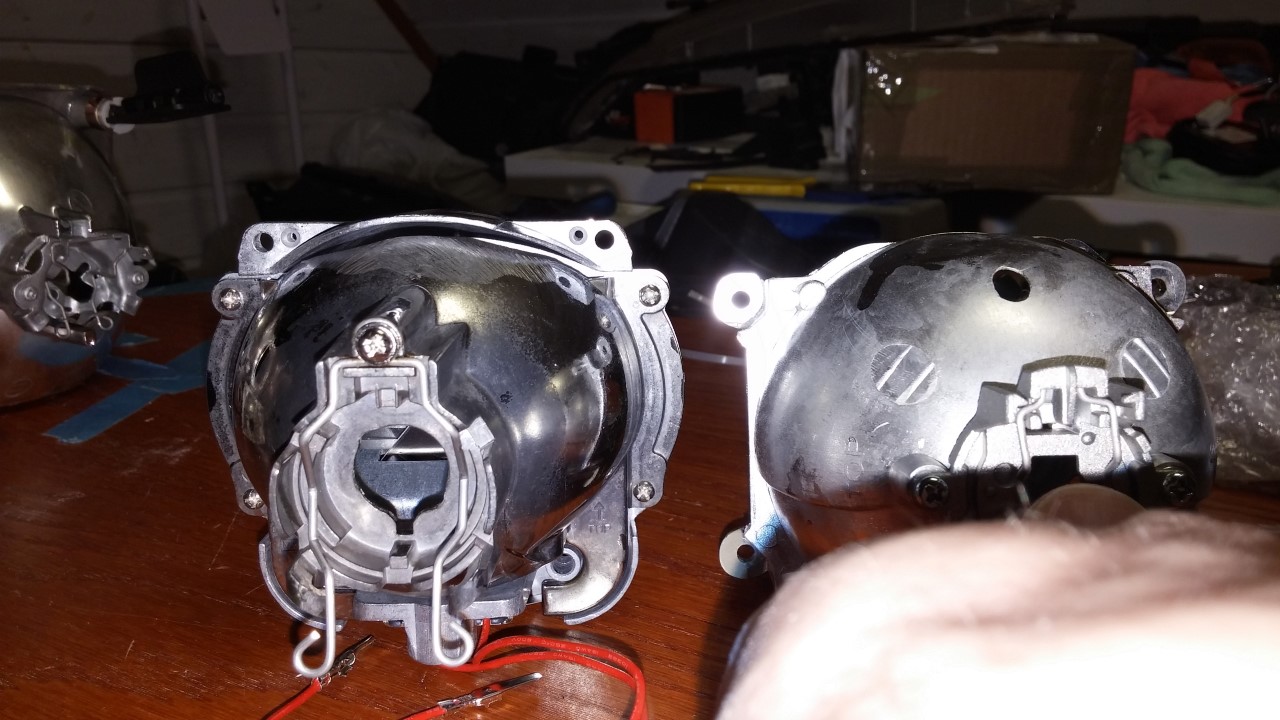 Front, back to back:
Front, belly to belly;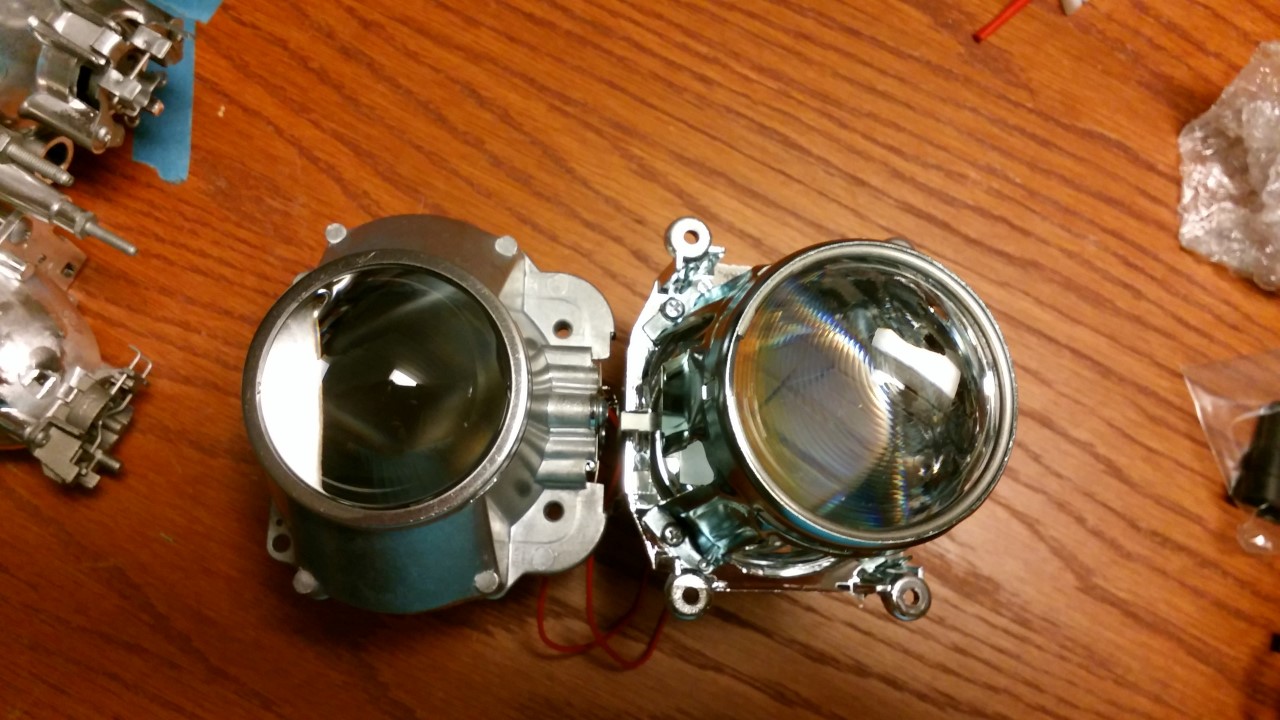 Front, side by side: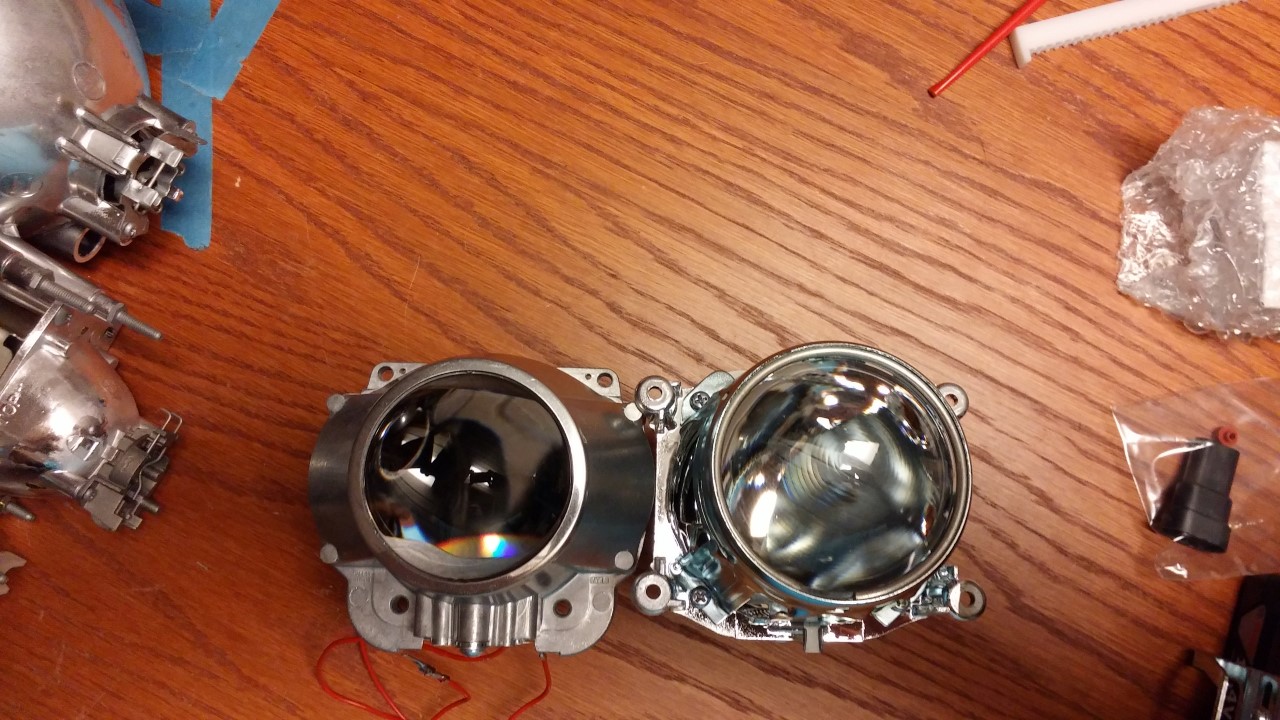 Immediately a problem revealed itself... The solenoid butted against the fog light projector immediately below it: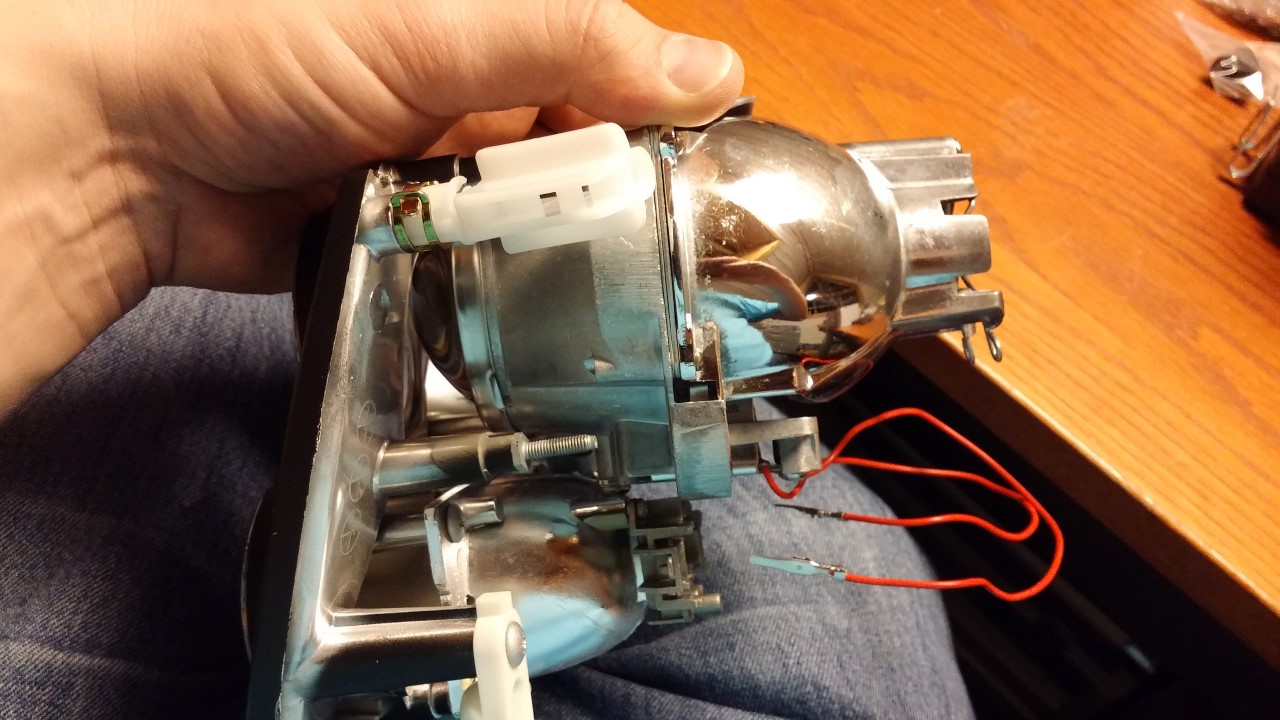 Missing about 6mm to get things in place. Dang.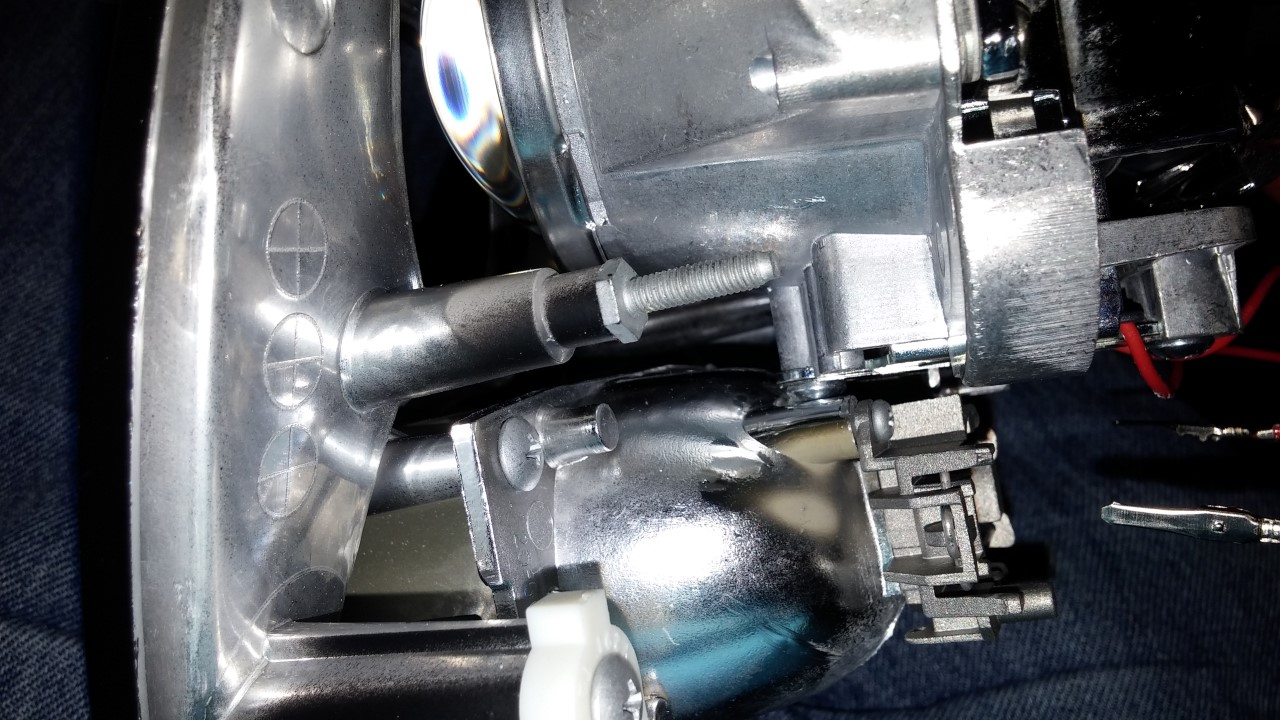 When in doubt, remove everything!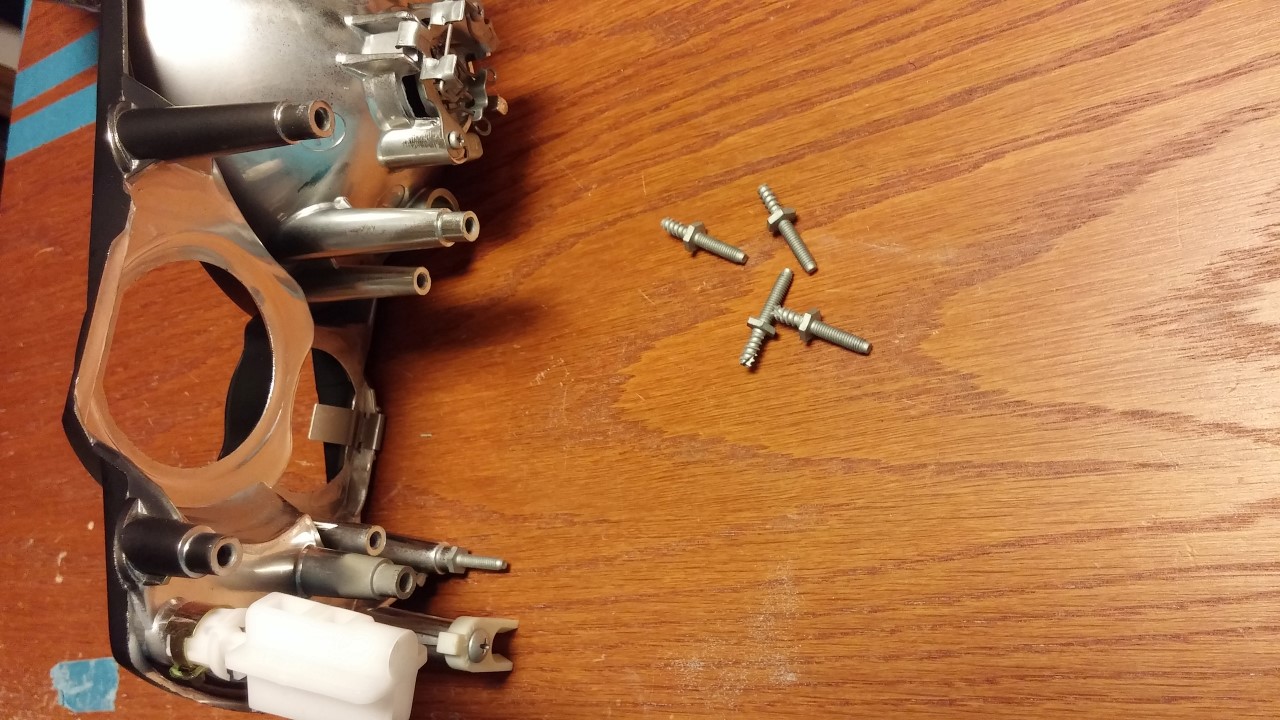 Output, FX-R; low beam: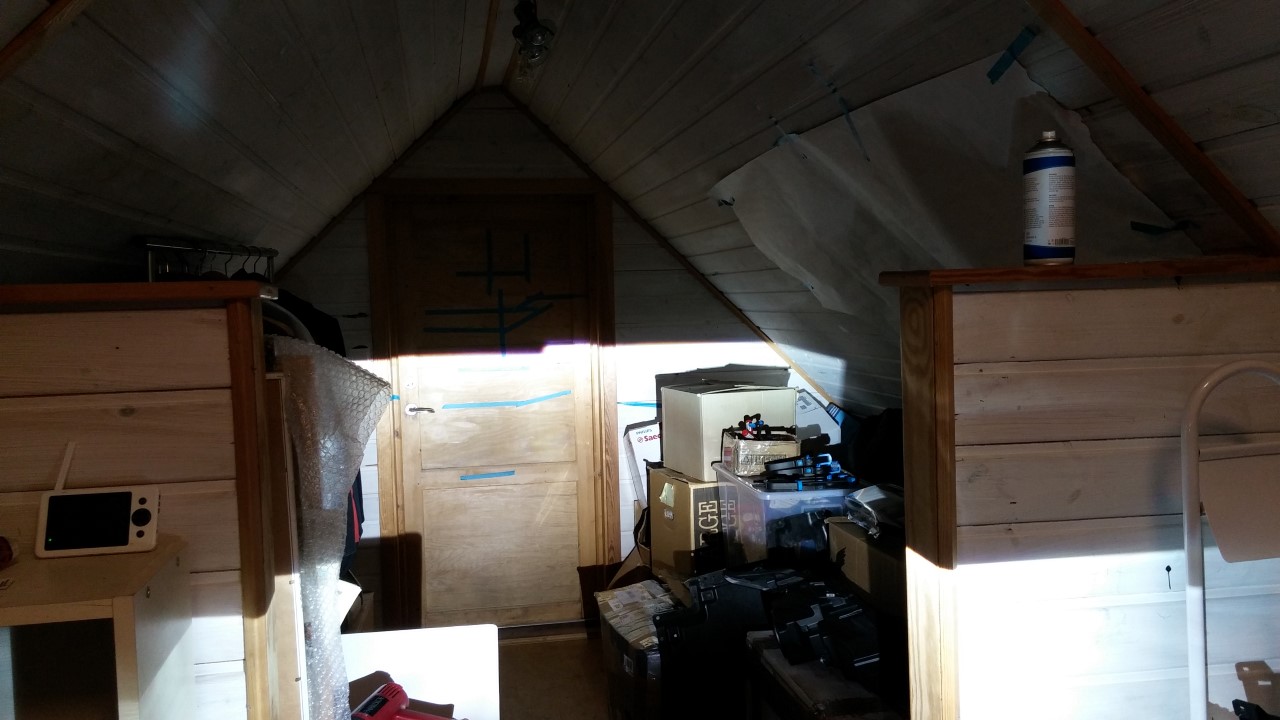 High beam:
The front opening for the low beam spot had to be enlarged slightly; fog light lurking in the background...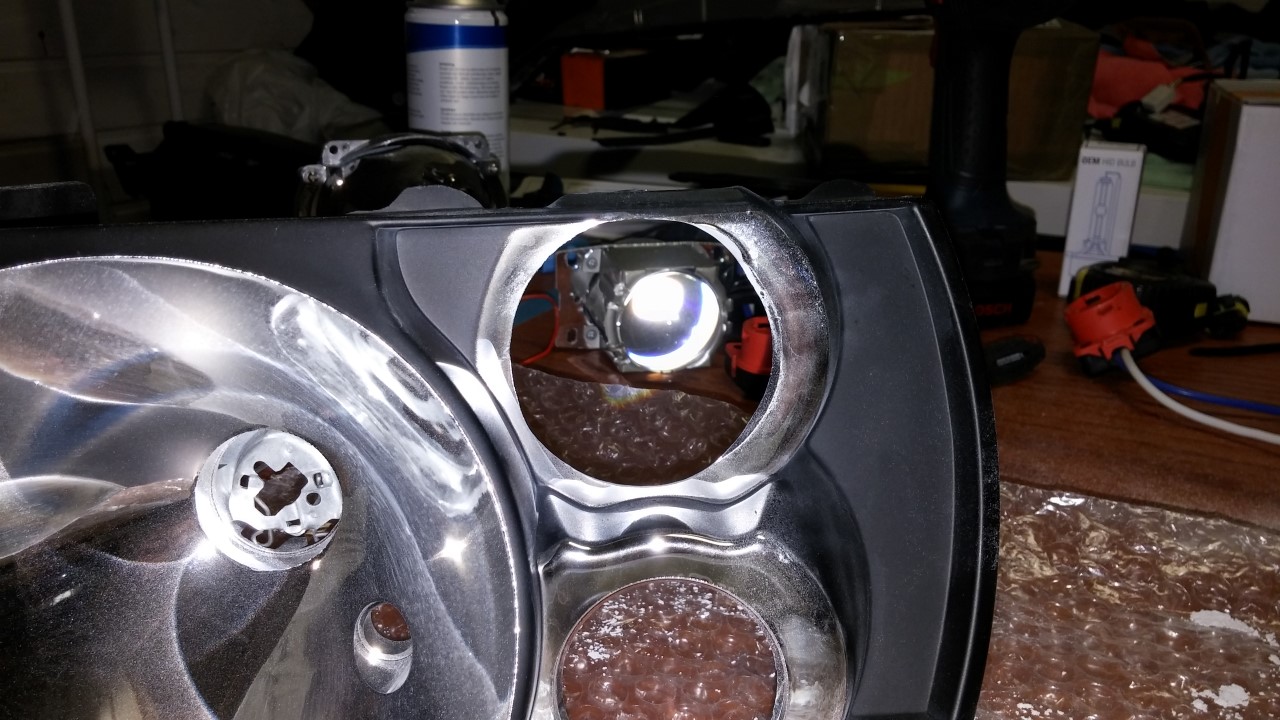 Grindgrindgrind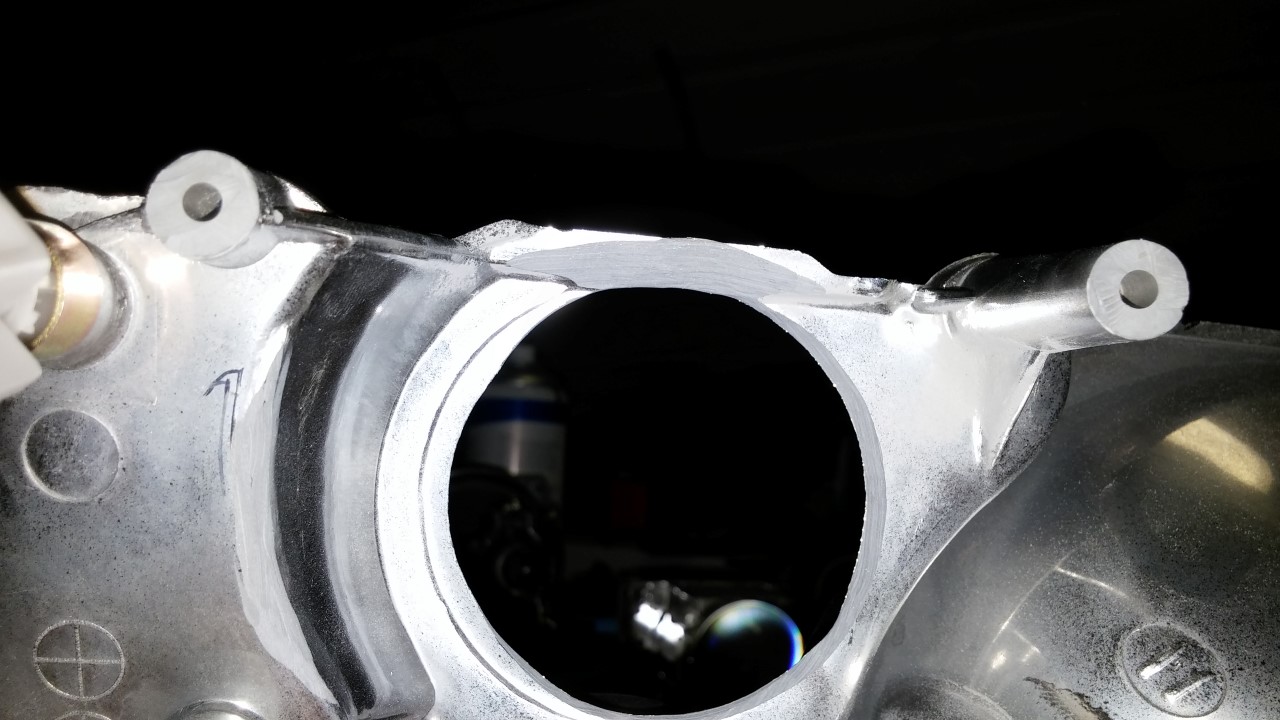 And about done... some minor adjustments were necessary later on, but as a starting point this was decent.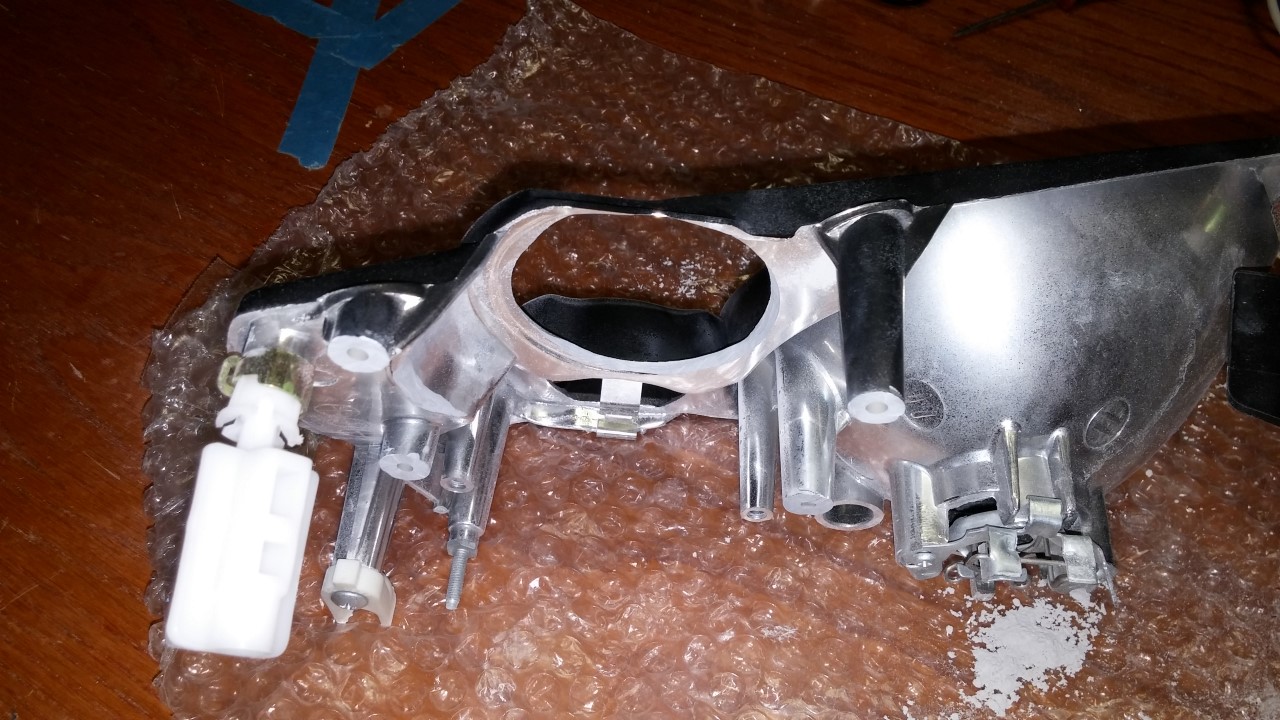 I've grown to love brackets, as they make everything so much easier to deal with than epoxy. If you mess it up, you make a new bracket and start again. Additionally, they offer more possibilities for correcting pitch, yaw and rotation than if everything is permanently stuck in place with epoxy.
Cut a piece of cardboard up to make a bracket and stuck it onto the original screw posts: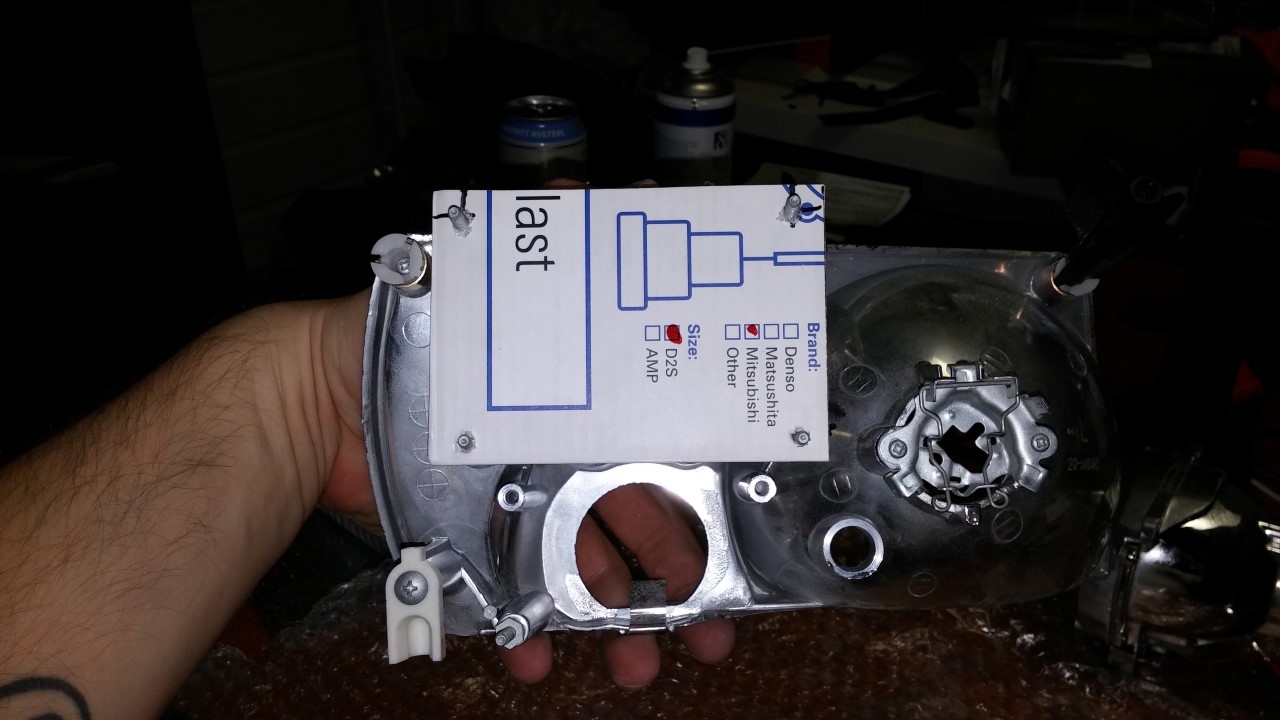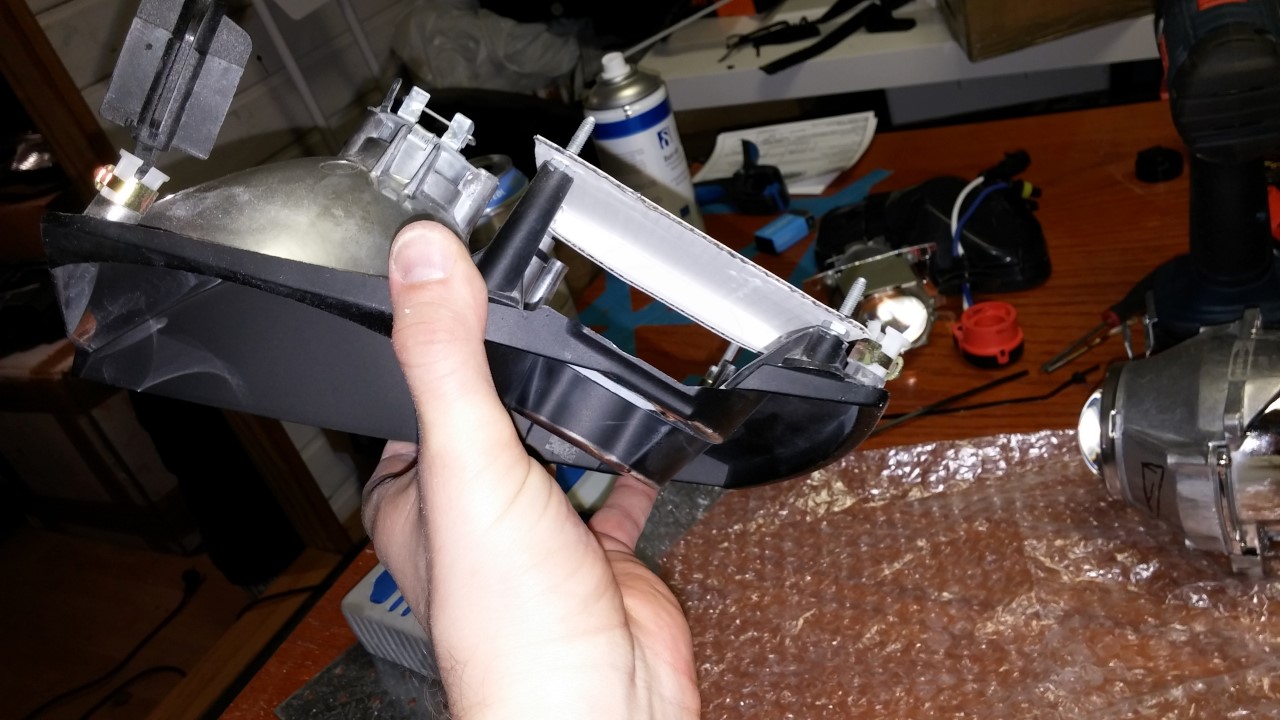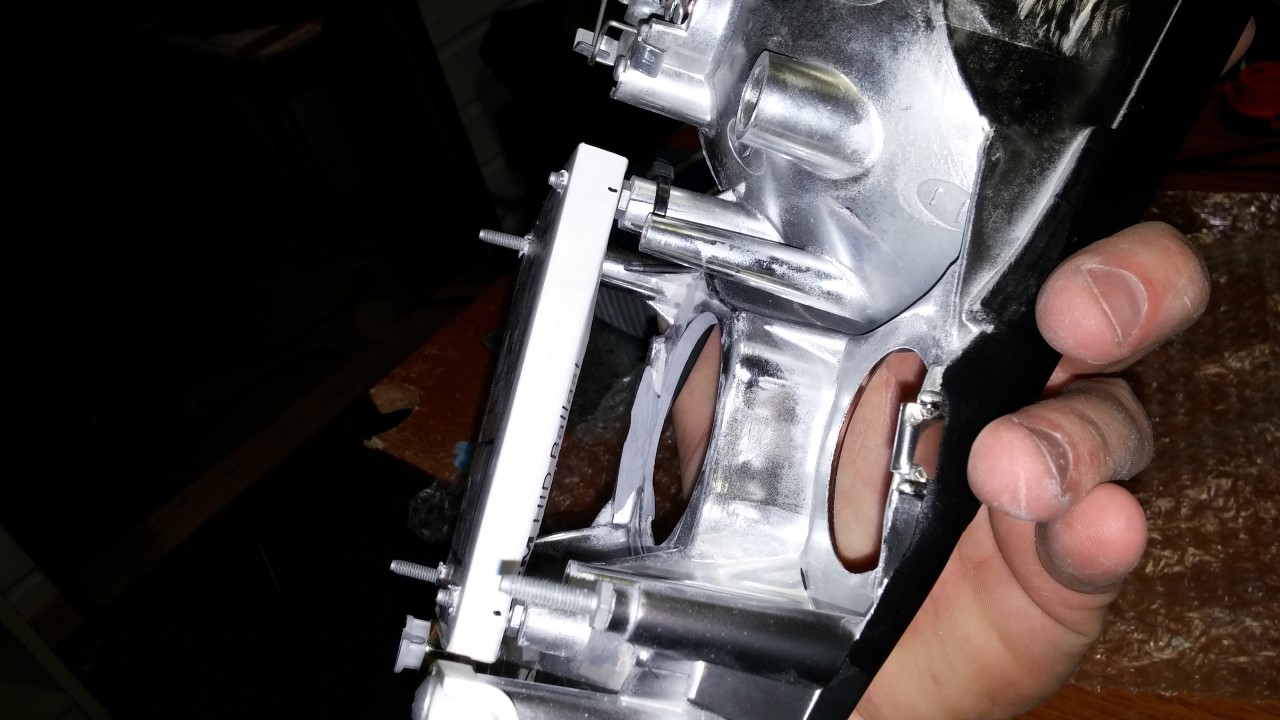 The fog light, worrying about its future existence...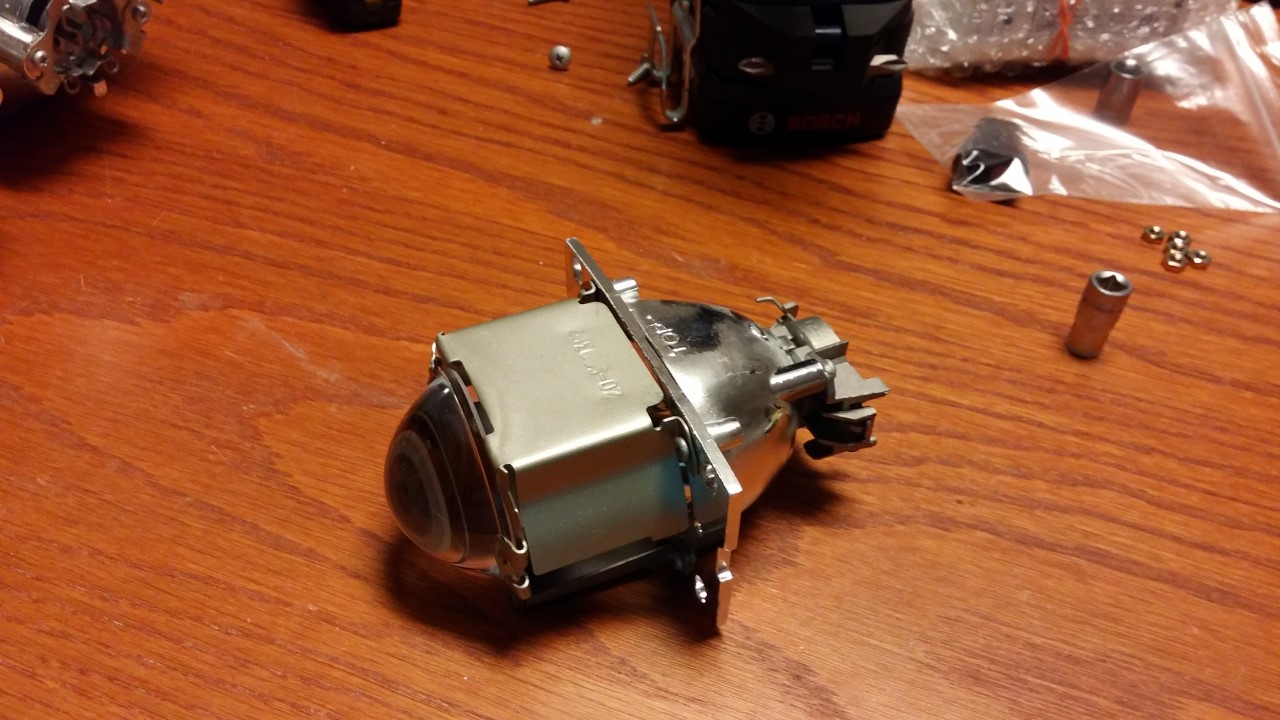 More bracketry...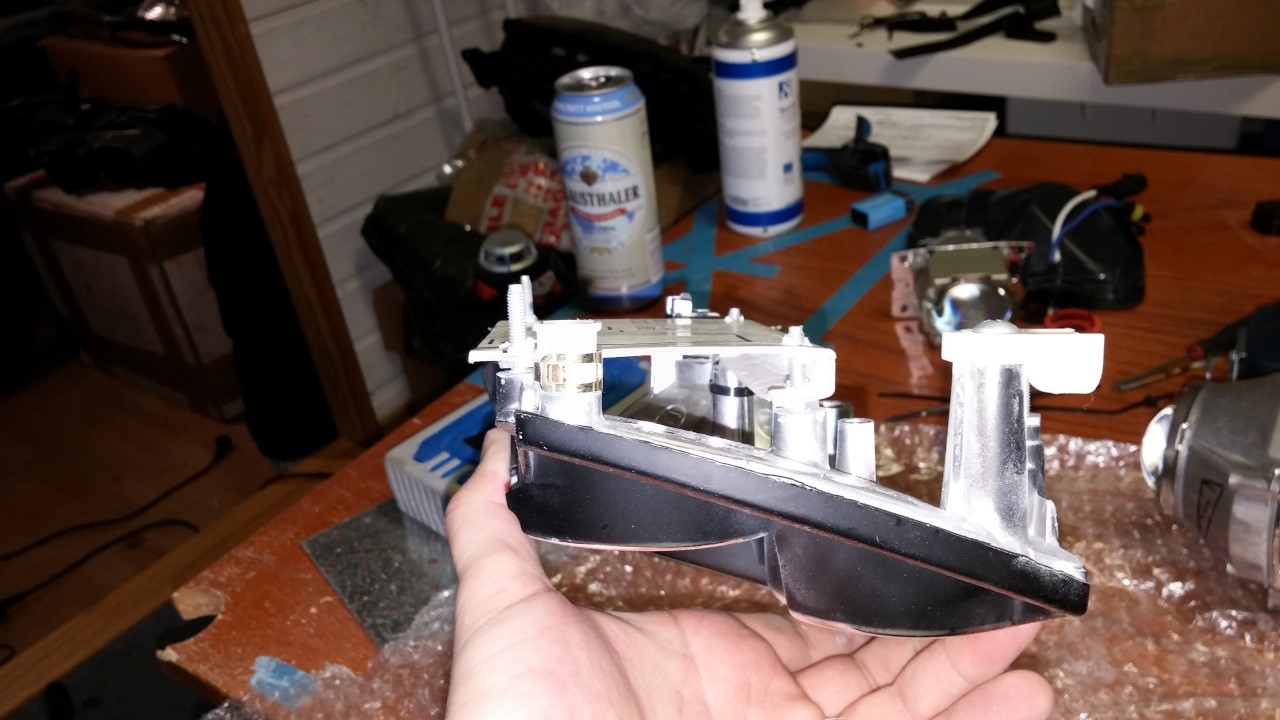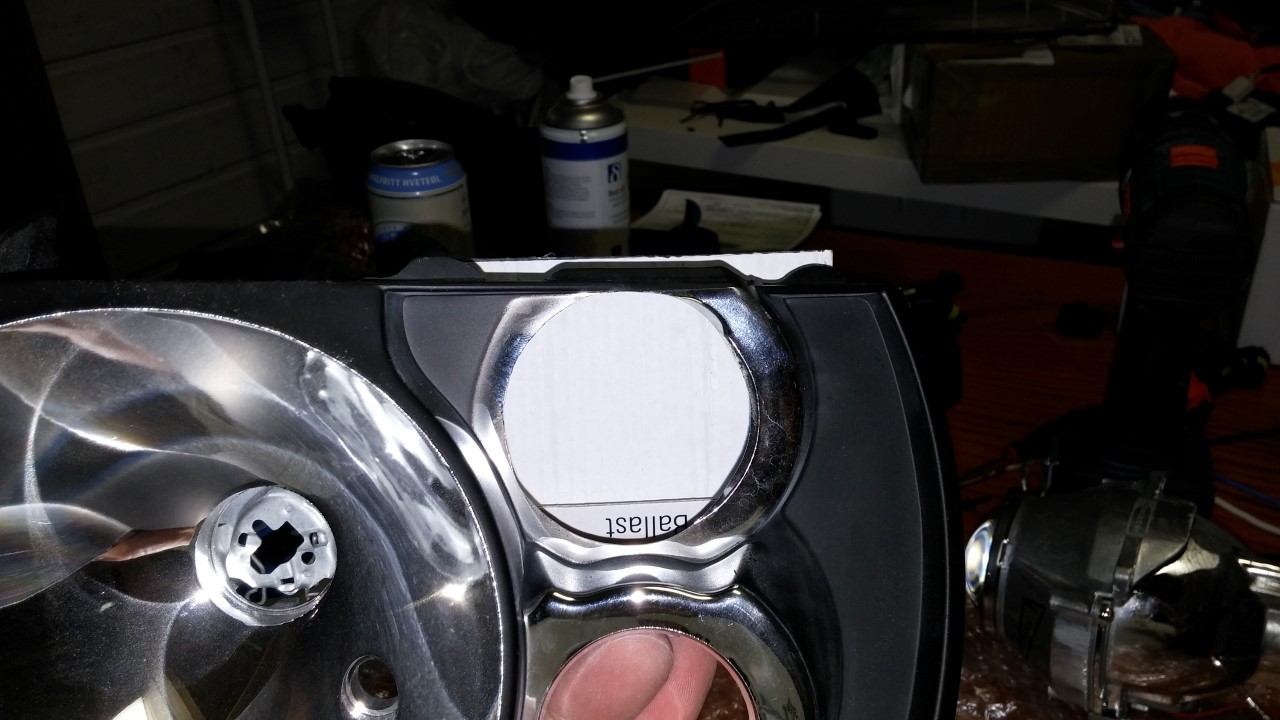 Split the projector and tried to figure out if this was at all possible to pull off... the lower edge of the bracket is the lowest point possible for either the bracket or the projector to sit at. All room below that is occupied by the fog light.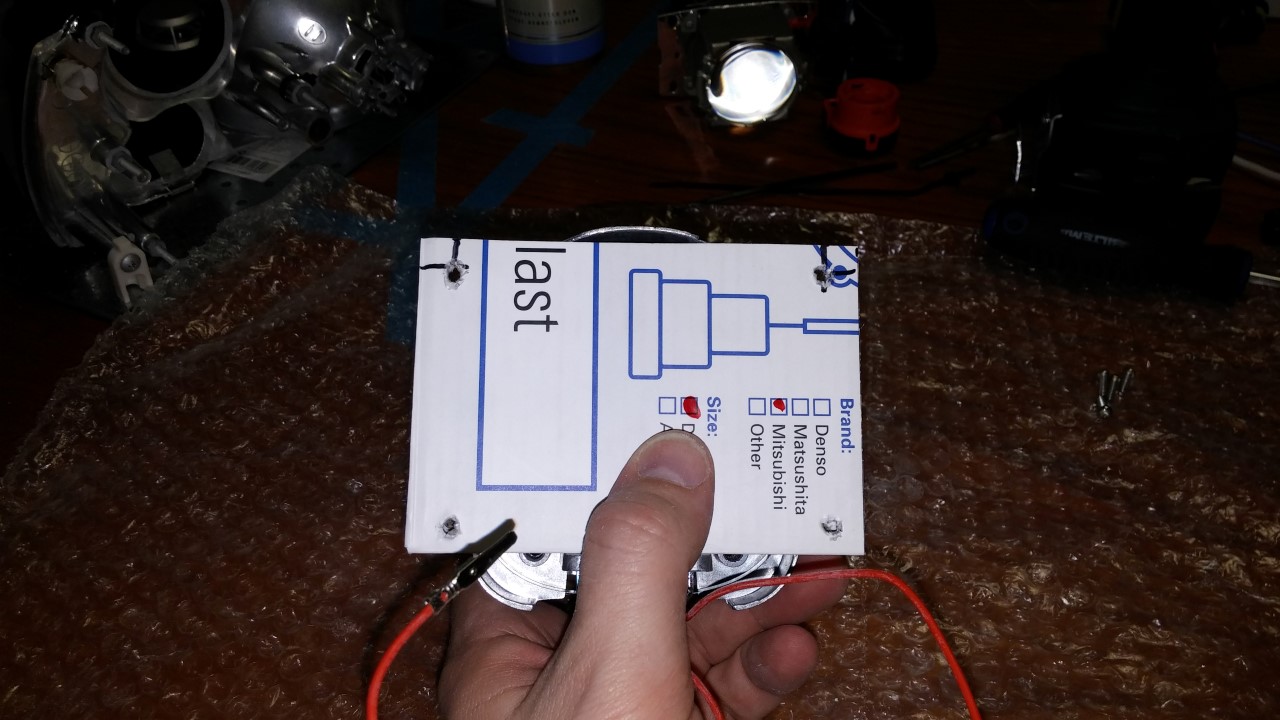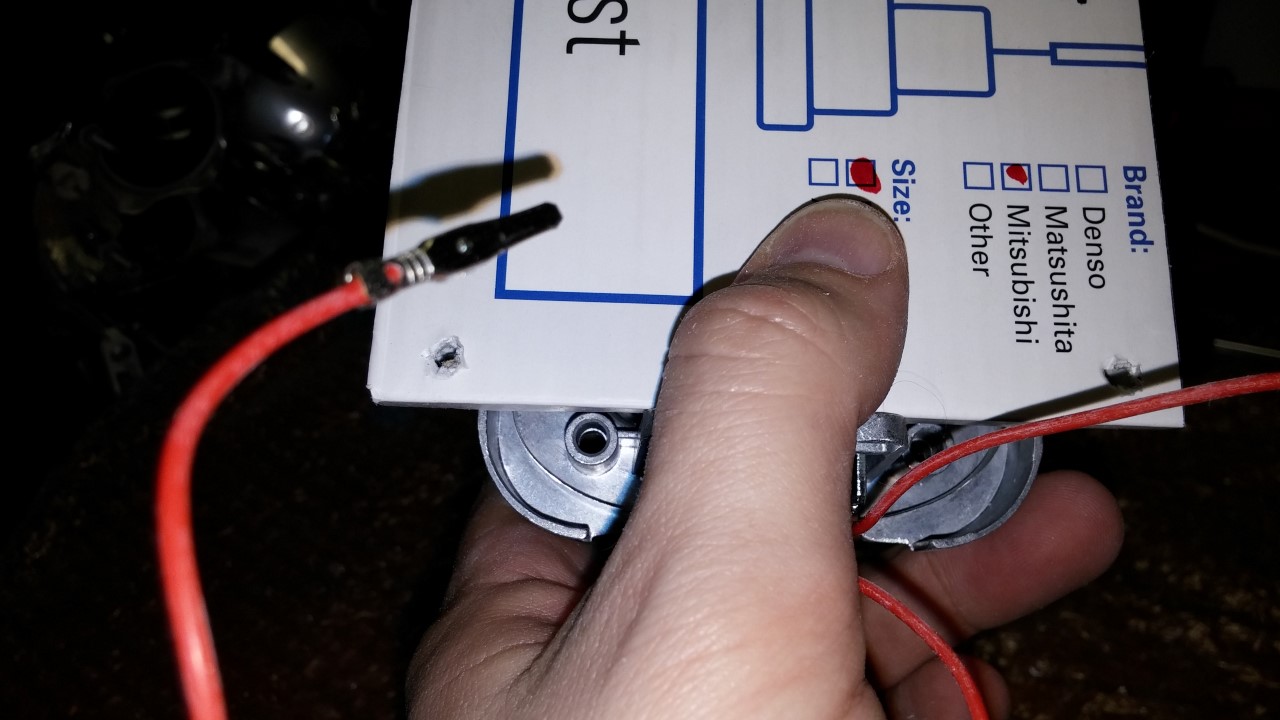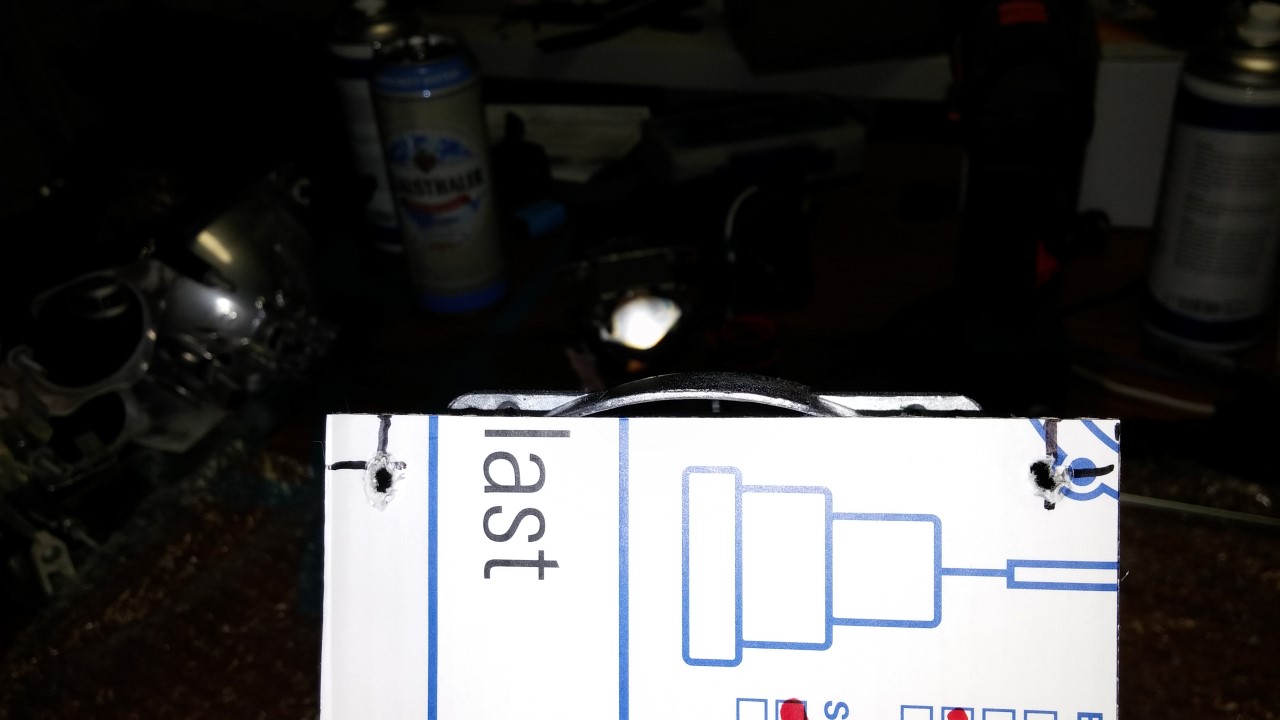 Of course the top bolt holes didn't line up either... I could have enlarged the bracked slightly for them to line up, but then it would have come in contact with the inside ceiling of the housing.
After a lot of ifs, buts, cursing, hair-pulling, purchase of a pair of smaller fog lights, I had to realize that there wasn't physically room for the projector at all unless I redesign the entire low beam/fog light area of the bezel. This would've been a hell of a job to pull off and even worse to make it look good.
Since I had a pair of Depo X5 bixenon projectors lying around, and these were a lot smaller than the FX-Rs, I tried using these instead.
Low beam: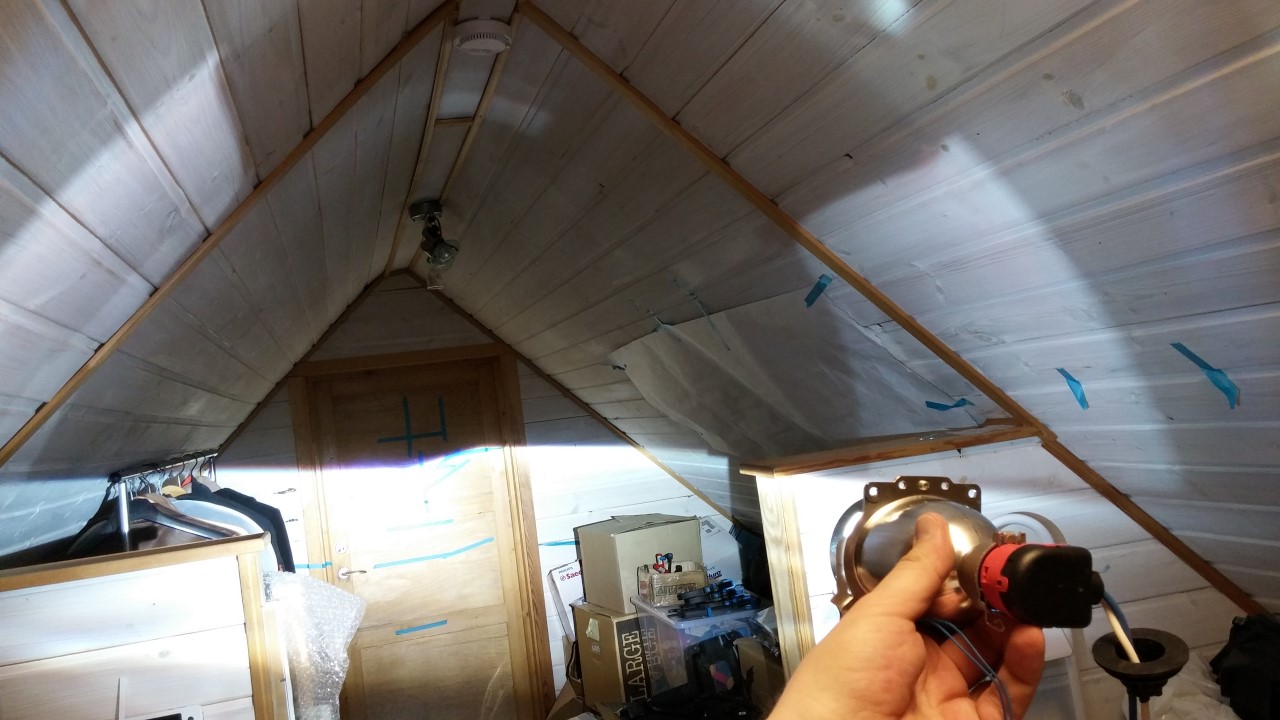 High beam: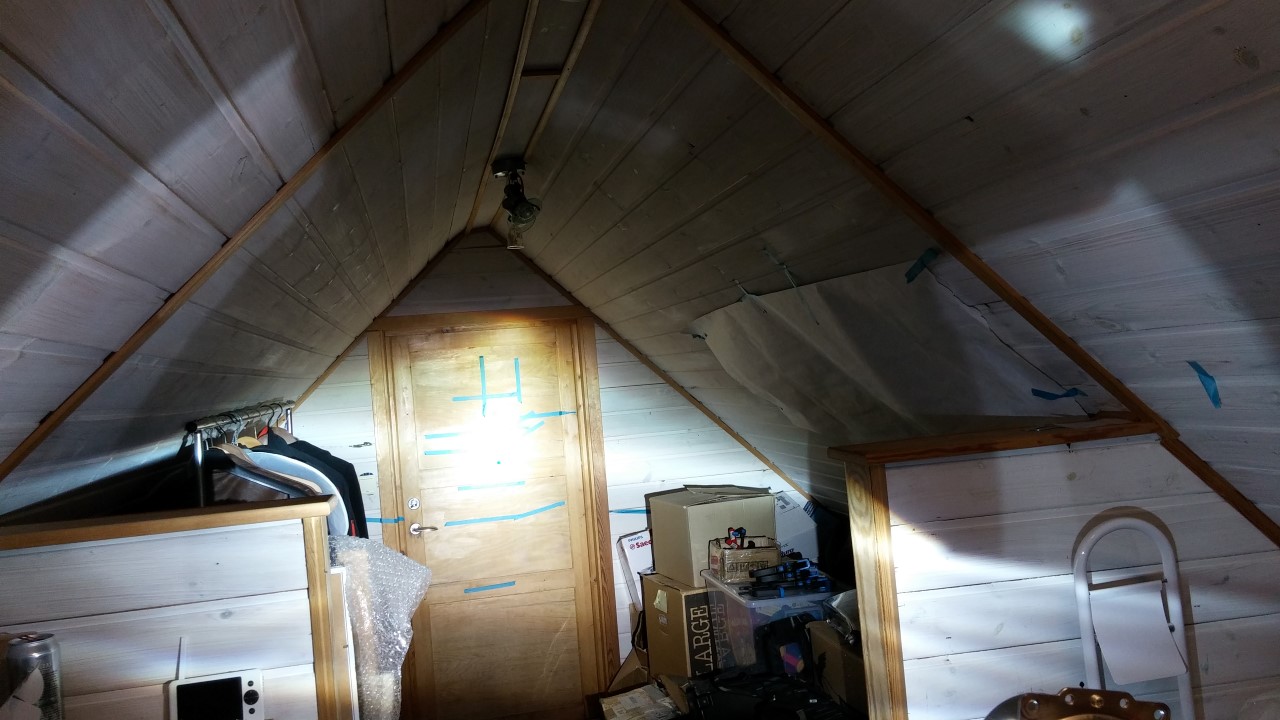 Cut out a new cardboard bracket, bolted it between the two halves of the projector and started trimming it to fit: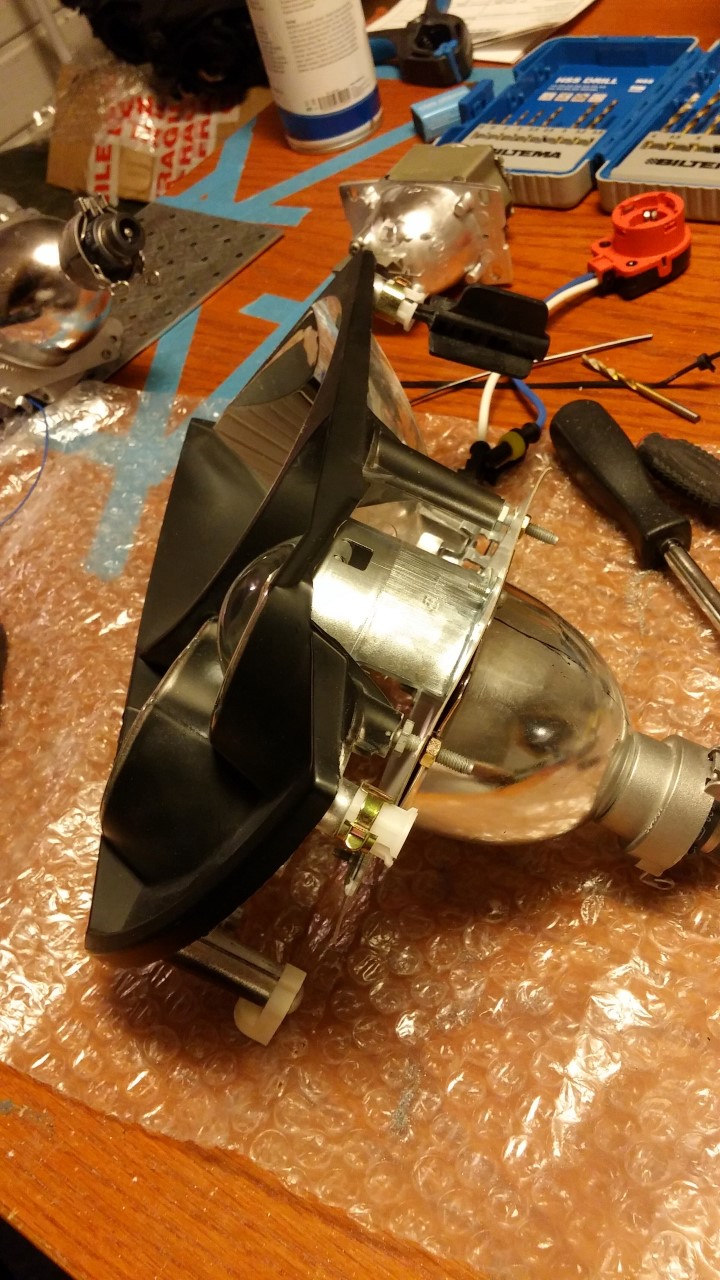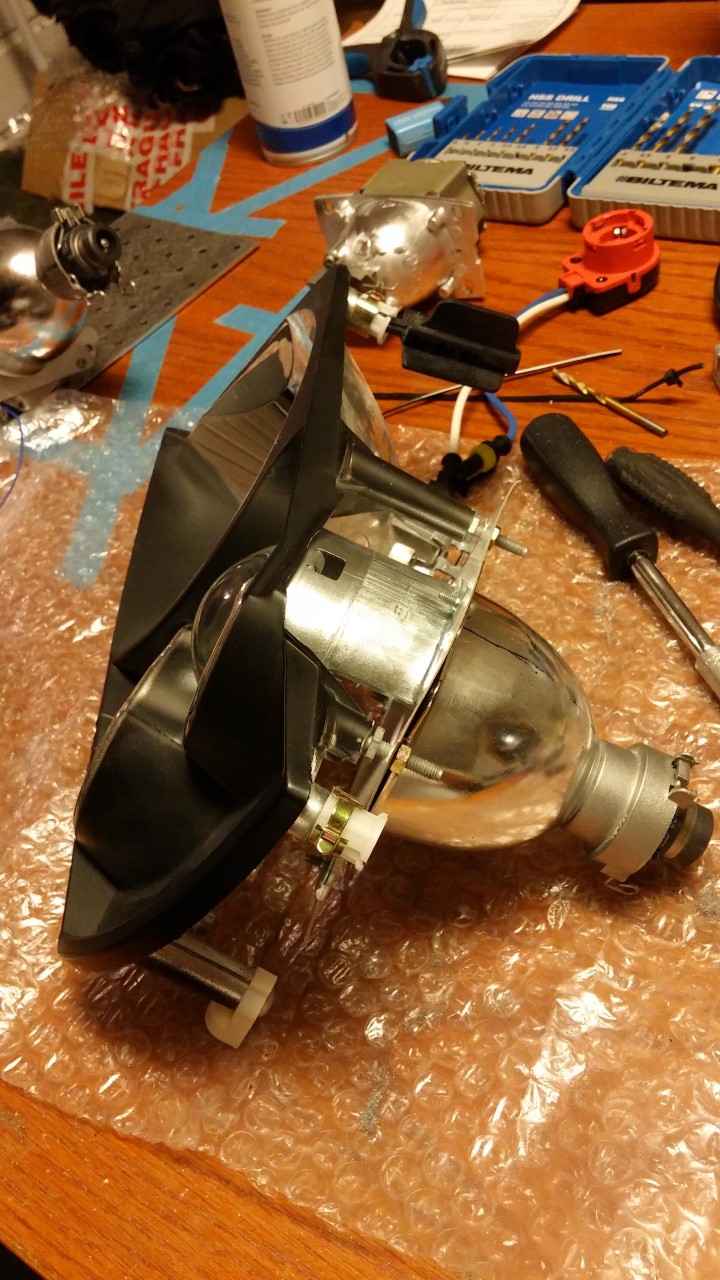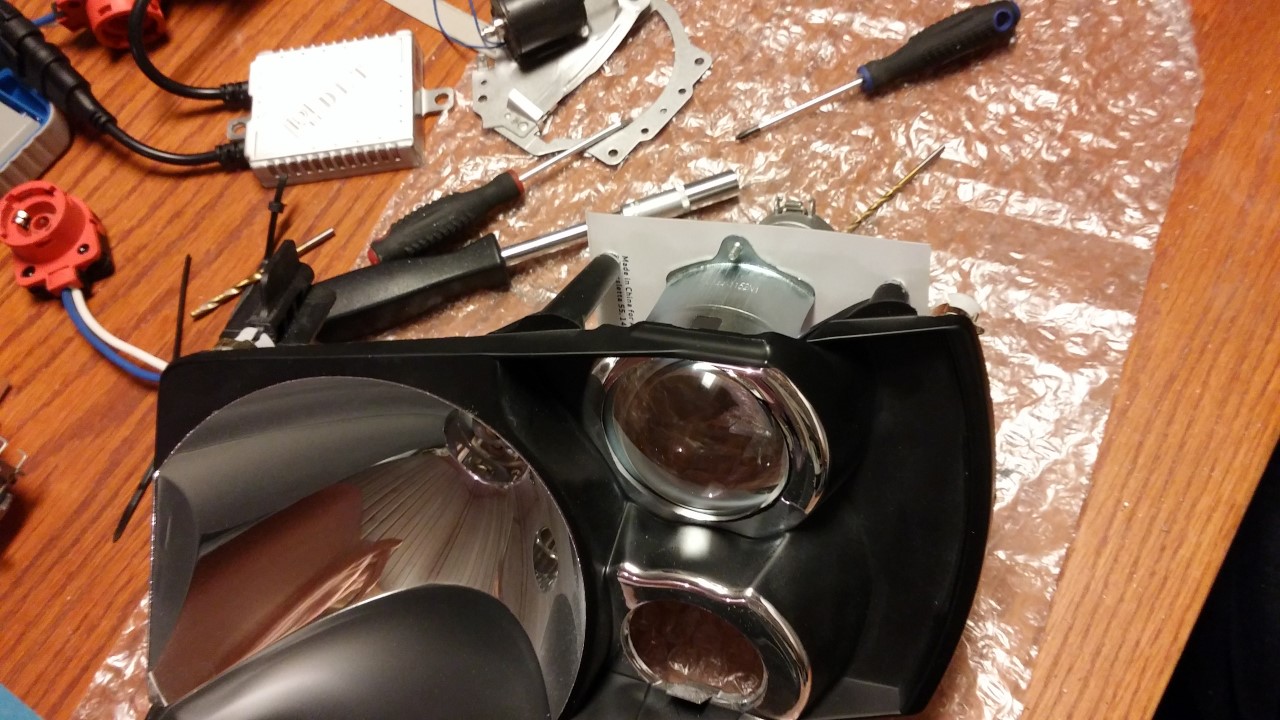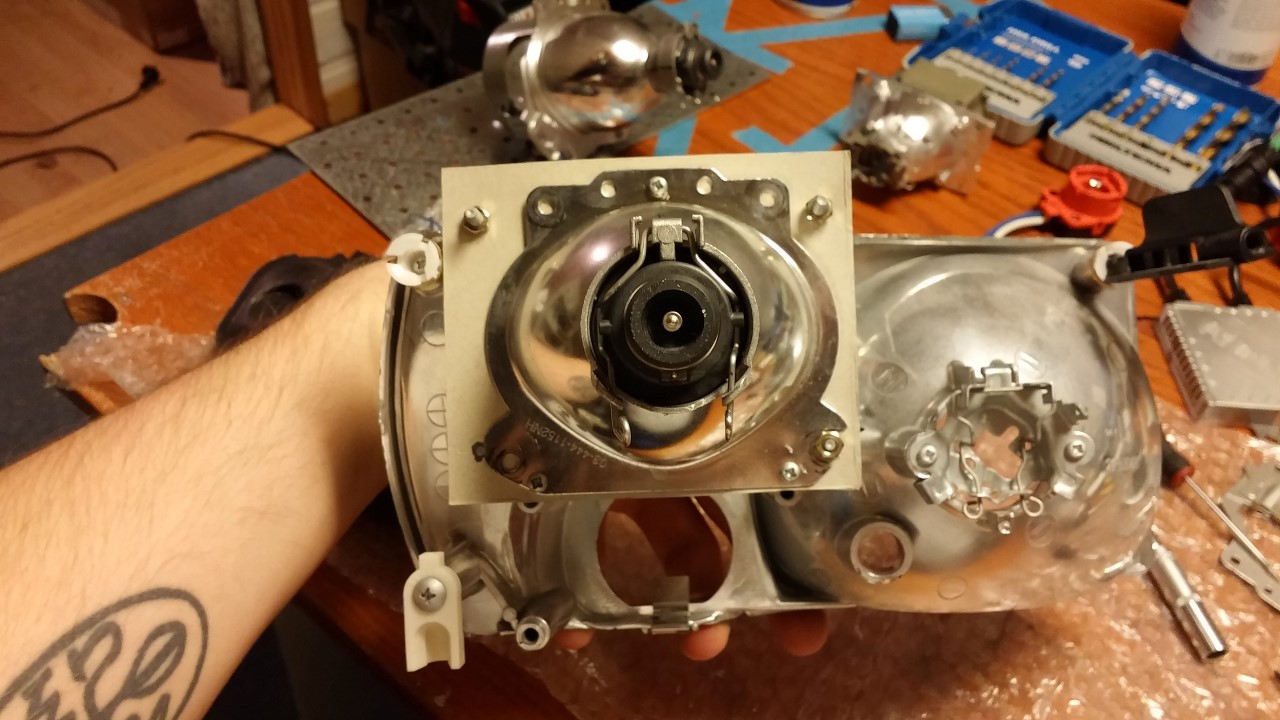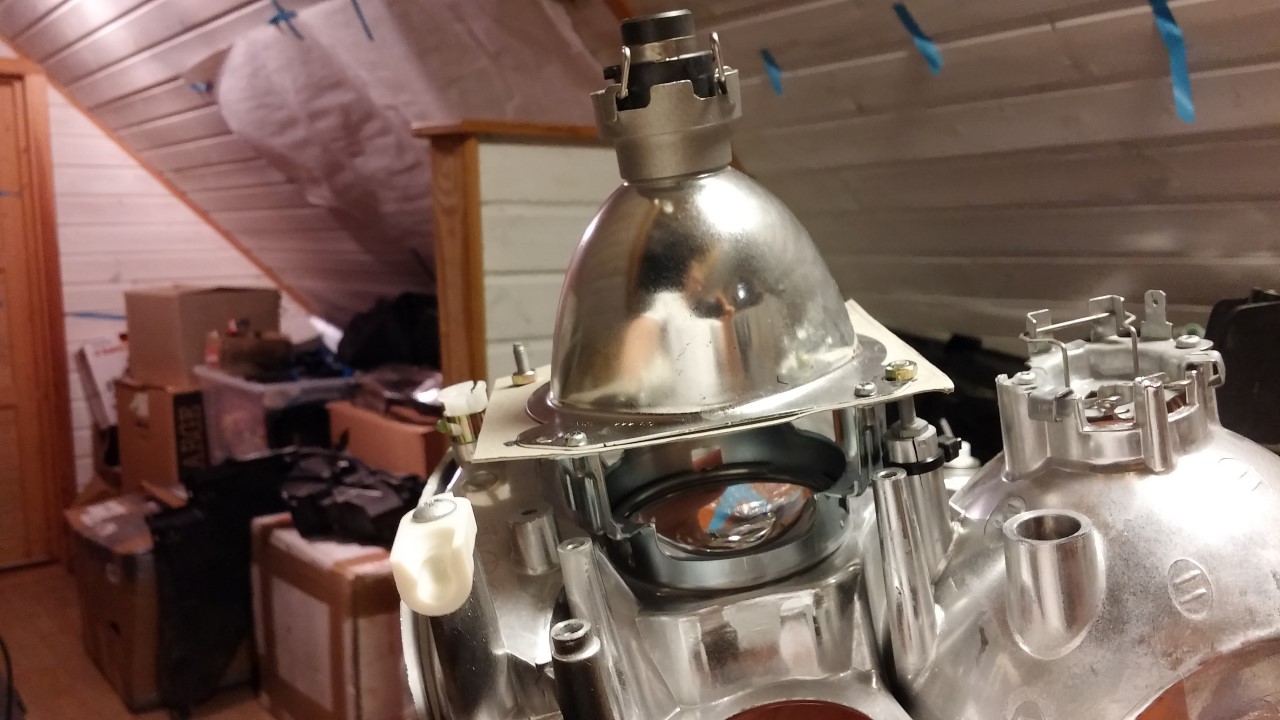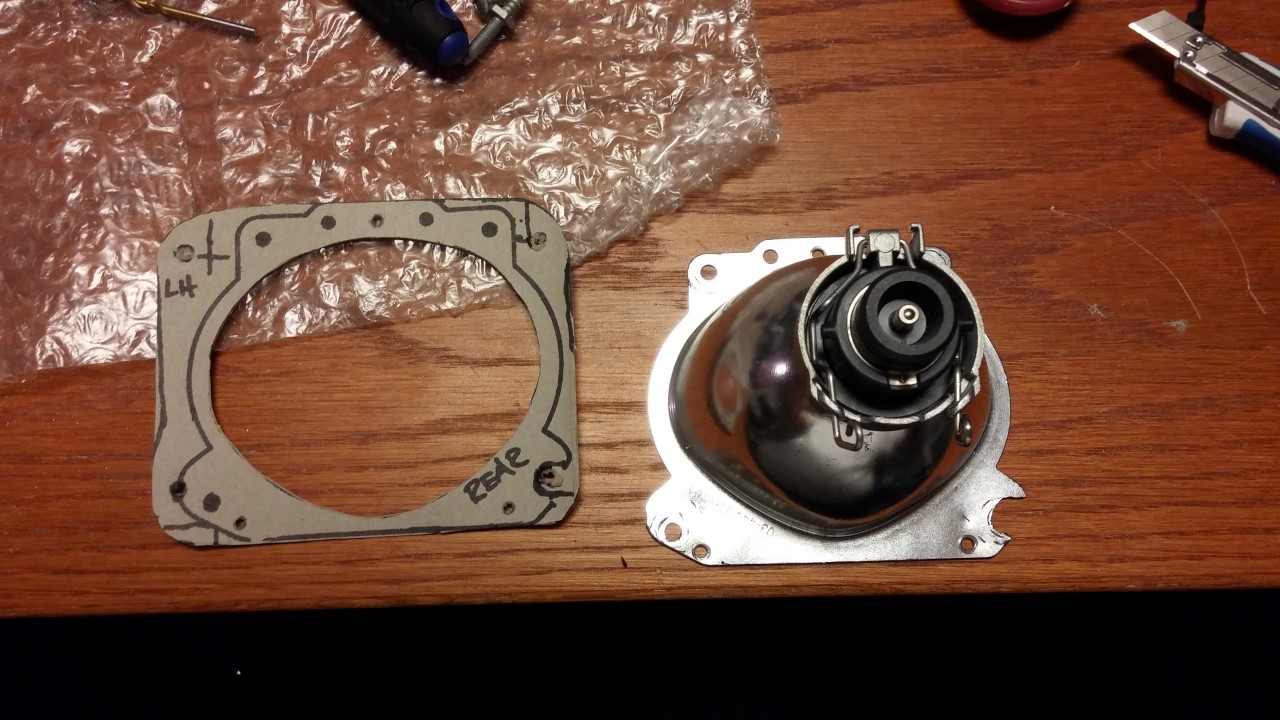 Transferred the drawing to metal...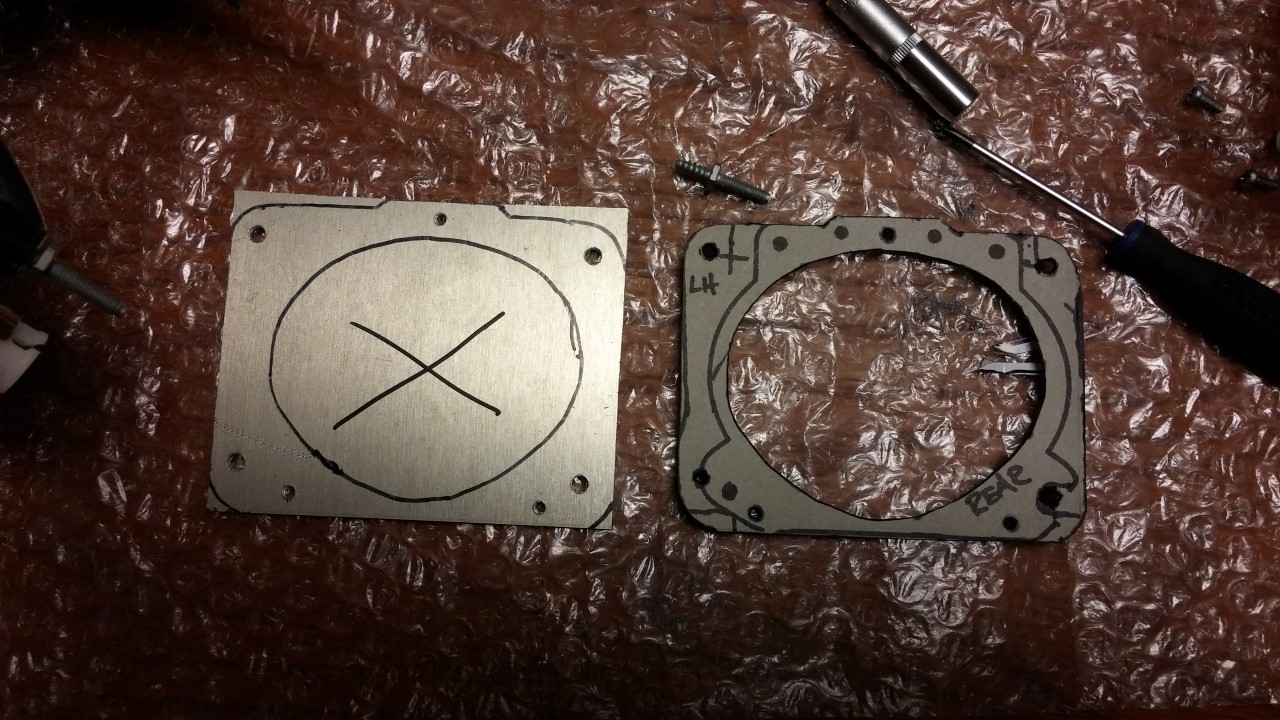 The day after I went back out to try to make things fit together. It turned out that the solenoid of the X5s hung a little too low for anything to fit below them. The new fog lights I'd bought had the same problem, and as the outer shell was the same part as the shiny inside, I could trim at most 1mm to make everything fit, and I needed 4mm - in other words another no-go.
It happened that I had a pair of G37 Sedan bixenon projectors in my drawer. These are quite wide with a decent high beam. Not quite as tall as the Depo X5s, but still a good high beam. They would be used in conjunction with the halogen high beams anyway. As an extra bonus they were flat-bottomed (after the AFS stuff was ground off, anyway), so there was nothing interfering with the fog lights.
These projectors had a 3" lens, which were slightly larger than the 2.5" front openings, but I had a Dremel and enlarged the opening further, measured and made some nice brackets, and suddenly it looked like this: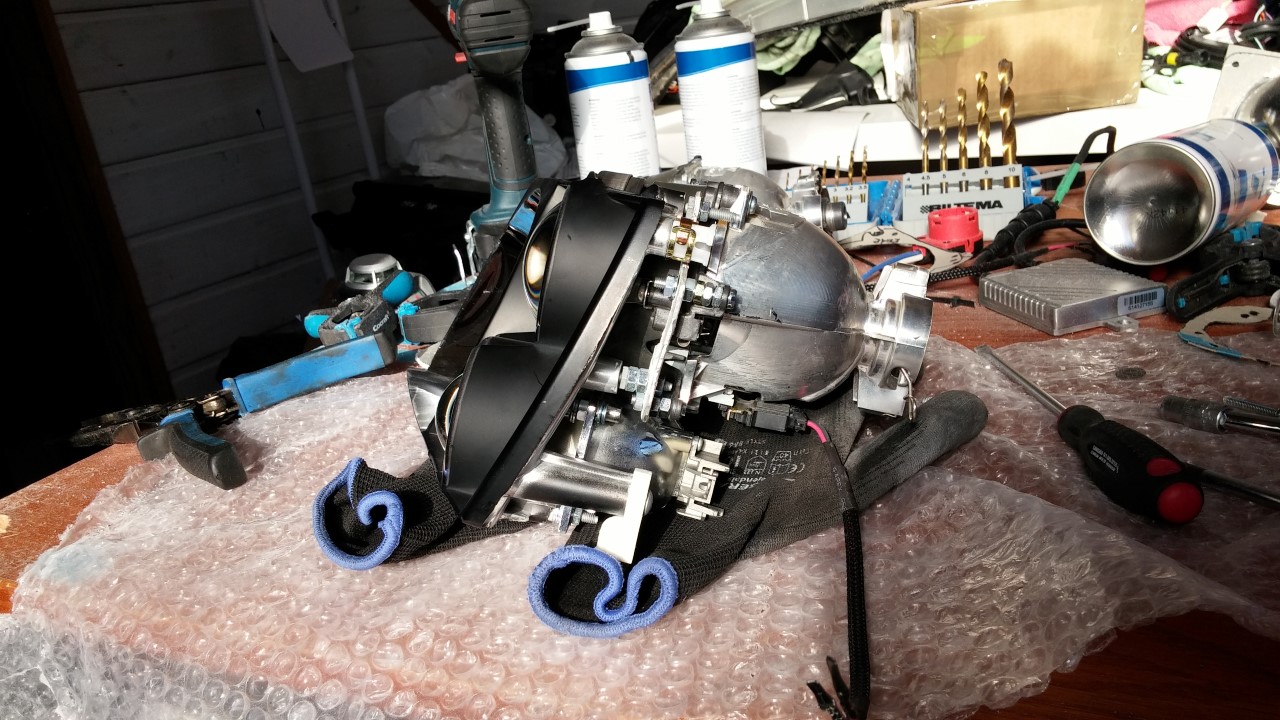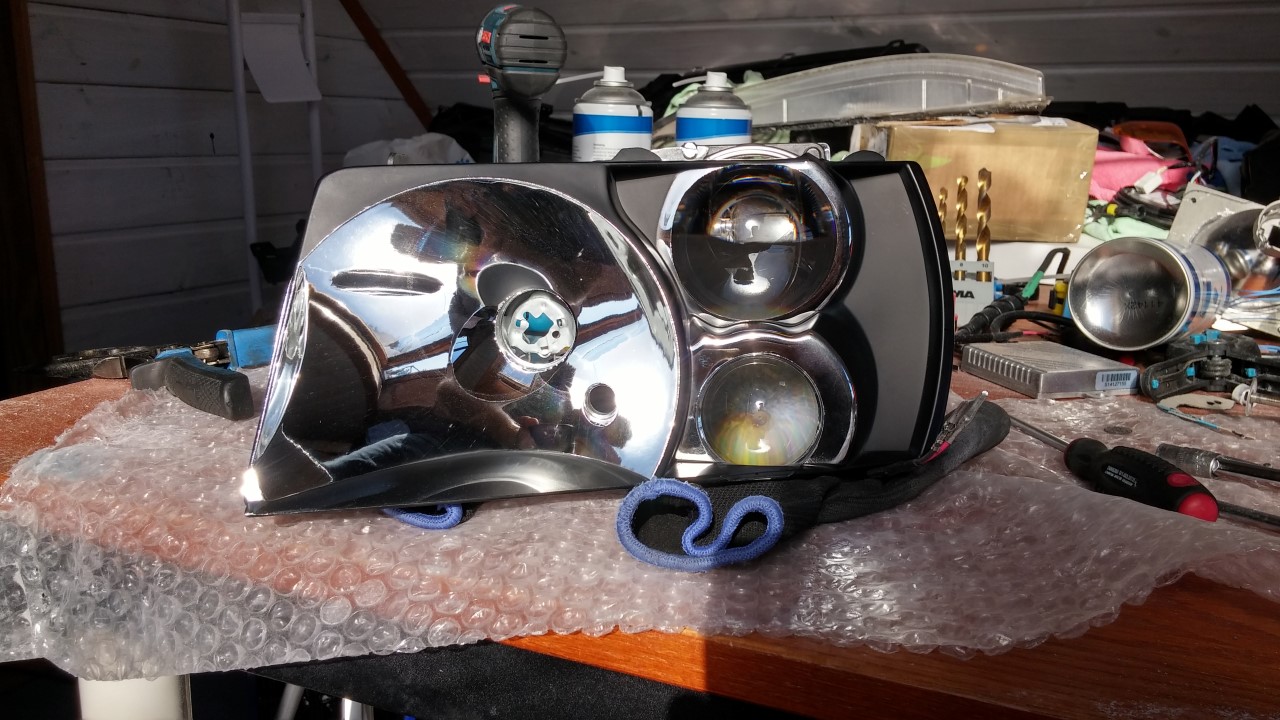 As I had cut the original screw posts, I had to get creative with too large nuts and lots of washers to align everything just right, but I managed in the end.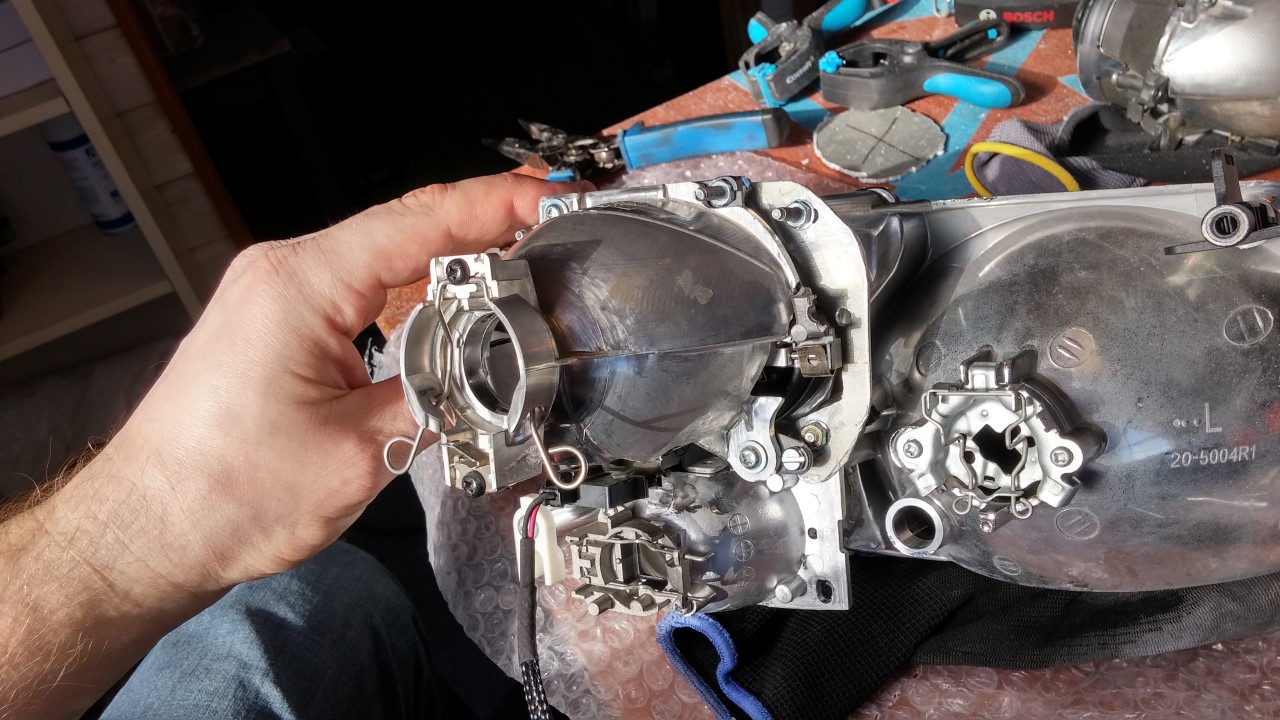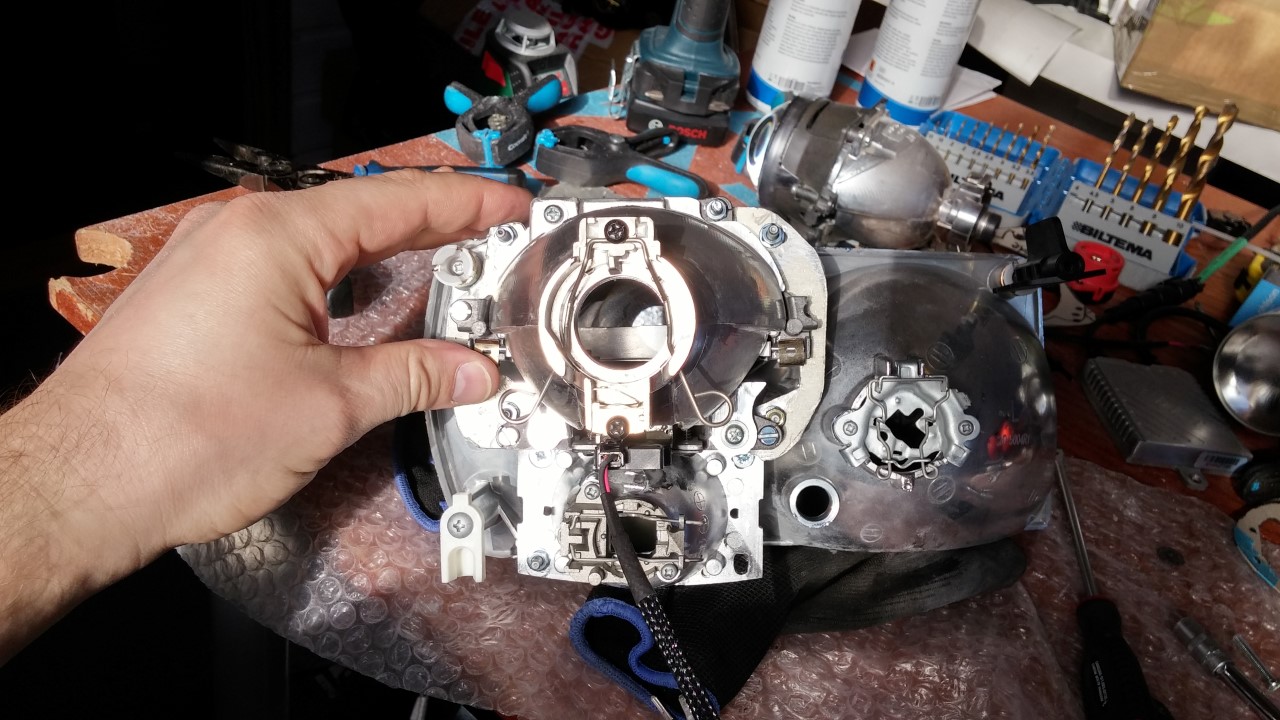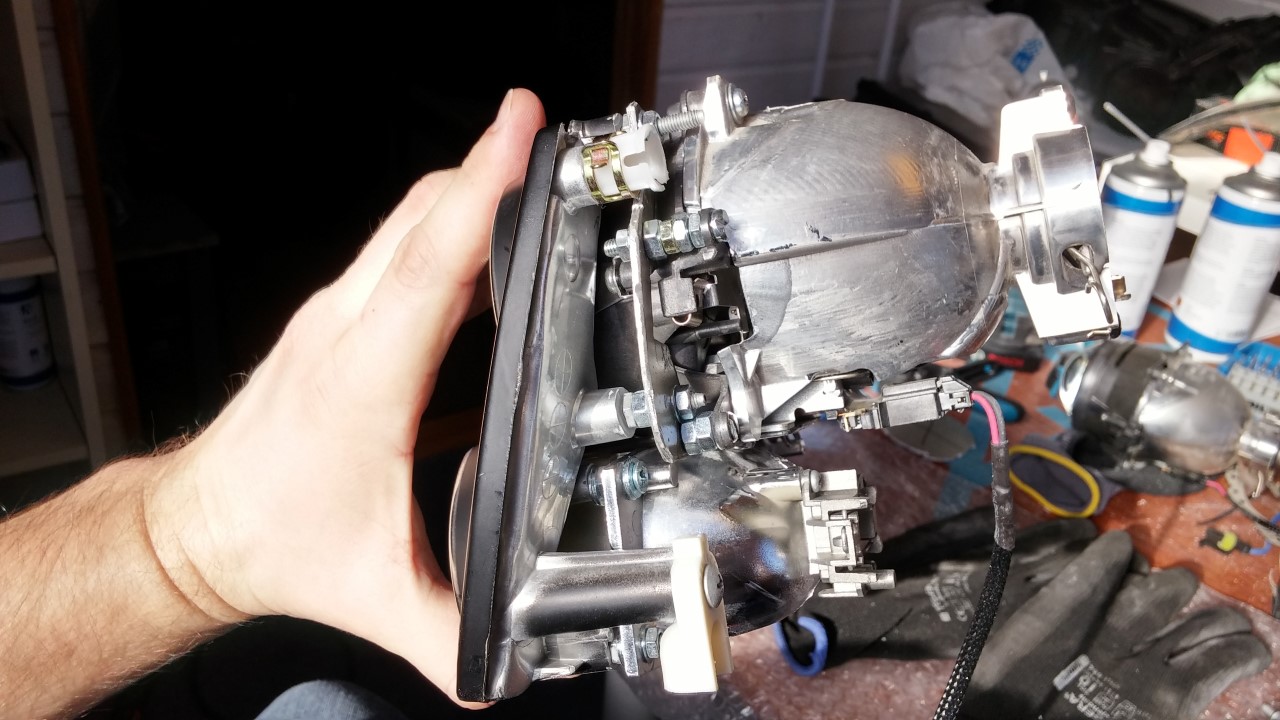 And finished headlight!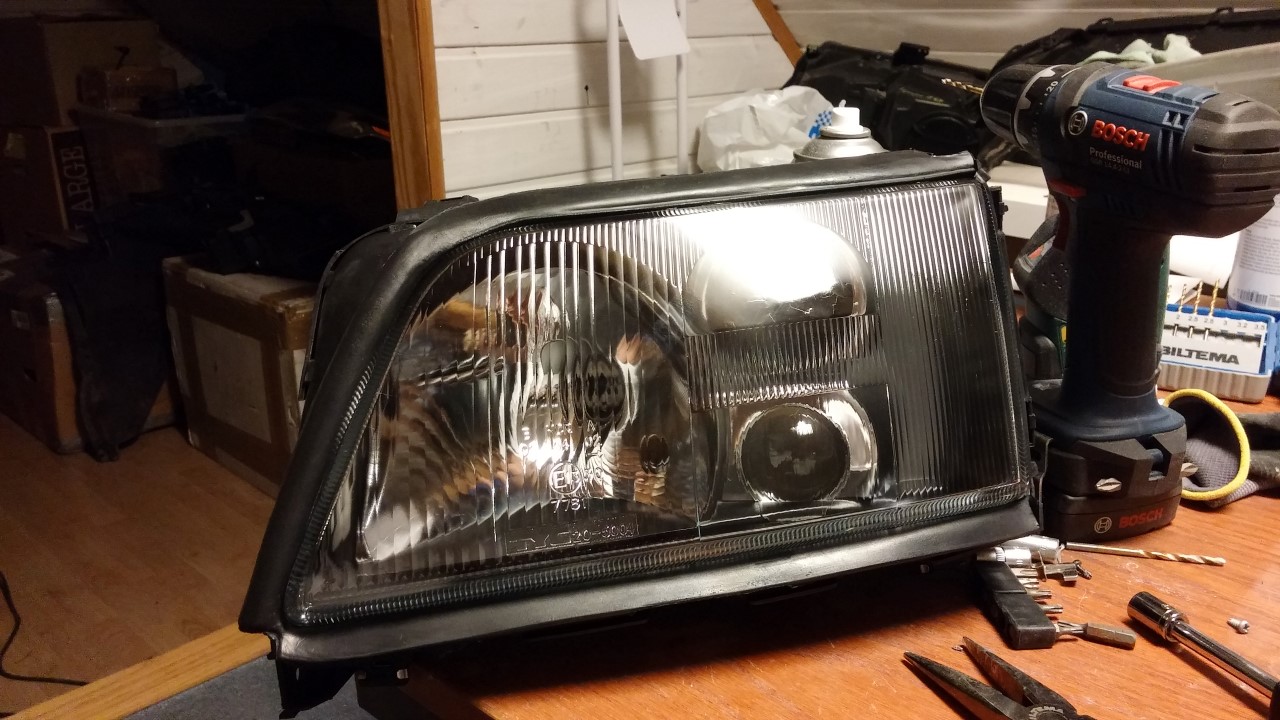 The passenger side was done in a lot shorter time as I didn't have to mess around with dead ends with different projectors and attempts at being clever.
After the customer got the headlights back, I've received feedback in how good the low beams are, but also that the bixenon functionality doesn't work. Typical, after I double checked that everything worked before I sent them off, just to avoid this kind of situation. I'm currently waiting for him to do a thorough test of the electrics and if he gets them working. If not, I've told him to ship them back so I can fix them at my expense so that he is 100% satisfied.