My everlasting retrofit project that I constantly run into problems with, to the extent that I've now lost all inspiration to complete, because I know that once I've gotten it back on the car, something will break and require more work...
Anyway, here's where it's at.
Hardware:
OEM JDM Galant/Legnum one-piece headlights
Lexus RX350 AFS EU (stock), STI-R clear lenses -> RX350 Non-AFS w/STI-R clear lenses installed -> RX350 AFS US (stock)
EvoX-R ECE slope shield (from China)
NHK Type A shrouds
OSRAM XenARC Nightbreaker Unlimited D2S
4x Mitsubishi Gen4 ballasts -> 2x Mitsubishi+2x Matsushita Gen5 -> 4x Mitsubishi Gen4
2x TRS HD Relay harnesses
Custom selectable quad wiring, thanks to satrya's pioneer work
I bought the parts back in March 2014:
Bulbs: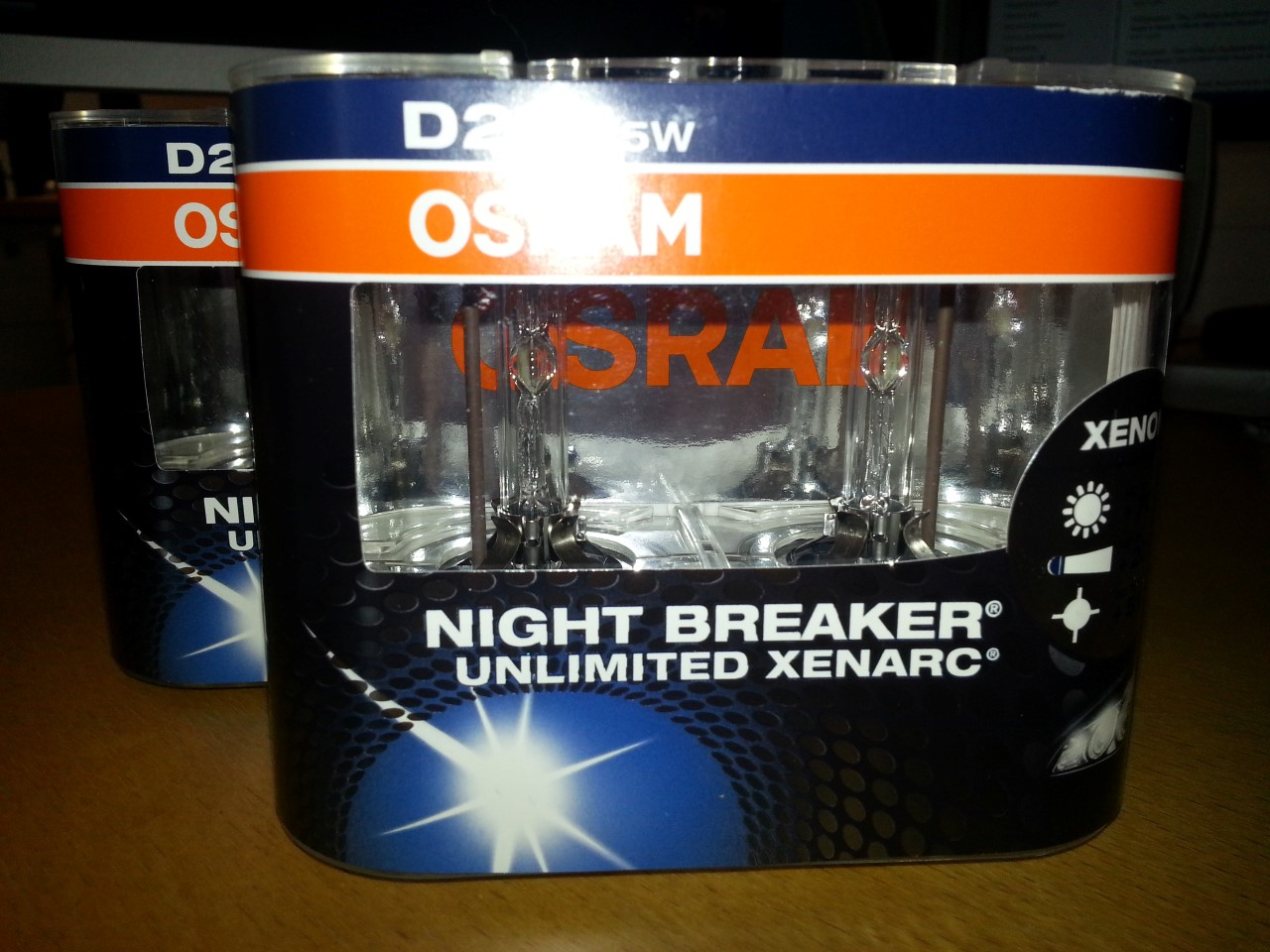 Shrouds (yes, Iris). These weren't used for this retro, but were substituted with some NHK Type A shrouds I bought from a seller on AliExpress.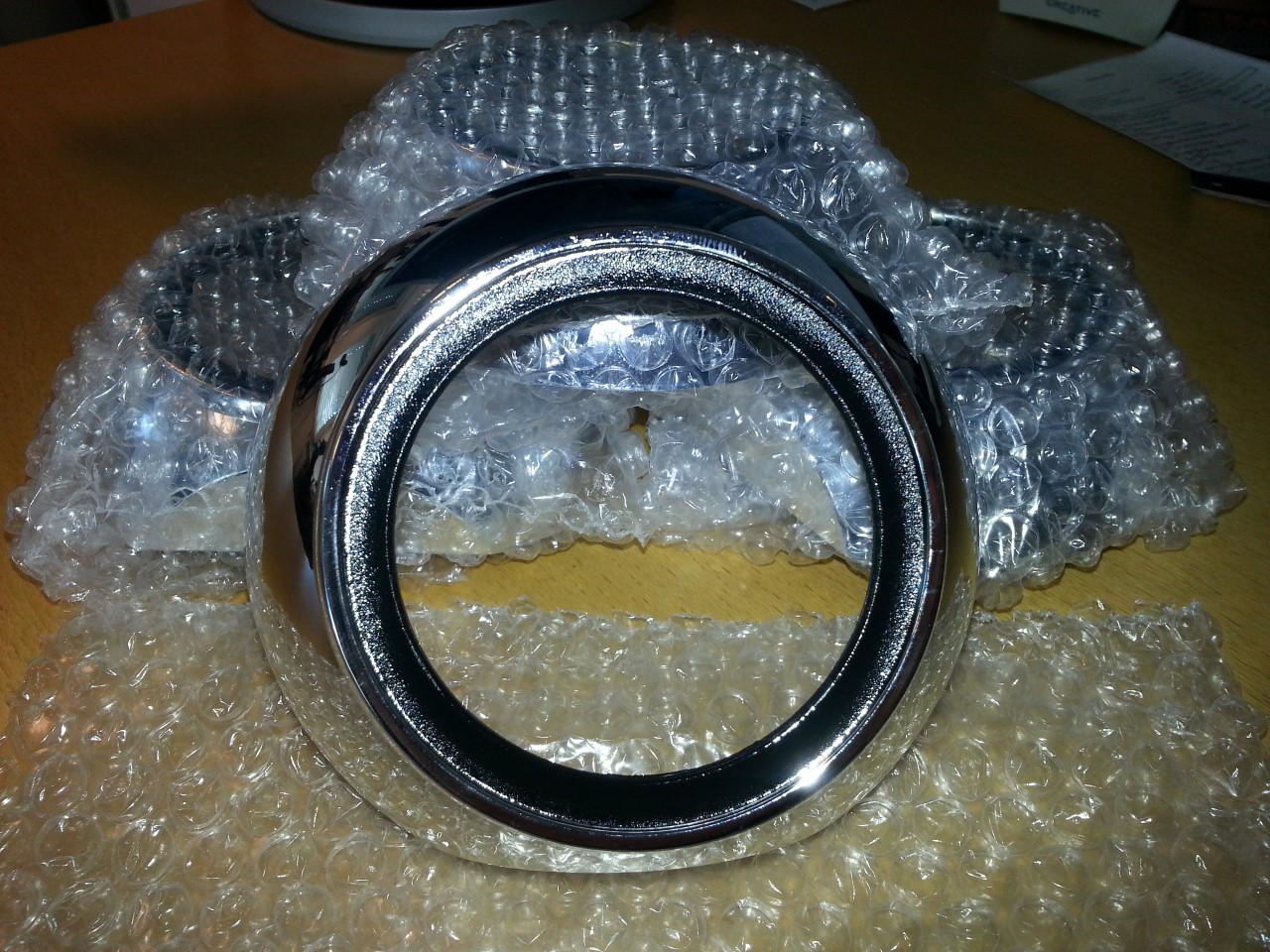 Some wires and connectors: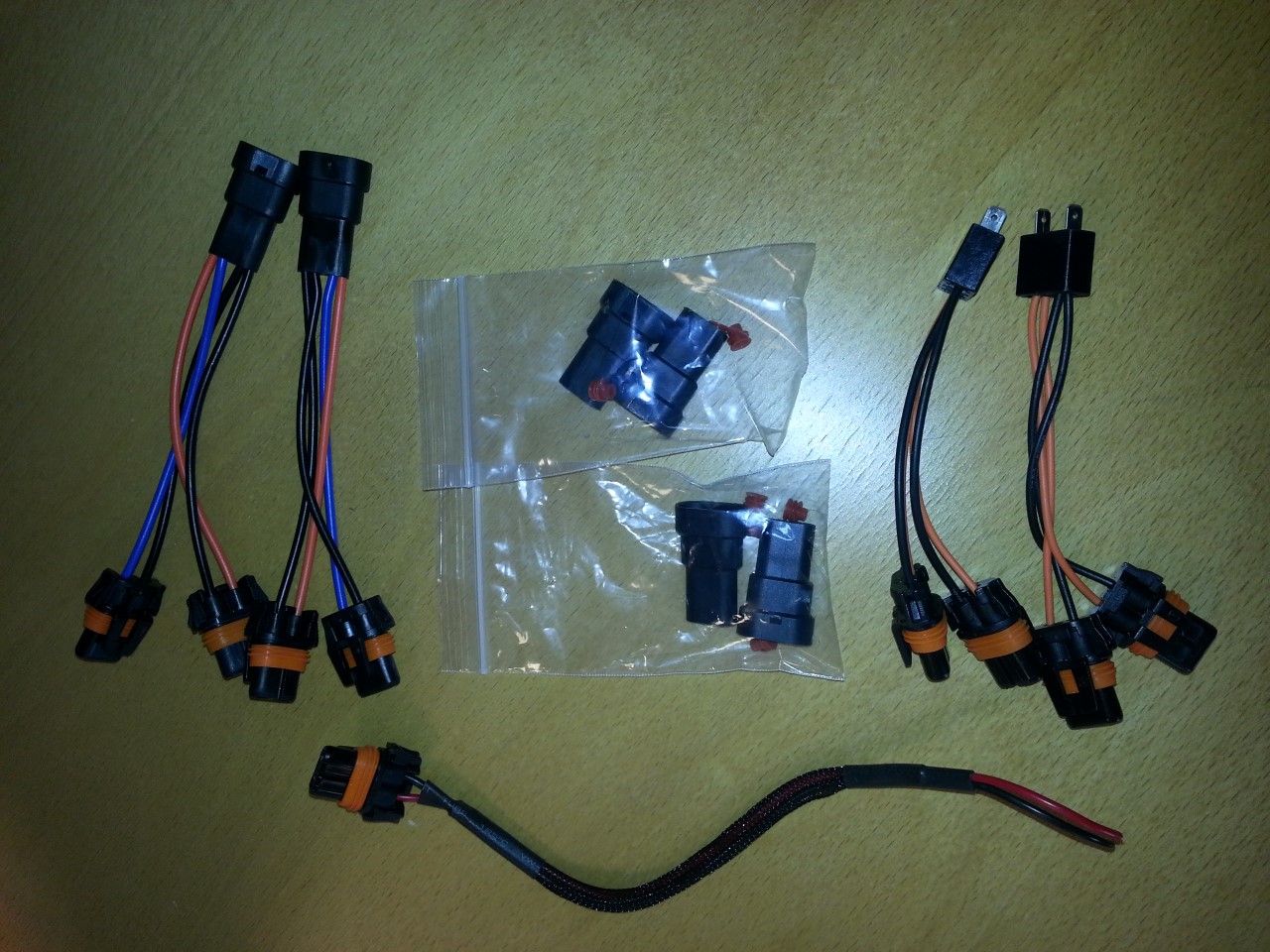 LED strips that I wasn't sure I was going to use, but hey, they were only $10: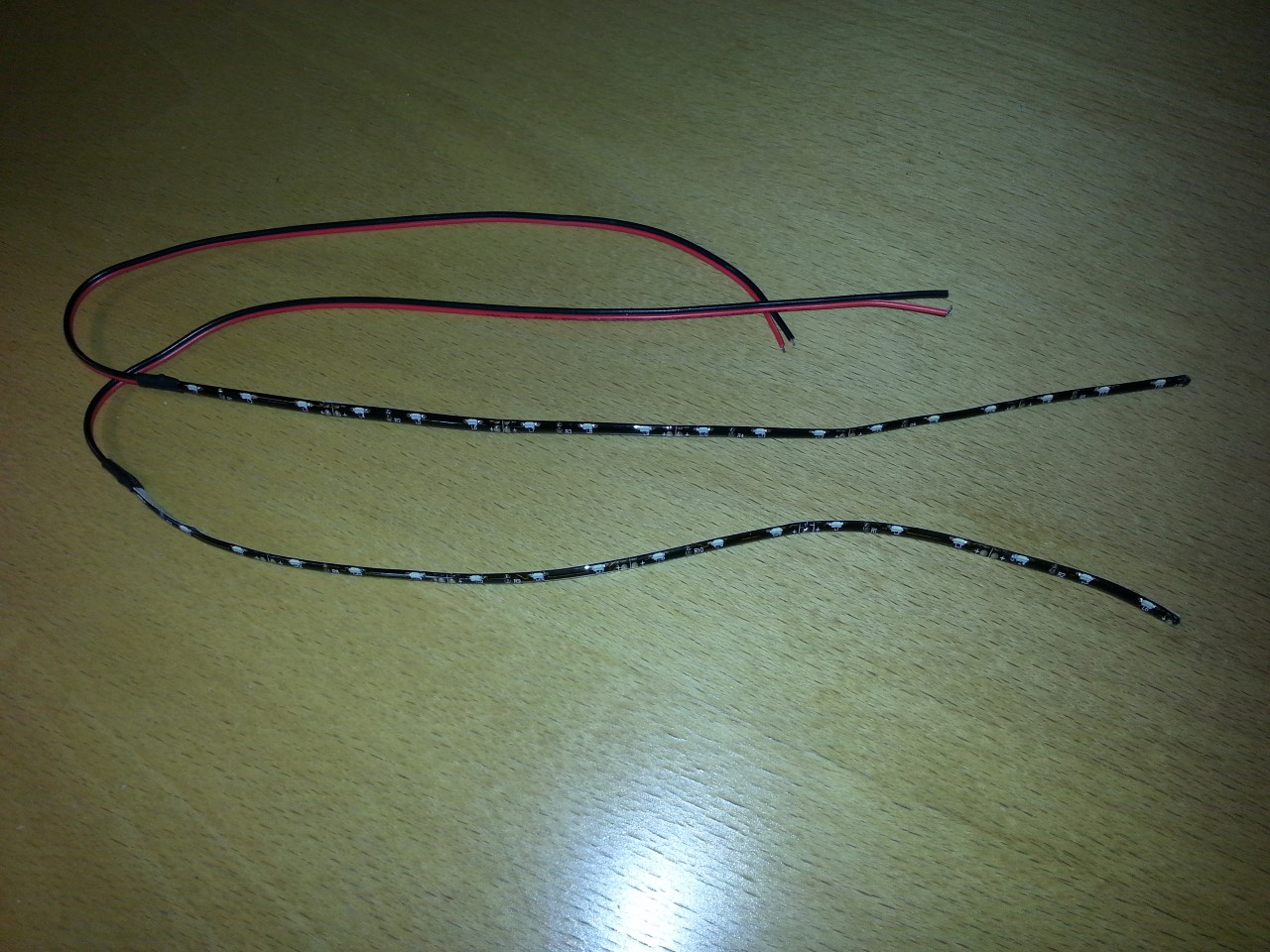 Relay harnesses:
Clear lenses: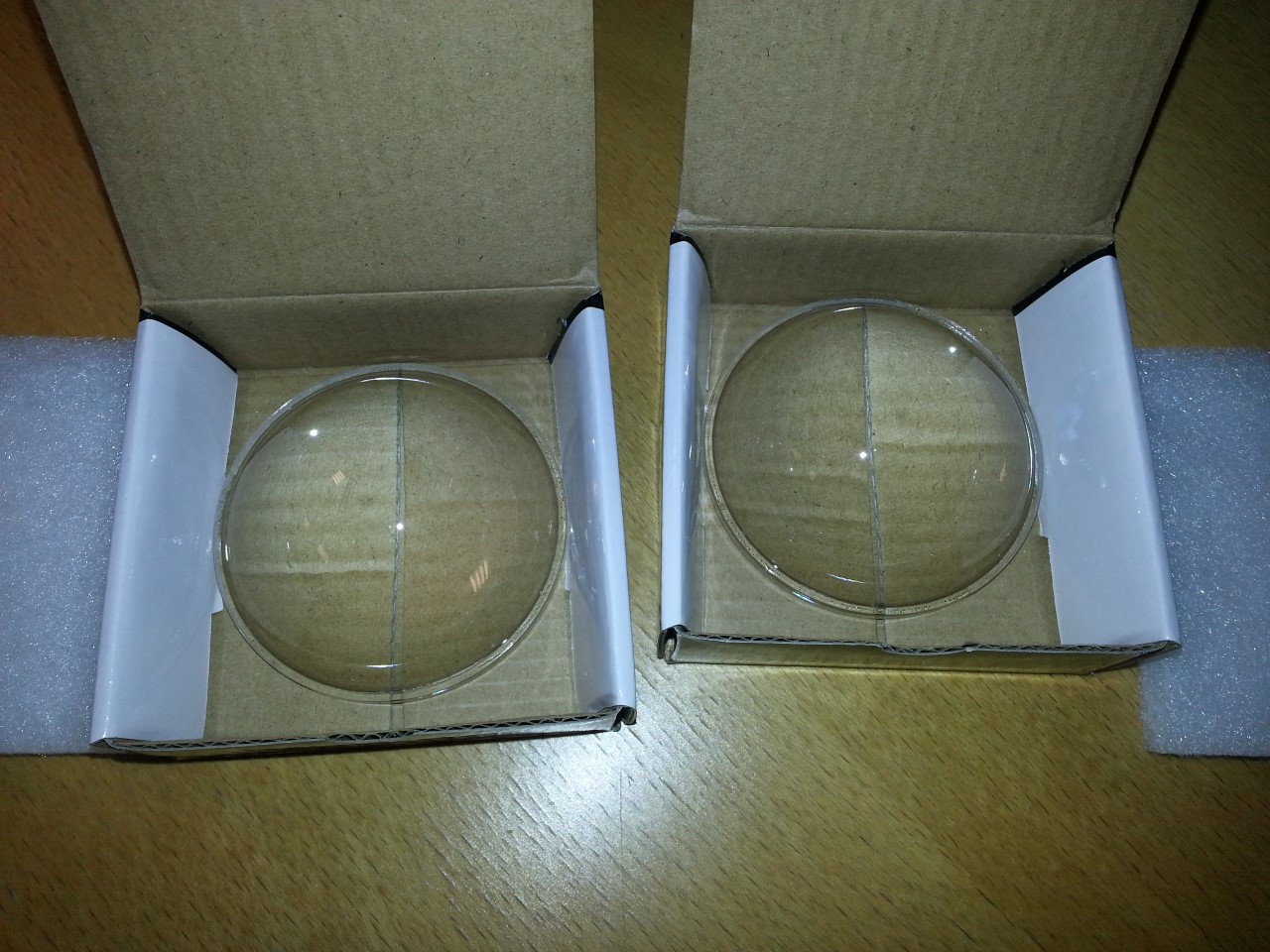 EvoX-R: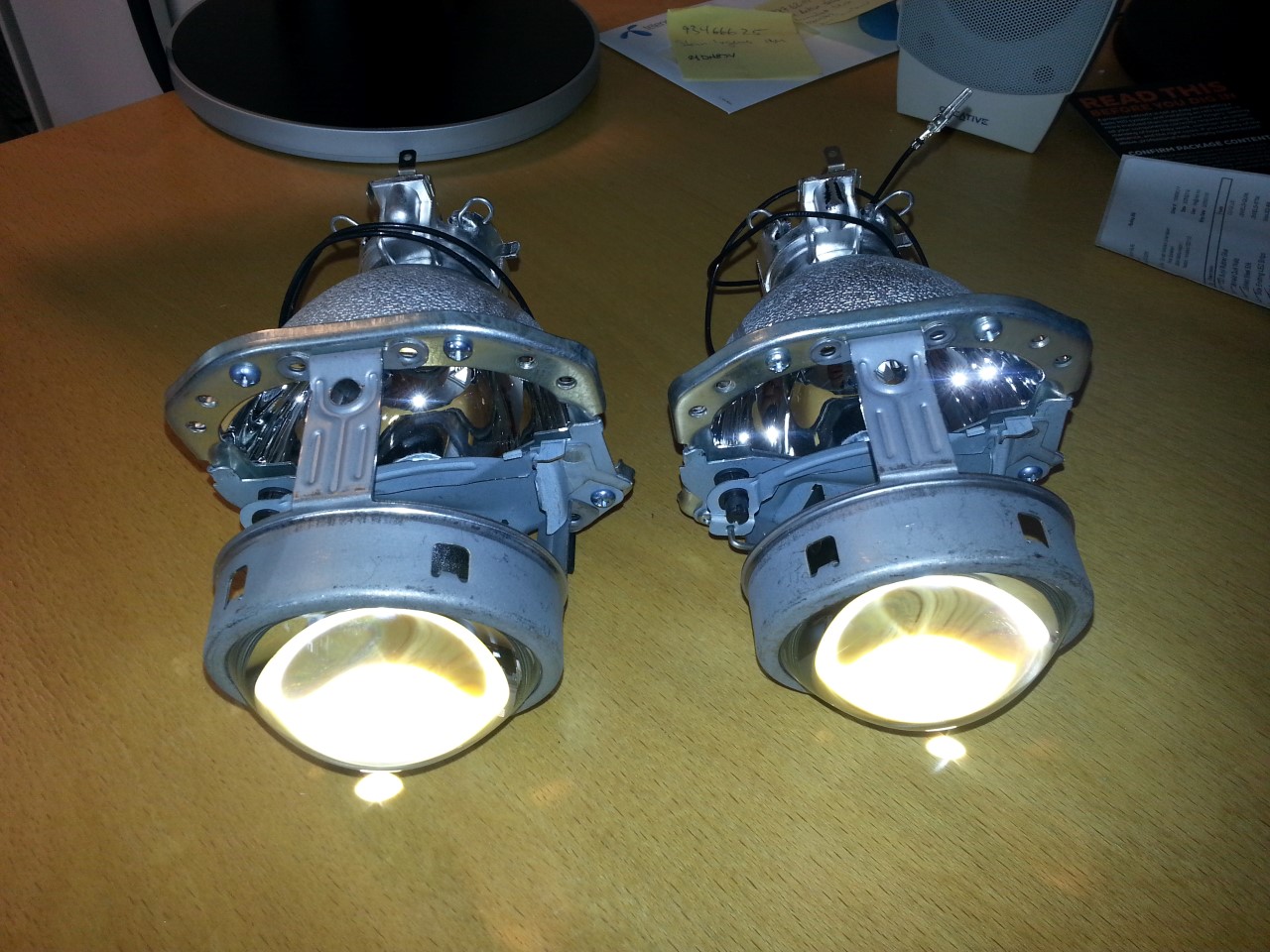 Ballasts: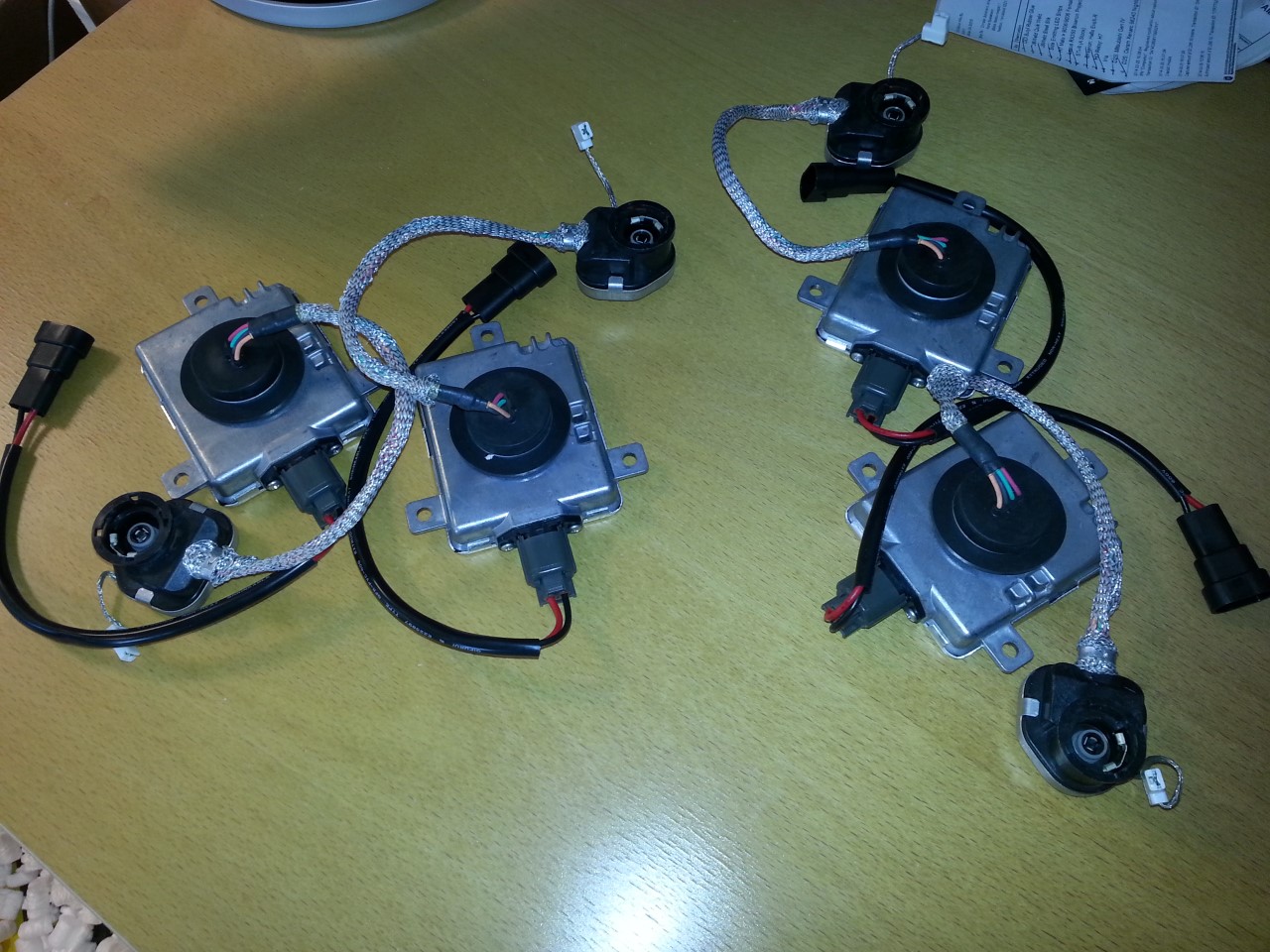 RX350: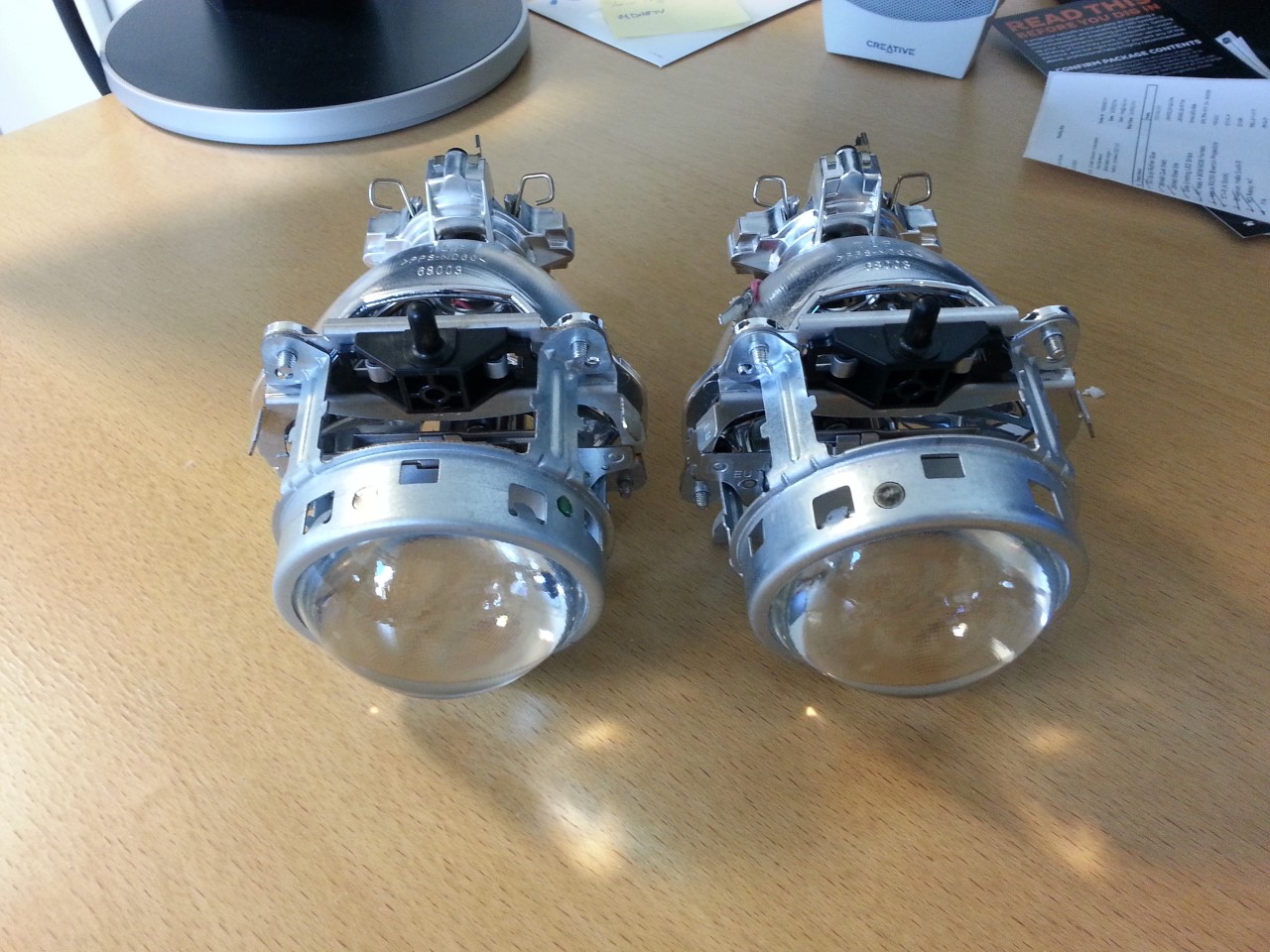 Butyl and waaaaaay too little epoxy: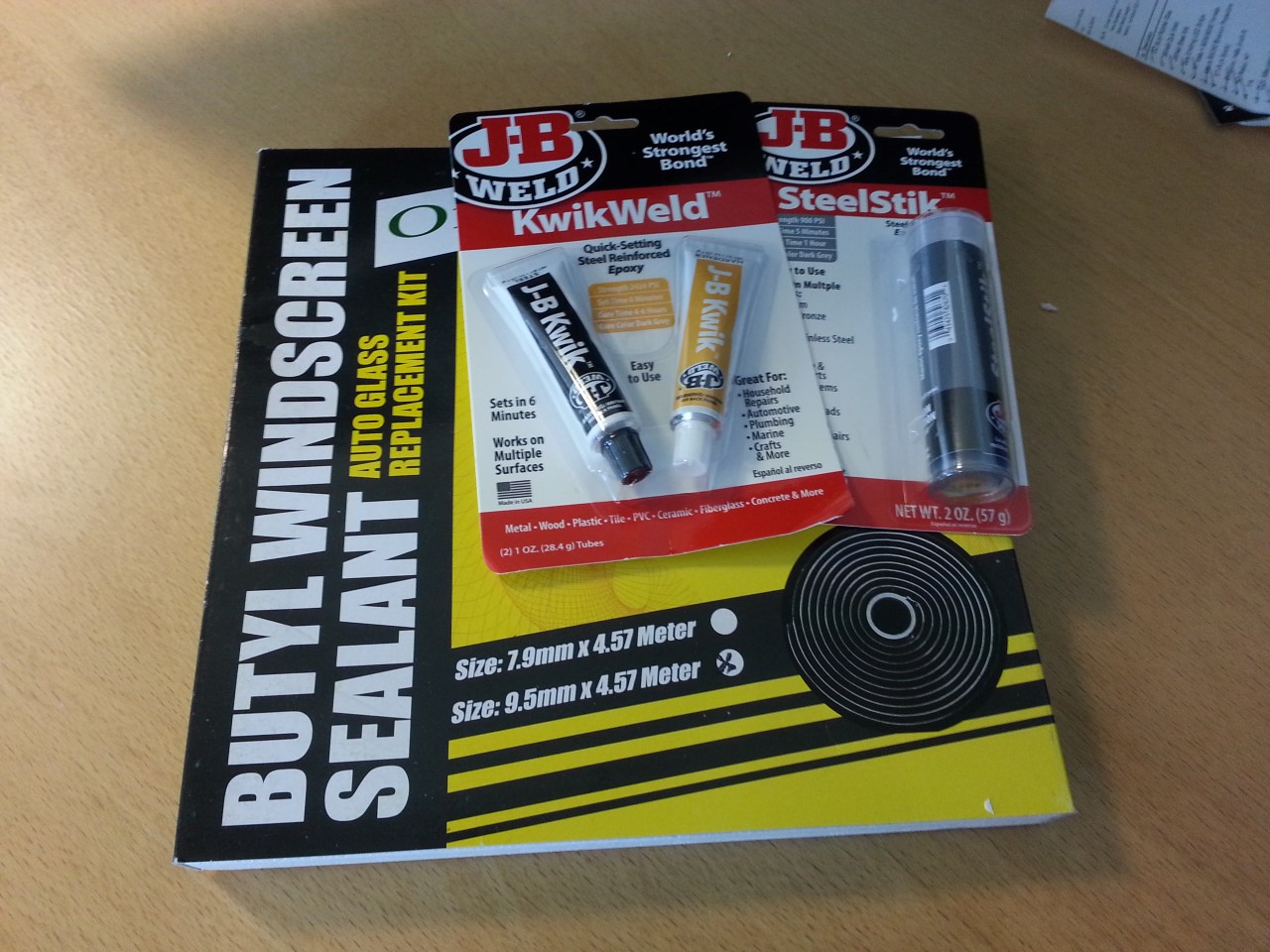 Stickers and stuff: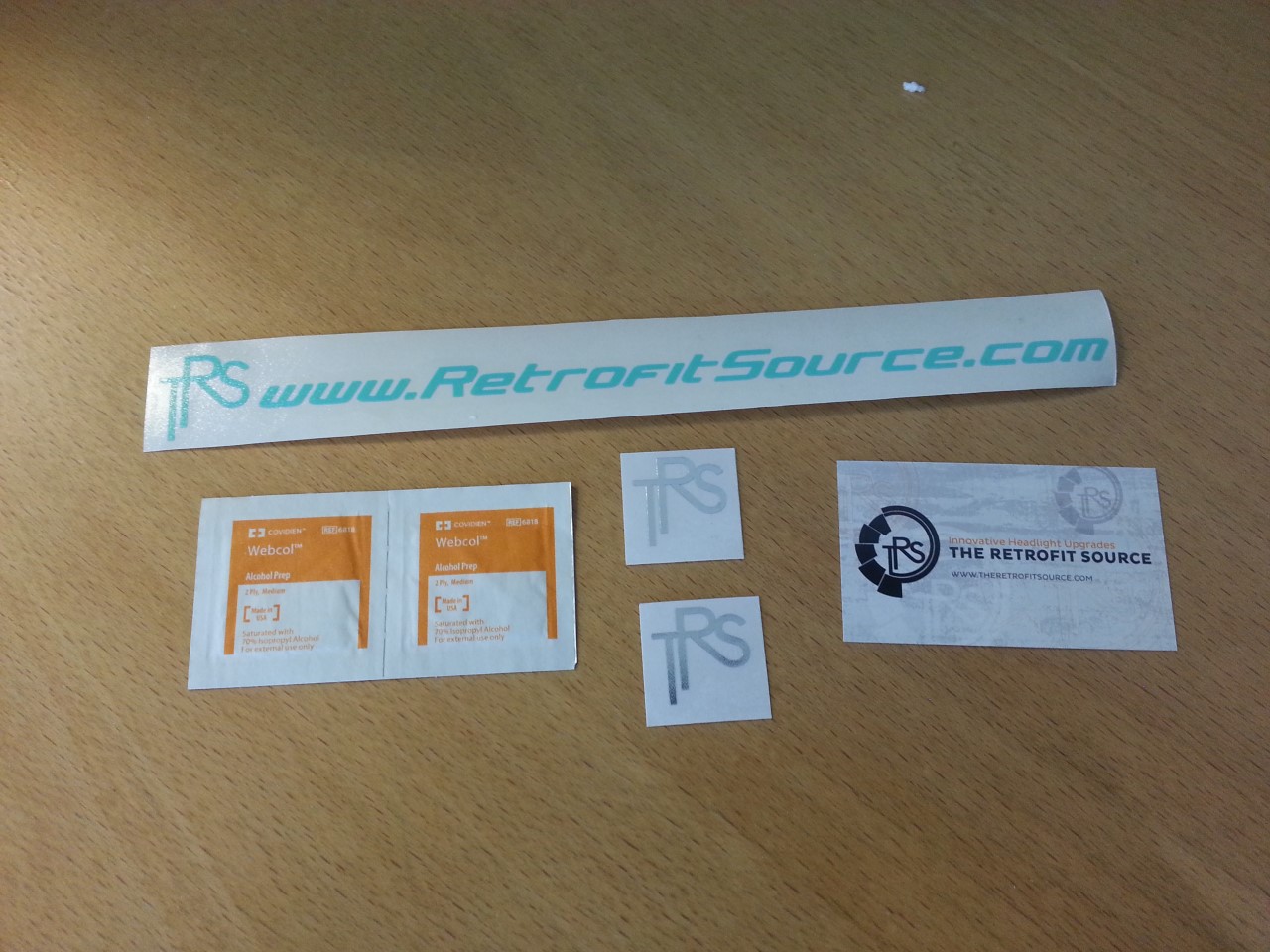 In April, I placed an order with Oznium.com for some flush-mount LED bolts and a 3-way rocker switch: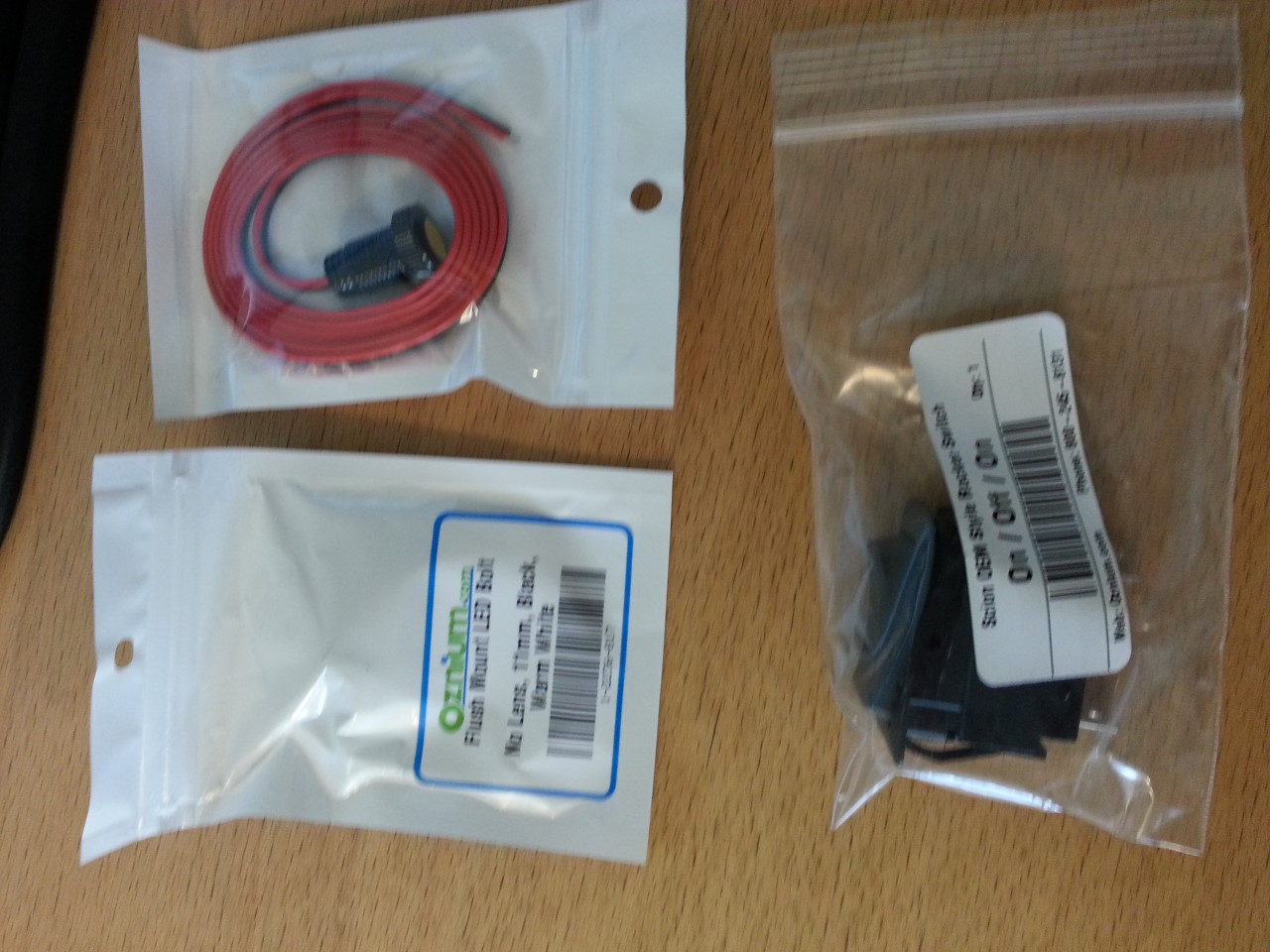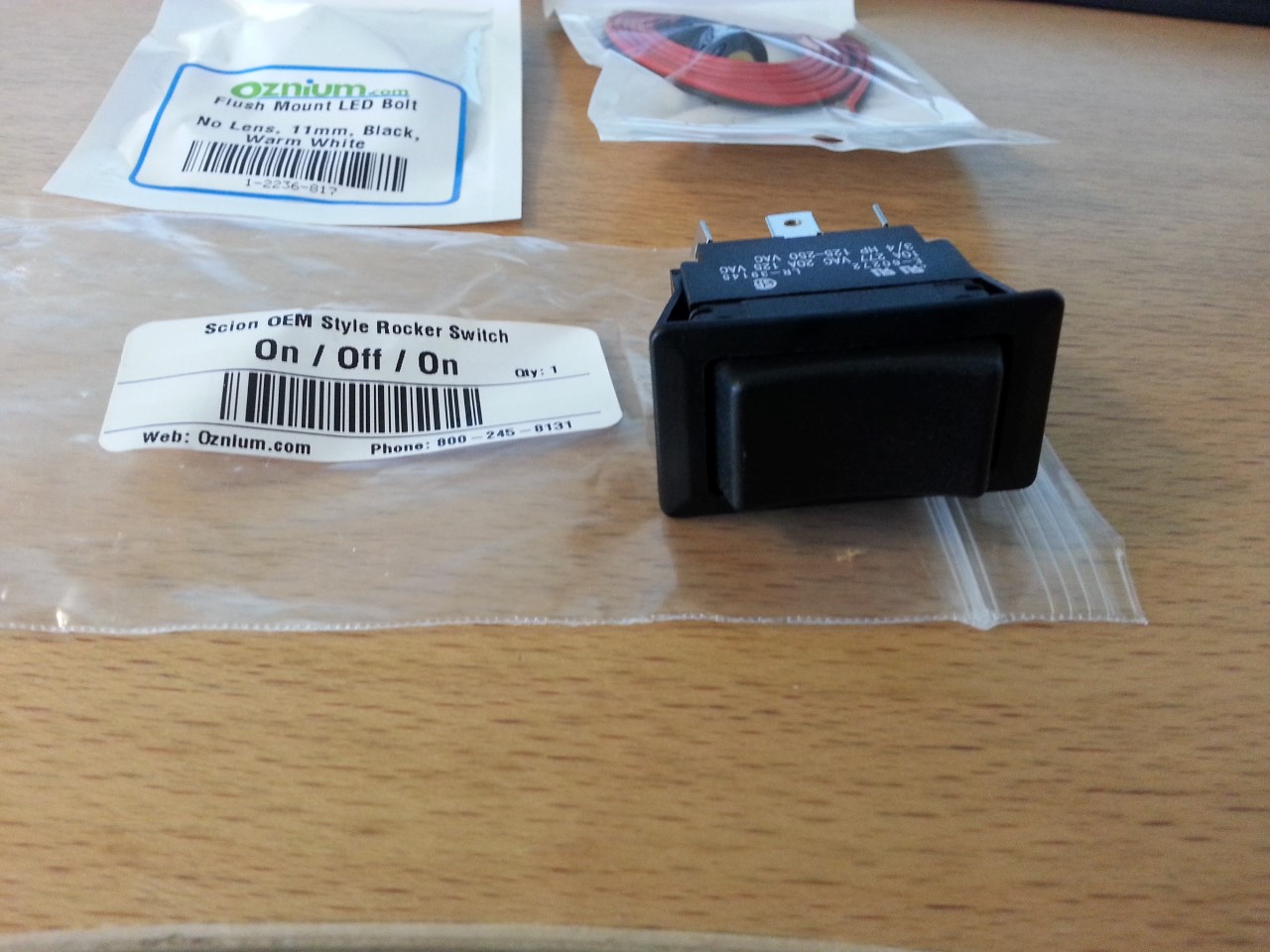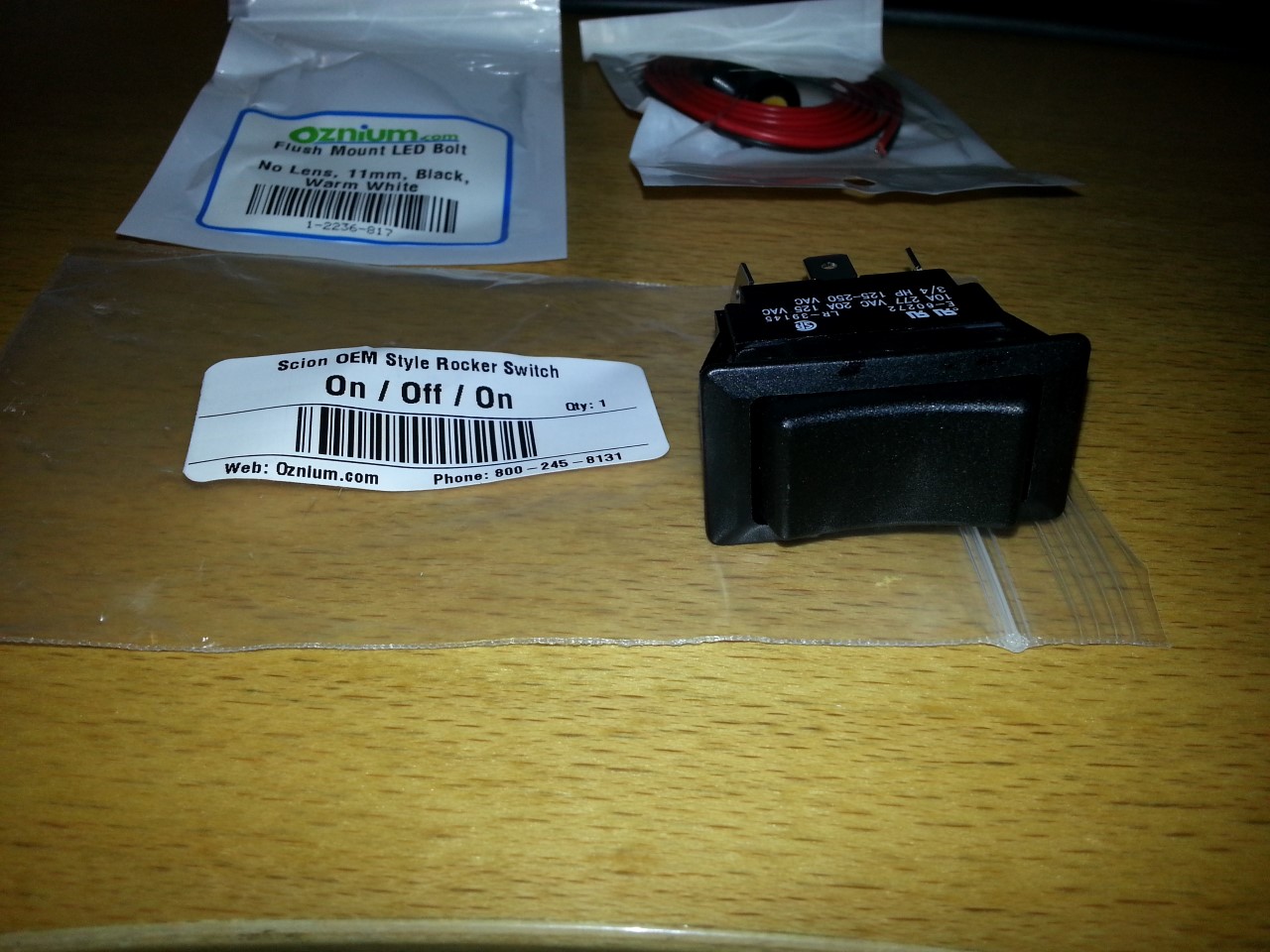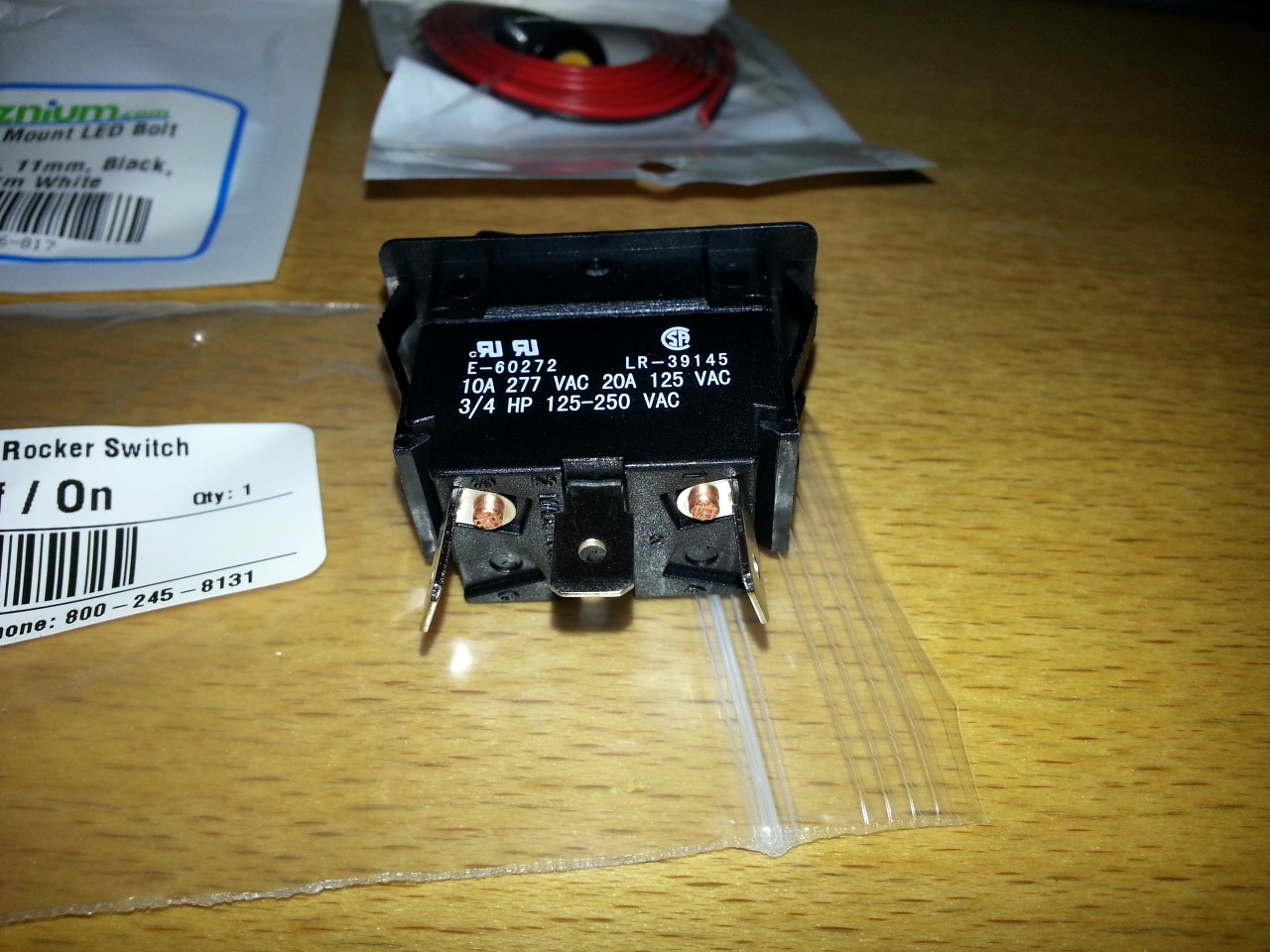 Since I wanted a slightly fuzzier output from the EvoX-Rs, I bought a pair of OEM E55s from a seller on eBay. These had frosted lenses and ECE slope cutoff to match my EU slope RX350s, so I planned to do a front end swap between the E55s and the EvoX-Rs.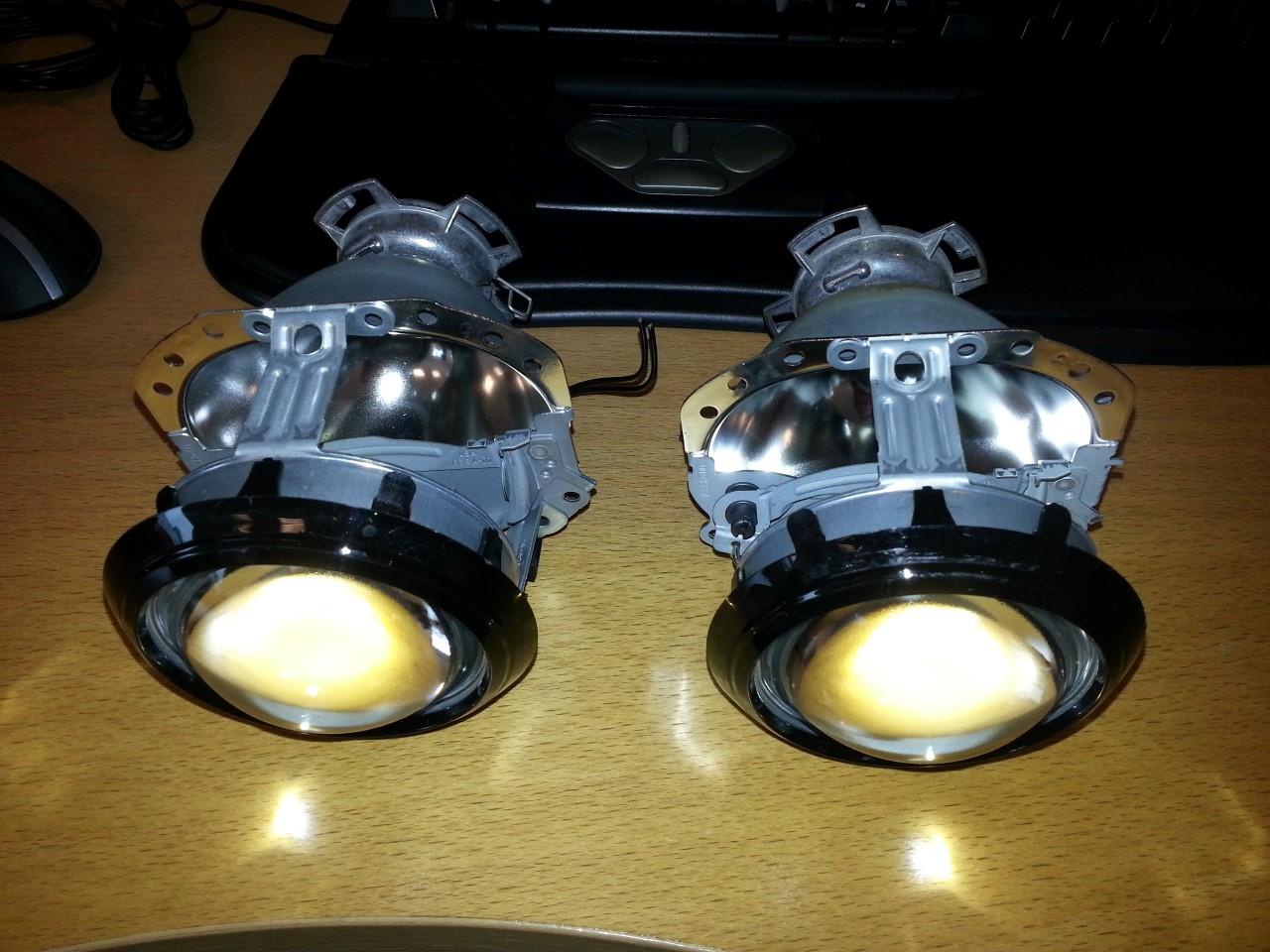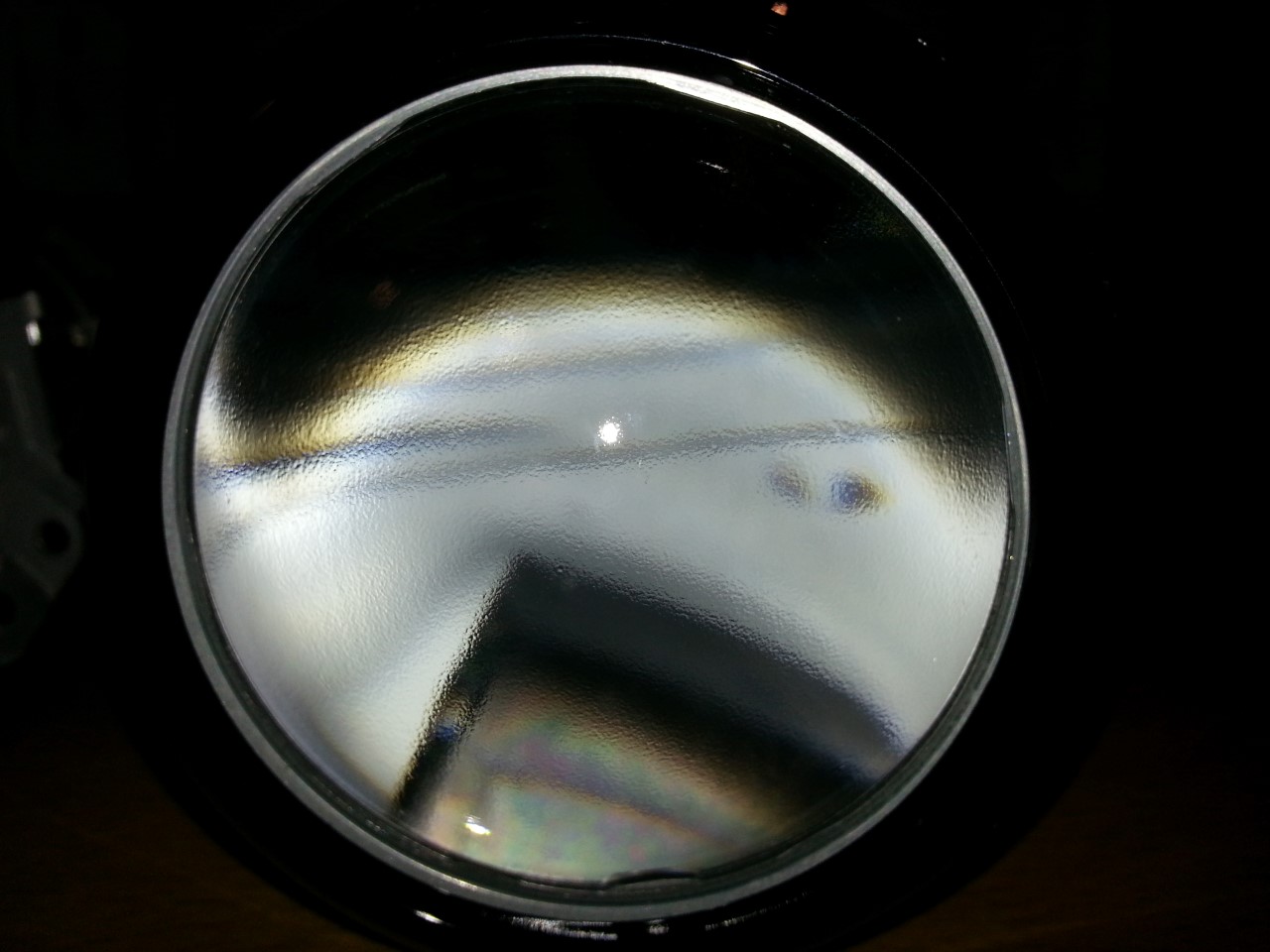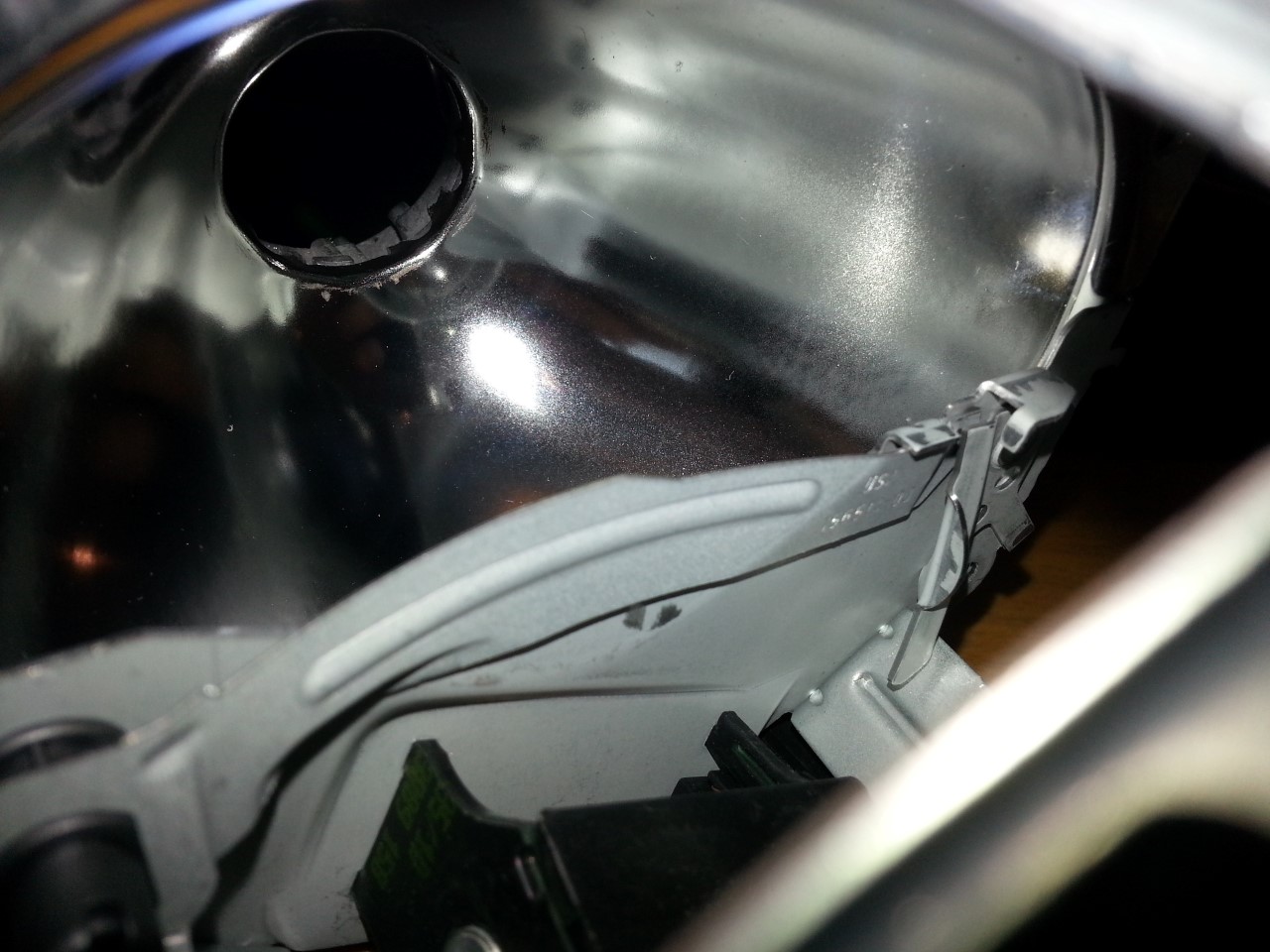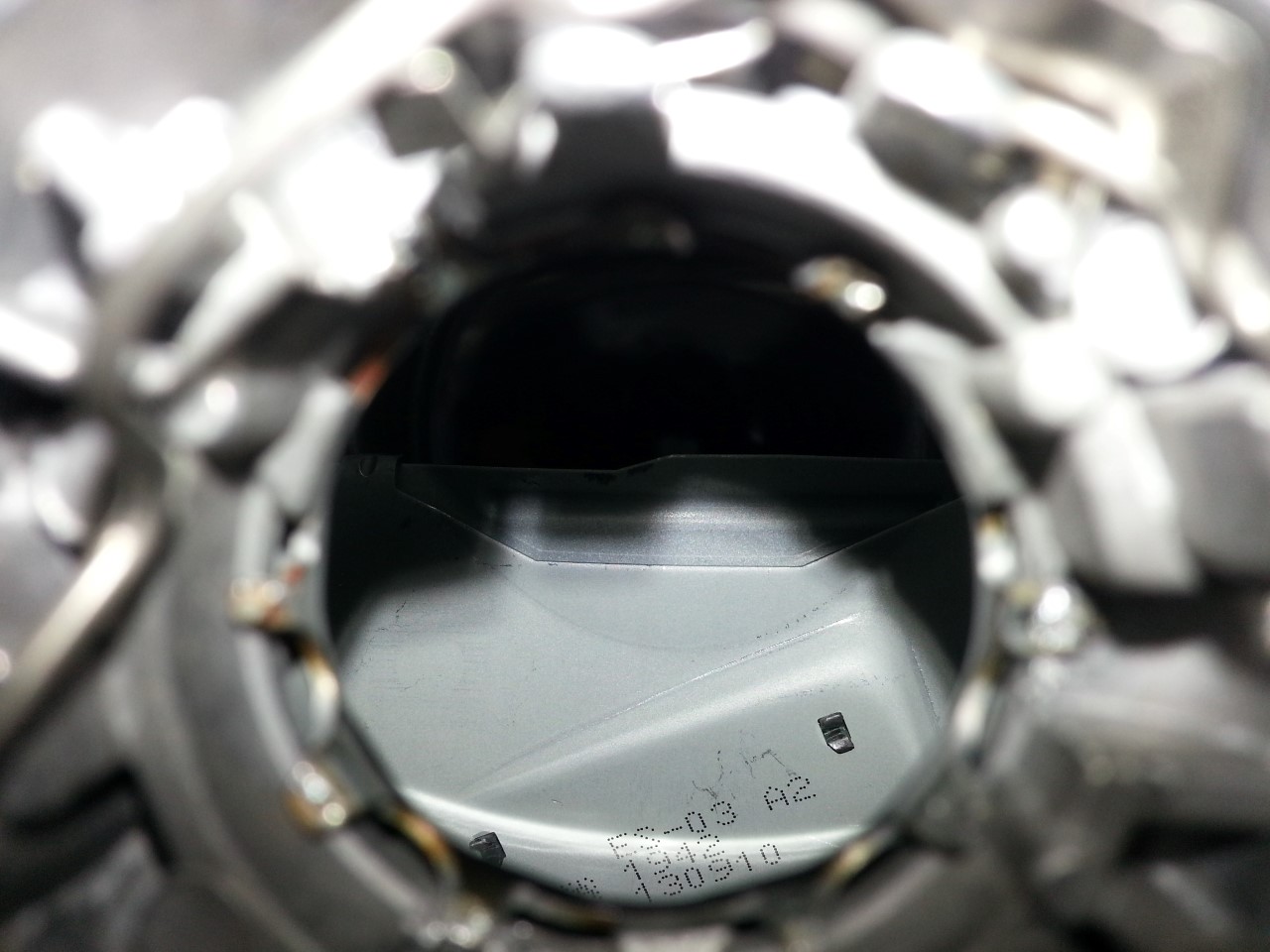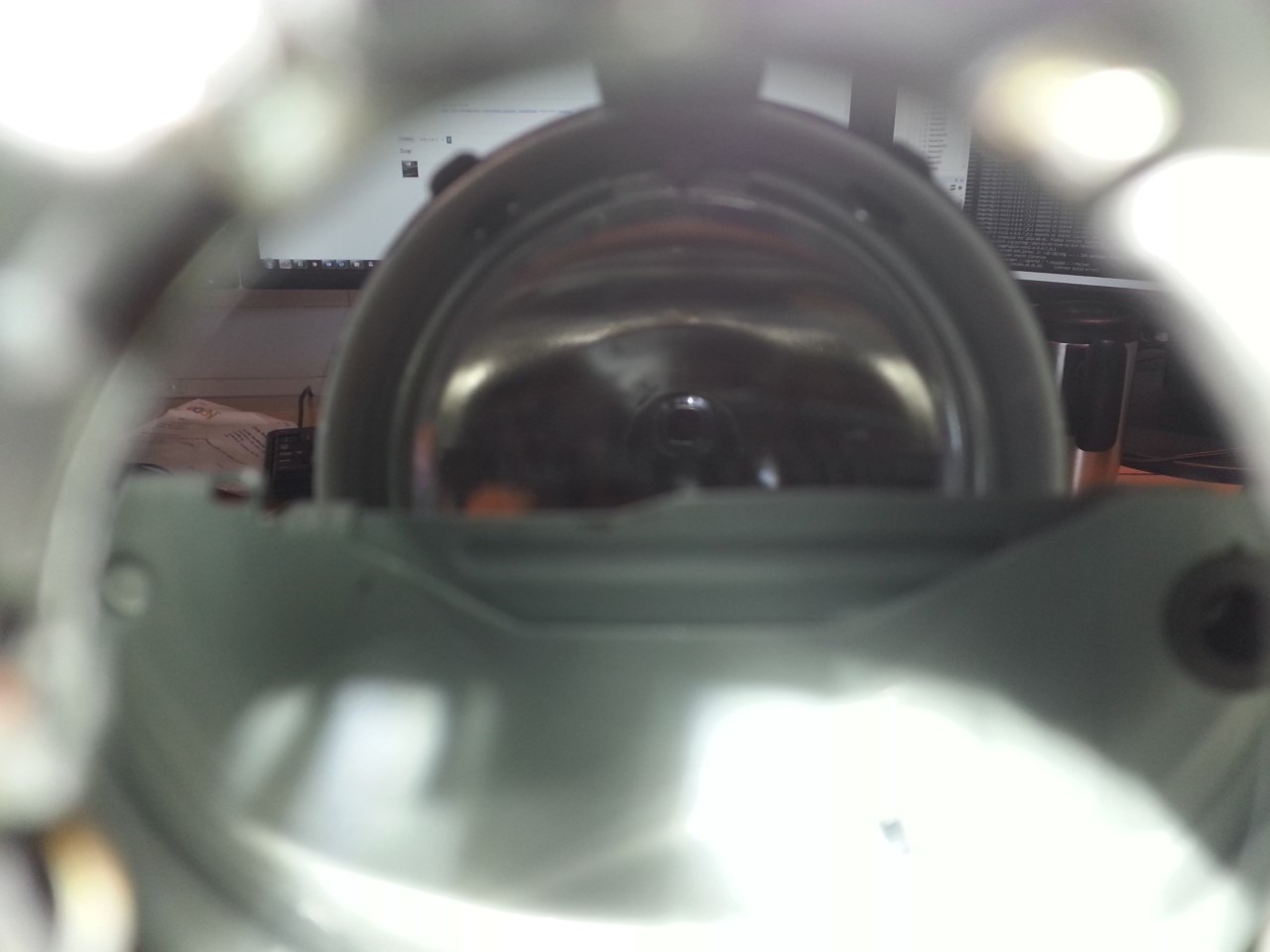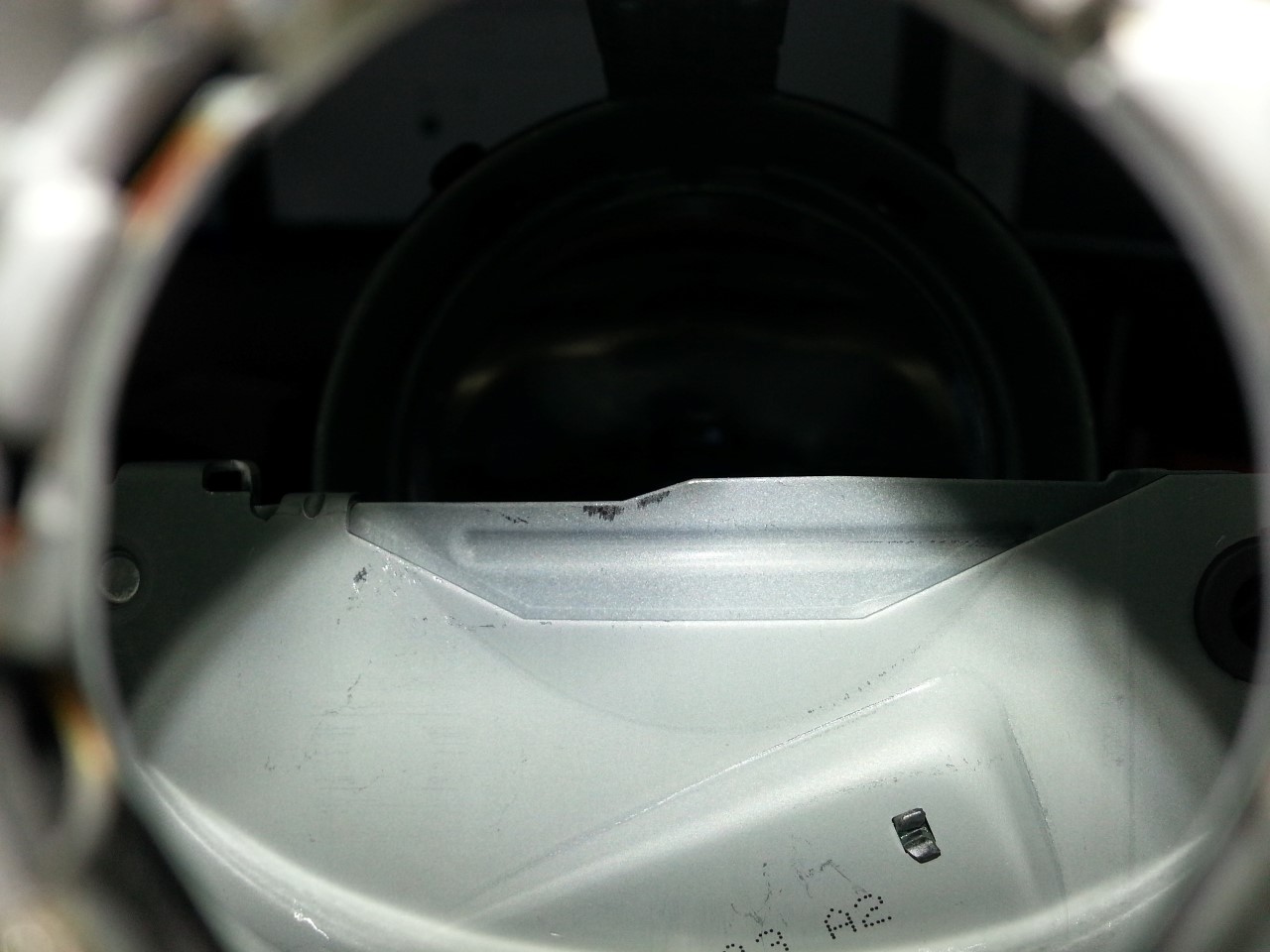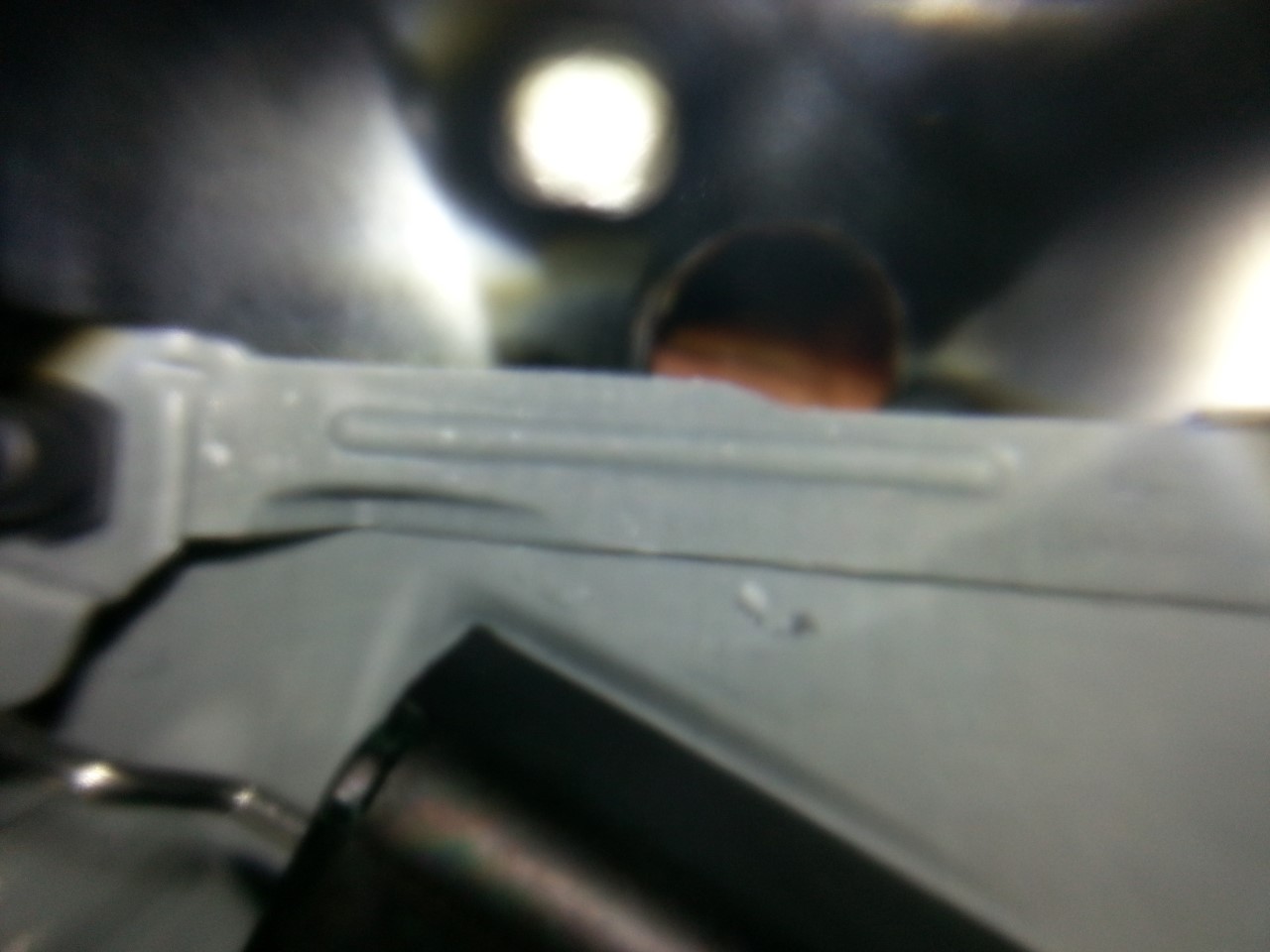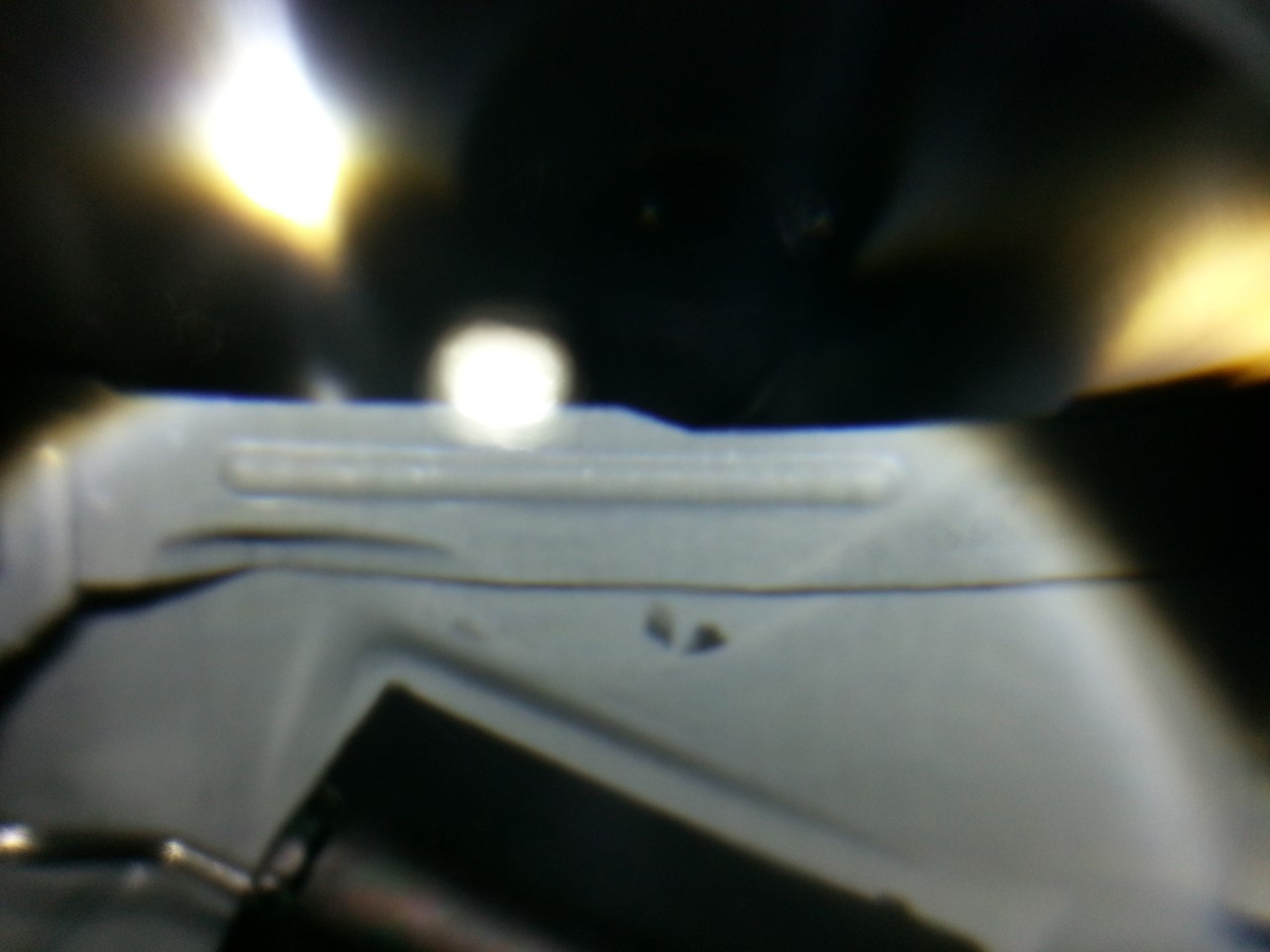 Then I bought four Matsushita Gen5 ballasts because I had a notion that they would fit inside my headlights... they didn't.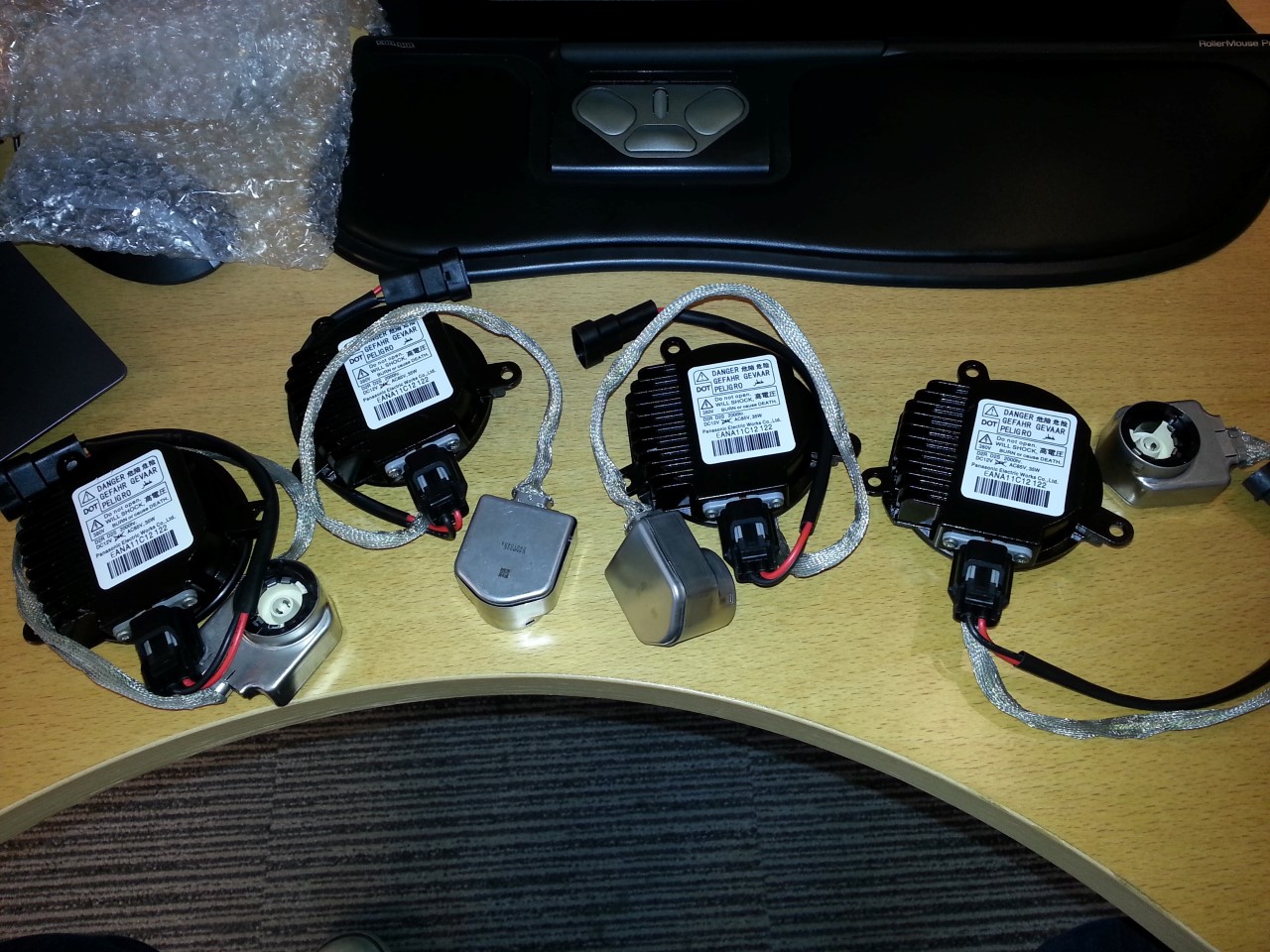 And so it began.
The toolz: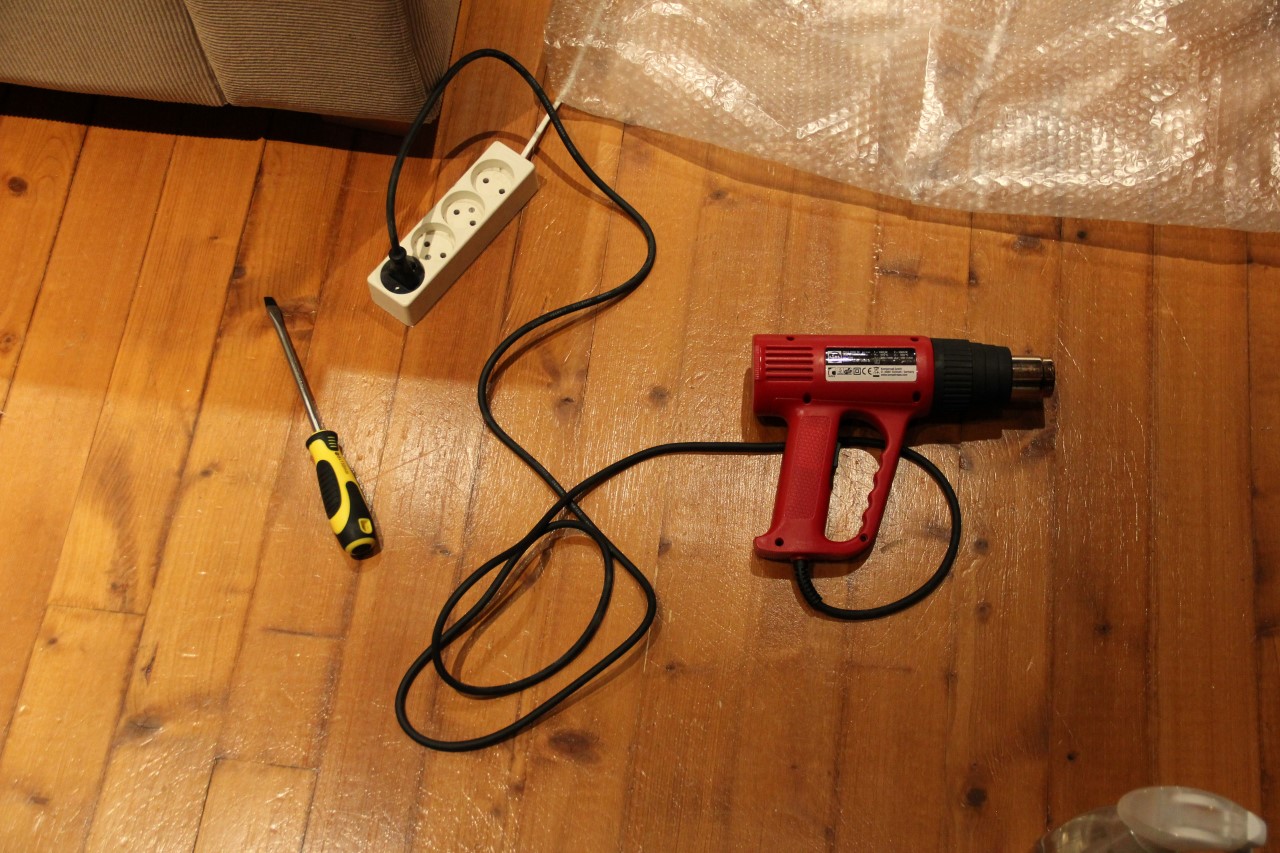 One headlight ready for disassembly: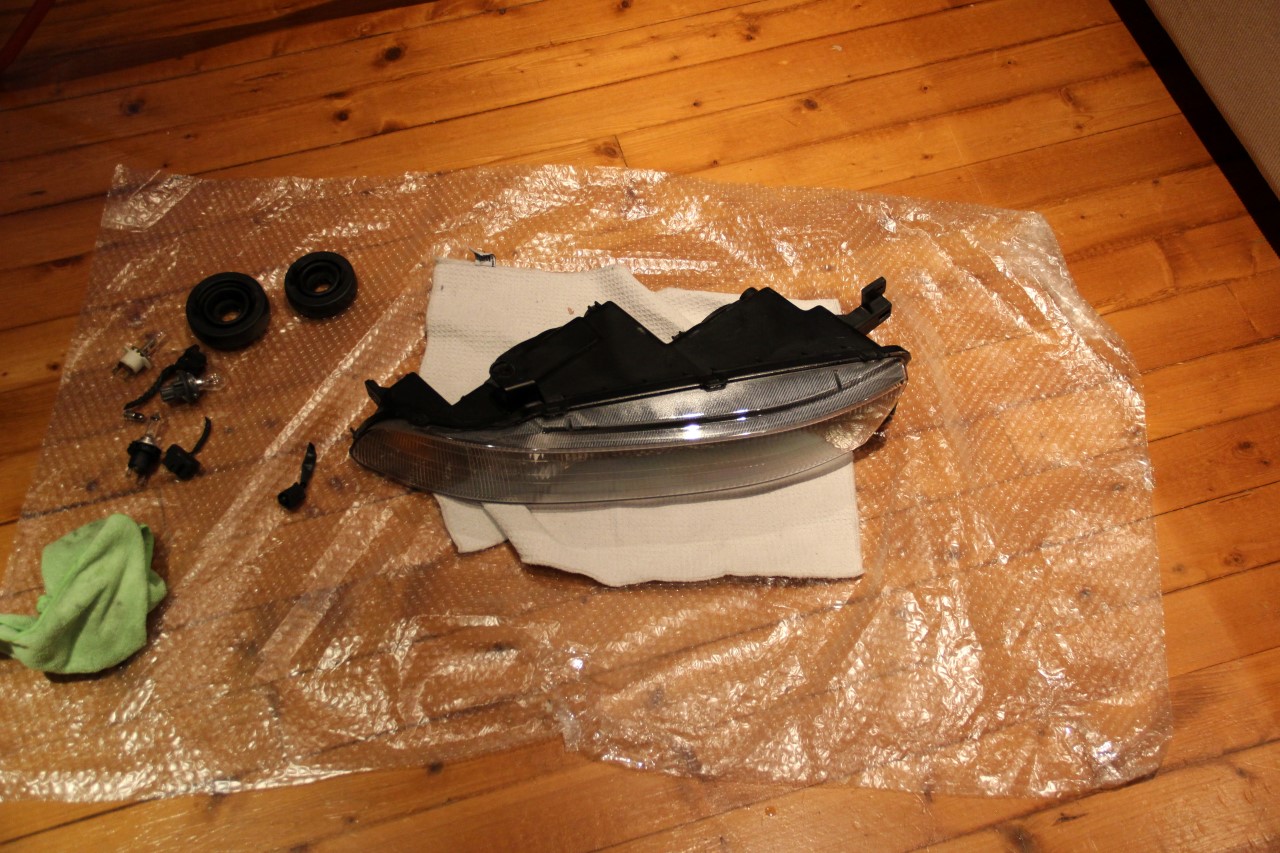 Pulled off everything that wasn't screwed down: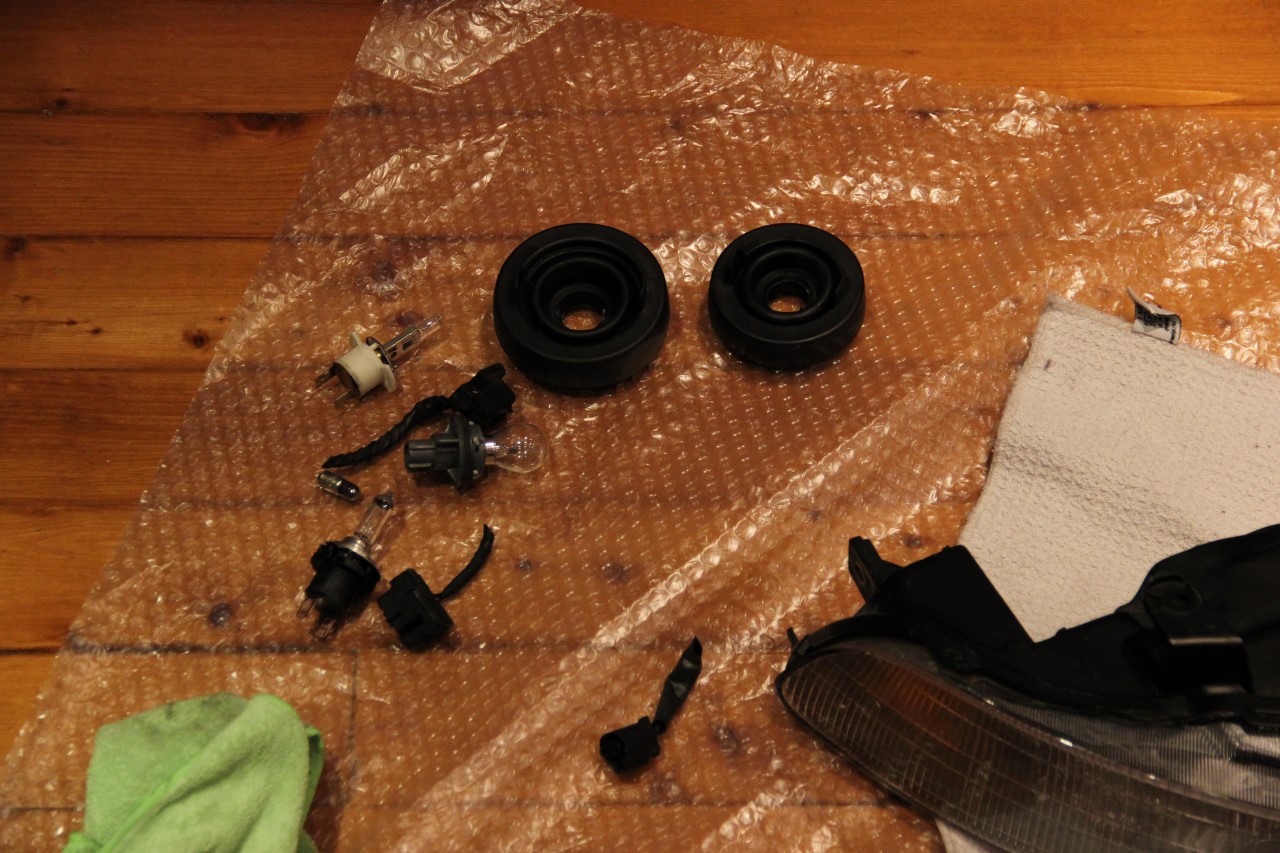 Open sesame: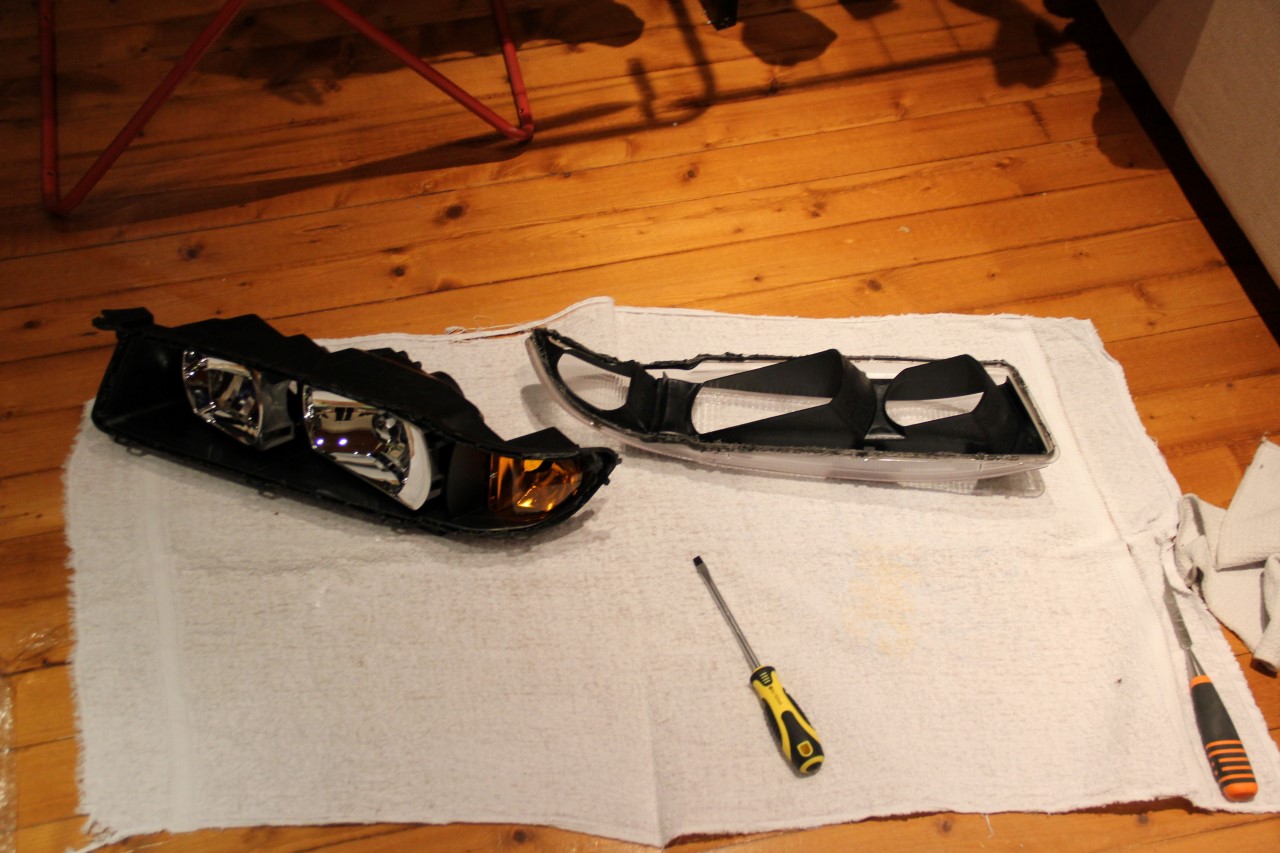 Both opened: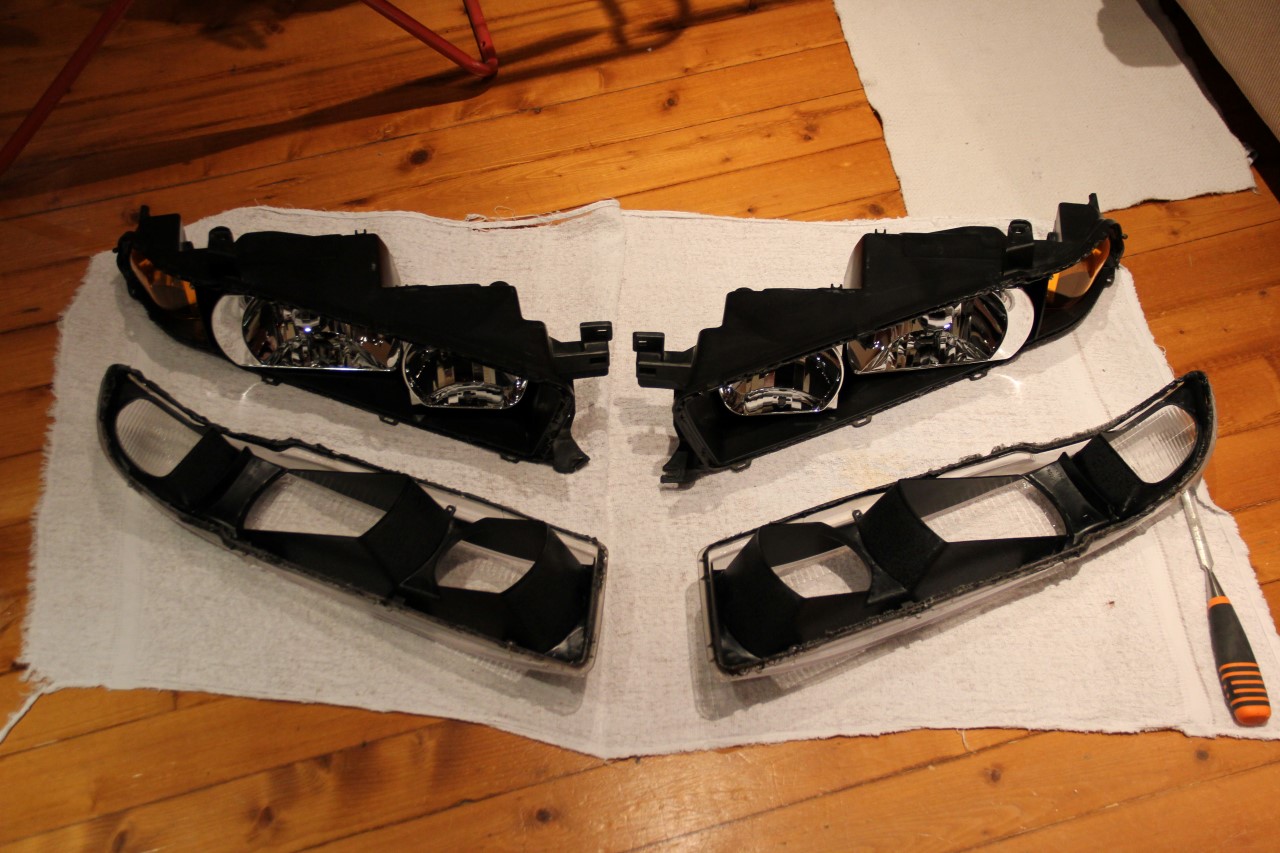 Testing the projectors...
Halogen output: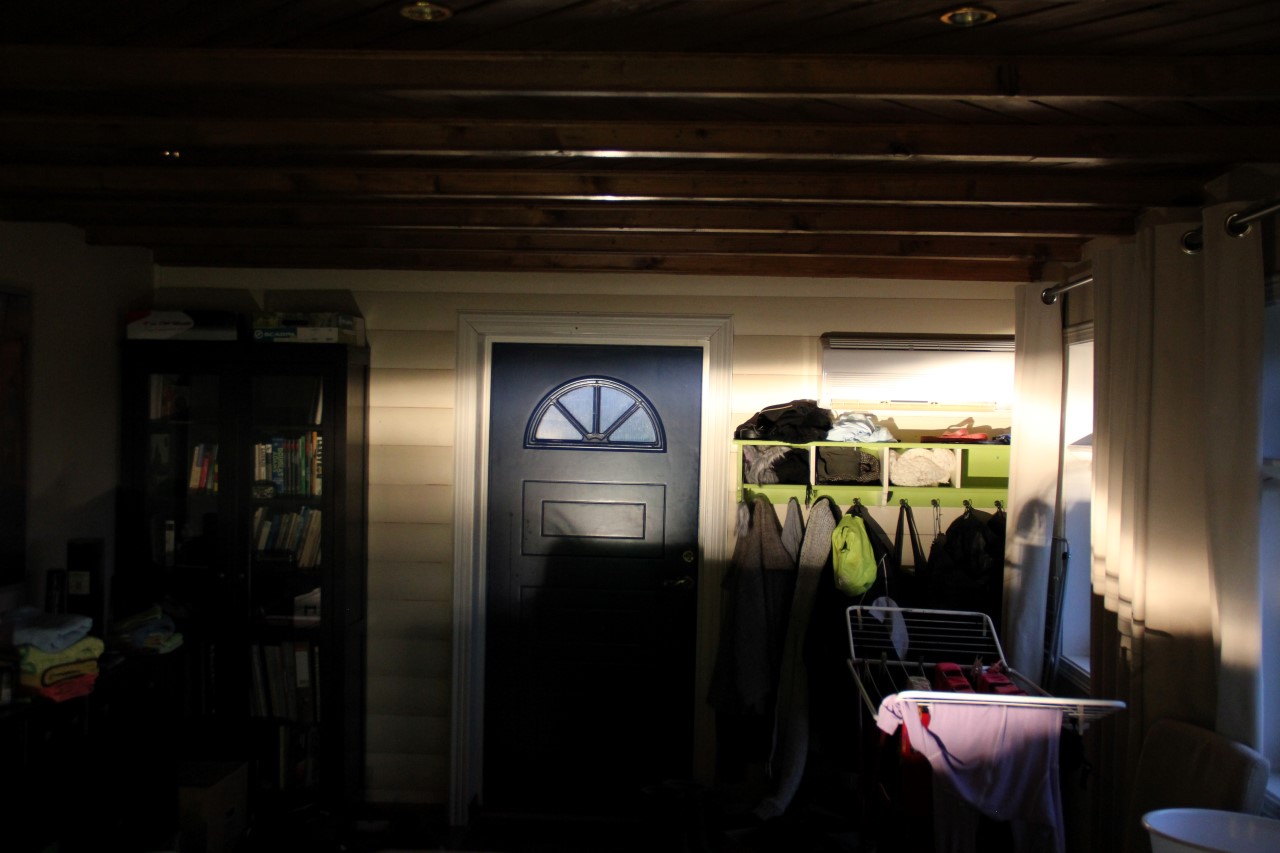 RX350 output: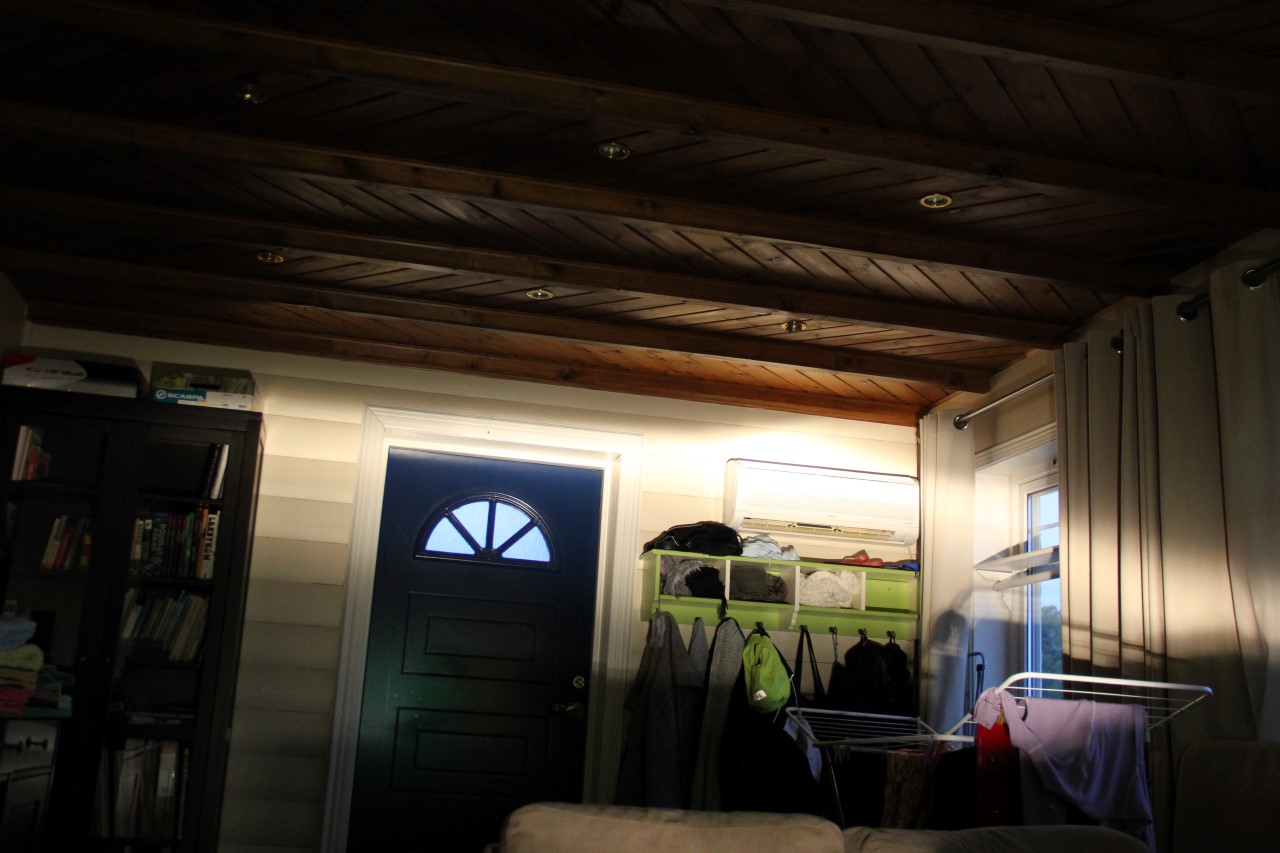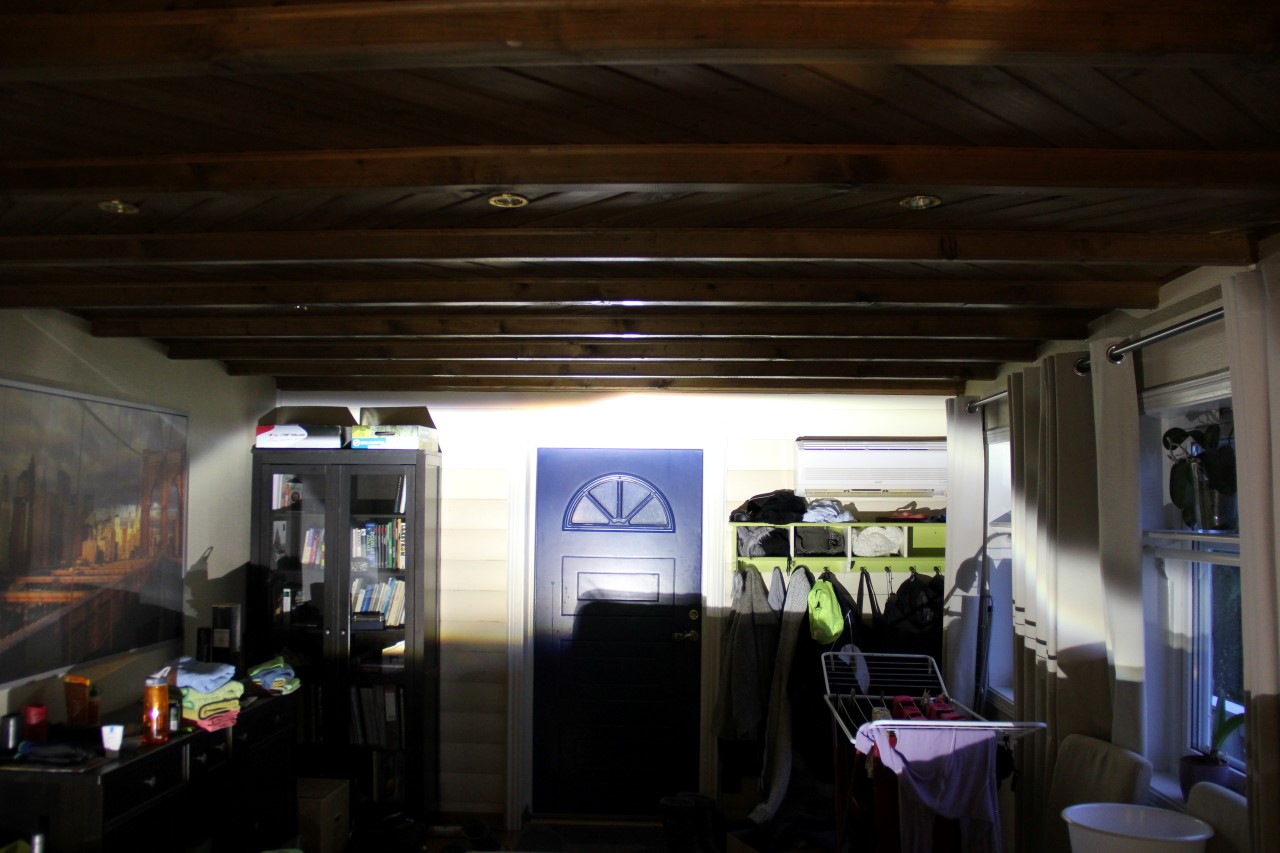 Much width: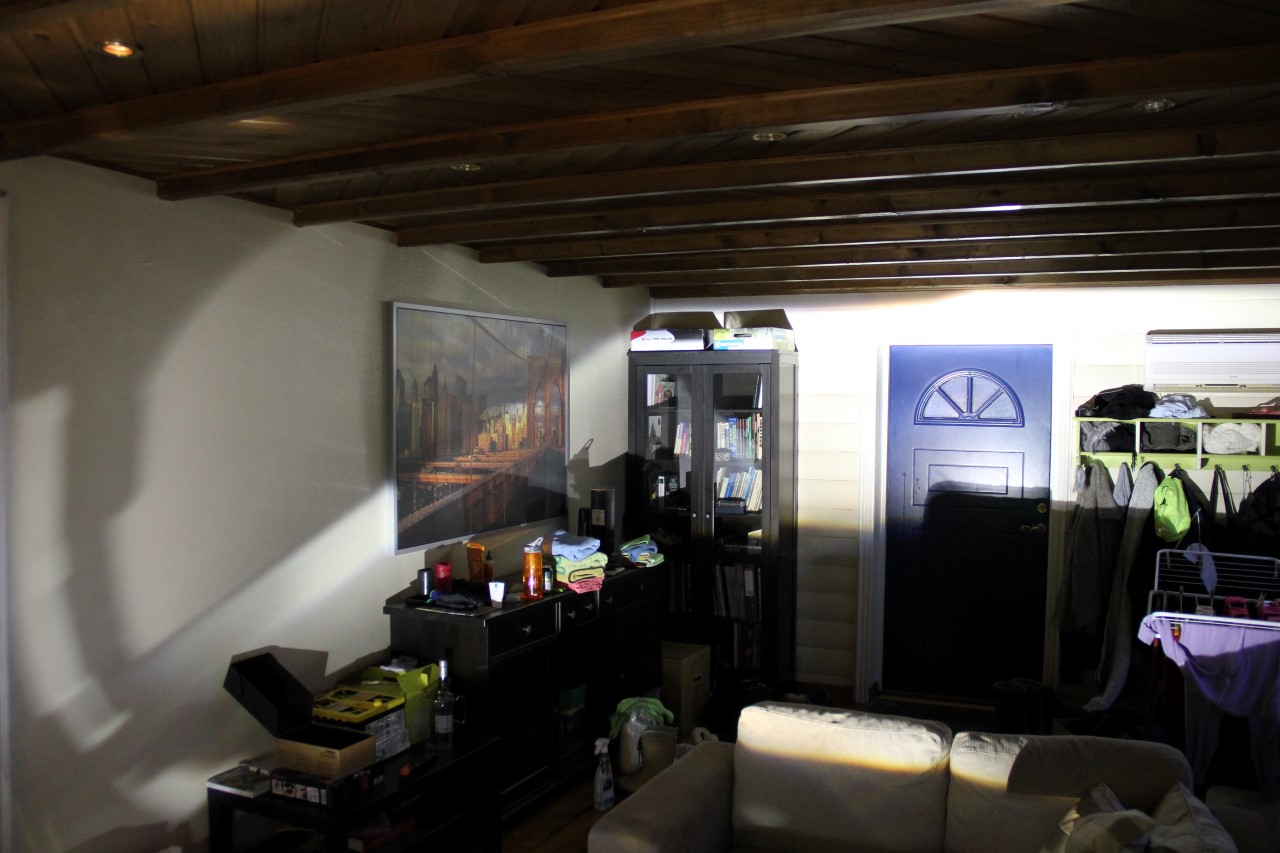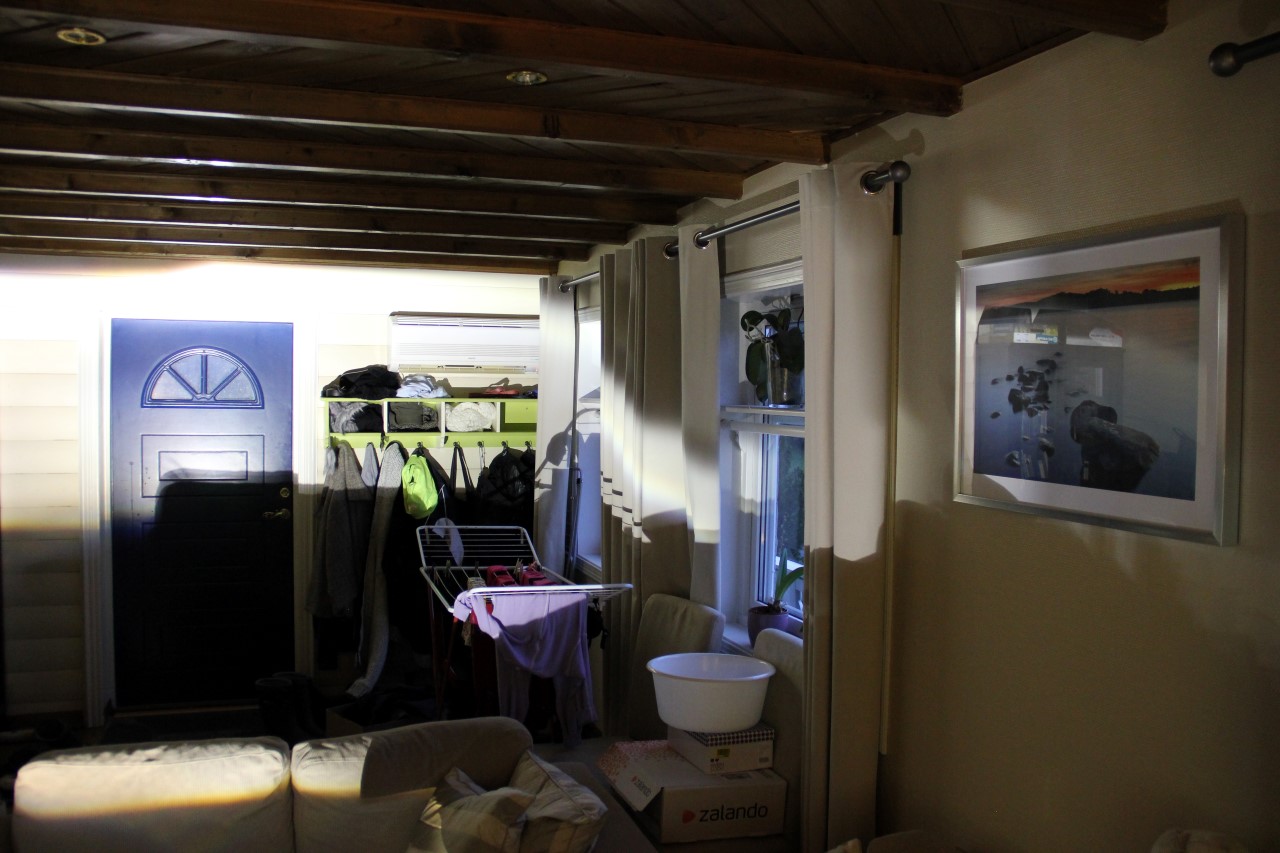 High beam: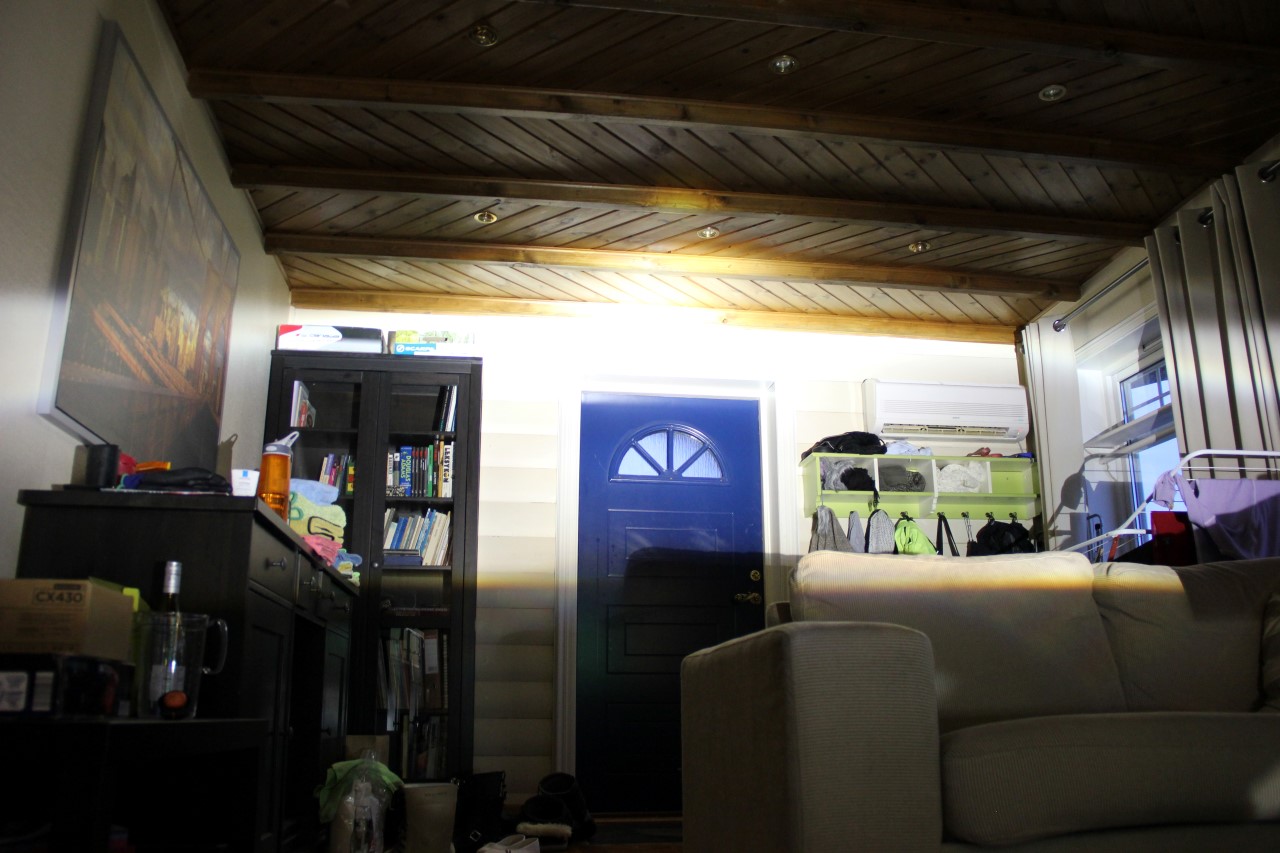 EvoX-R output: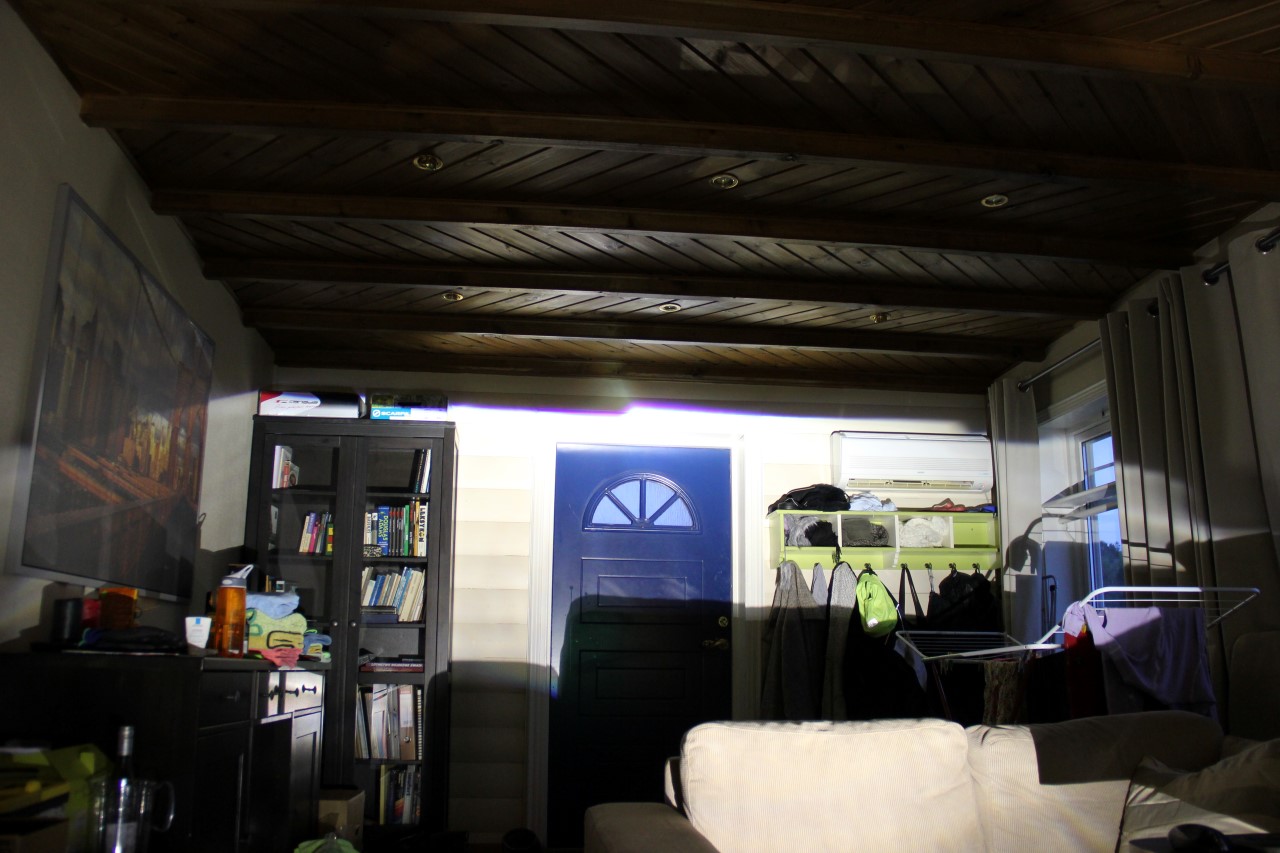 High beam: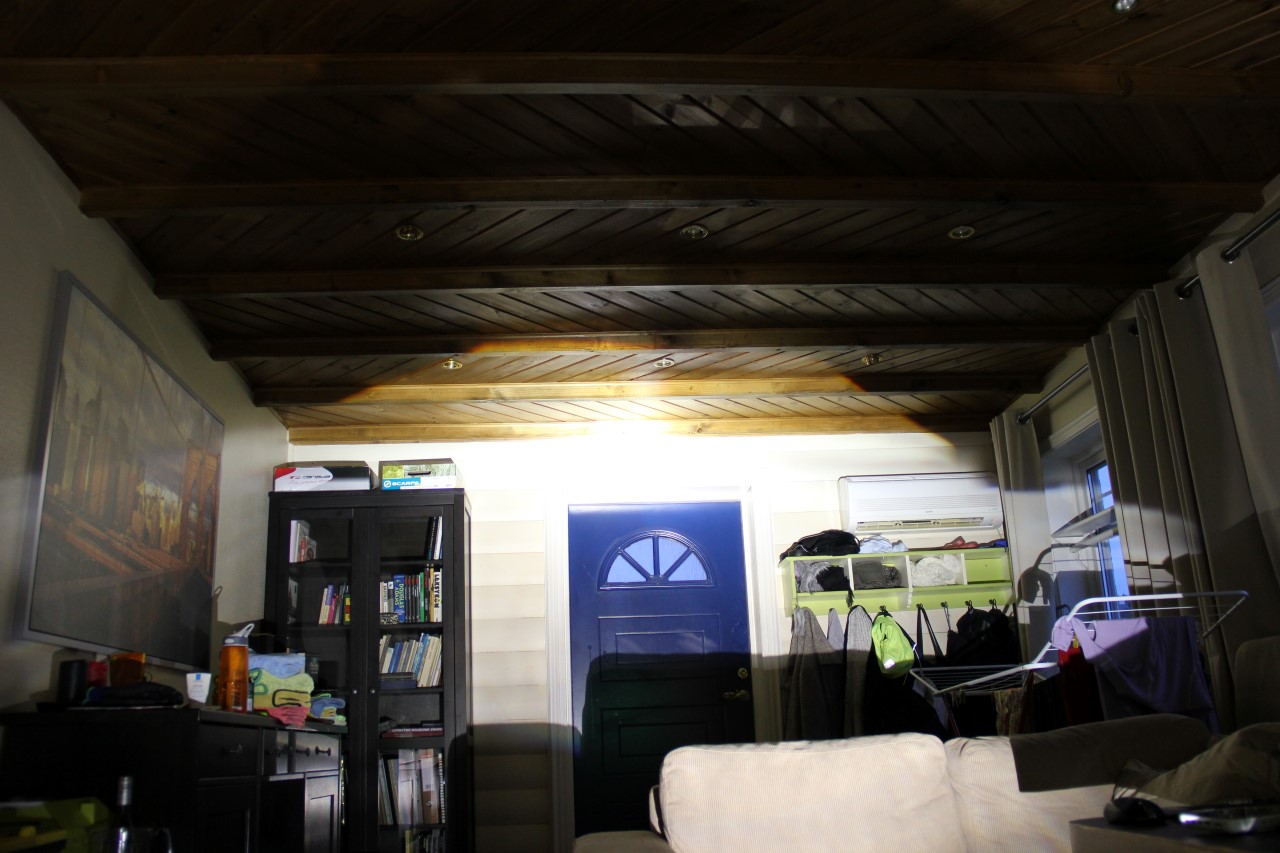 Reflectors for the RX350s. The one on the right is from the Depo headlights I retro'd for the 2002 Elegance quad setup: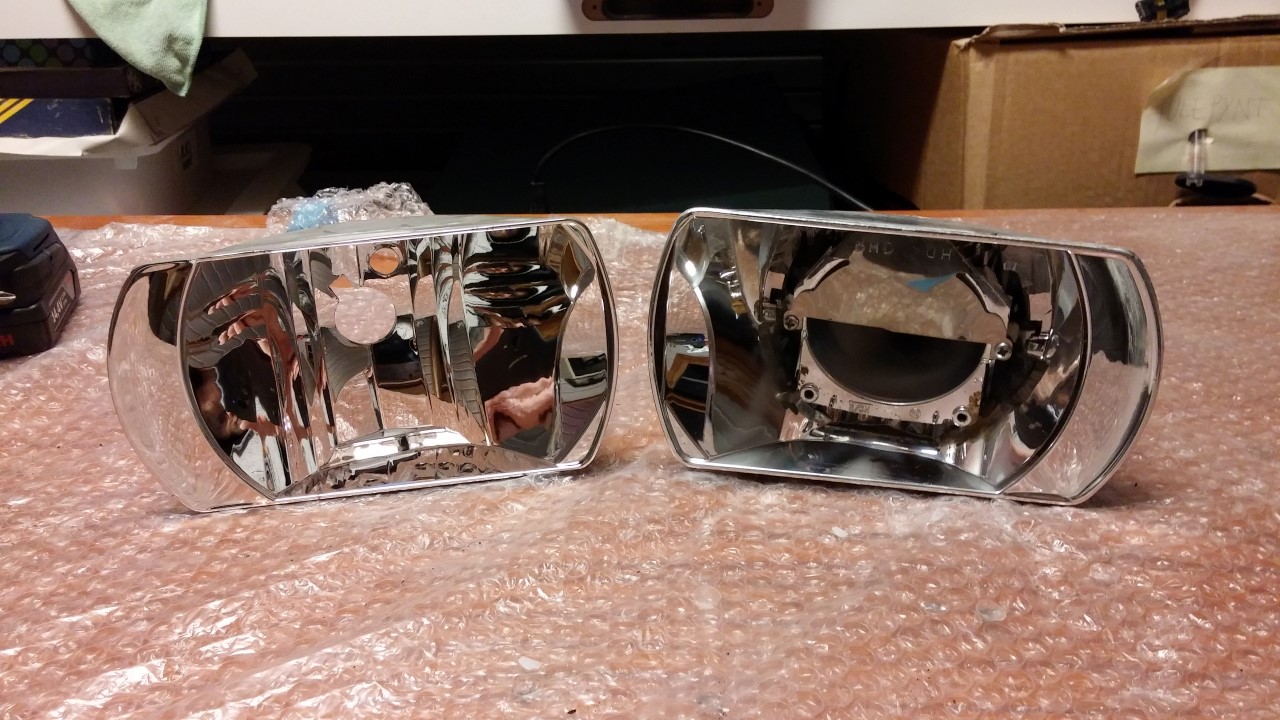 Taping the projector in place, trying to decide to mount it from the front or the rear: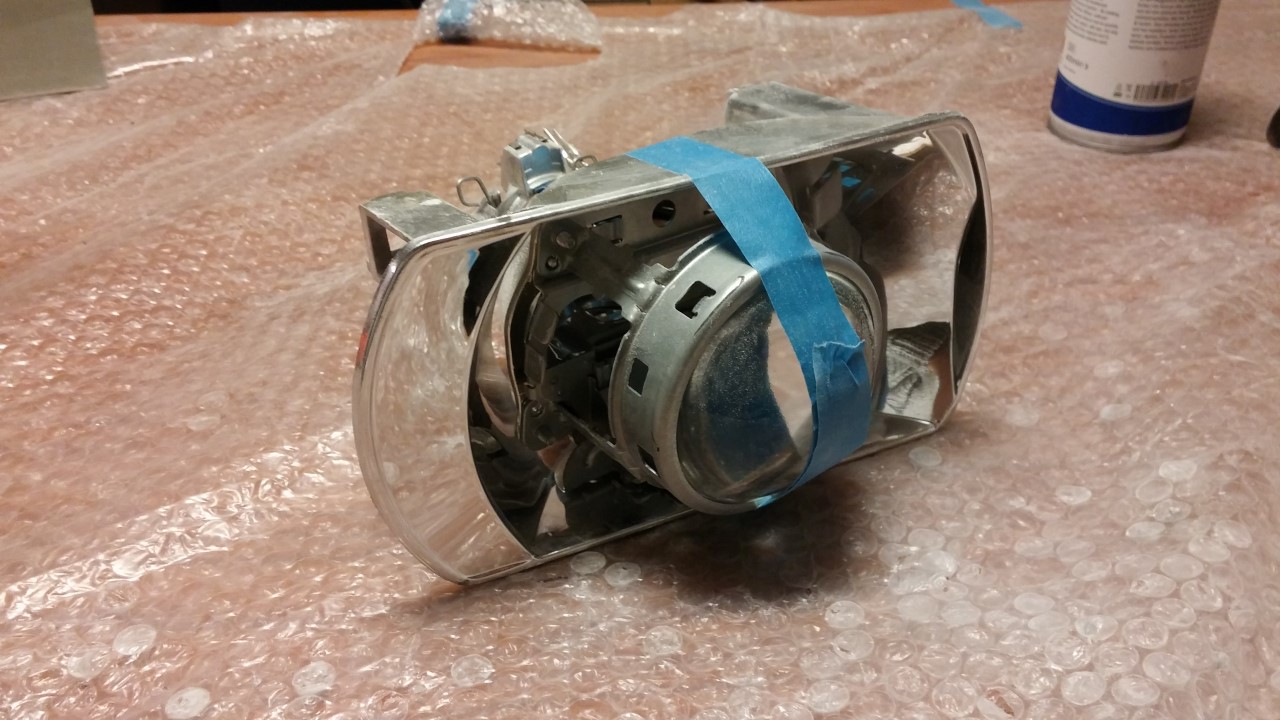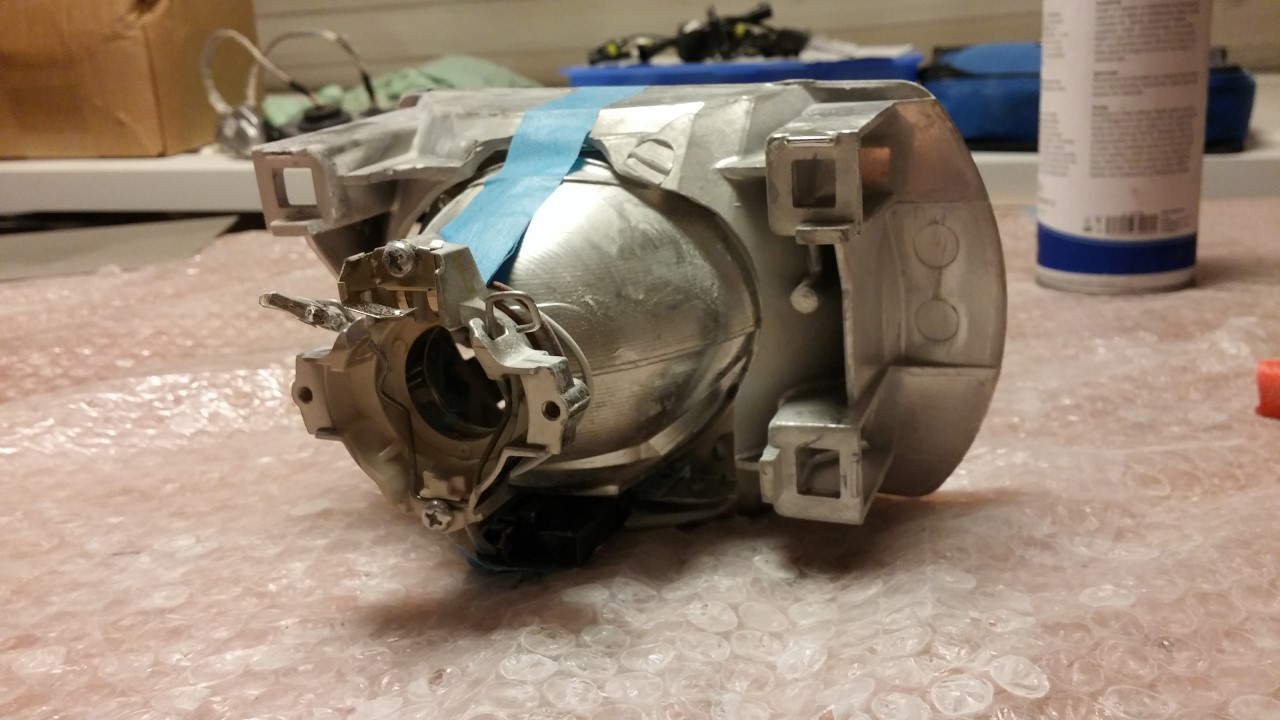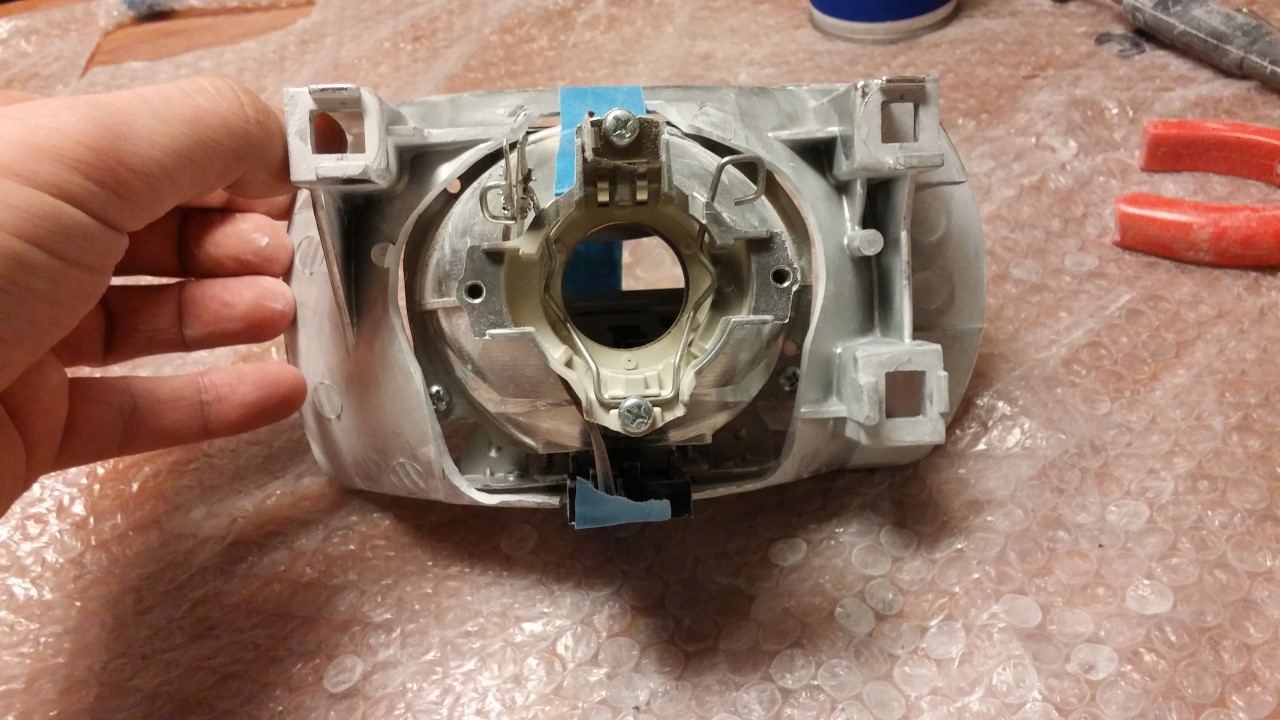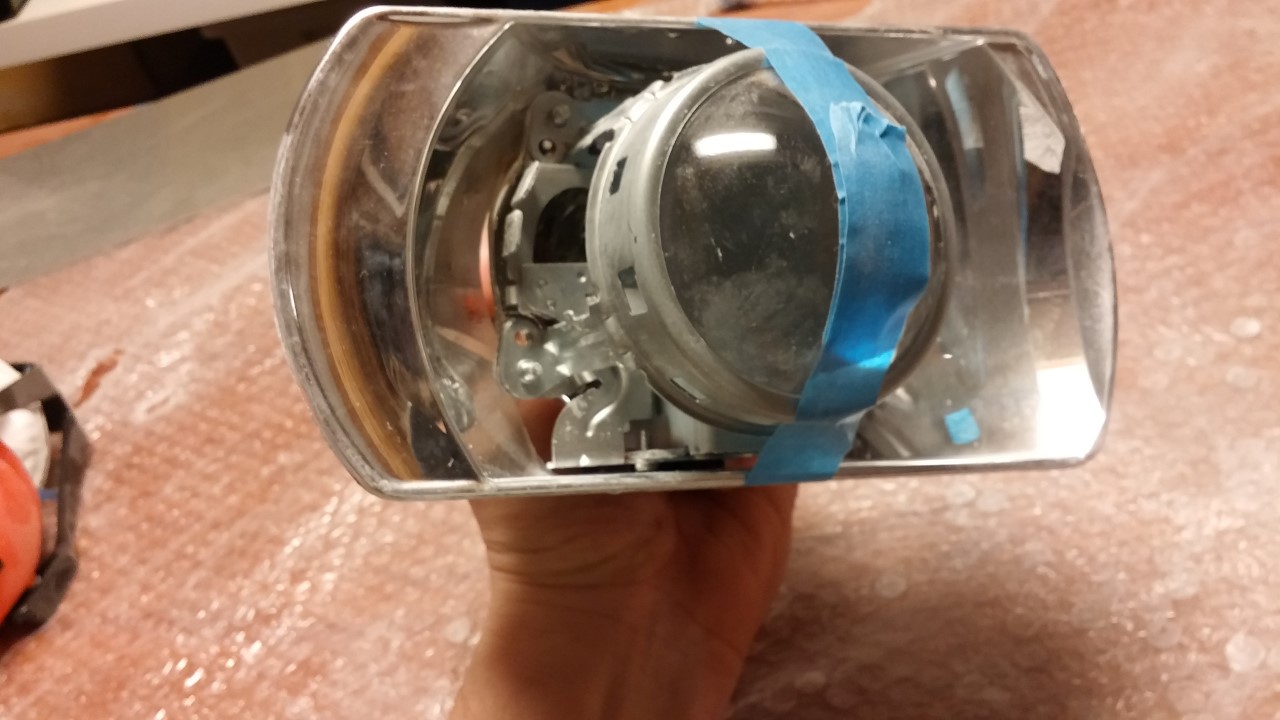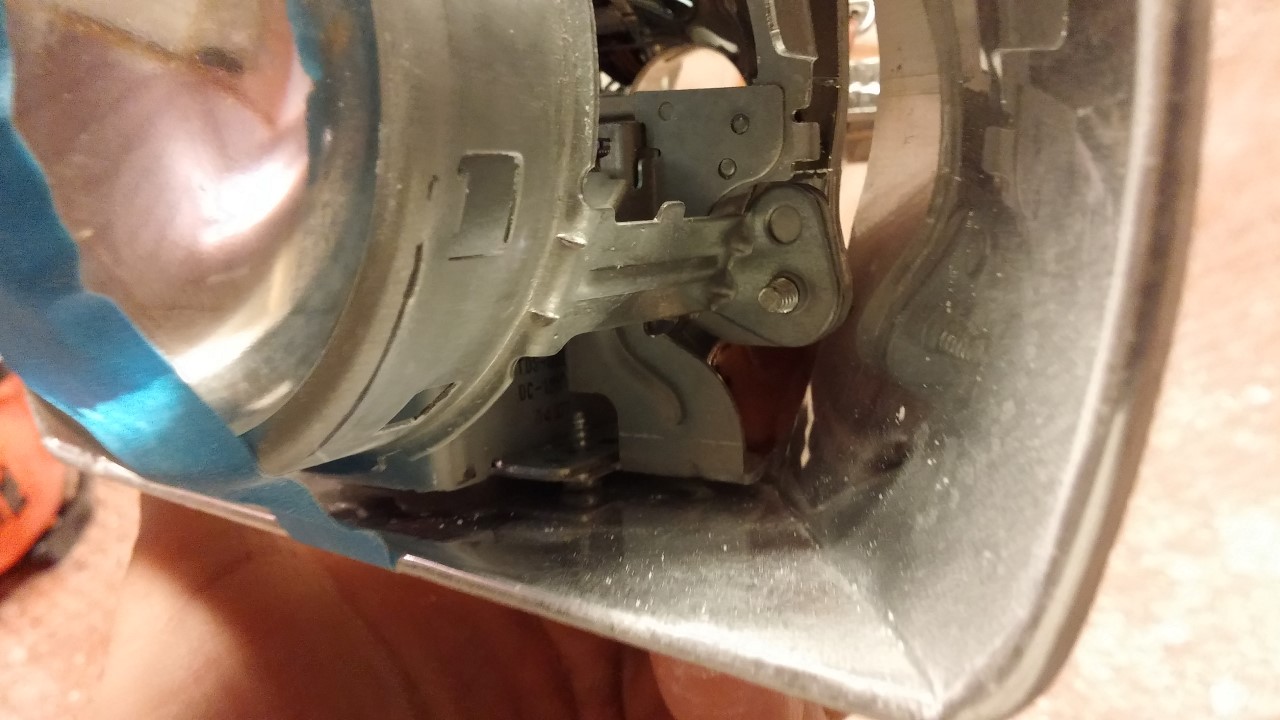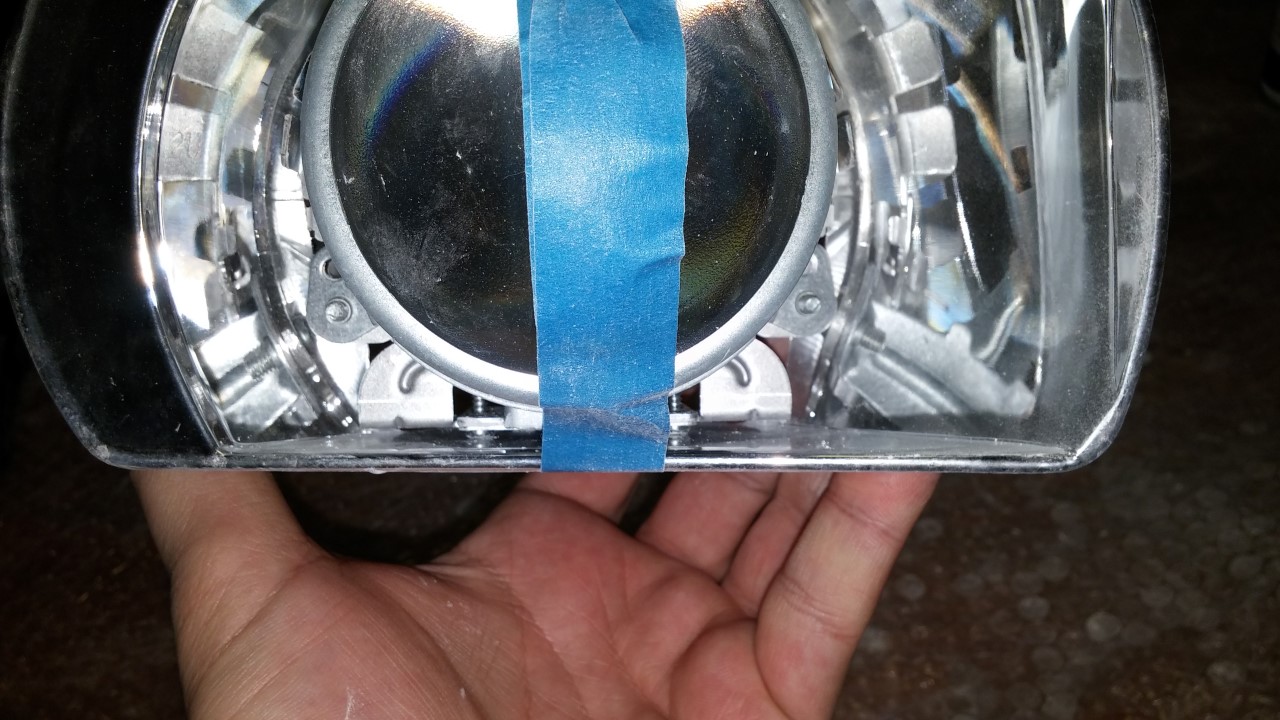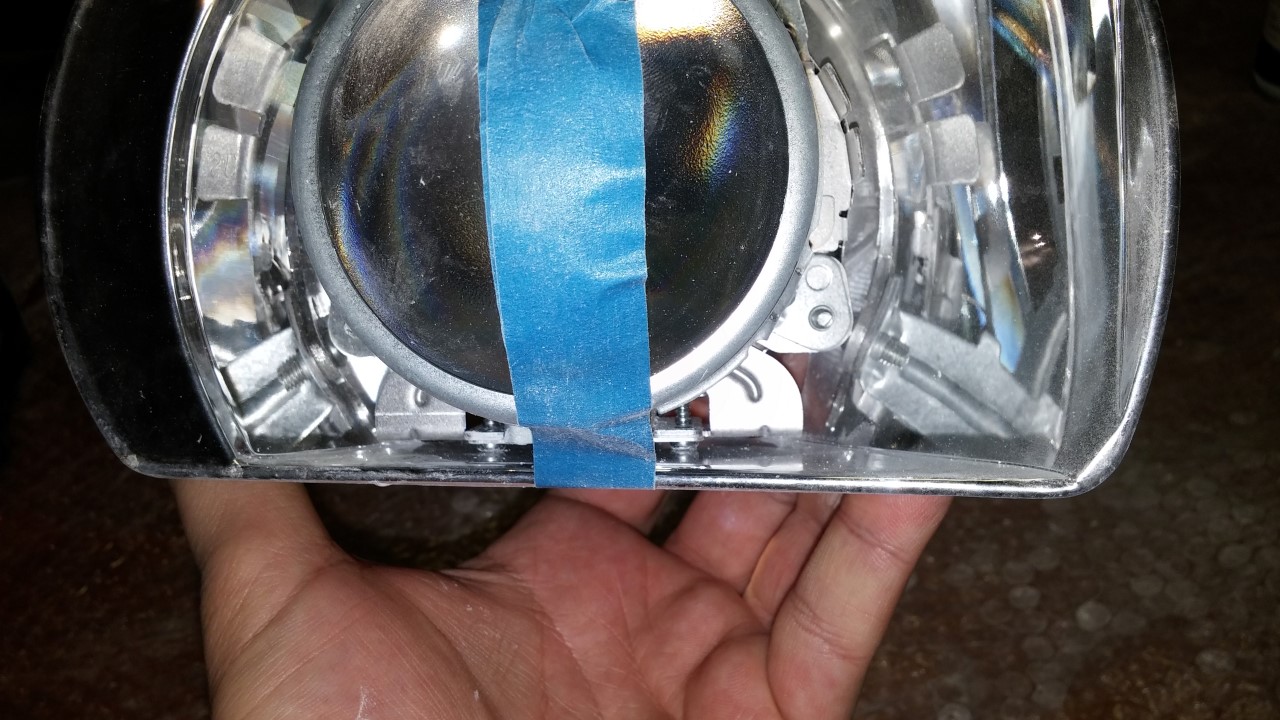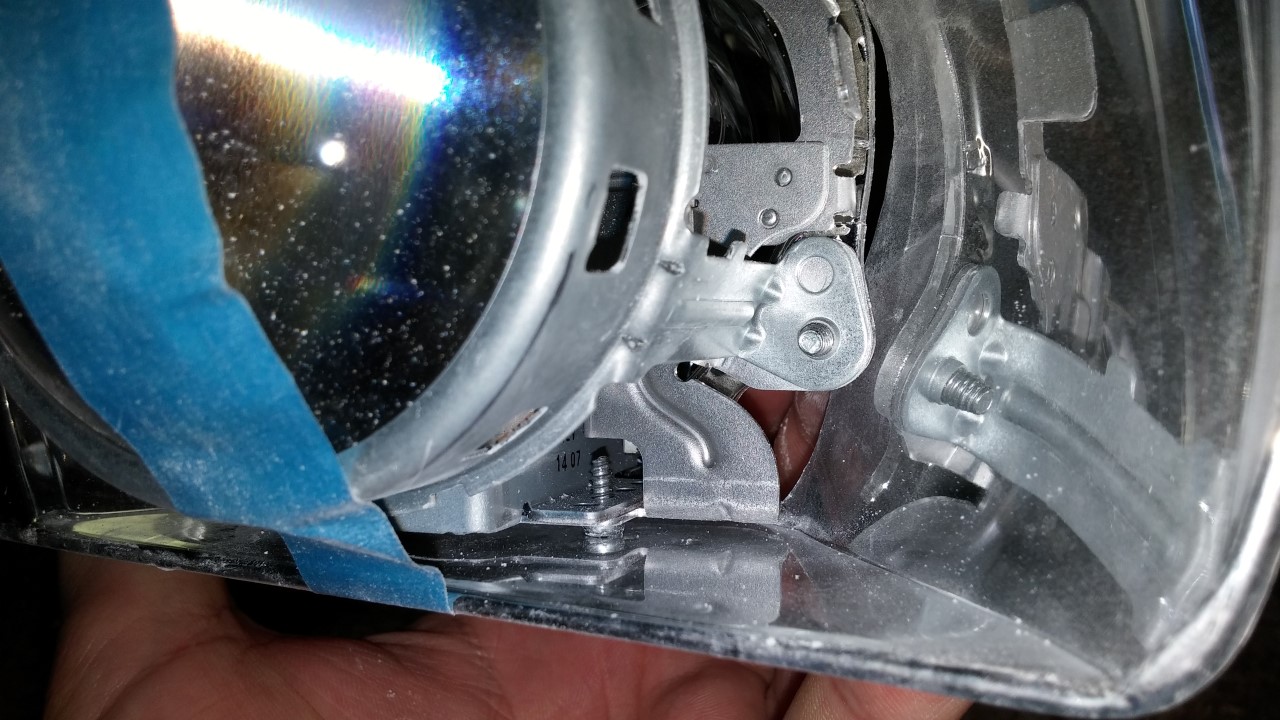 Actually having learnt something from the previous retro, I made brackets for the EvoX-R right off the bat. At this point, the original EvoX-Rs I bought from TRS were used in the previous retro and the ECE slope versions had arrived: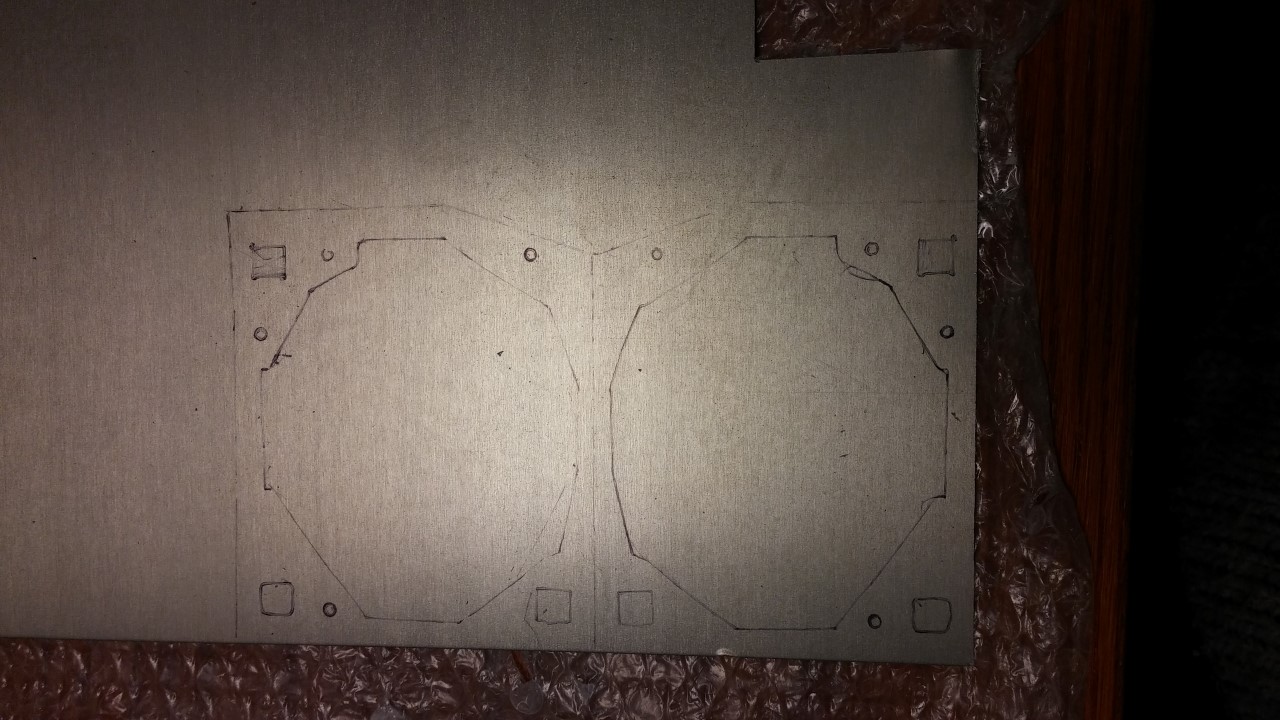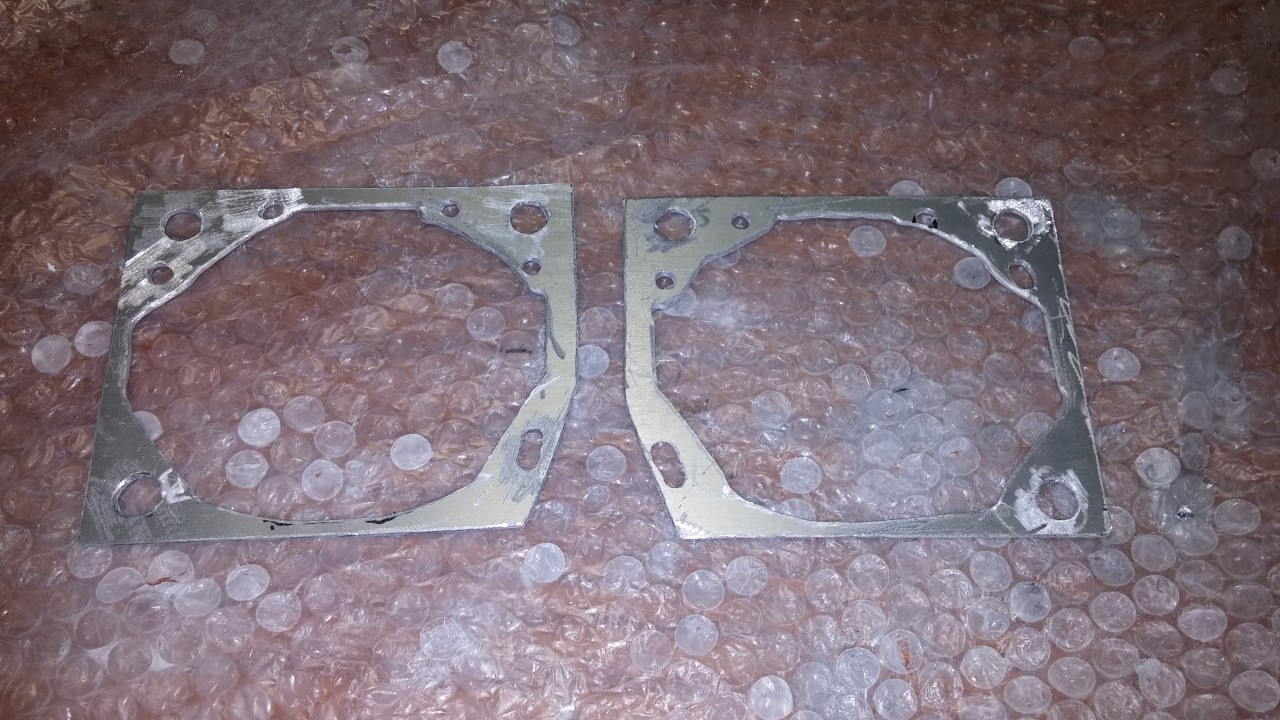 Made asymmetrical foreground limiters out of the lid from a whisky bottle display case: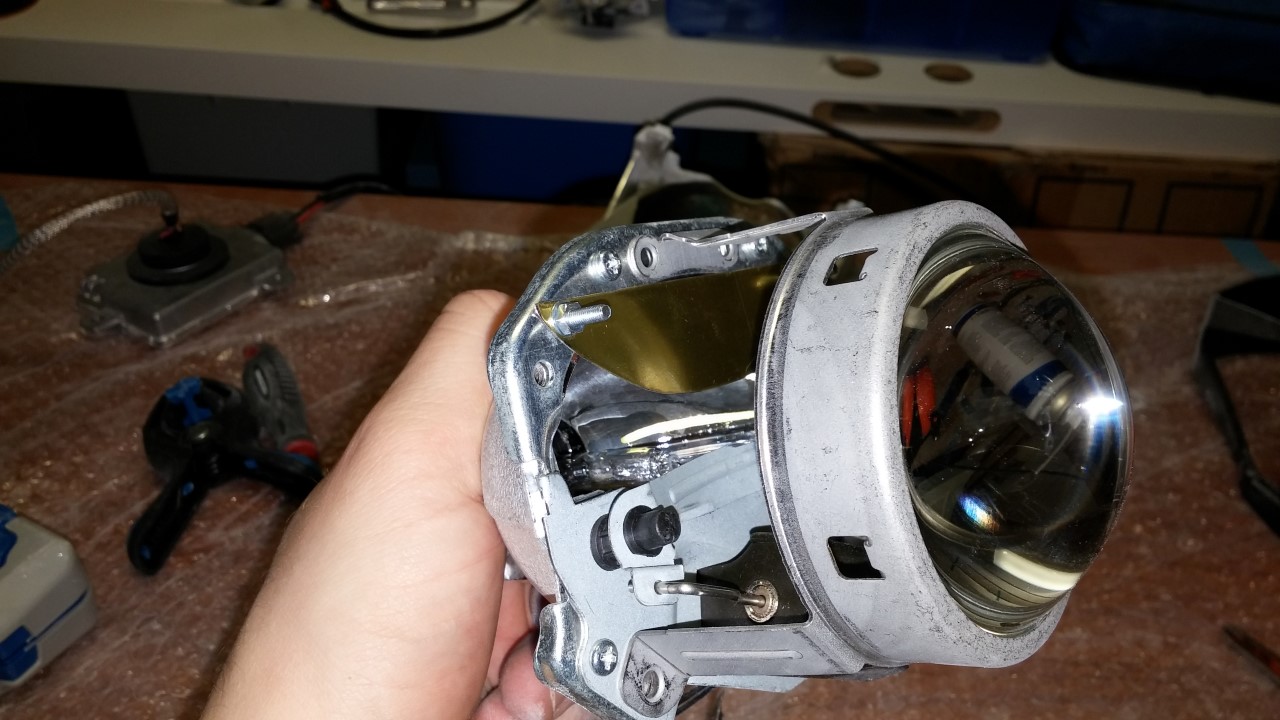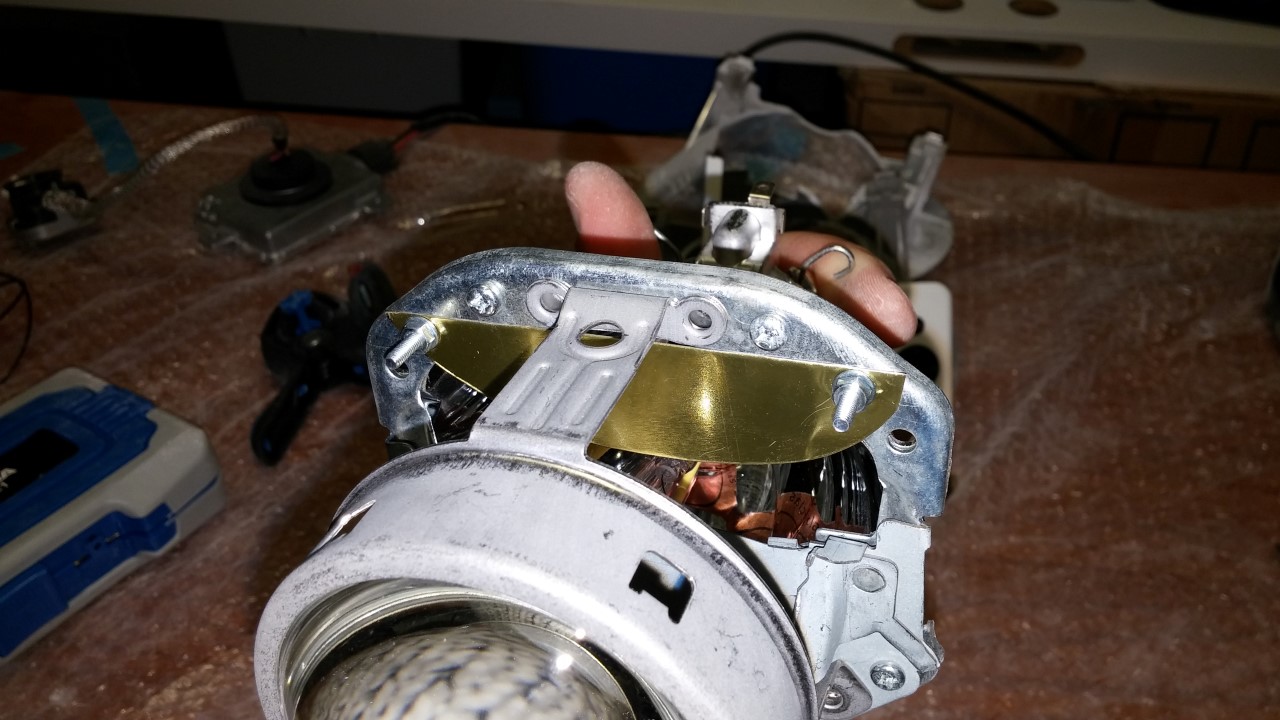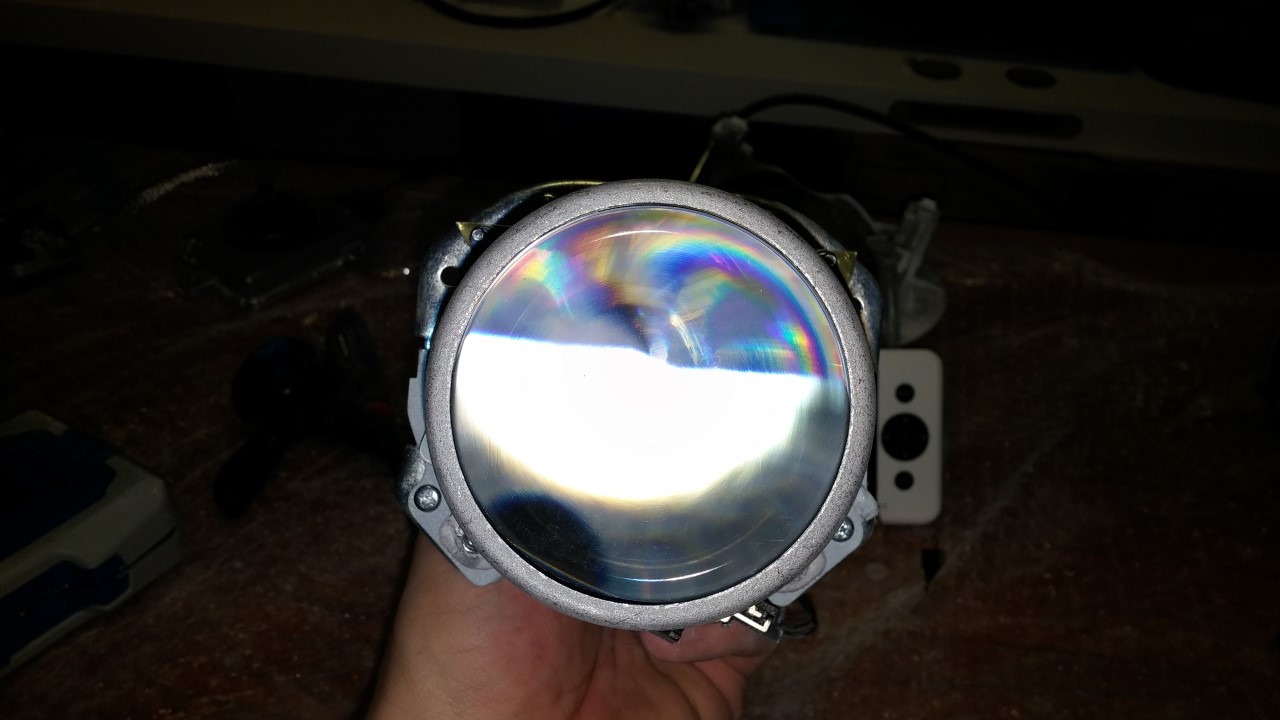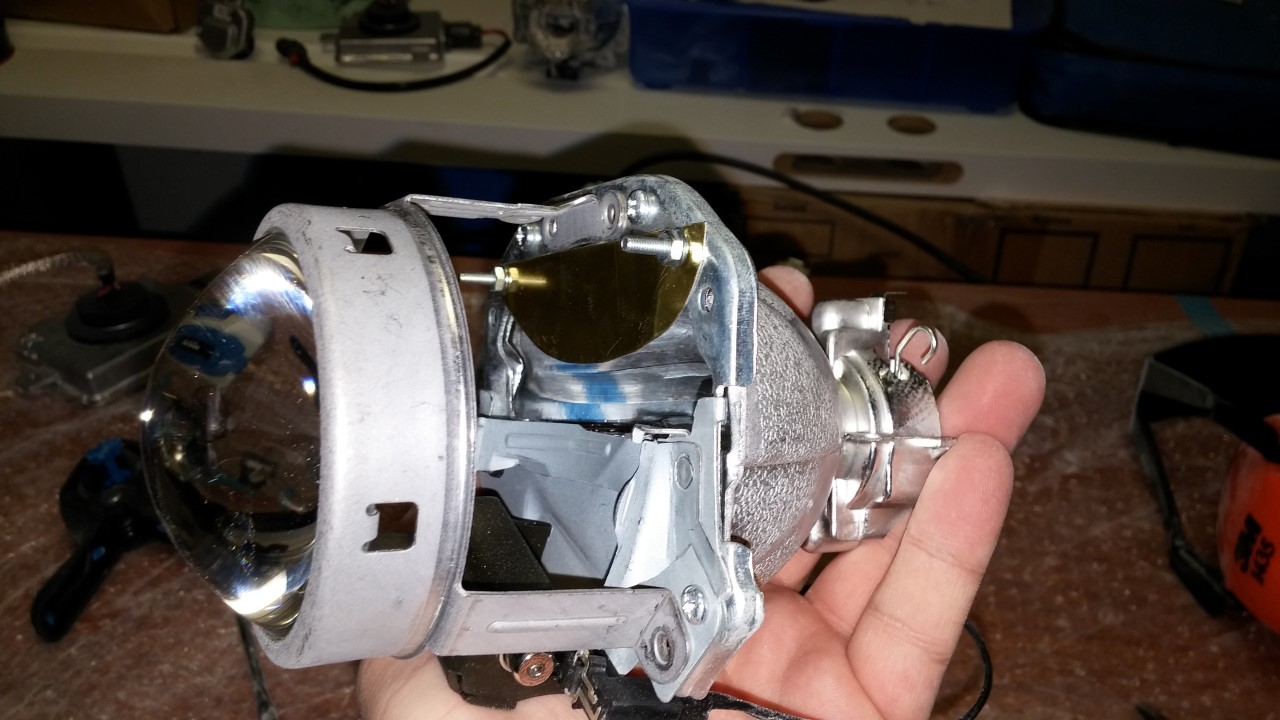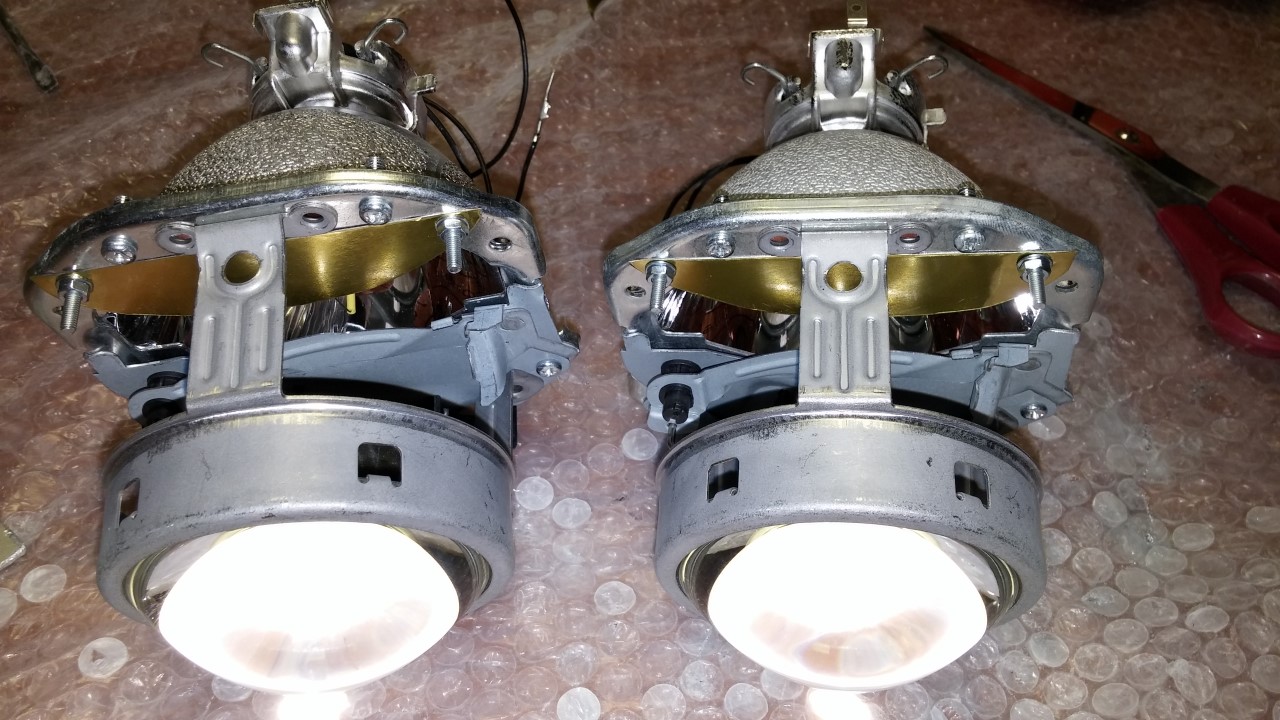 Painted them black: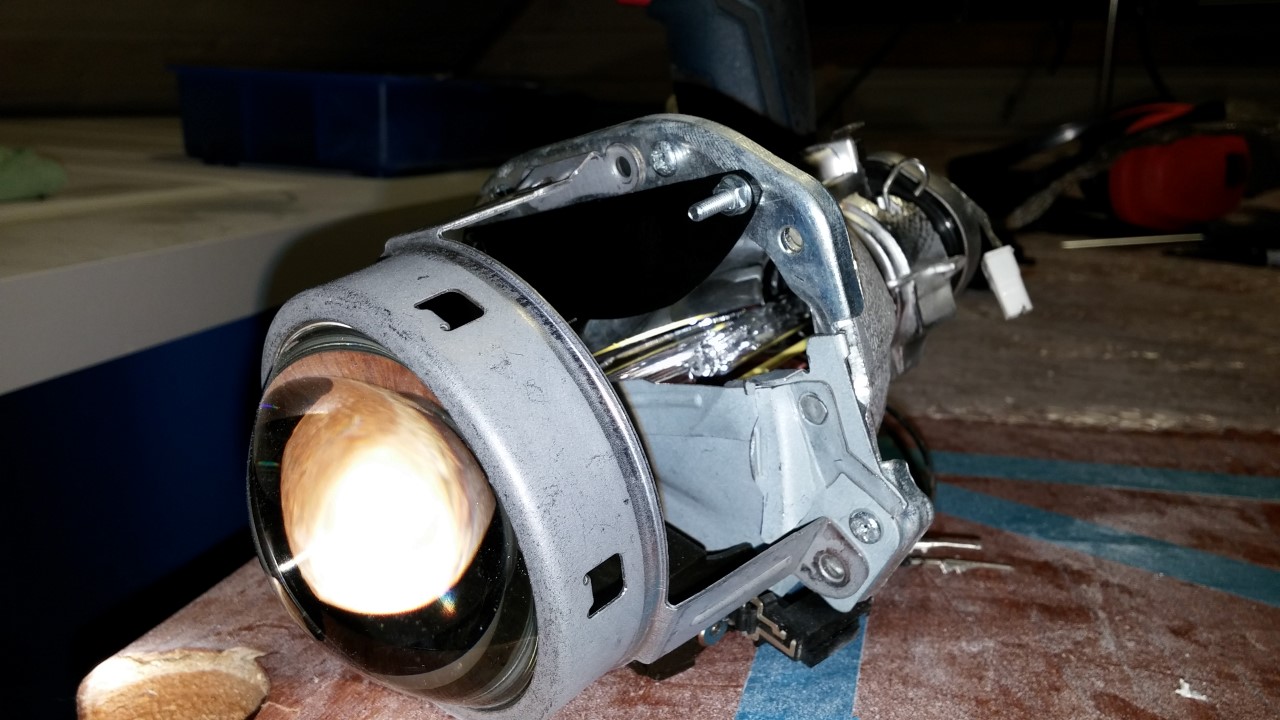 Peek-a-boo: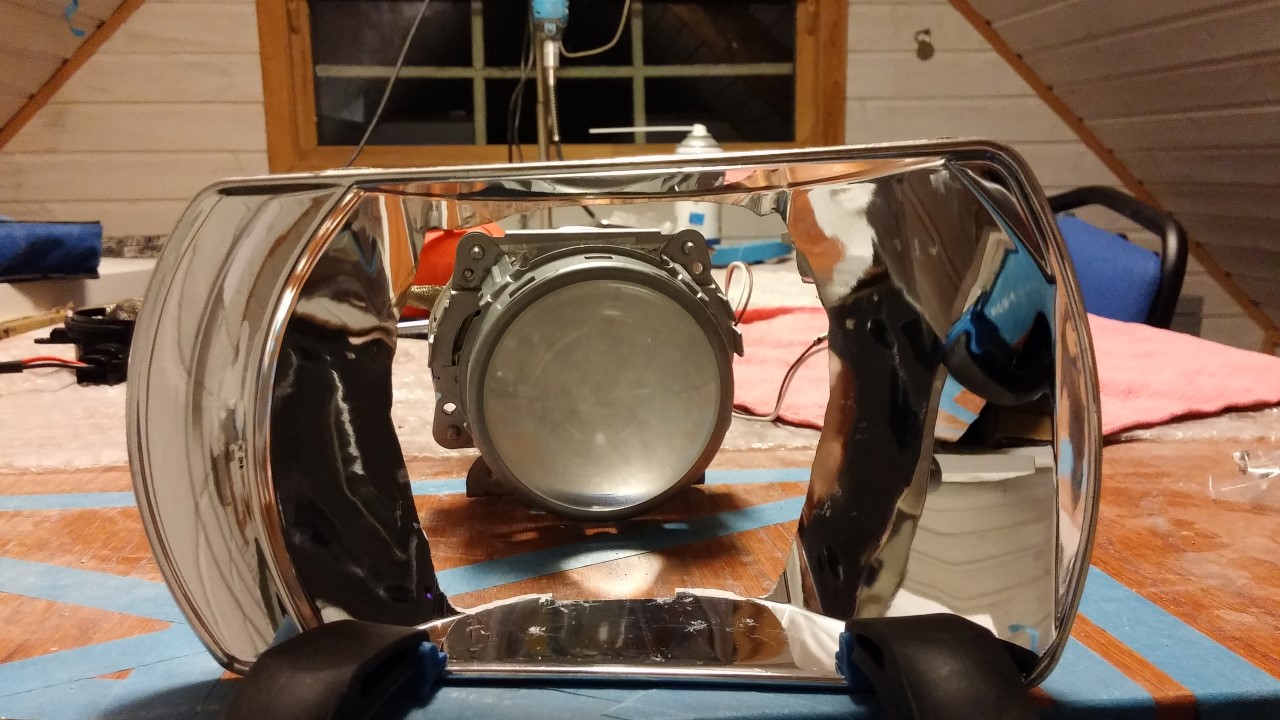 Tucking the RX350 in. The reflector was cut a little too much, since the projector was slightly too large. I couldn't decide if it was better to install it from the front or the rear, but eventually ended up doing a rear installation to clear the headlight lens bezel. This left a rather large gap on top:
Remember the aluminium shroud from the previous retro? It got new life as a cover, and was installed using liberal amounts of Steel Stik and Quick Weld: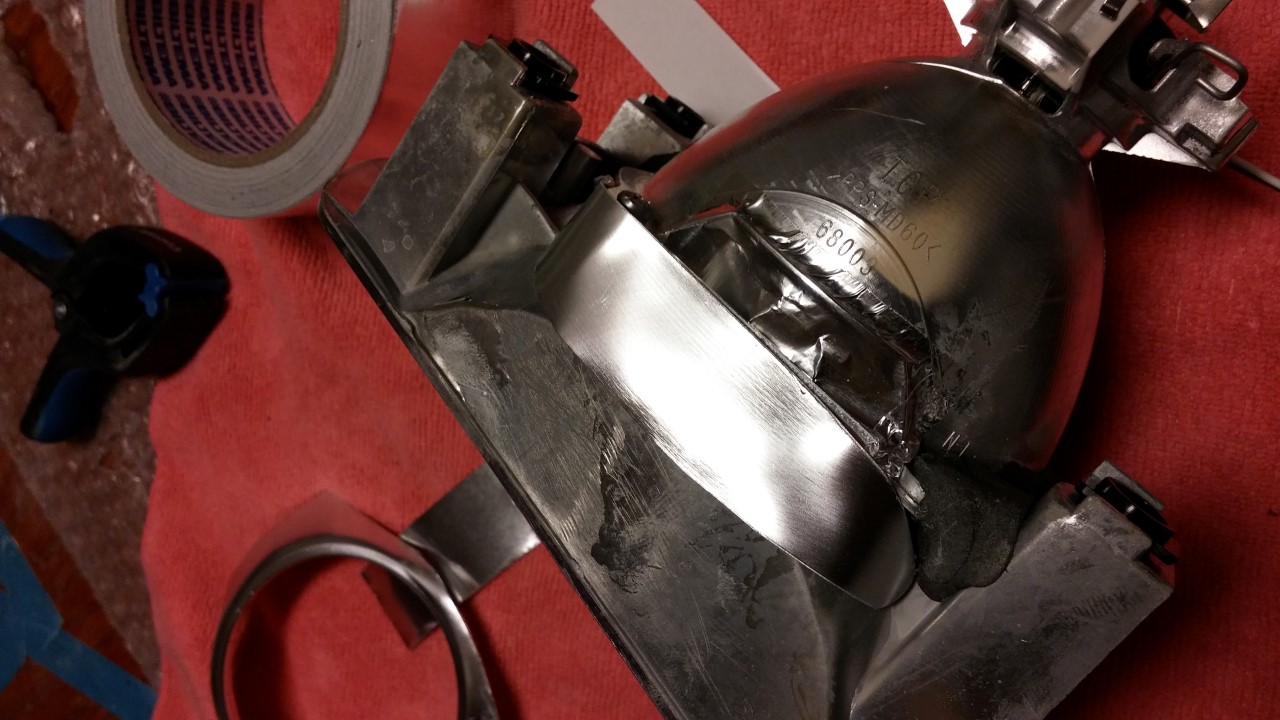 The other reflector was cut, and cut, and cut... and then cut some more.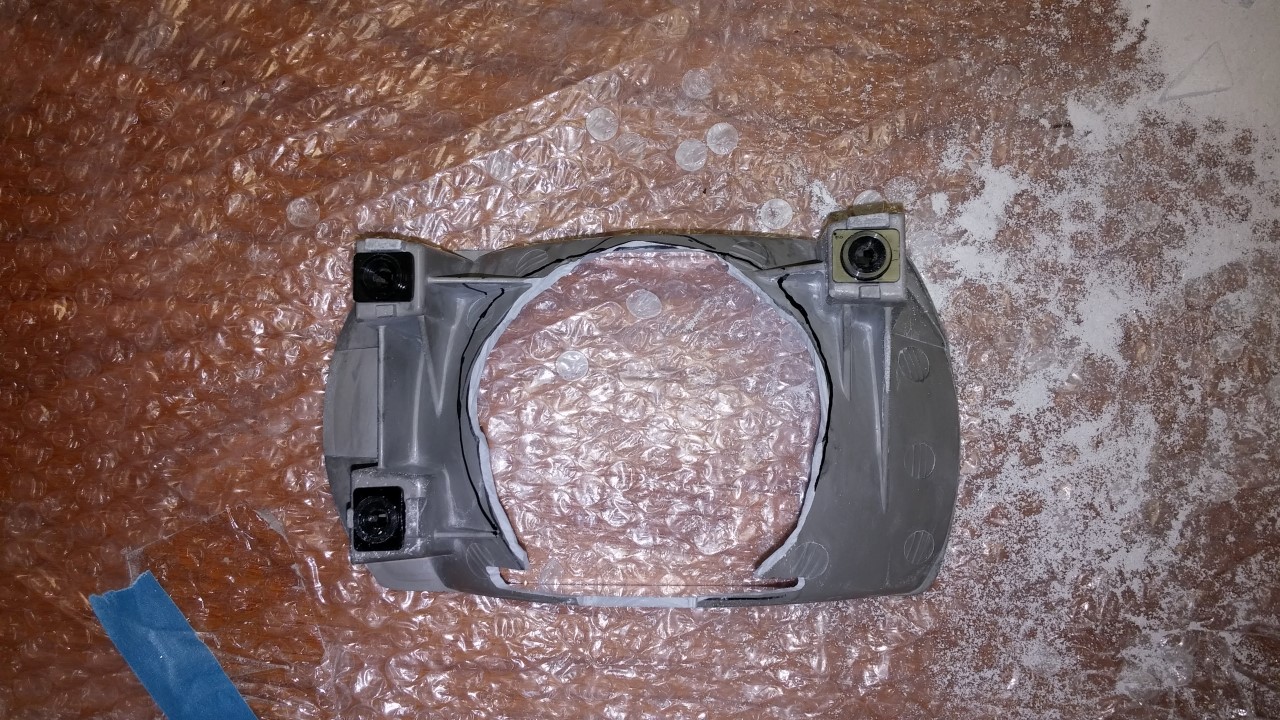 Testing testing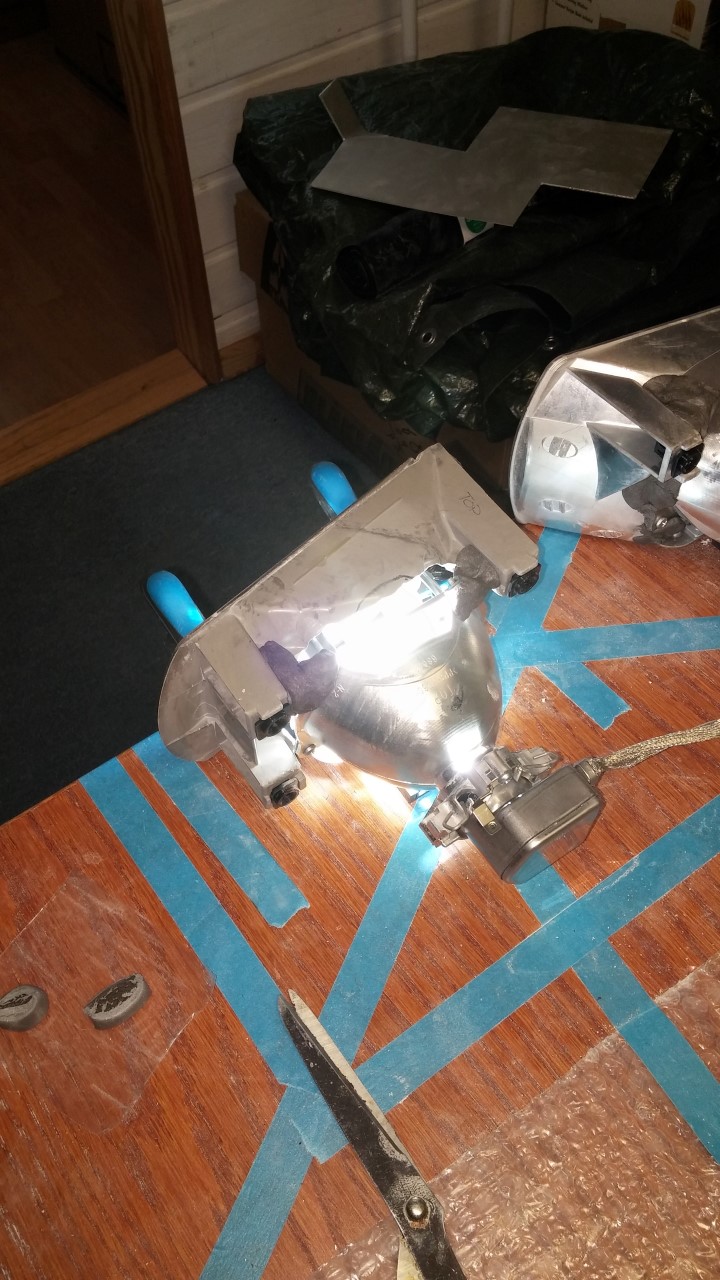 Alignment looks good, aligned to the halogen cutoff line.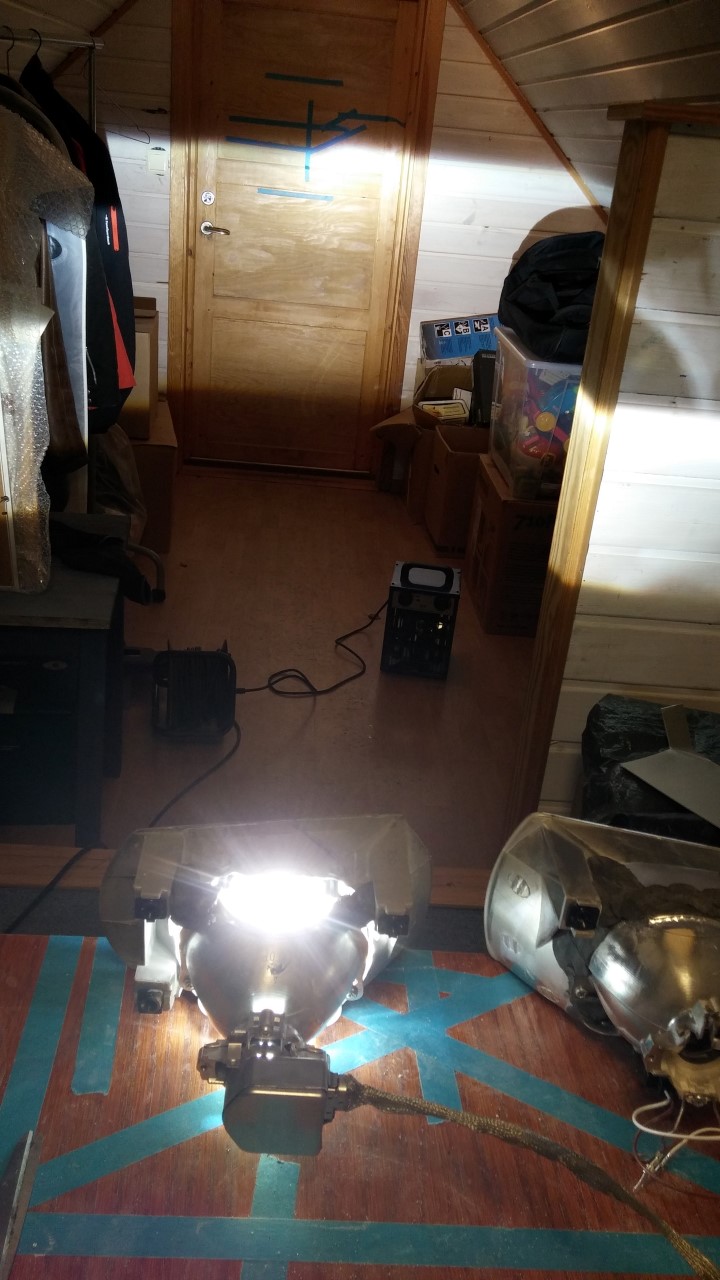 High beam reflector clamped to the table for leg amputation: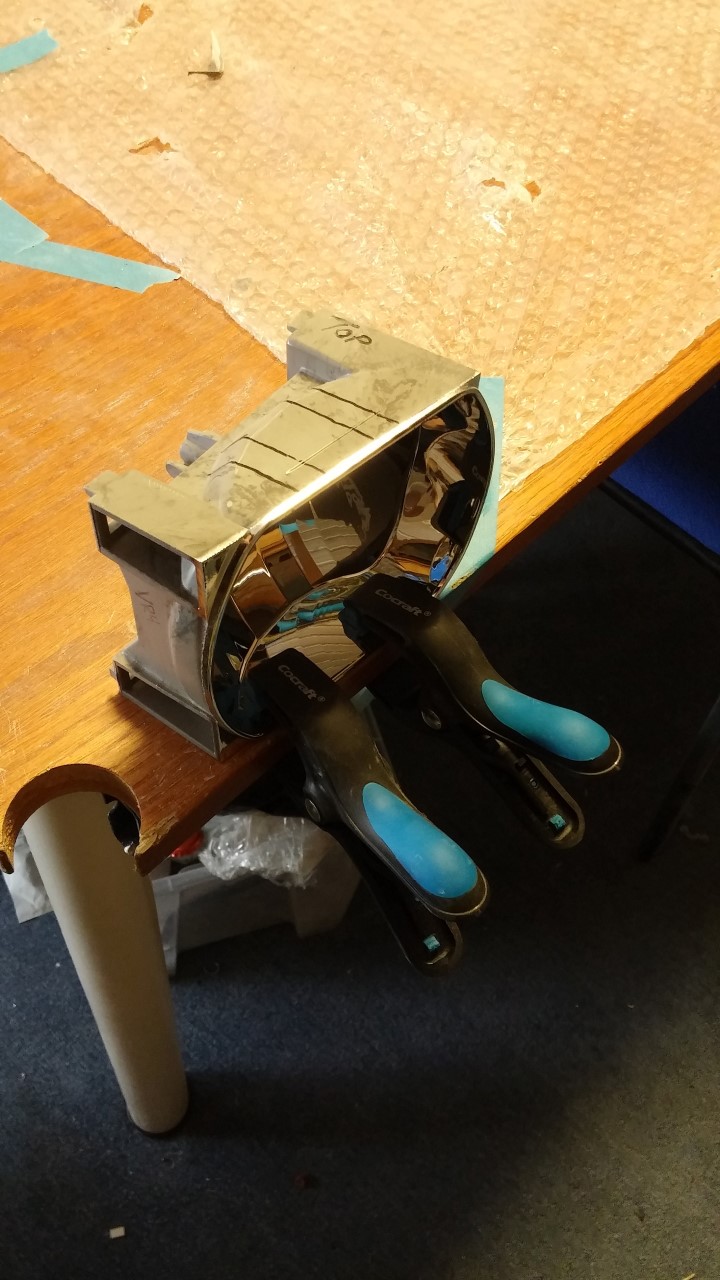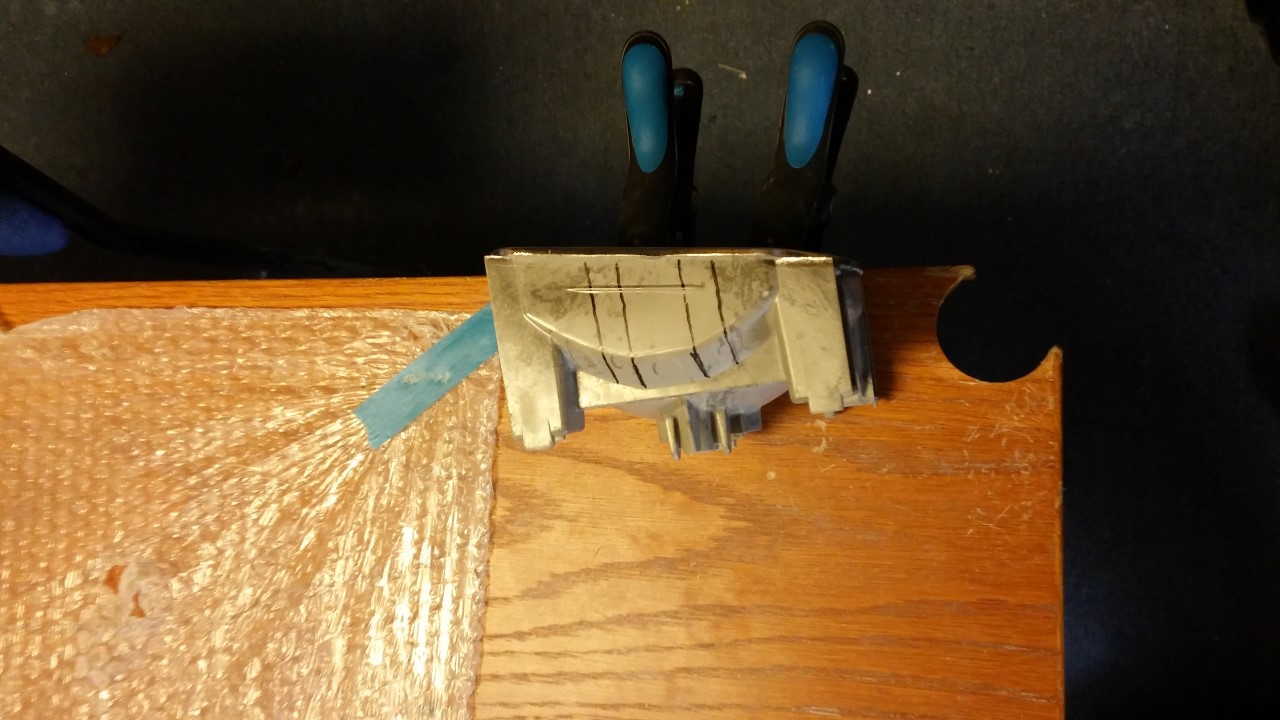 Surgery: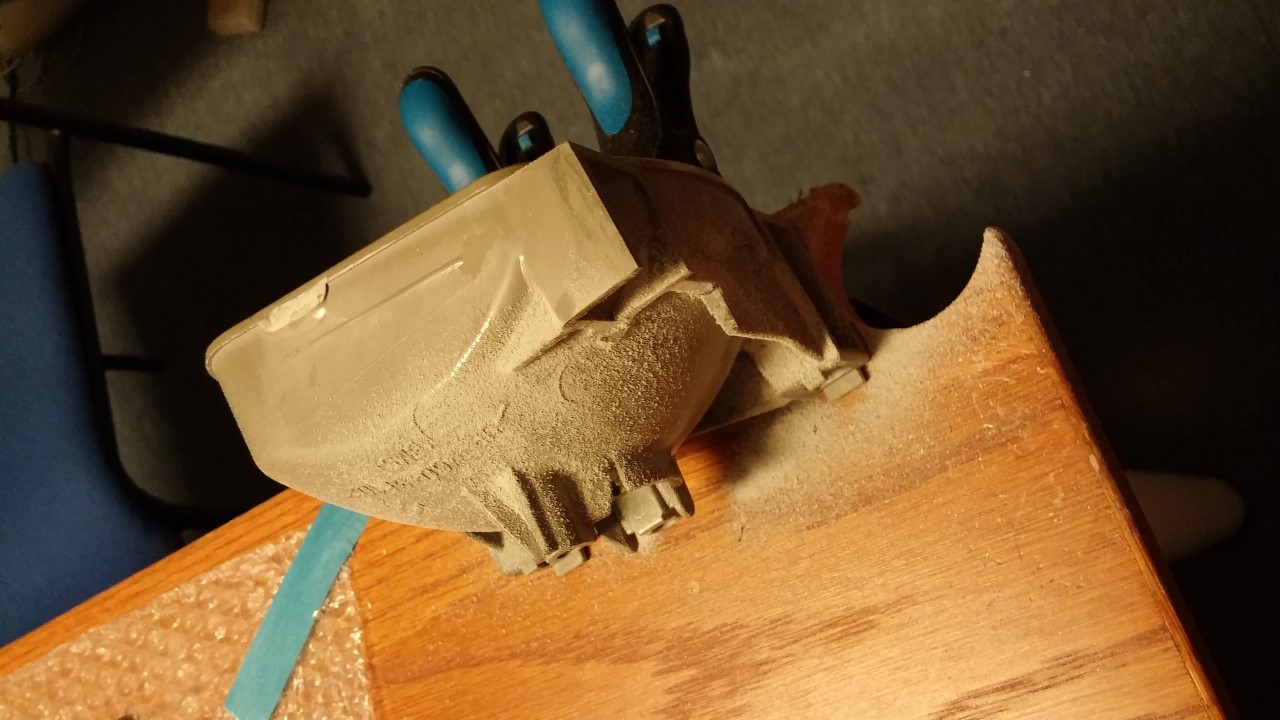 Surgery complete: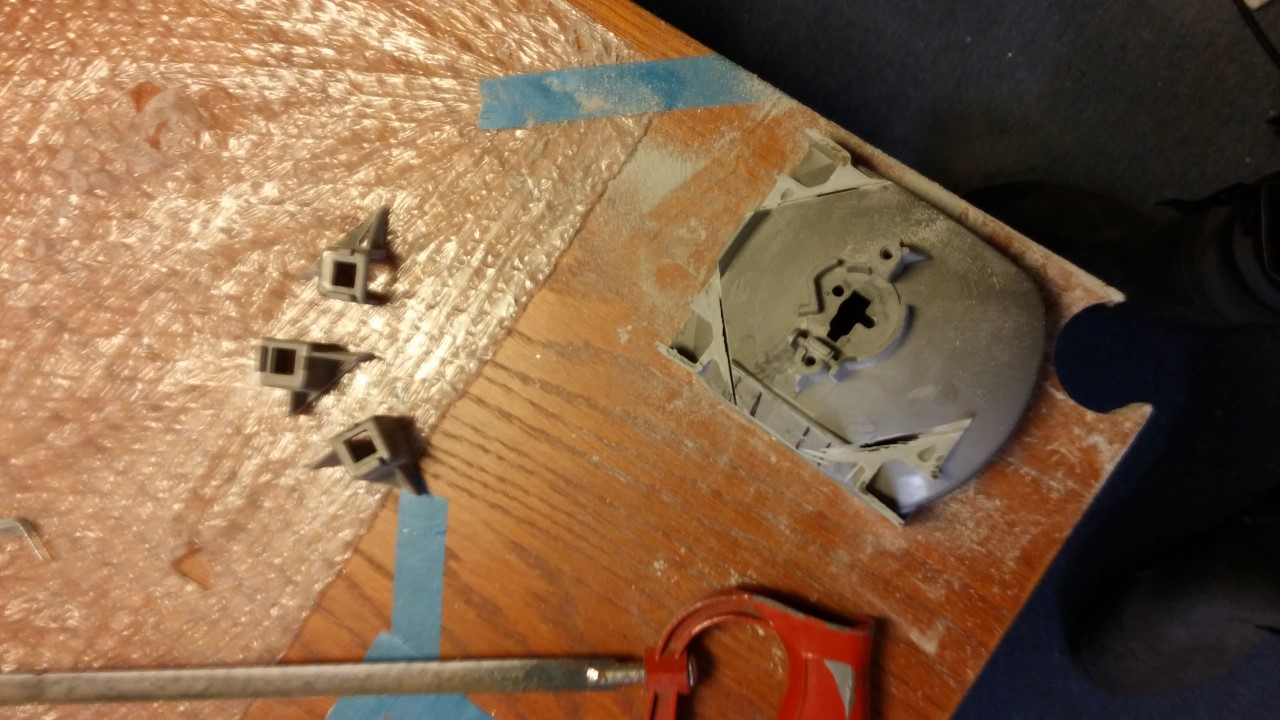 Epoxied onto the bracket: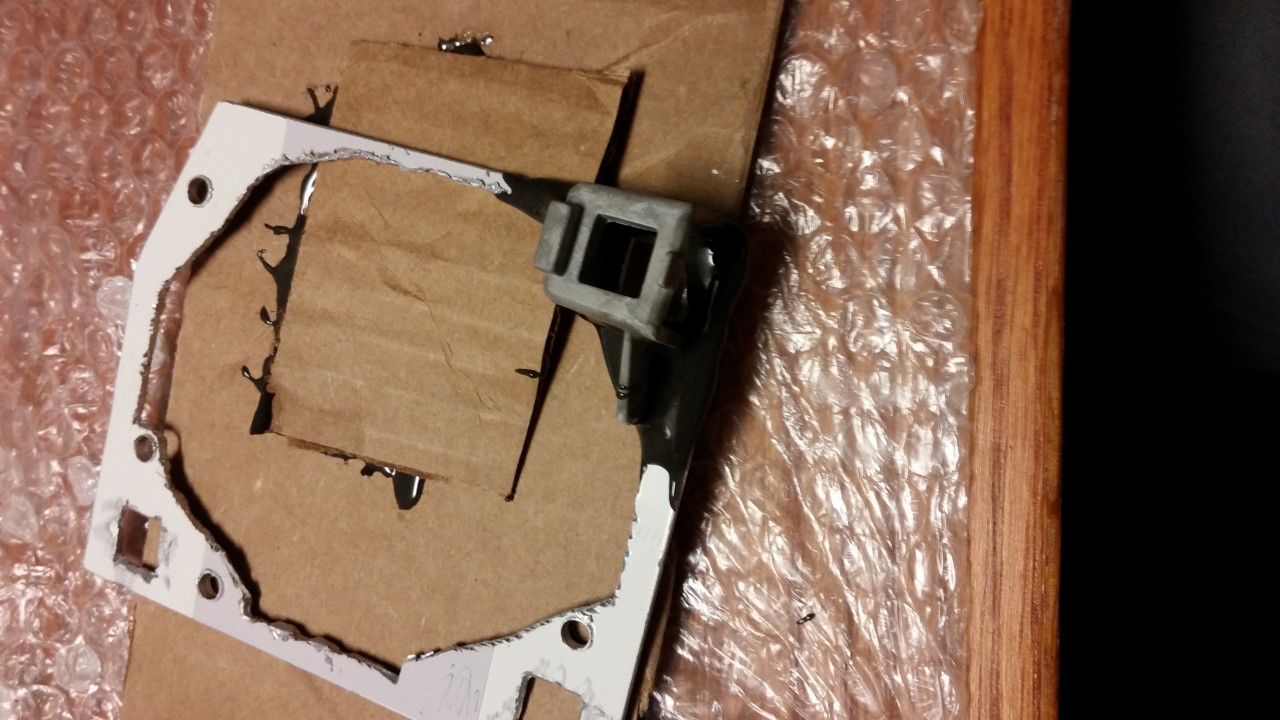 Test fit: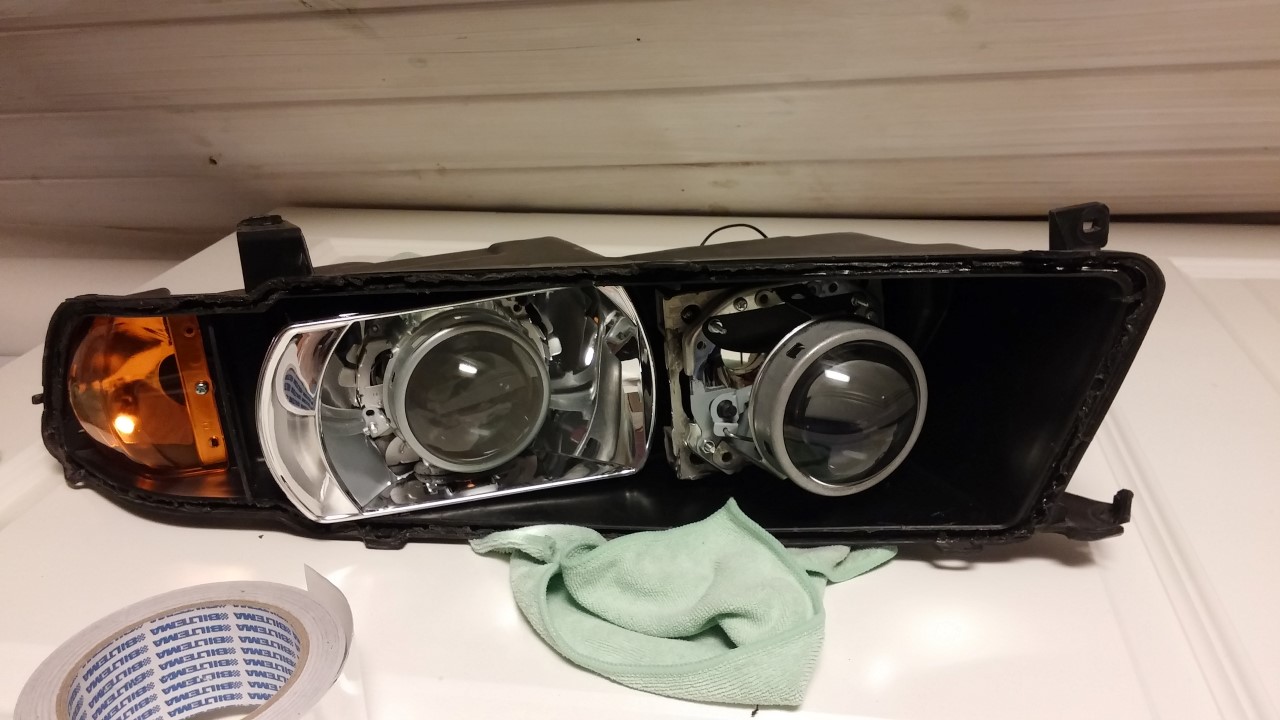 Looks alright with shrouds on: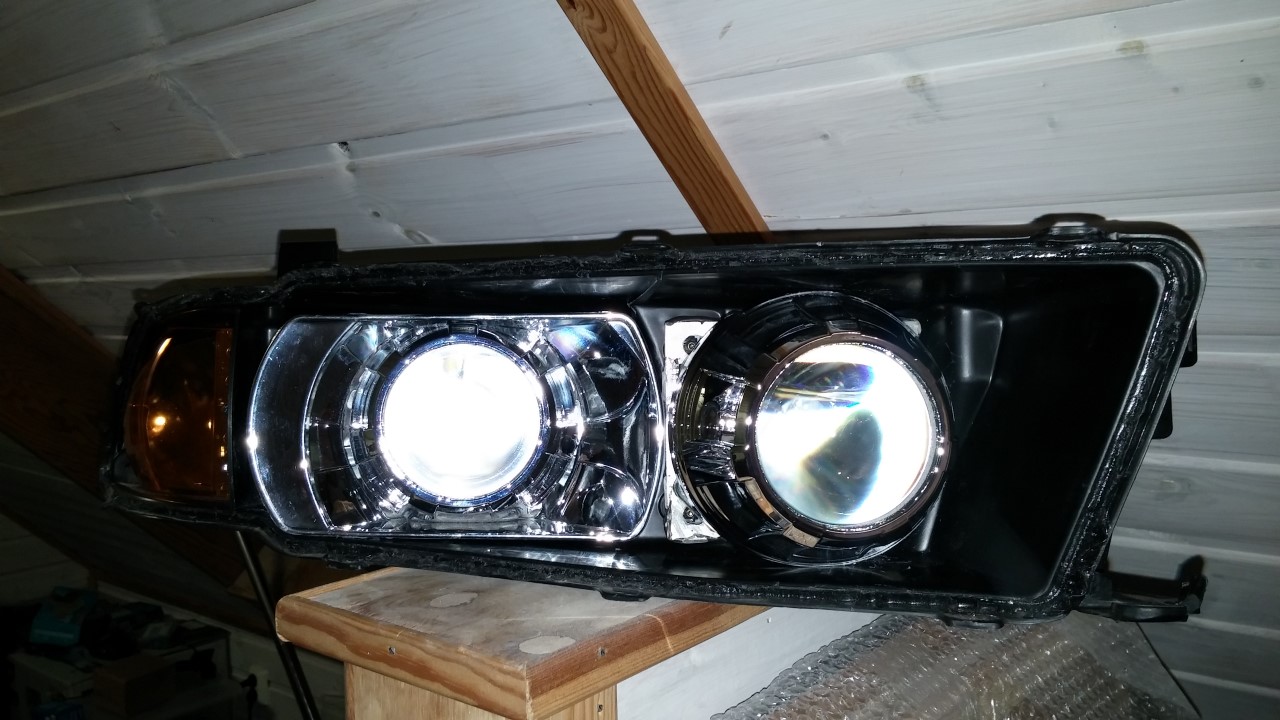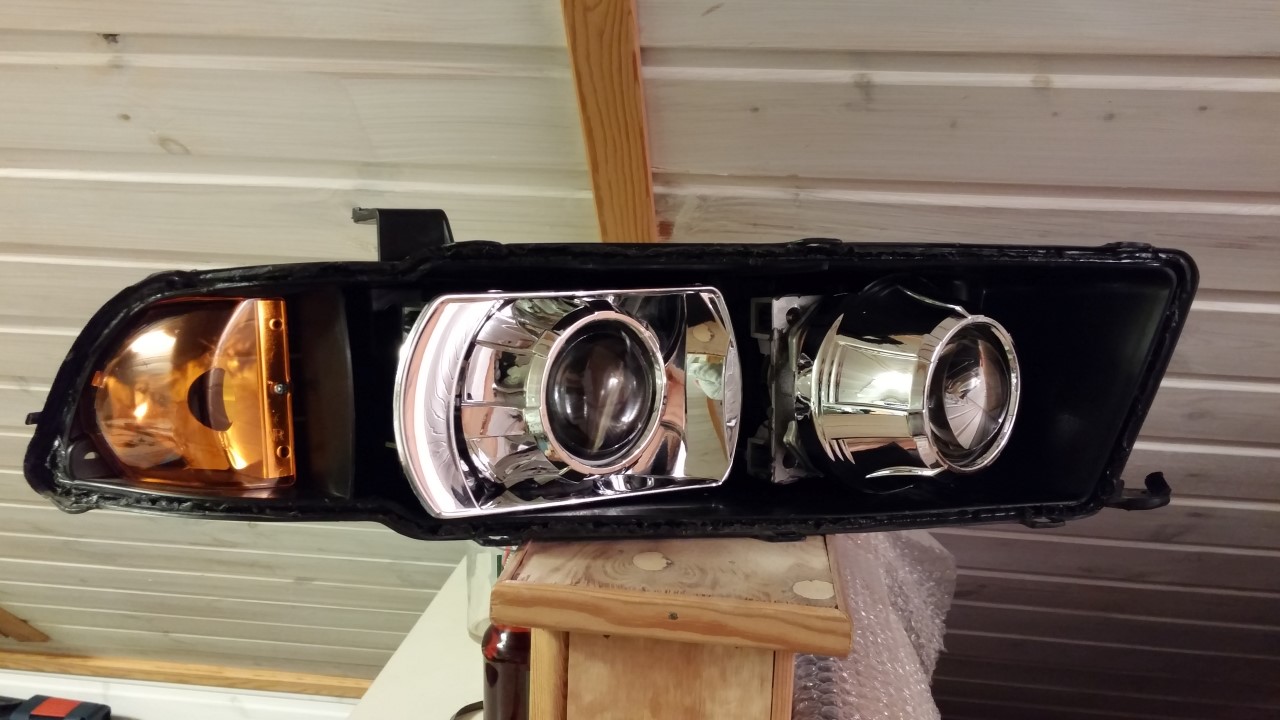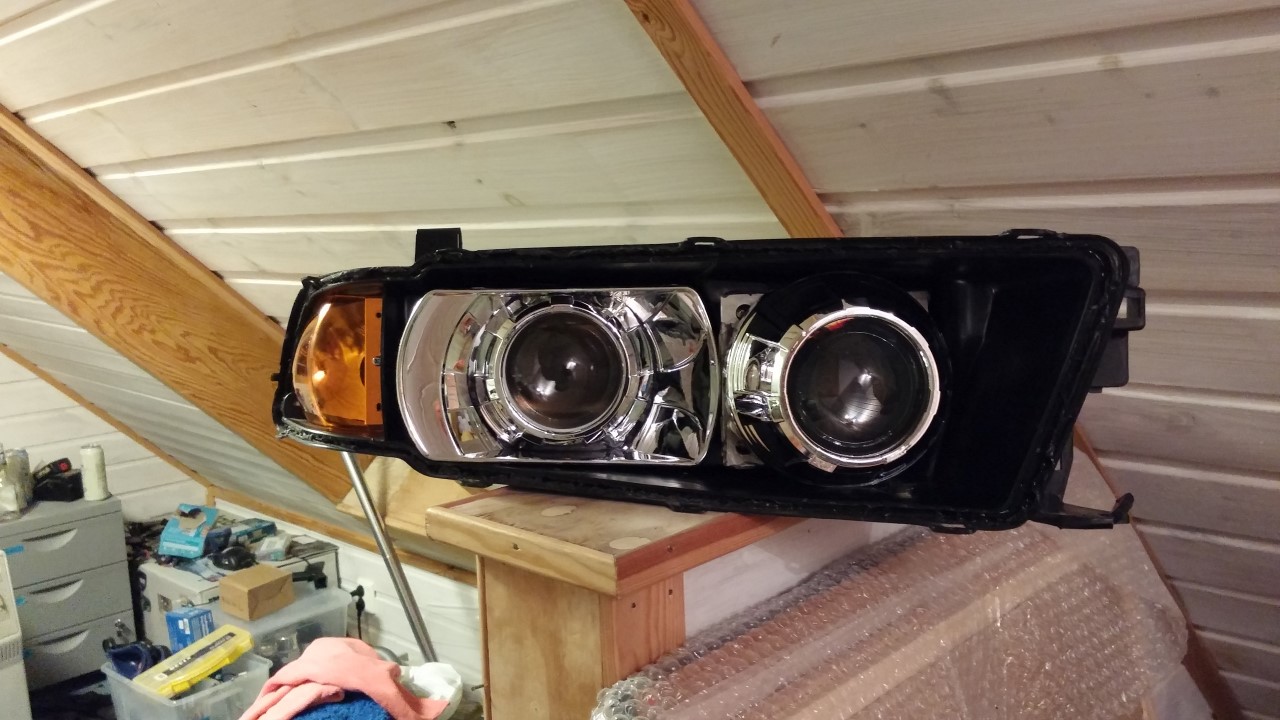 And with lights on: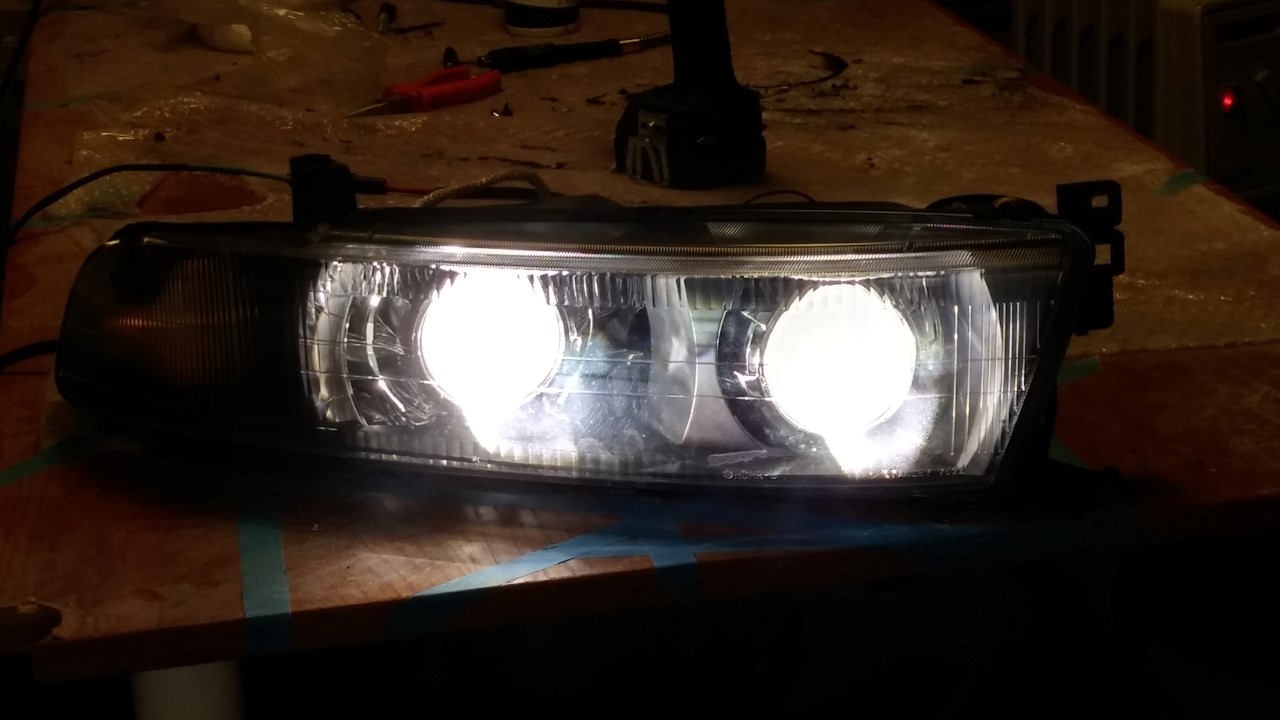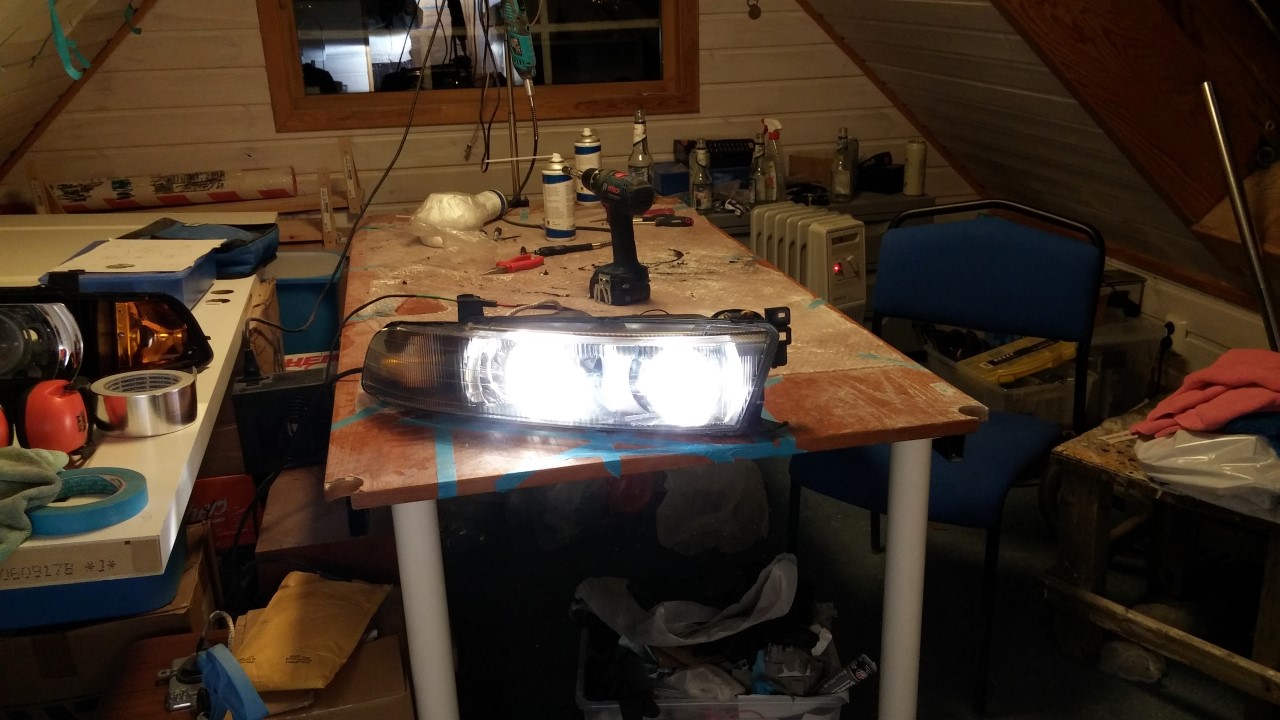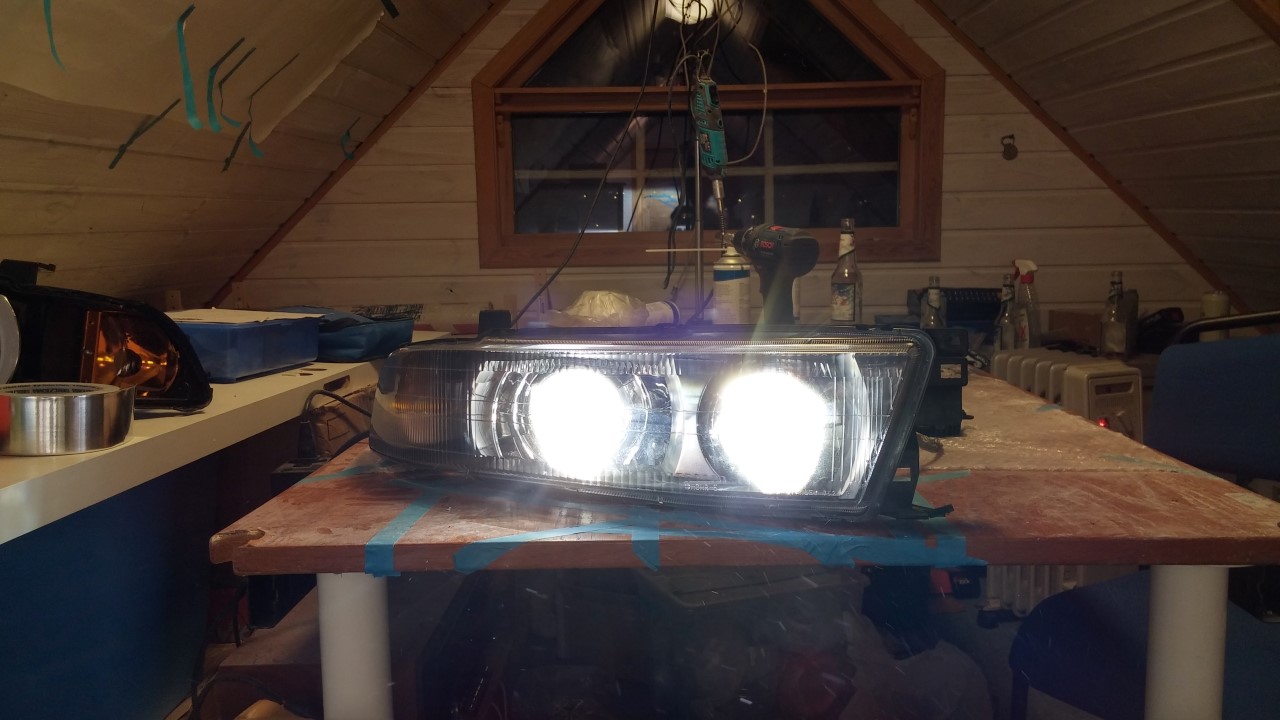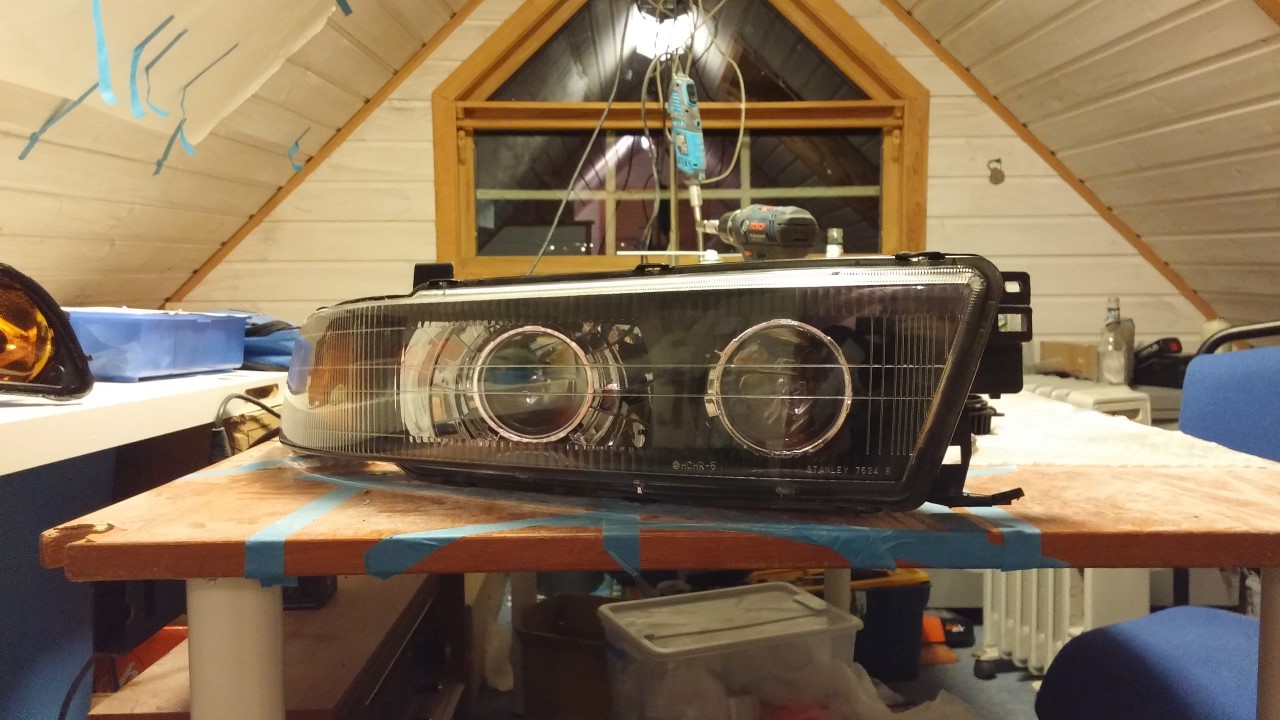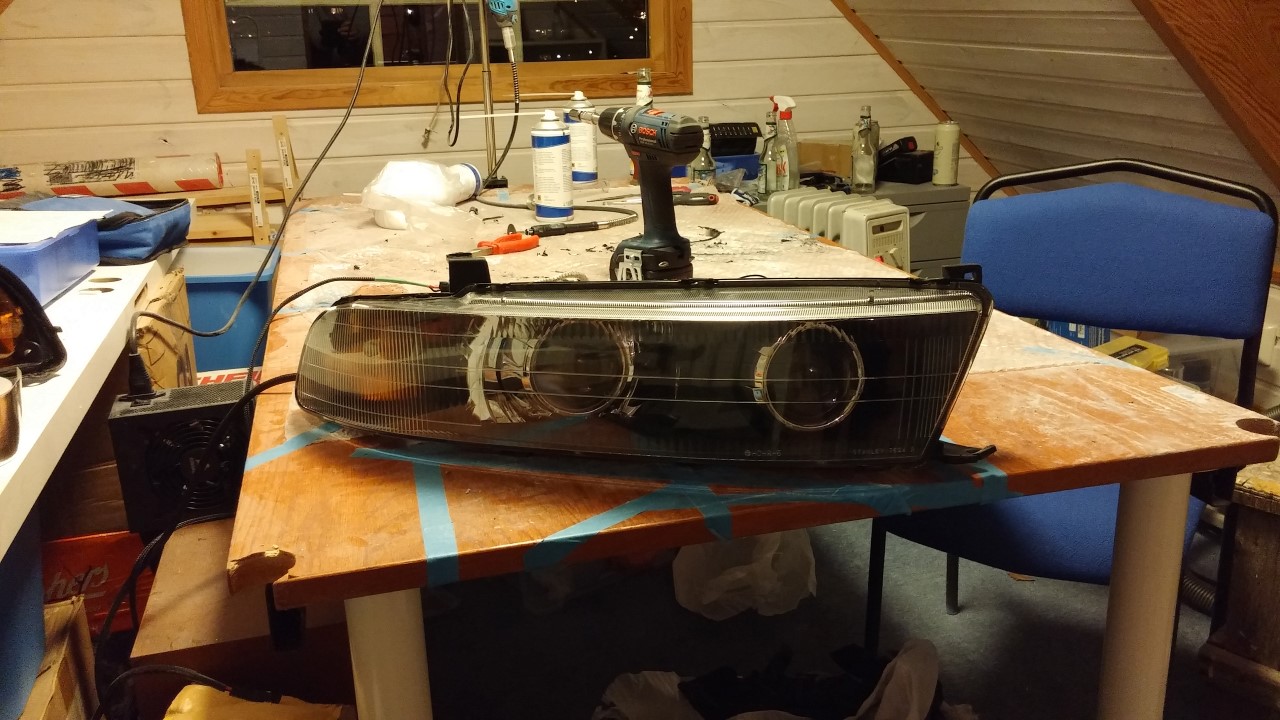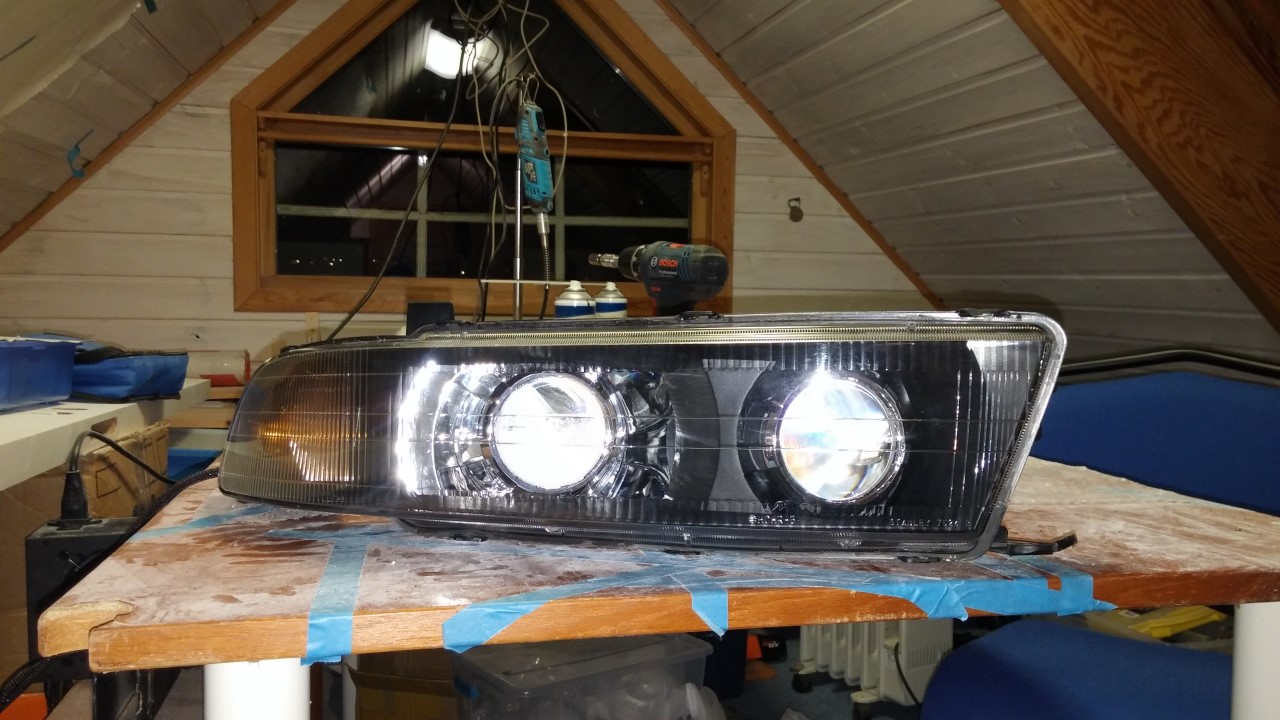 Random cat picture: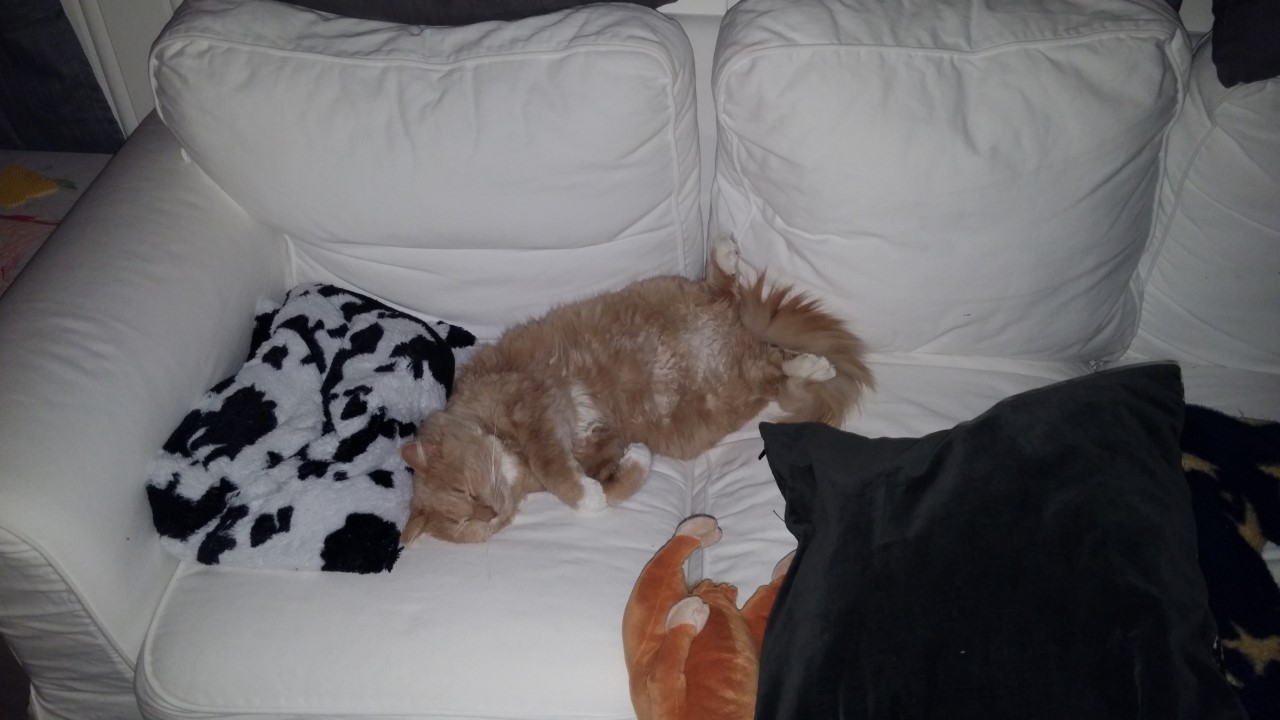 Wiring for the selectable quad setup: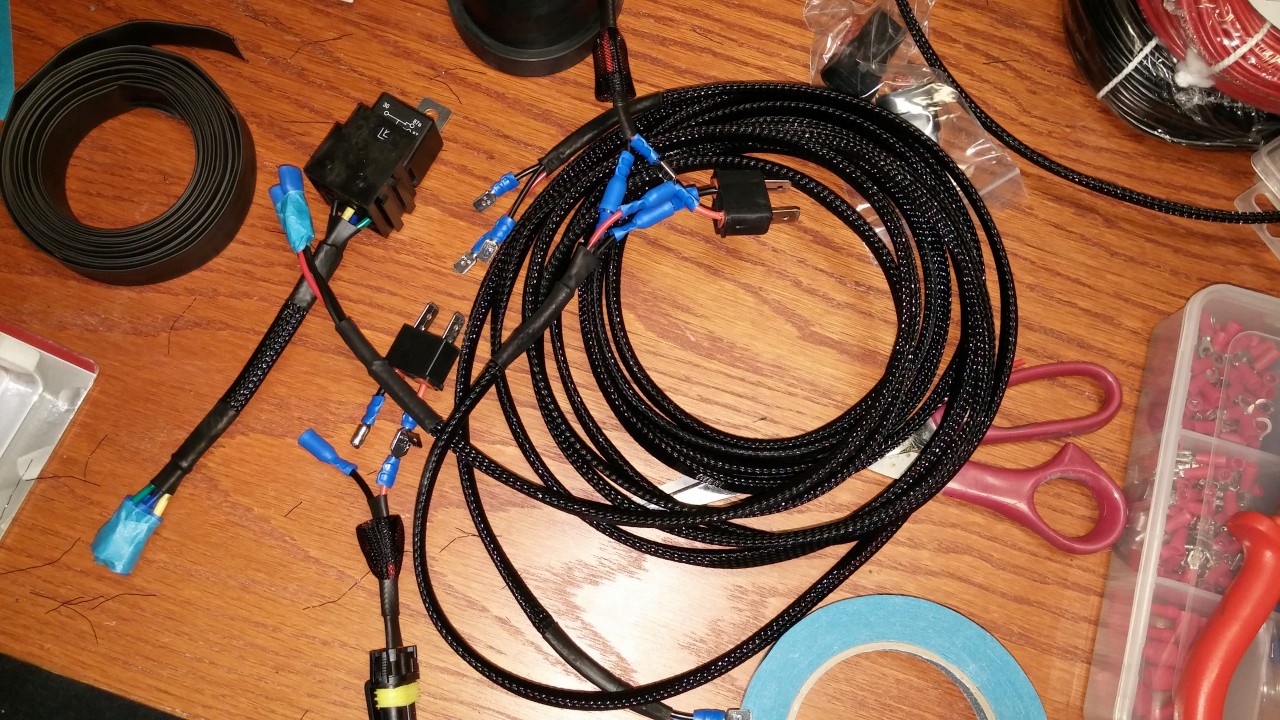 This... needs to go. At some point I'll pull the harness from the car and replace all of this with a nice 3- or 4-way connector. This will not only tidy it up considerably, but also eliminate any chance of hooking things up the wrong way. Only problem is that it's a nightmare to get out of the car...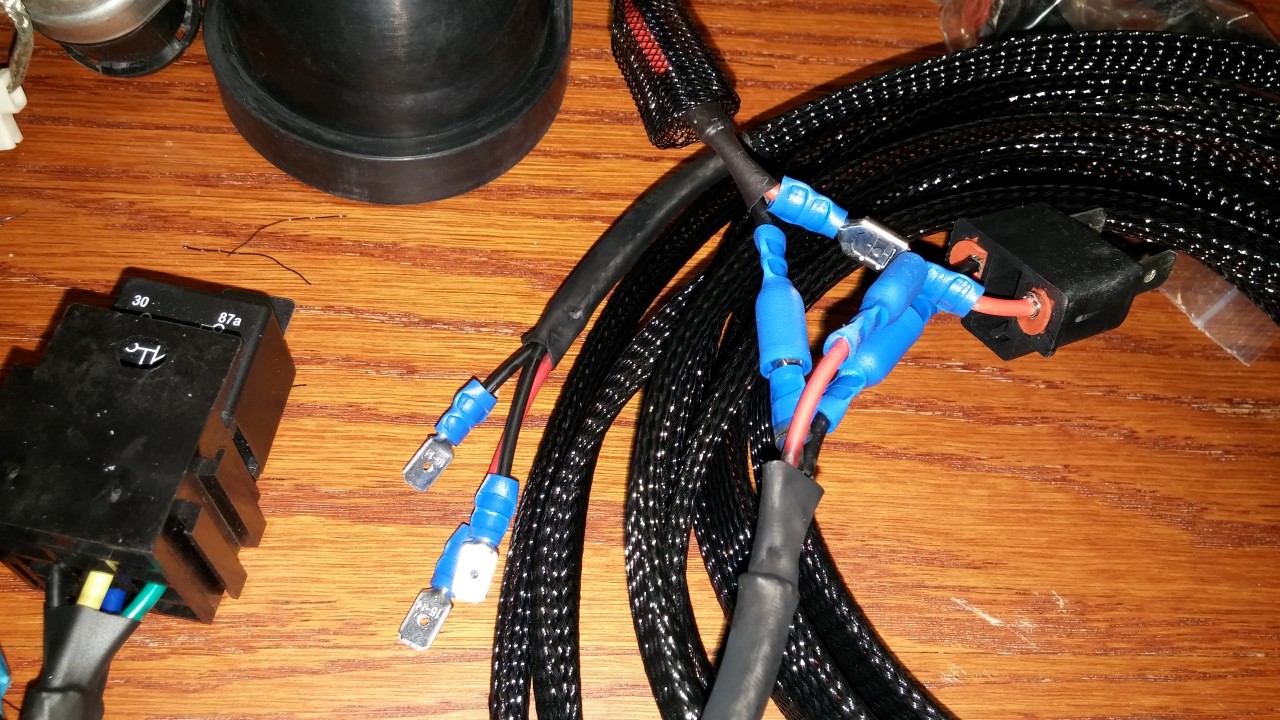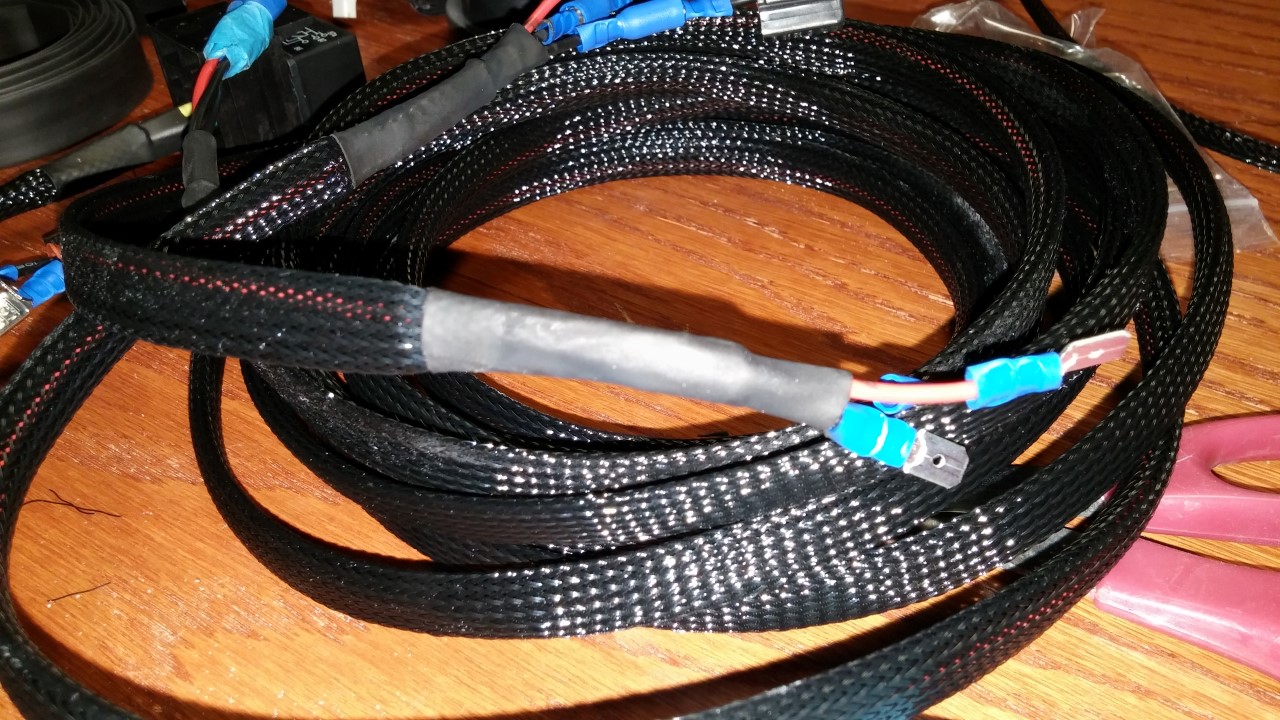 Installed, output testing. At this point, they were aimed after my temporary retro, but for some reason they were a tad low. Here are all four on. Driver's side EvoX-R has rotation issues: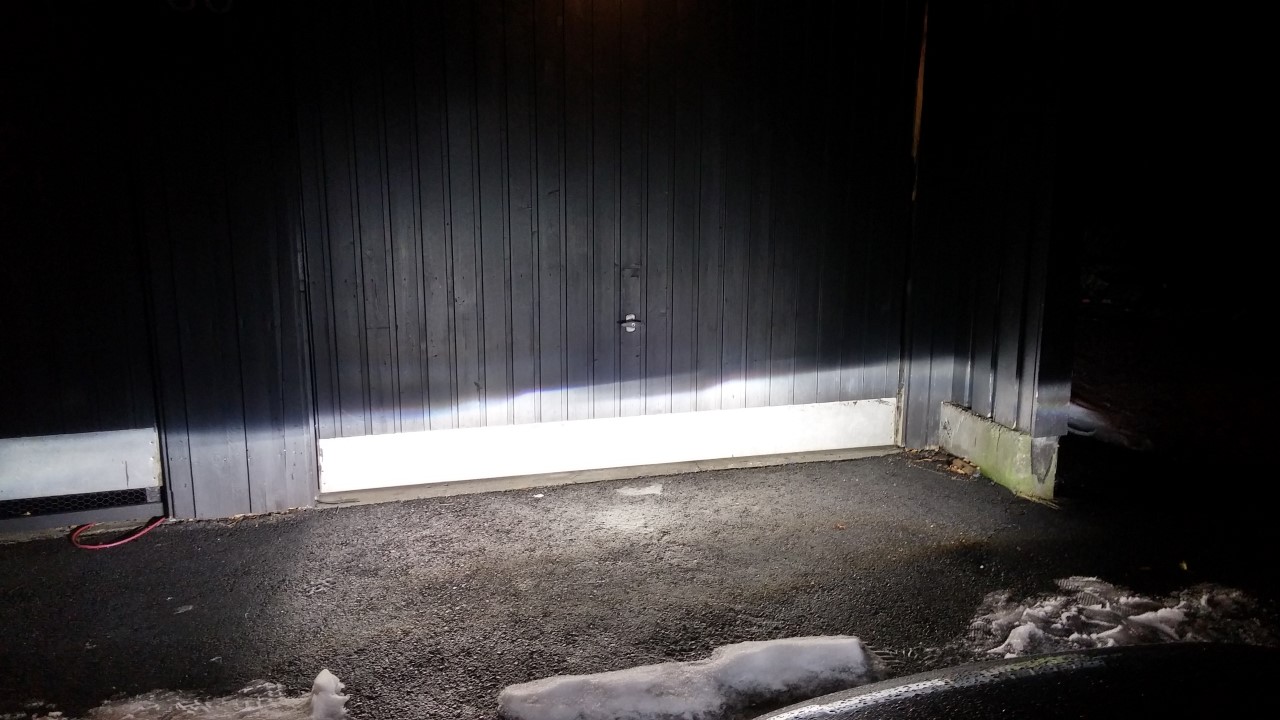 RX350s only; passenger side has rotation issues...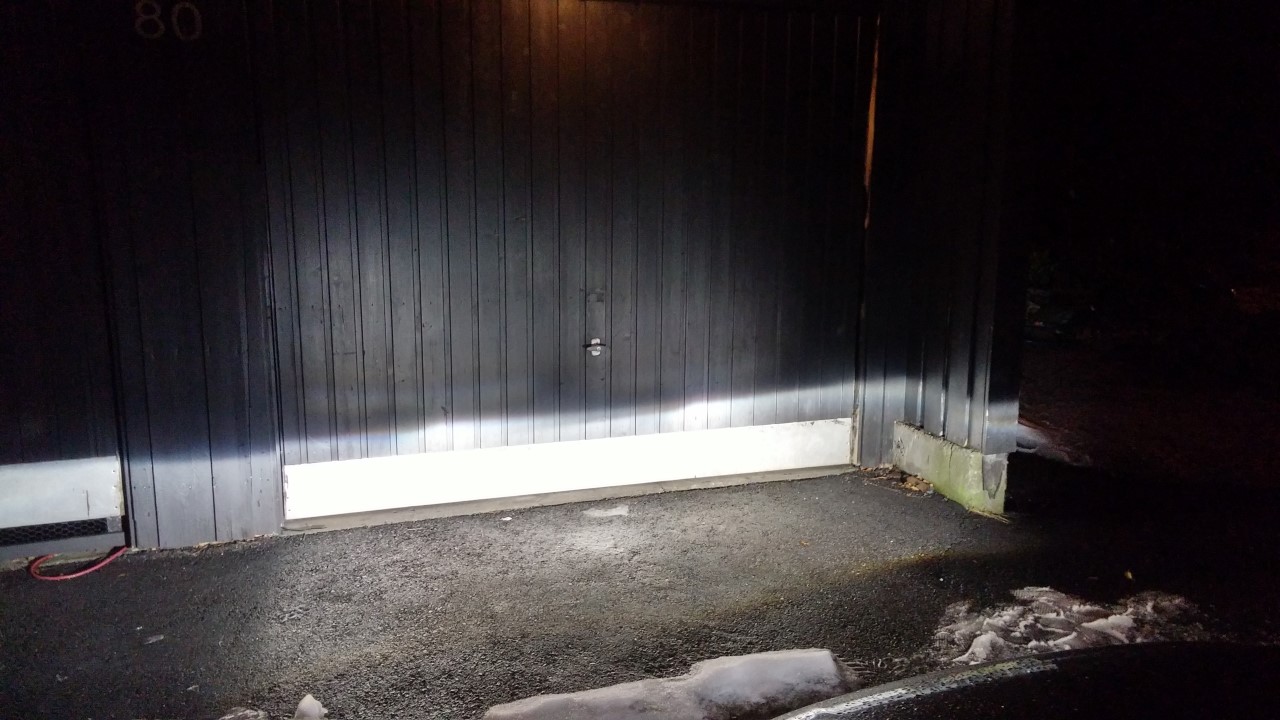 All four on again, I think...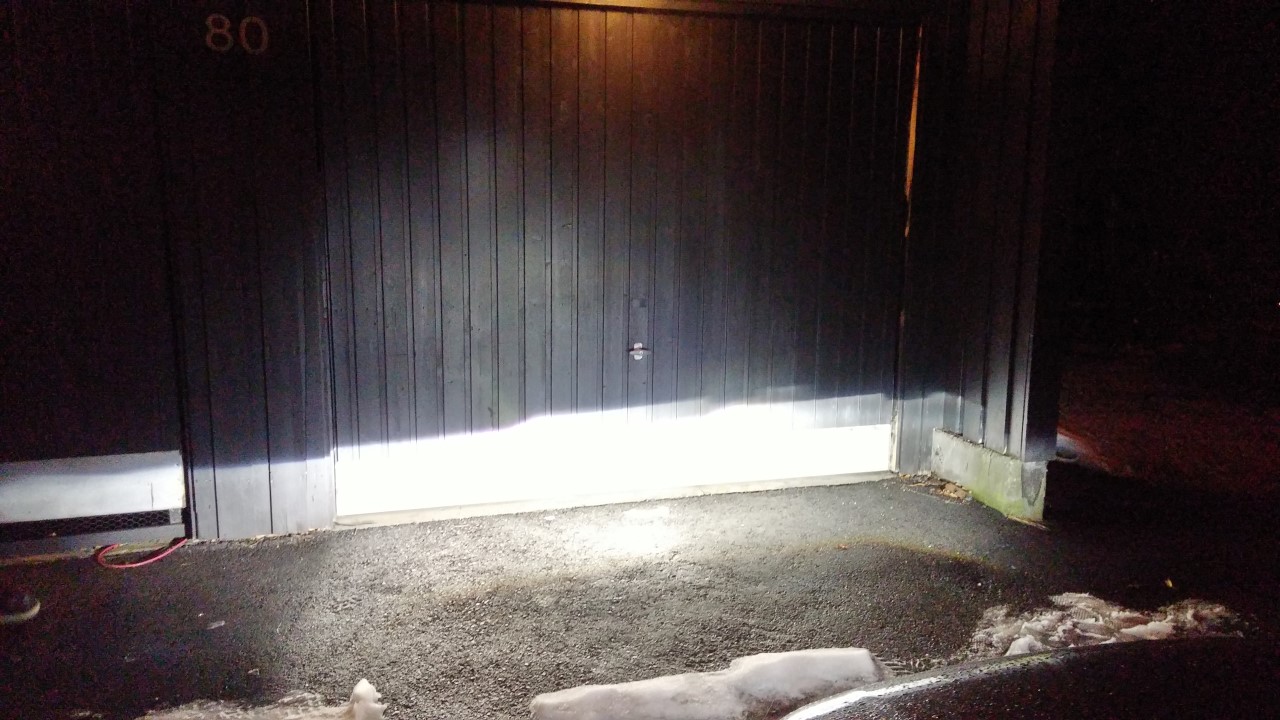 The car. EvoX-Rs only: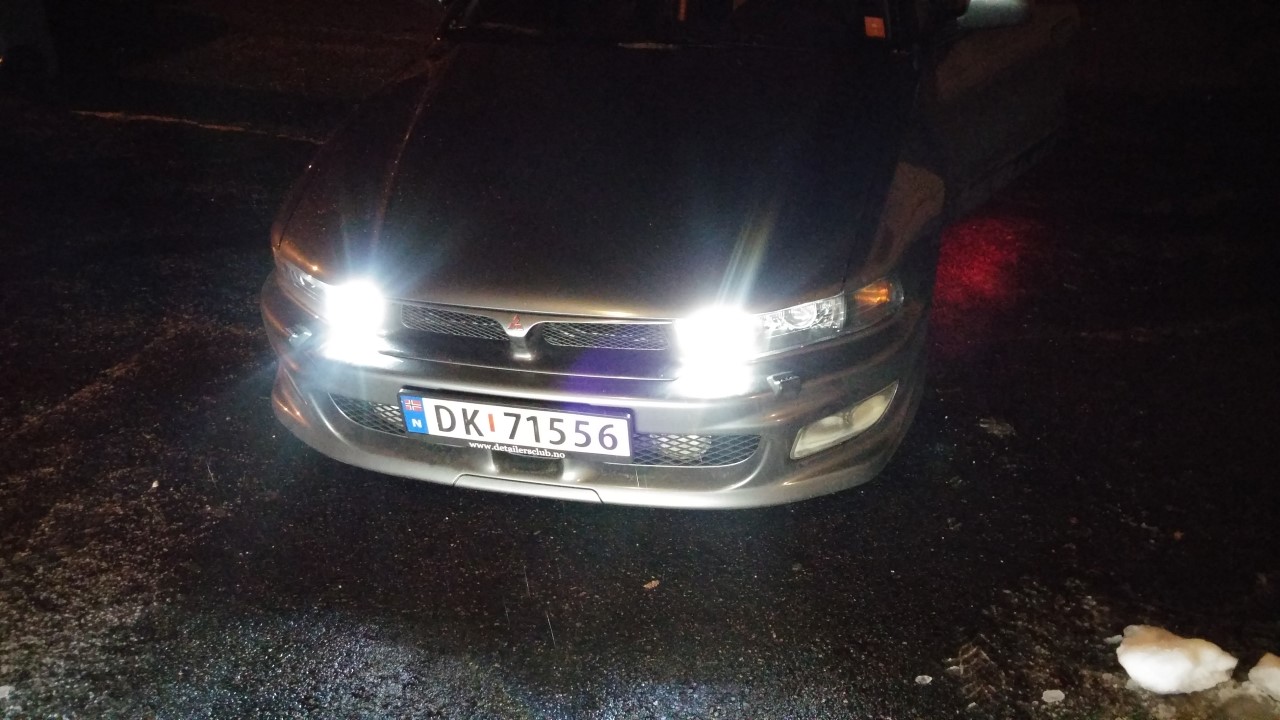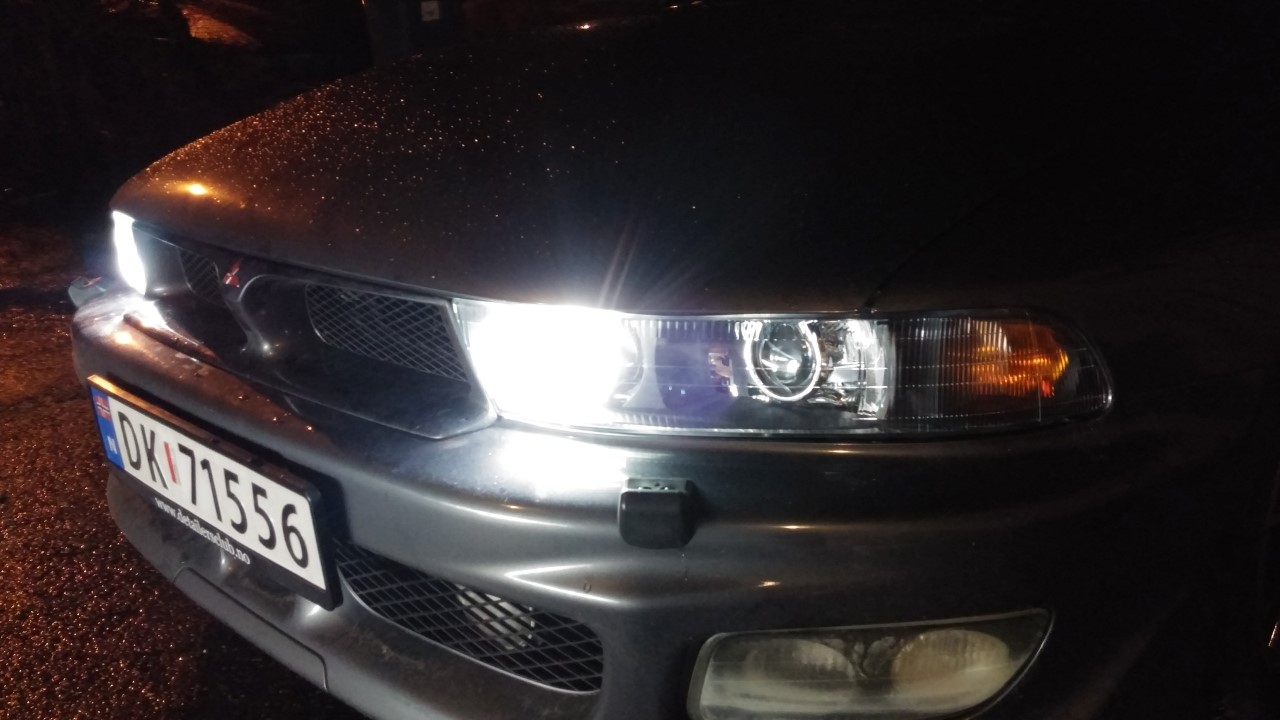 RX350s only: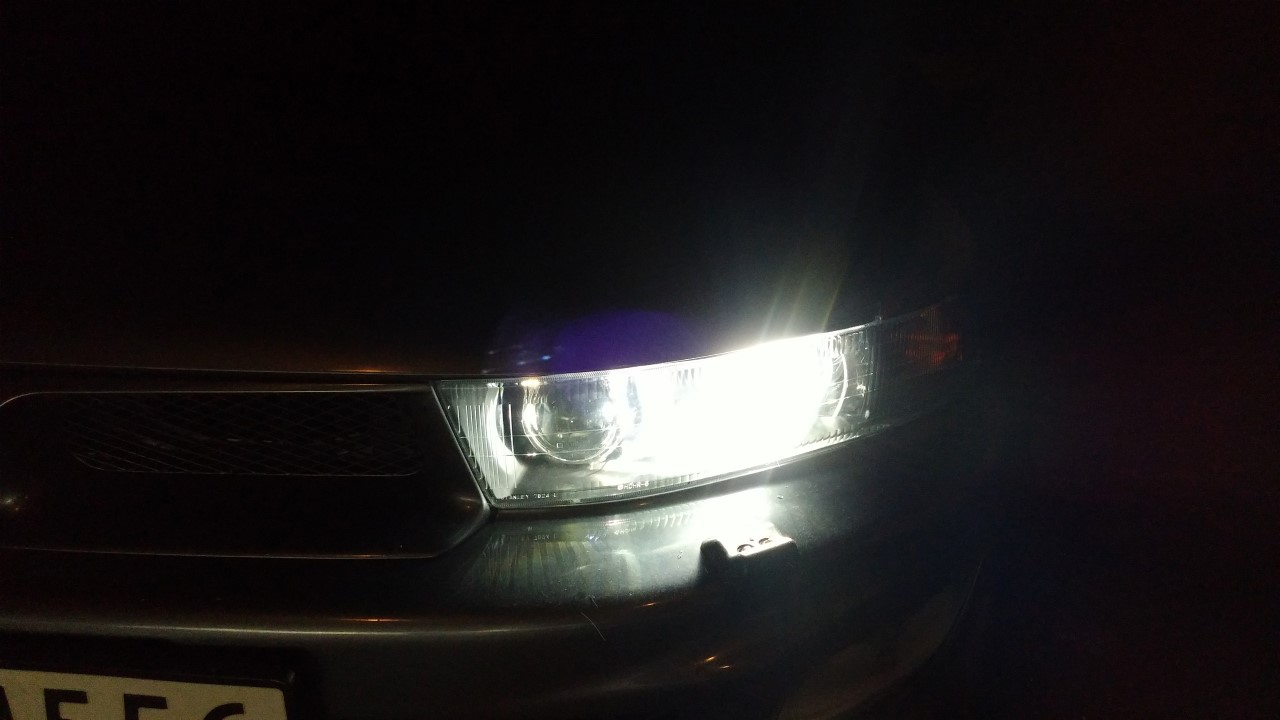 Both pairs on: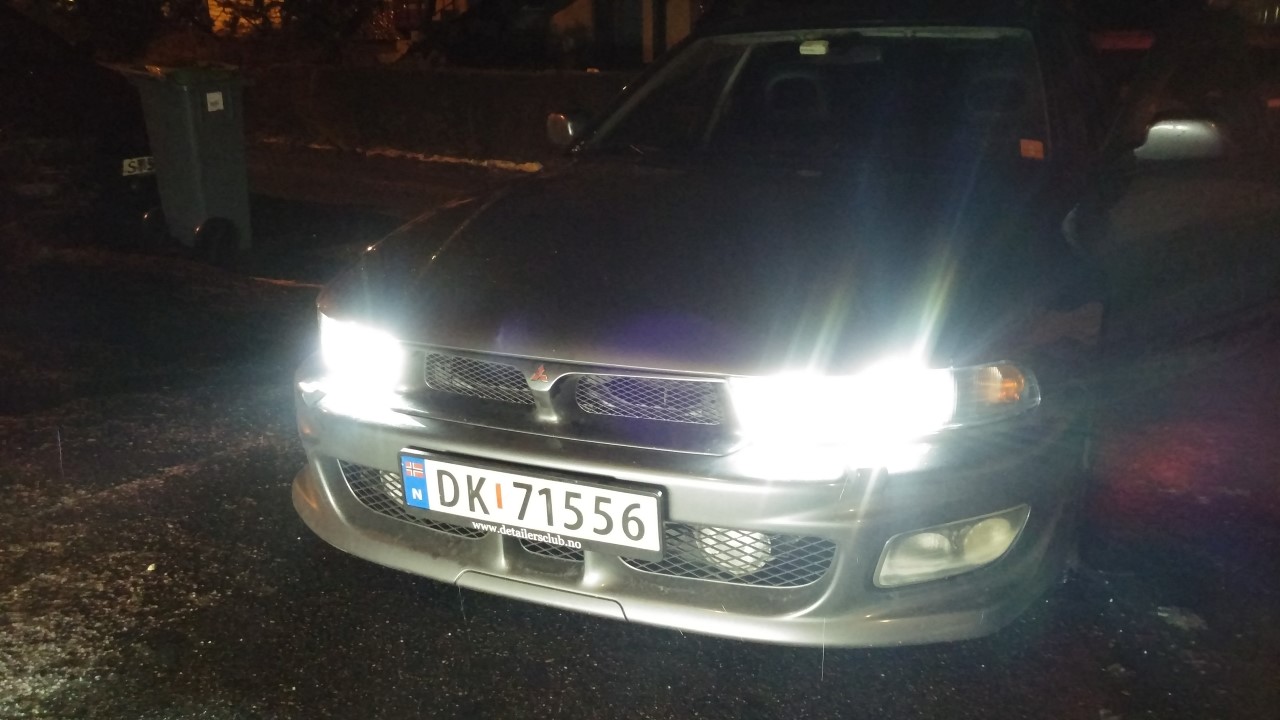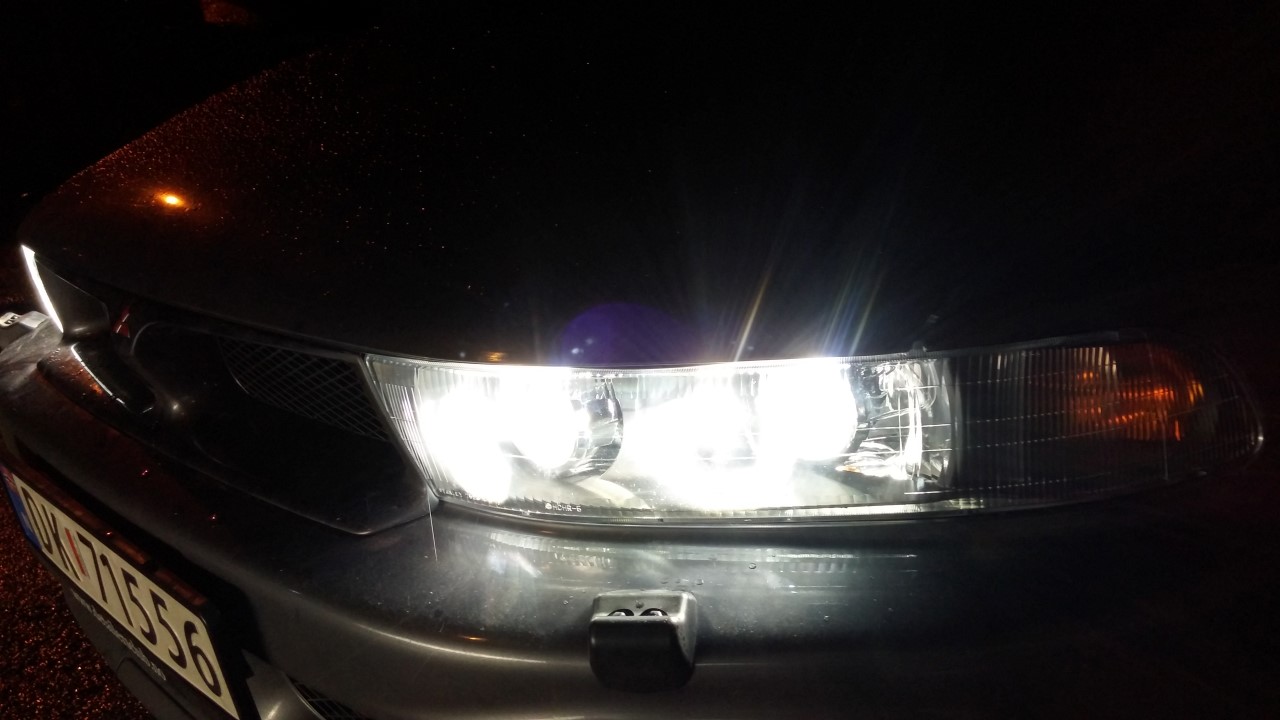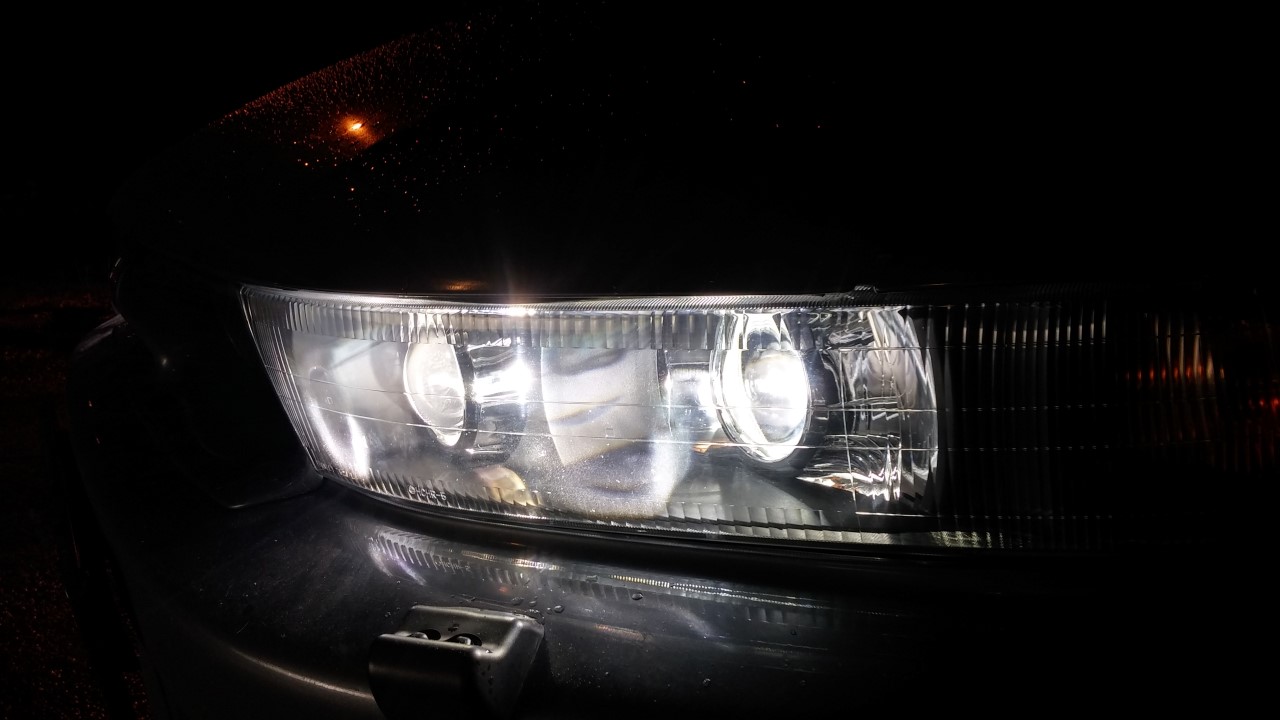 And both off: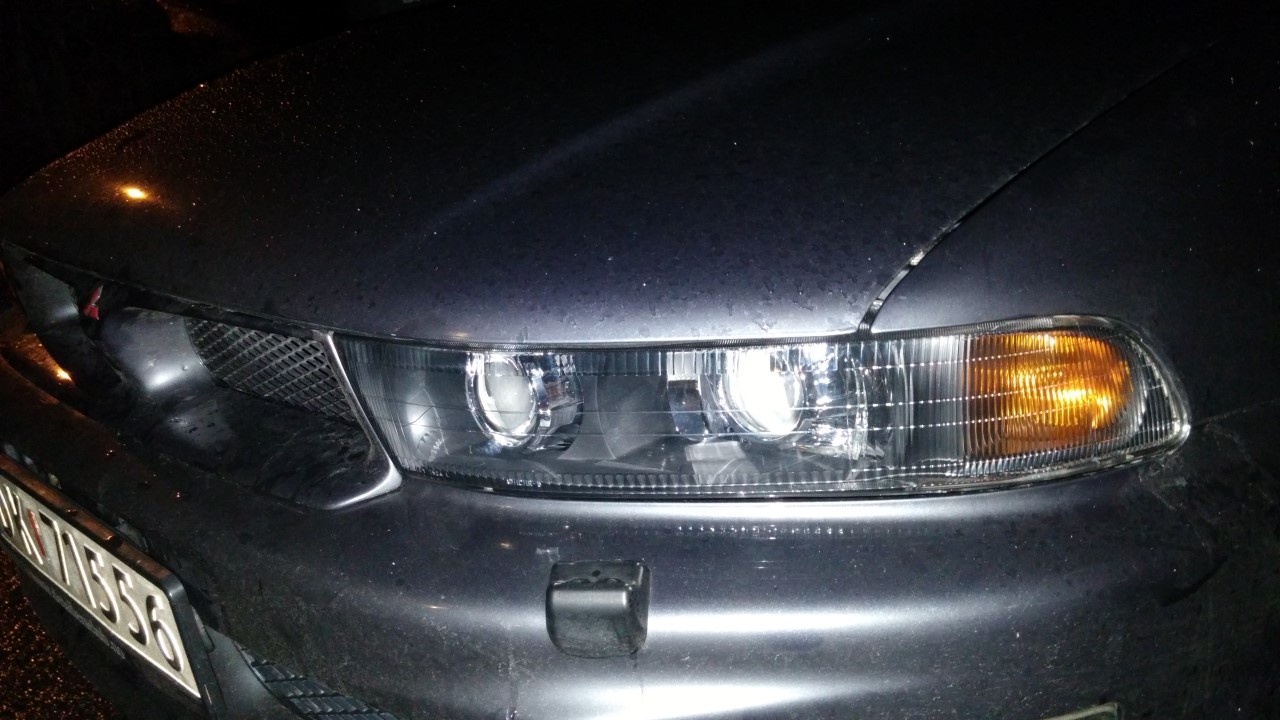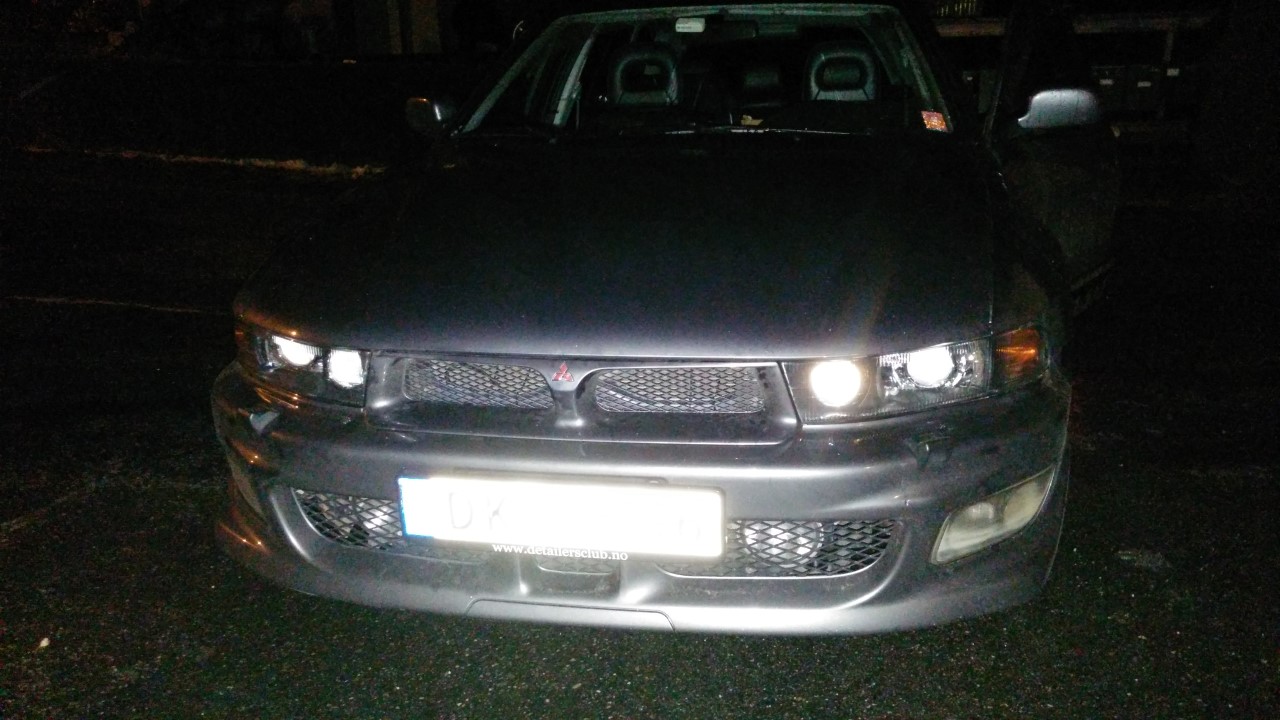 I'm debating painting the low beam reflectors black for even more badassery, but can't stand the thought of masking everything up...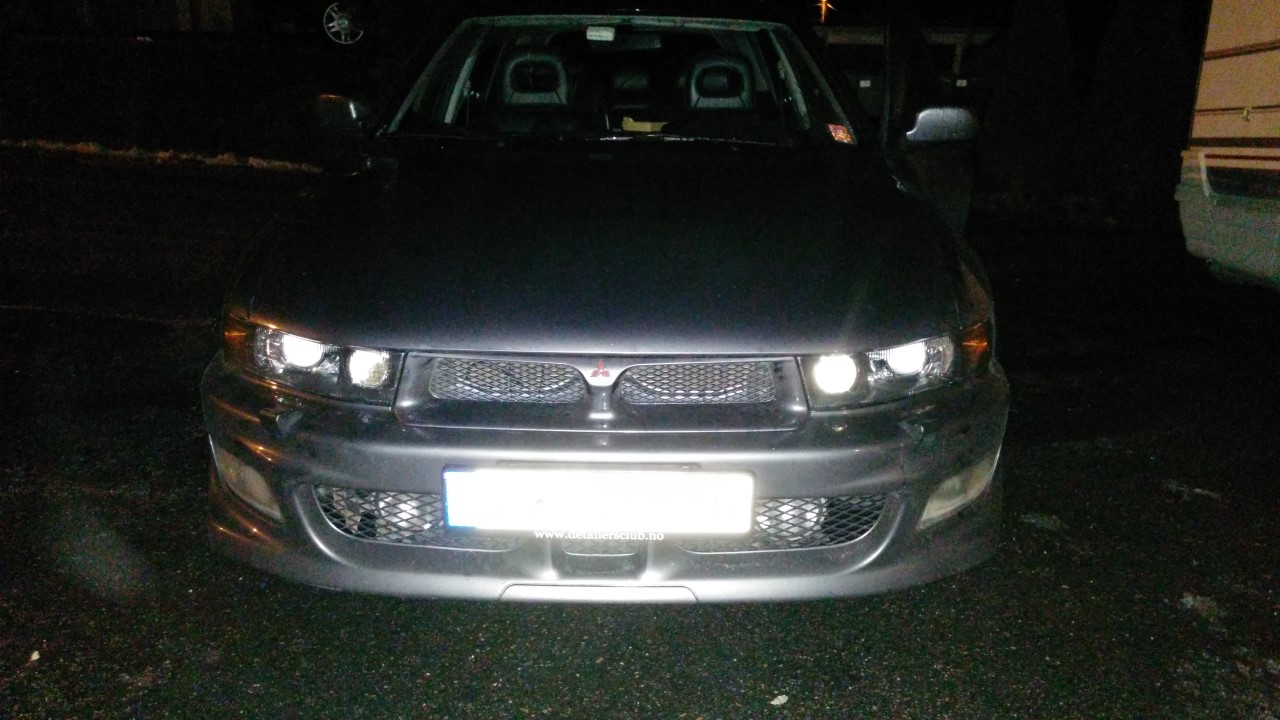 Both on: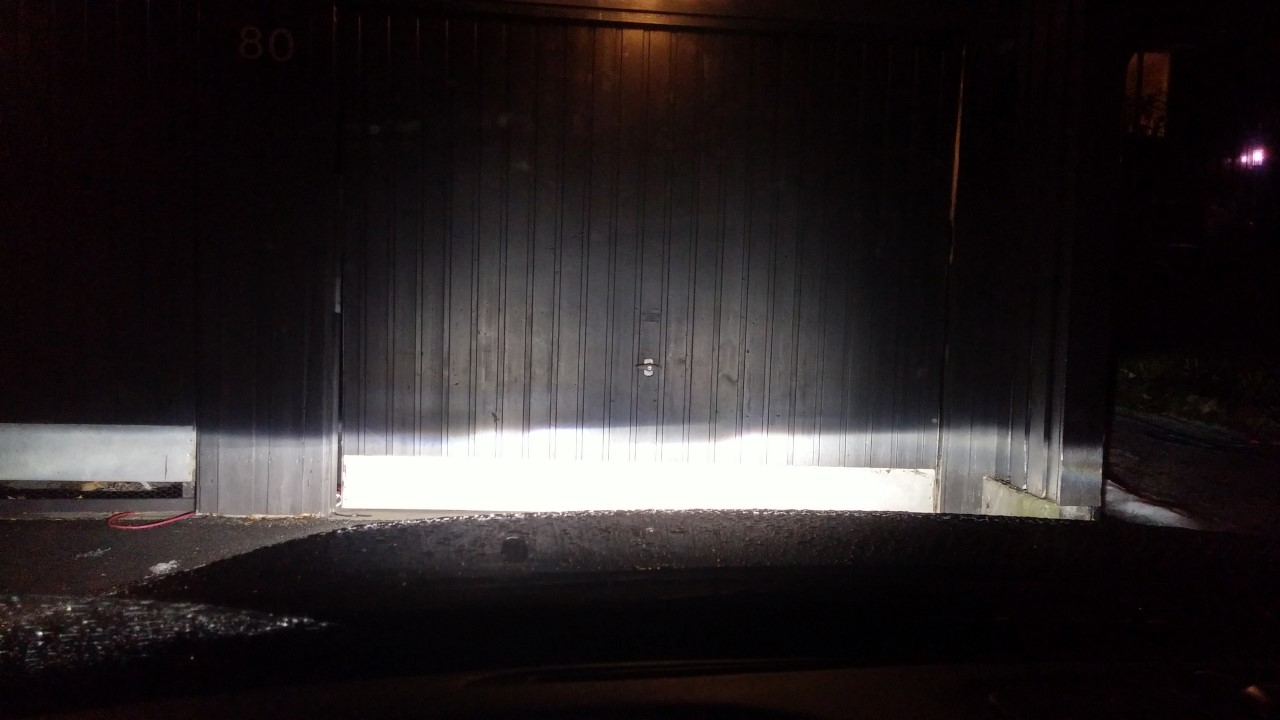 In daylight. I don't like how it looks like the inner projectors are point upwards, but short of painting everything the same colour or making a custom bezel that covers everything inside, there's not much I can do about it.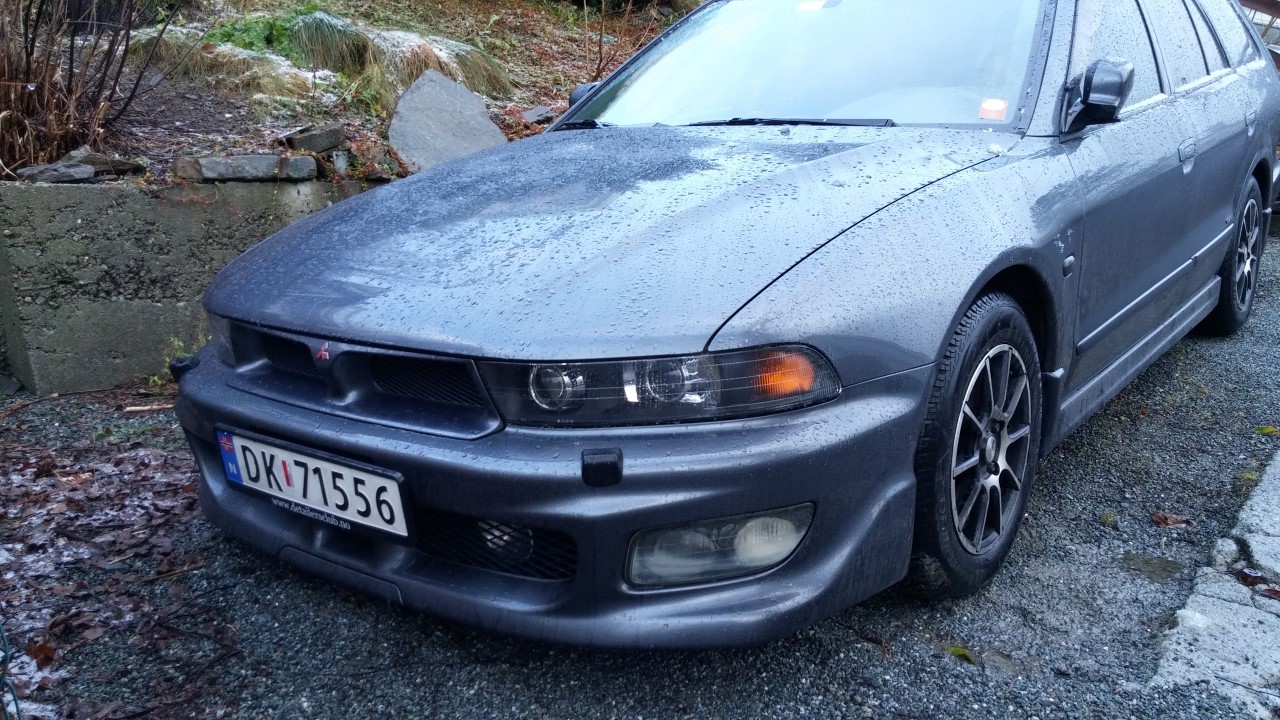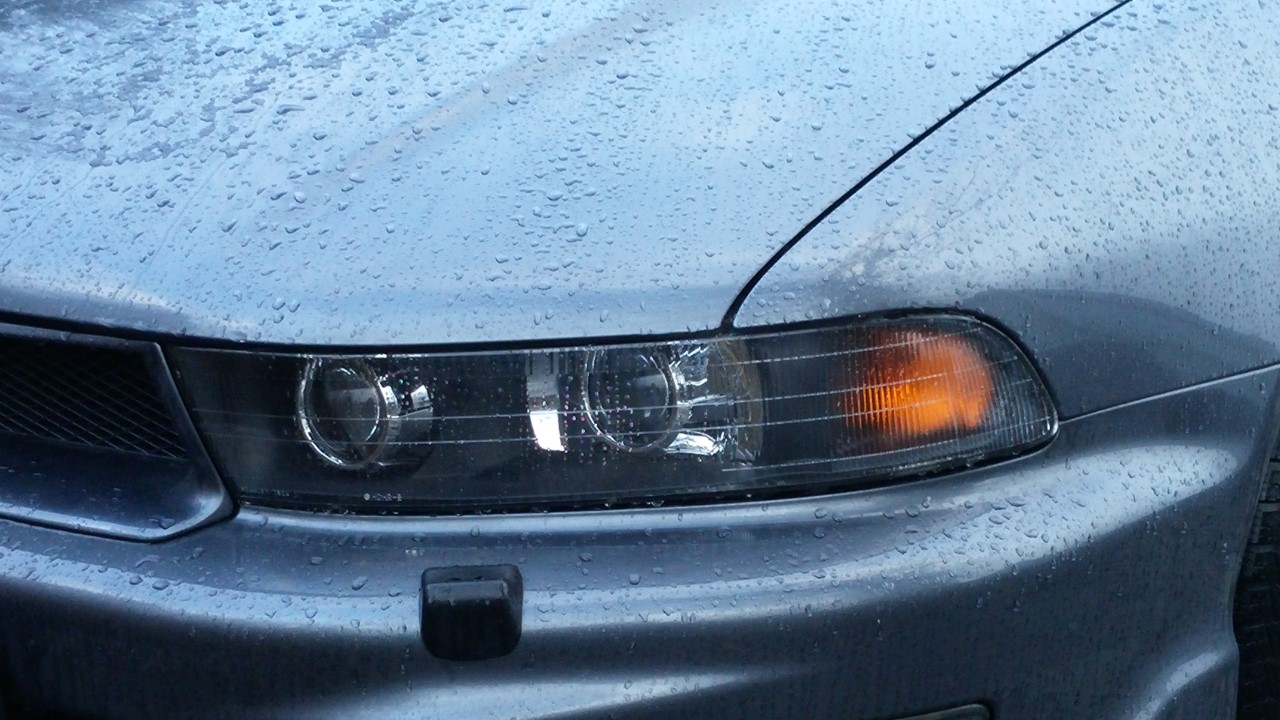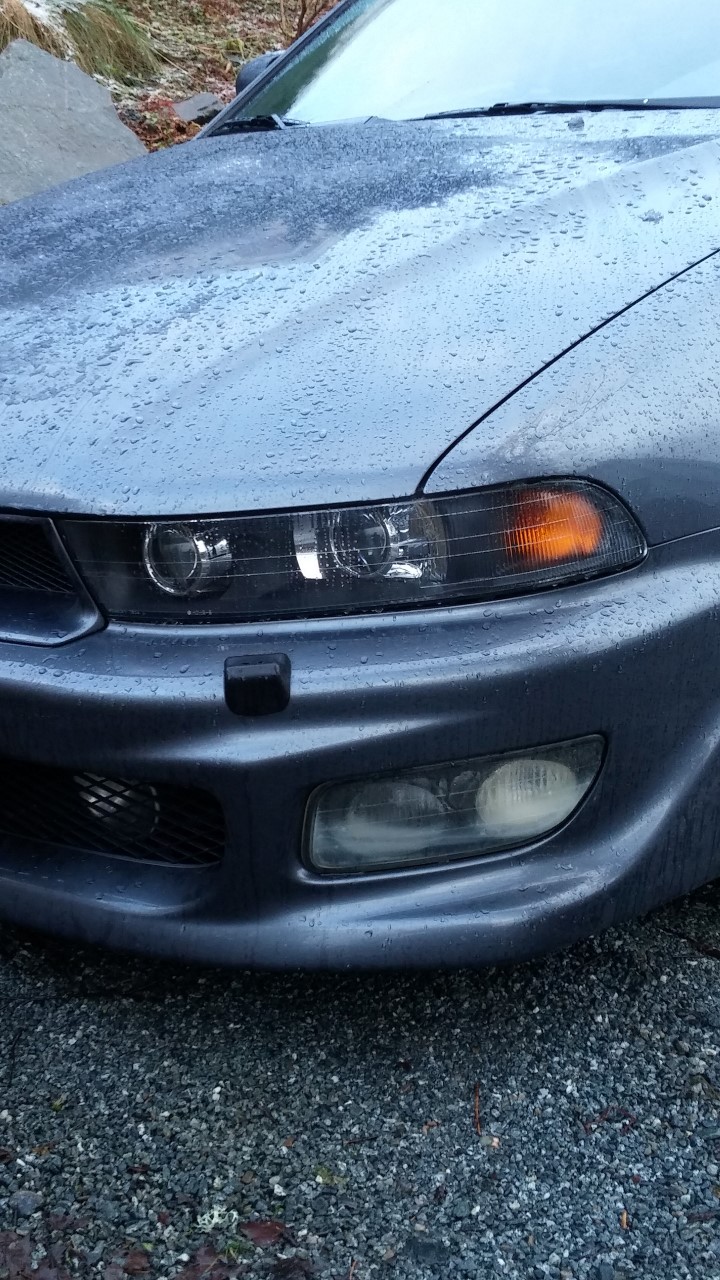 Woho, finally done and working!
...but of course, this couldn't last.
The day after, one of the ballasts died. Replacement ballast was requested, and after testing, it turned out to be a dud igniter, so I ordered a new one from TRS.
Swapped a pair of Matsushita ballasts for the remaining pair of Mitsubishis I had lying around, and all was good. Then, the passenger side EvoX-R lookewd a bit low, so I tried to adjust it, realizing that one of the legs had come loose from the bracket. Took the headlight inside, fixed it, left it overnight, put it back on, all was good. Then the driver's side had the same problem, as well as fogging up in a bad way.
Took that inside, cleaned it up, fixed the bracket, forgot the rotation issue, put it back on the car.
A few days later, I noticed that both lights were full of condensation, and when temperatures dropped below zero (°C), the condensation froze and formed a bloody glacier inside the headlight, measuring about 5"x2". I pulled the headlights from the car and replaced them with the OEM halogen lights and took the retro inside to clean them up. While I was at it, I wrapped the solenoid wires in mesh and heatshrink to avoid the thin wires getting all tangled up in everything else in the engine bay. I also fixed the rotation issue with the DS EvoX-R.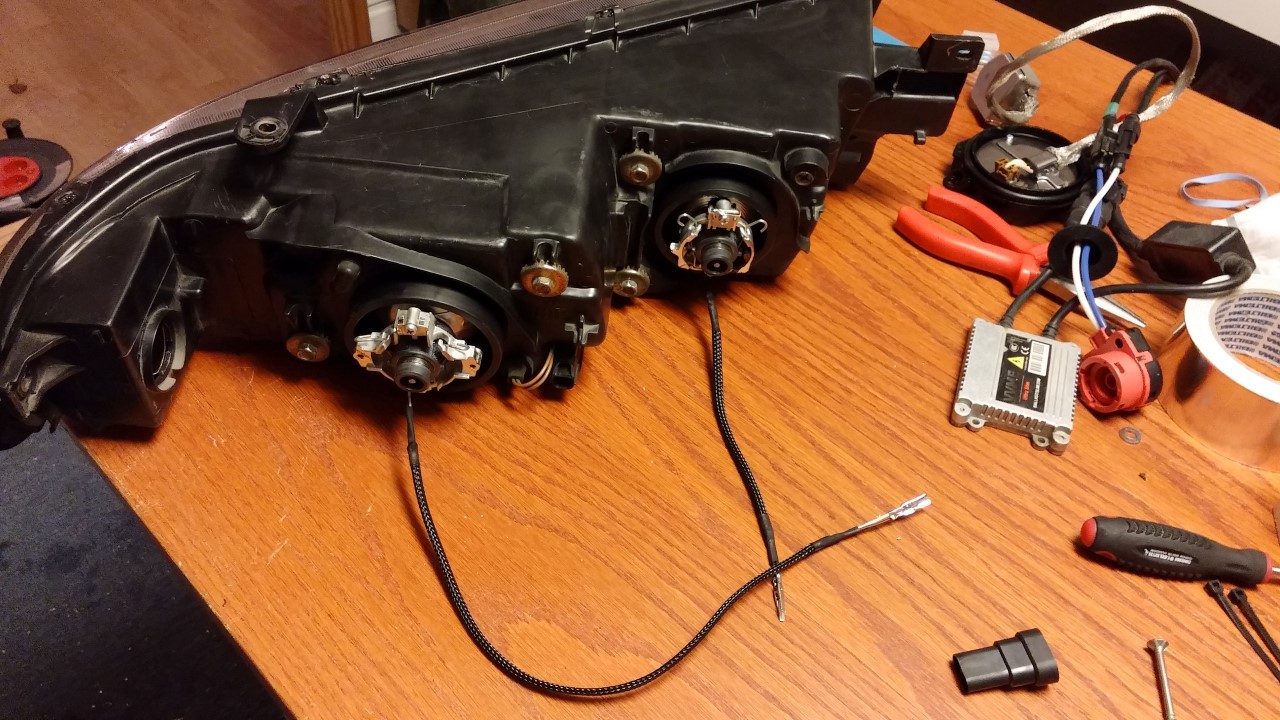 The rear of the housing: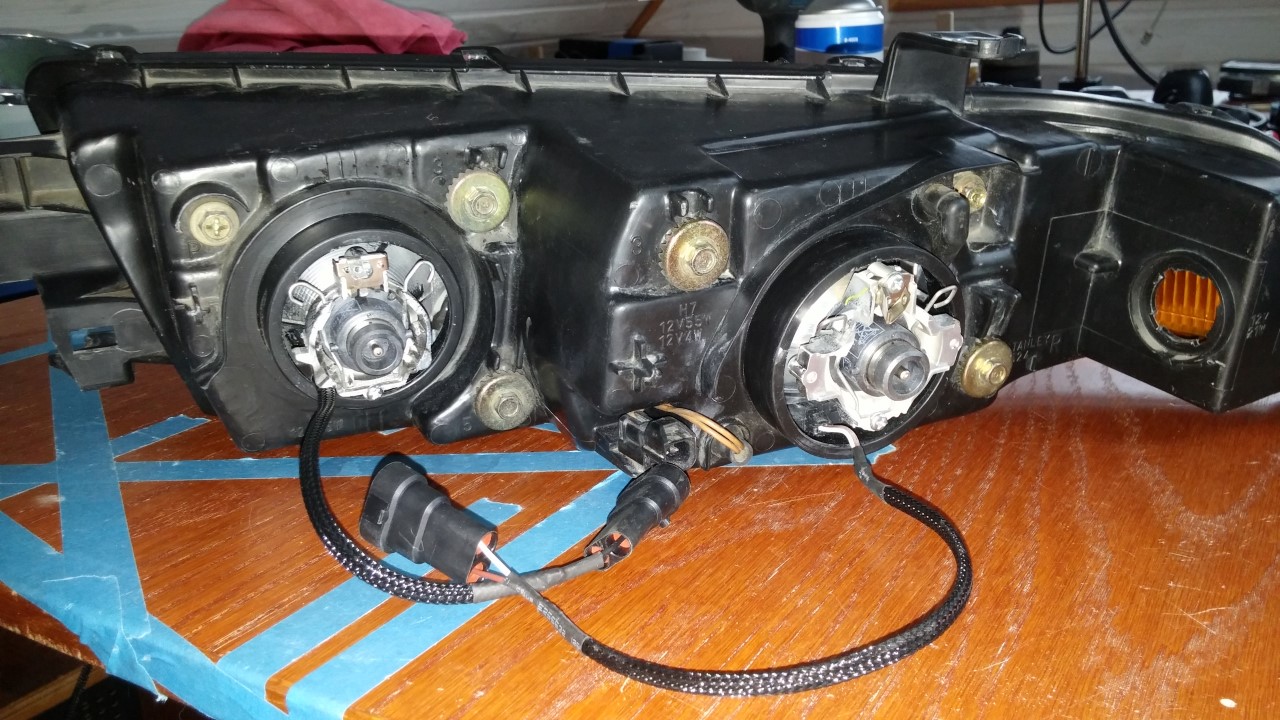 With rubber caps on... I had to cut rather large holes to get the igniters on, which is probably why they were leaking. Also, I found a few spots around the seal on the lens that had no butyl in them, so I put in a new bead of butyl along the entire channel just to make sure.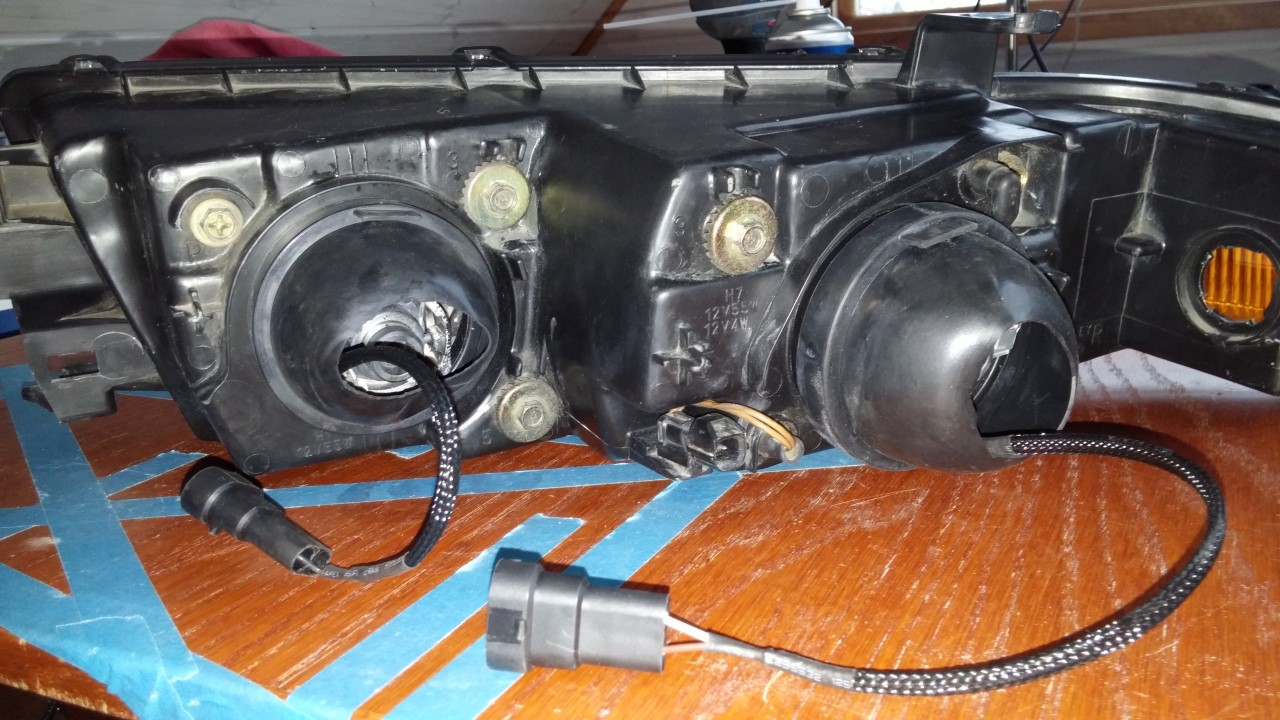 With igniters (they are dosconnected from the ballasts). The caps get very squished, and while this looks alright, this is the best I've ever managed to do, and that's purely because they were inside, it was warm and I had the time and patiance to do it properly. In the engine bay, there's not enough room for me to really move my hands around at all, so they probably end up with large openings for water to get in through.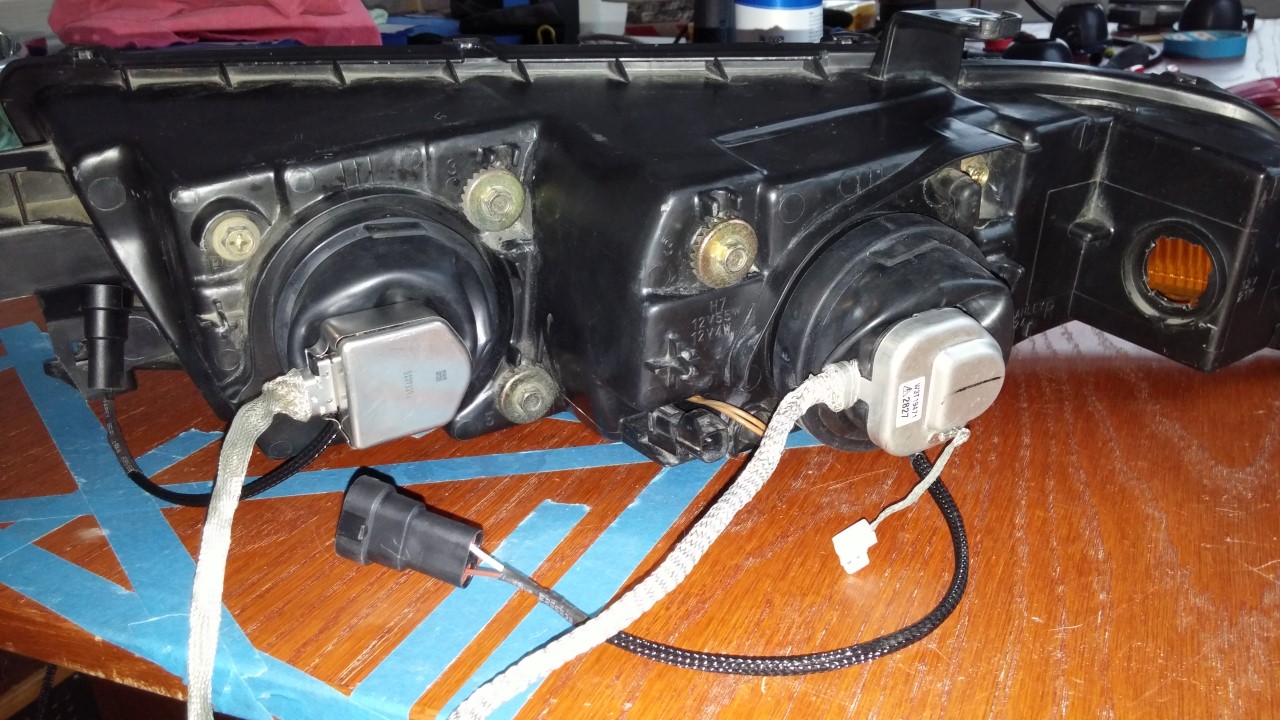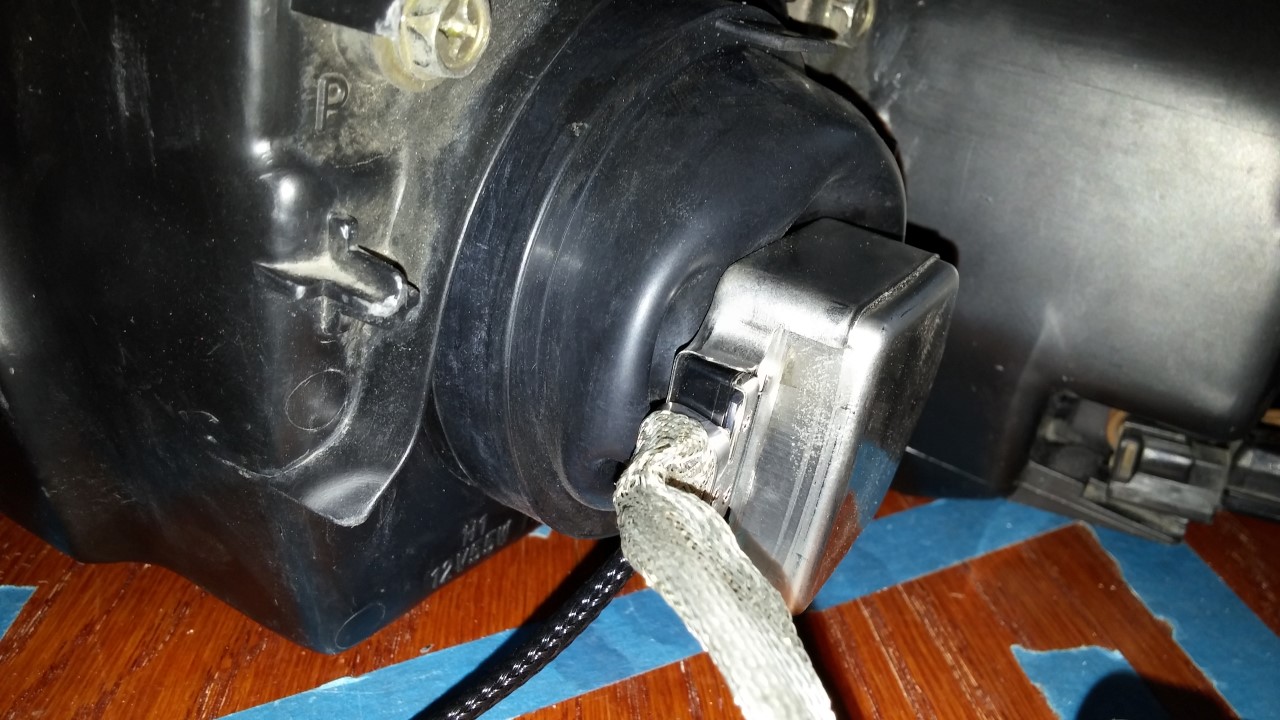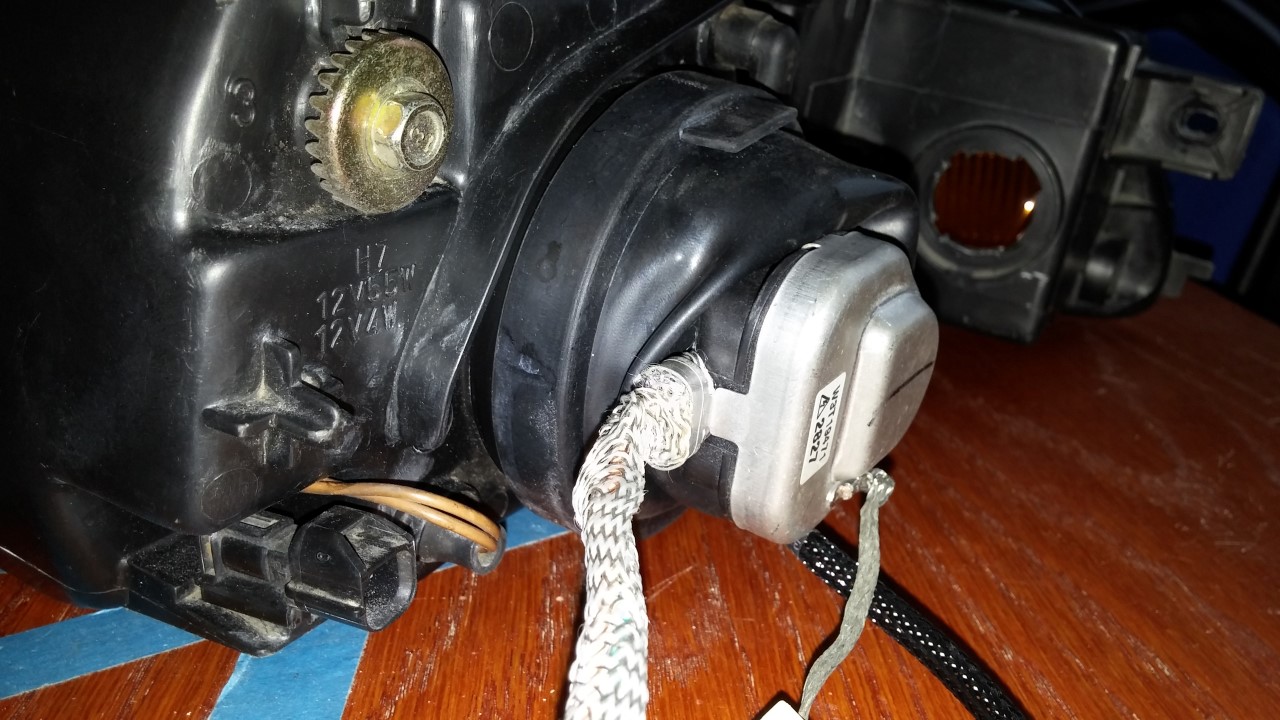 So that's where they're at. They are still inside in my workshop/attic.
While they're inside, there are some things I want to do.
I'm planning to make some DRLs/parking lights, but I can't really decide on how I want them to look. I bought voltage regulators from spreng37 to drive the LEDs I intend to use, providing them with a stable voltage, so that's one problem less to worry about.
I have also bought new rubber caps from TRS to seal the rear bulb openings, but the (inner) 75mm ID one is too small to accommodate the igniter head, and the 85mm ID ones I bought were 90mm ID and are waaay too large. The 90mm ones do fit onto the low beam opening, which is 85mm outer diameter, so I'm just going to ziptie them in place when everything's said and done.
My main problem now is that I really can't be bothered finishing them up. I hate driving at night with the halogen lights, but trying to seal up the rears is such a drag. I'm way past the point where I want to custom make anything, I just want them on the car and for them to work, not fog up, not break, but just work the way they should and not give me any headaches.
As they sit, the EvoX-Rs have no hotspot. This means they need to come out of the brackets and be adjusted somehow to expose the hotspot, be put back together and onto the brackets, try to get the rotation right the first time and not lose the hotspot again while putting everything together. While they are open, I really should do something about the passenger side RX350's rotation issue as well, but seeing that it was literally drowned in epoxy, that will be a nightmare to rectify. It must be done, though, or it'll drive me mad.
Then there's the DRL/parking light. I like the Subaru's C style DRL/parking light/accent light, but I'm not sure if that will flow nicely with the headlight shape. Another style I like, is the 07-14 Volvo V/XC70 bar style marker light between the low and high beams, like this:
Another alternative is to just have a (diffused) point of light somewhere in a corner, like the 2008+ Mitsubishi Lancer (bottom right of the headlight):
Or, I could use the LED strips I bought nearly a year ago and mount them so that they aren't directly visible but rather light up a portion of the inside of the headlight.
Then I need to figure out a way to intelligently seal the rear of the housings. I guess the easiest way is to get some black 75mm PVC piping and make a little extender for the high beam bulb hole to accommodate the igniter head.
Discussion about this retro so far can be found in
my other thread
; further ideas and frustrations will be posted there as well, while this thread will be updated with pictures as it progresses.
Picture of the whole car before all this started, so it has the OEM two-piece Euro-style headlights and clear corners.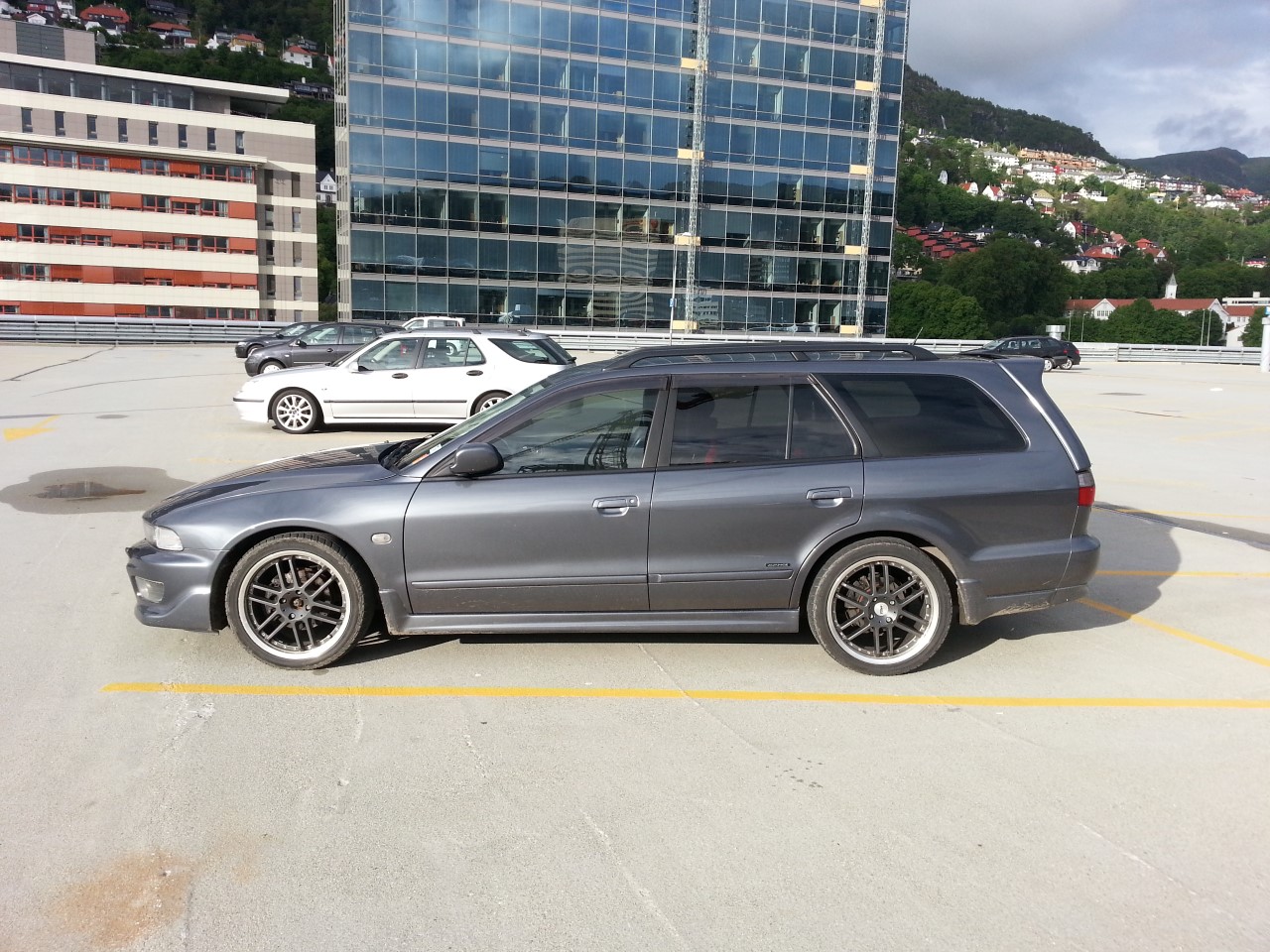 So, I got the lights back onto the car at last. While installing them, I noticed that the shrouds for the EvoX-Rs had come a bit loose and now sit about 5-6mm in front of the projectors. It doesn't seem to affect the output in any way, but at the next crossroads they will be glued on so as to avoid it from ever happening again.
As I mentioned above, I've bought new rubber caps from TRS and made some creative solutions to seal the rears up.
90mm rubber cap for 85mm opening (wrong part delivered, but everything works out with zip ties):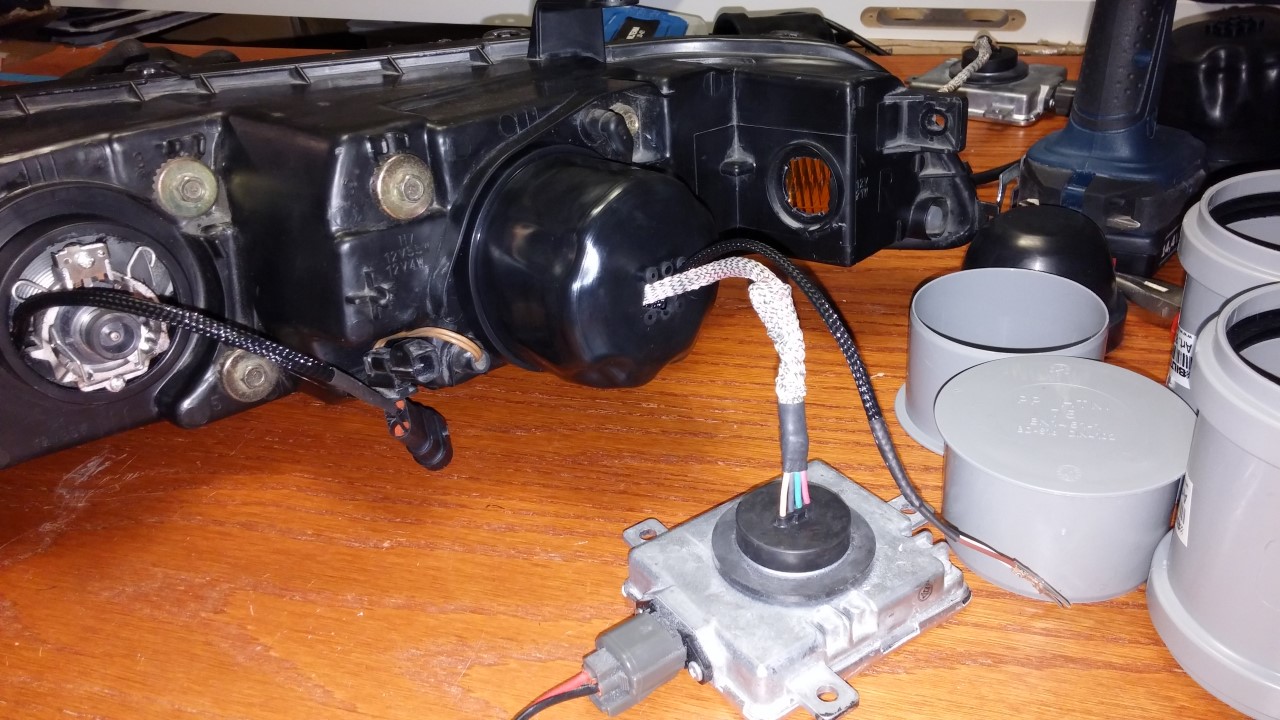 75mm pipe lid... I then round out that the opening isn't 75mm, but 73,5mm. Proved by squishing the solenoid wires between the lid and the edge: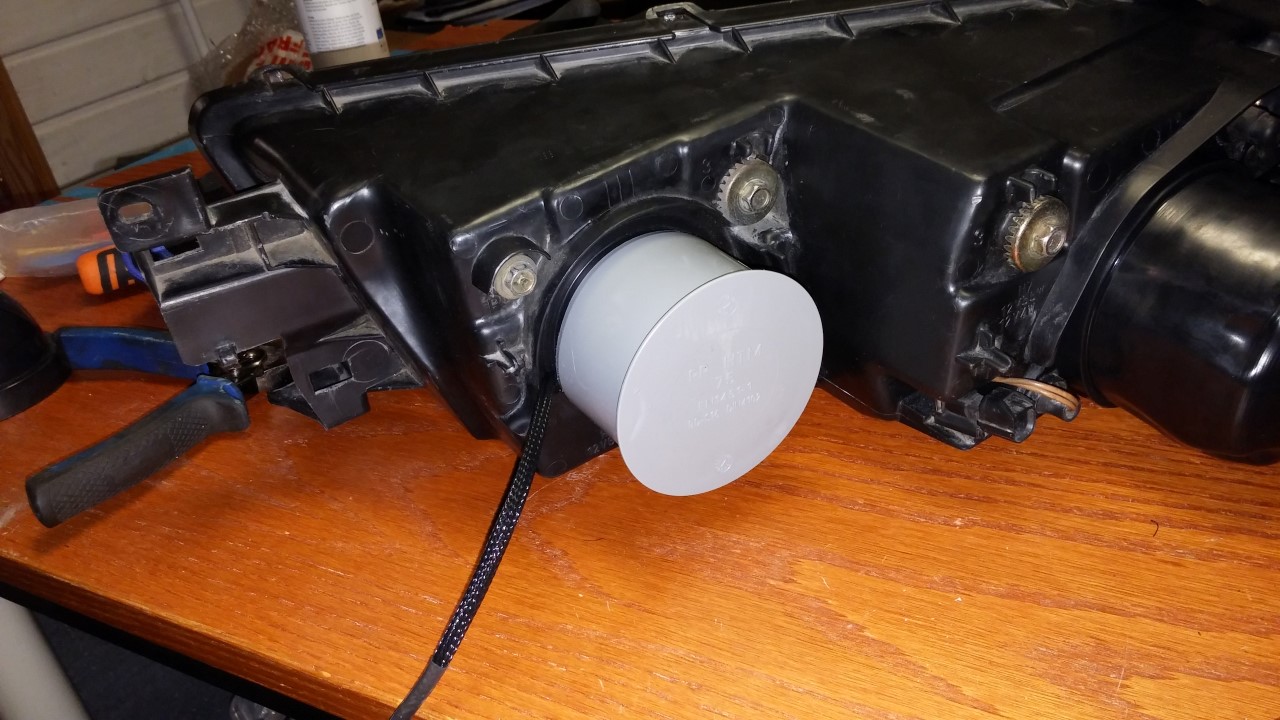 There was no room for the igniter, however (too shallow), so I had to use a pipe join piece instead:
Lots of room!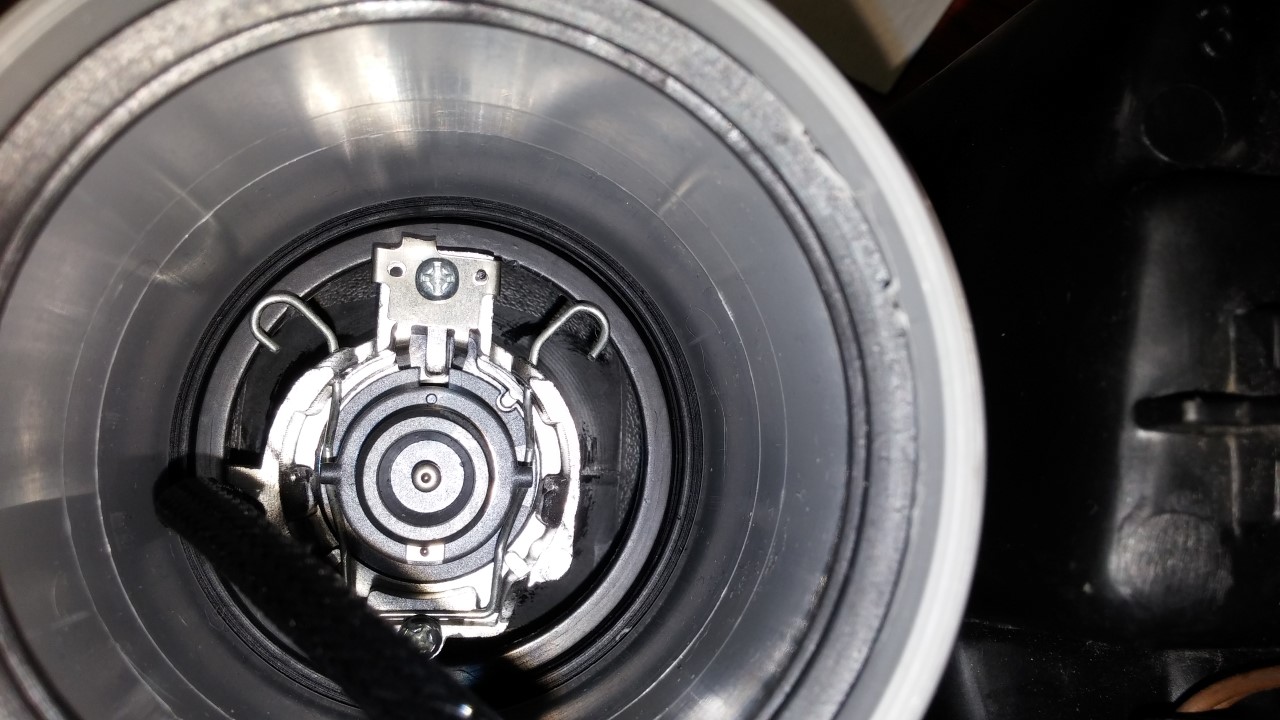 Even with the igniter installed, there is room for a party: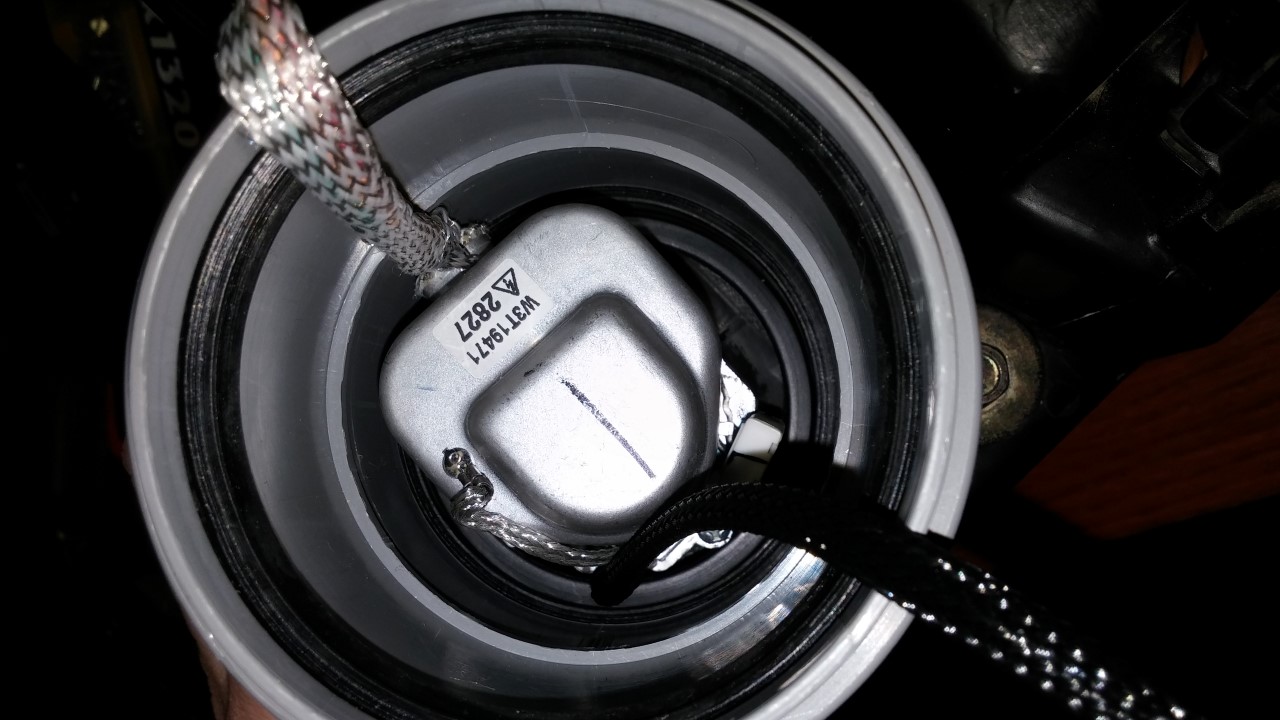 Kind of a tight fit up against the sidewall there...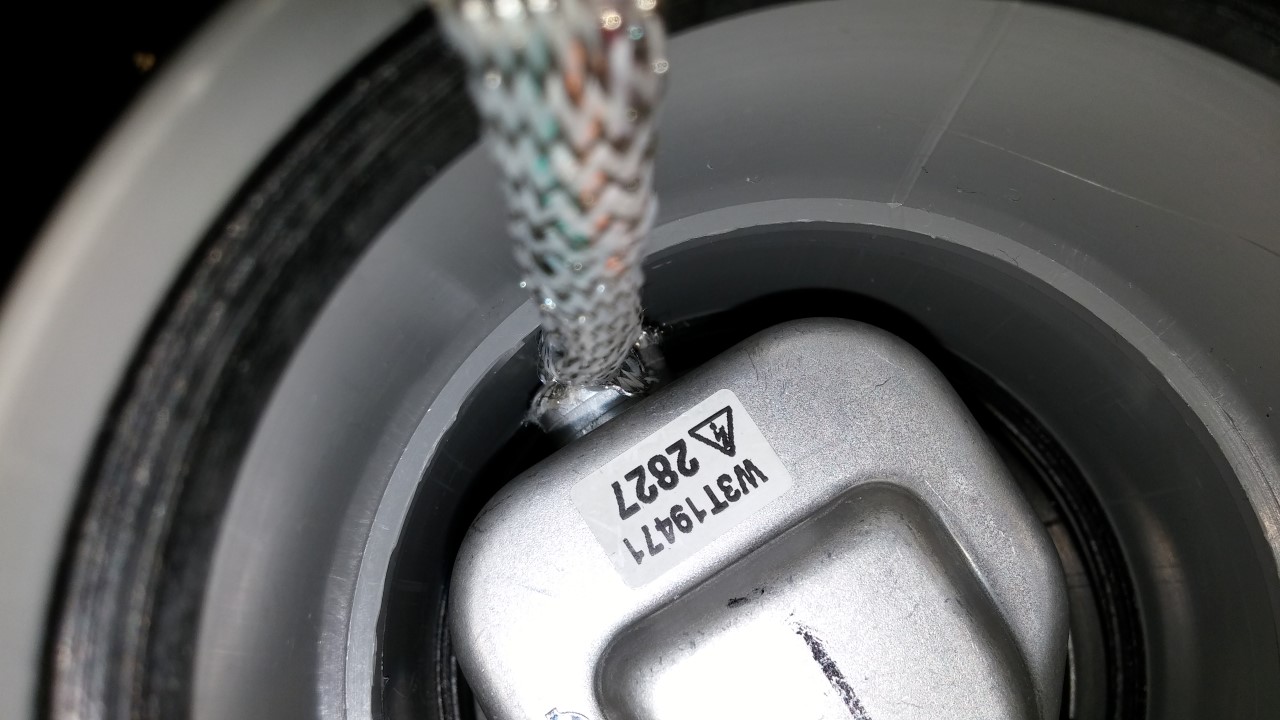 A few modifications were called for, so this is how it ended up: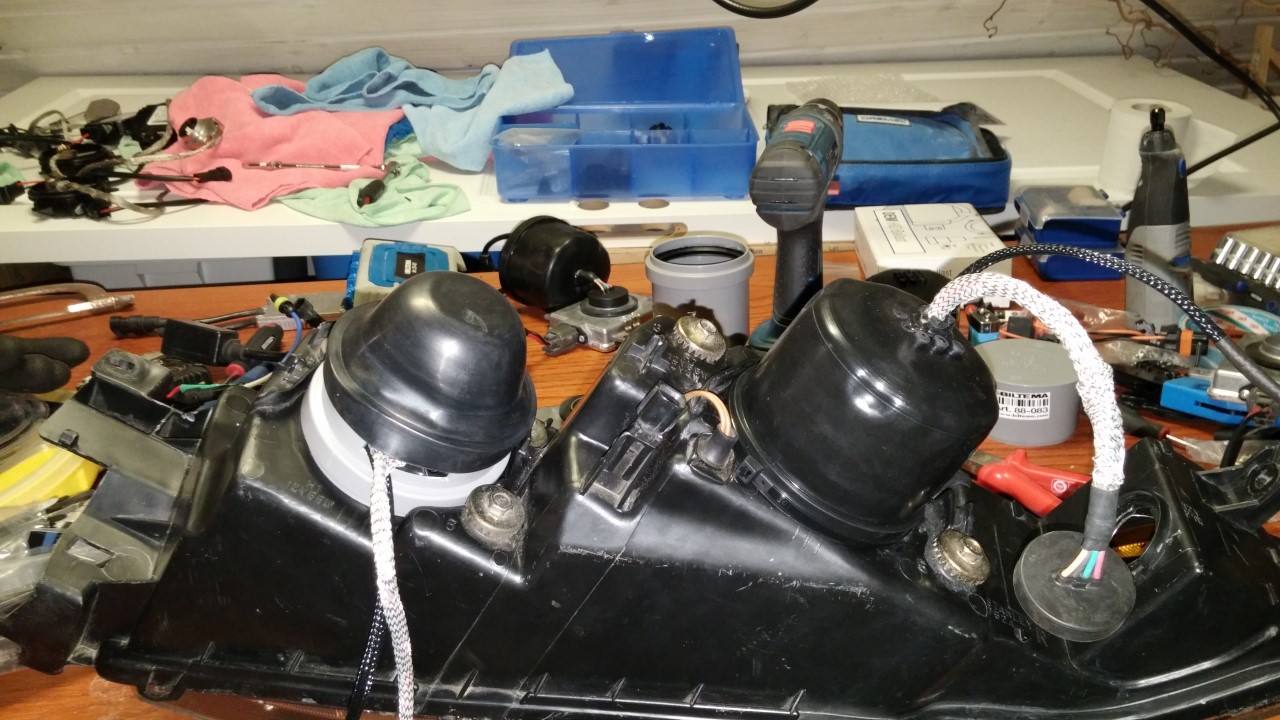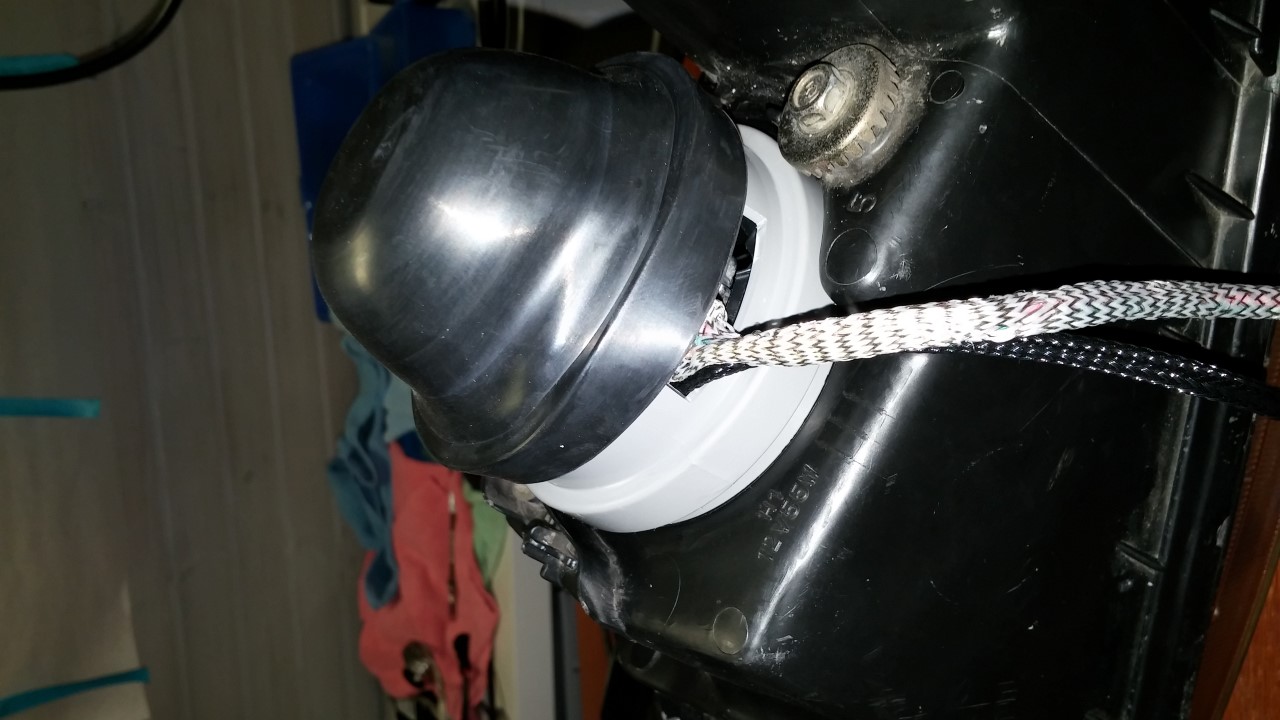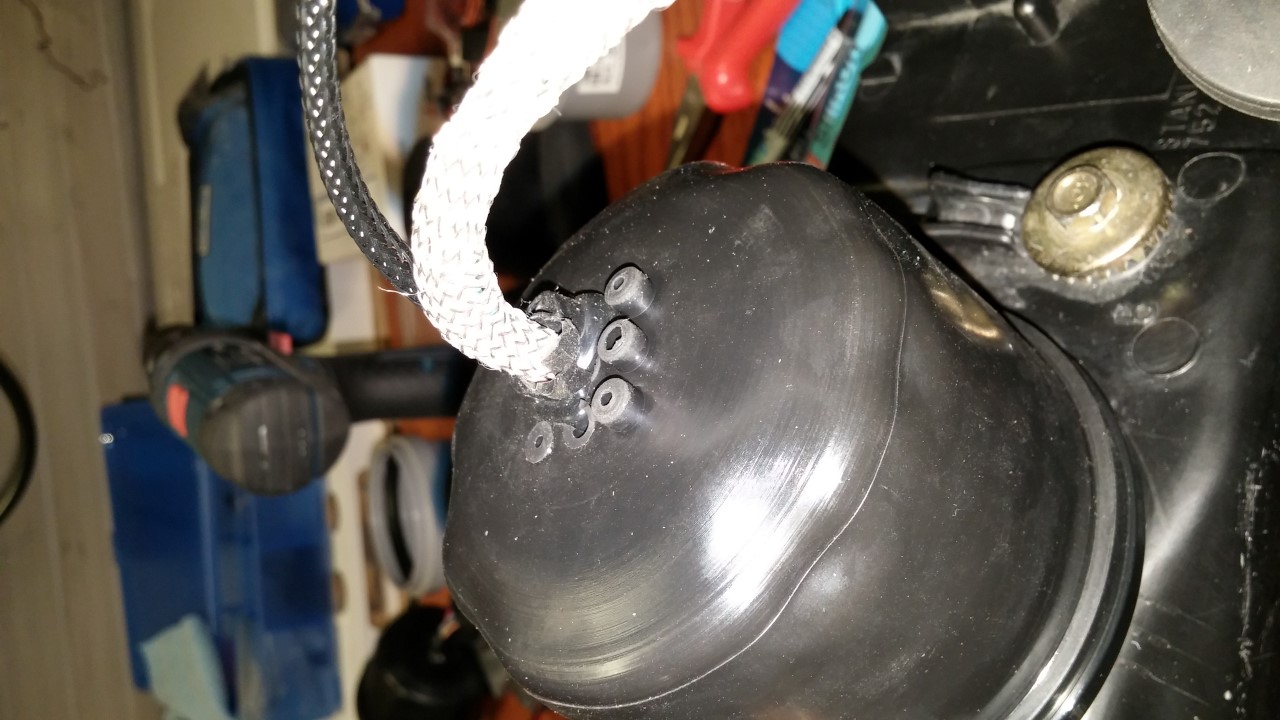 Mmm, zip tie: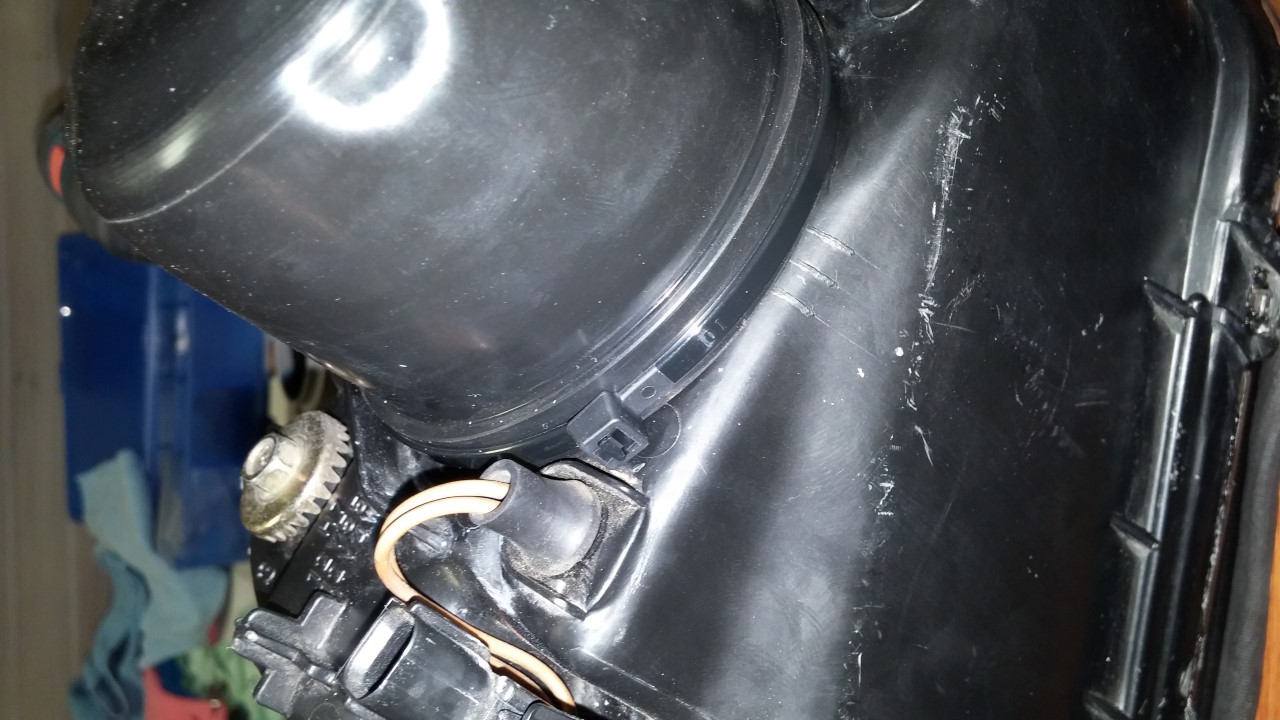 All dressed up and ready to go: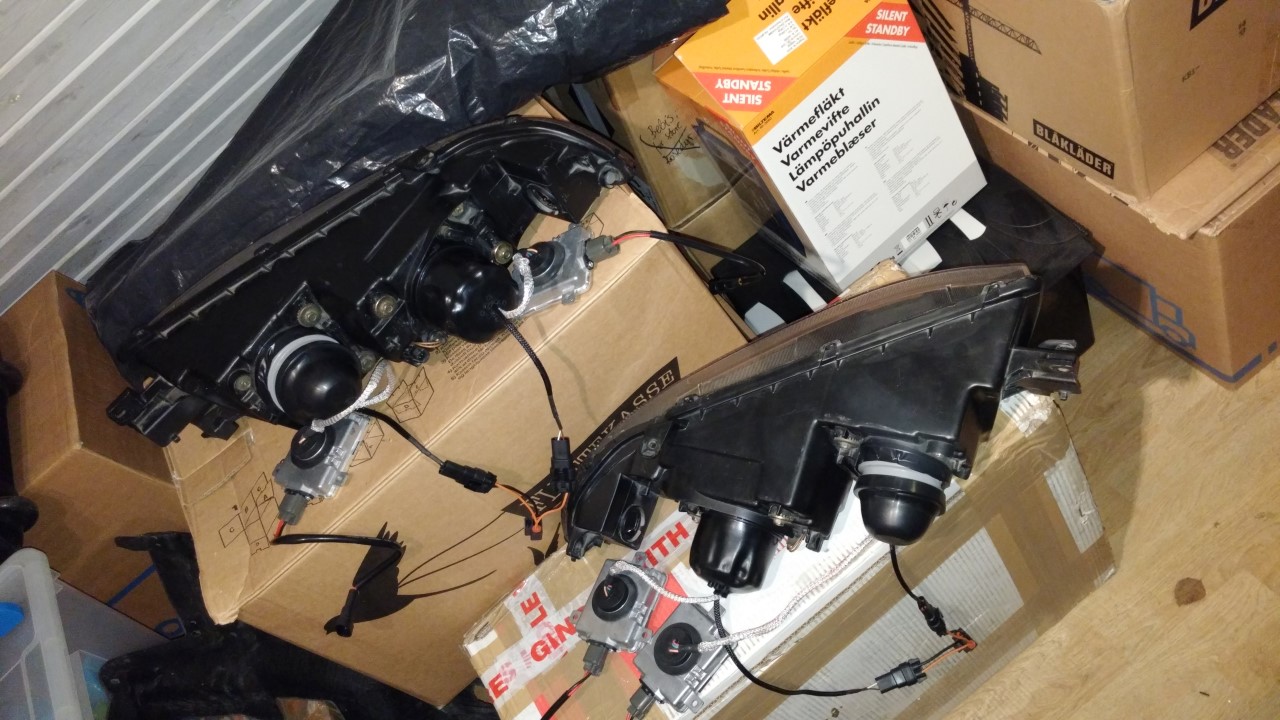 RX350, low beams: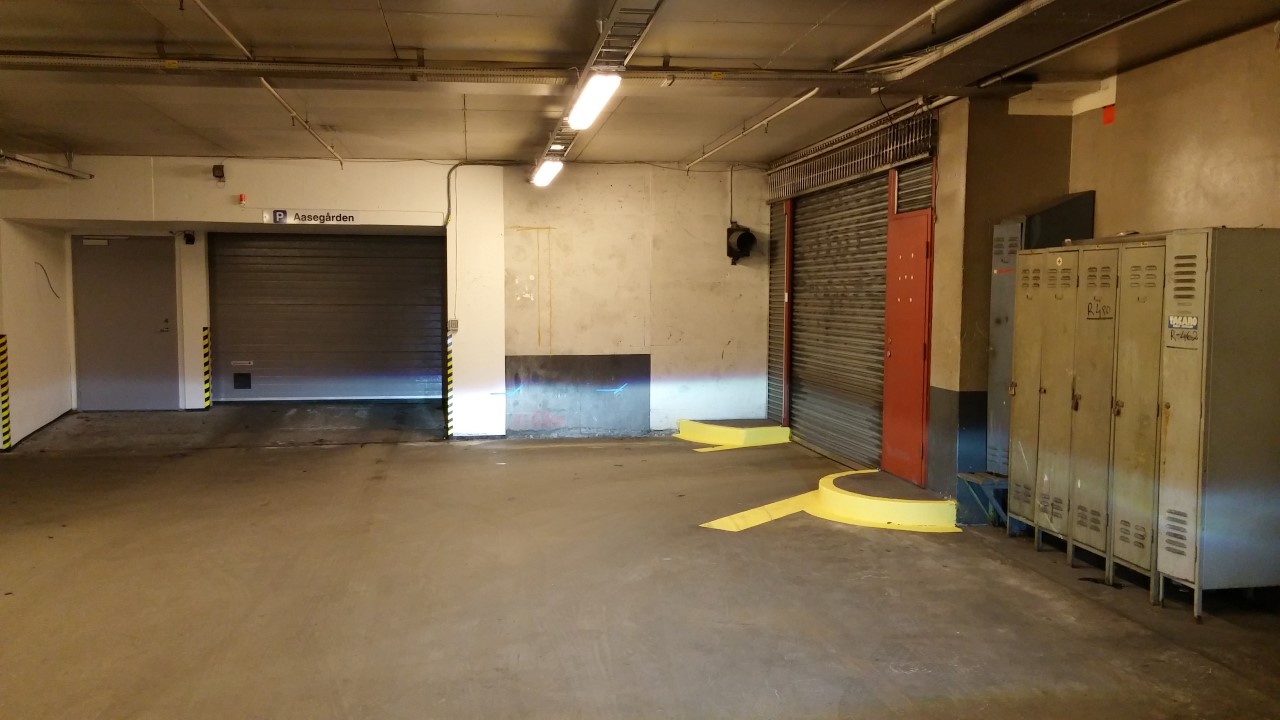 High beams: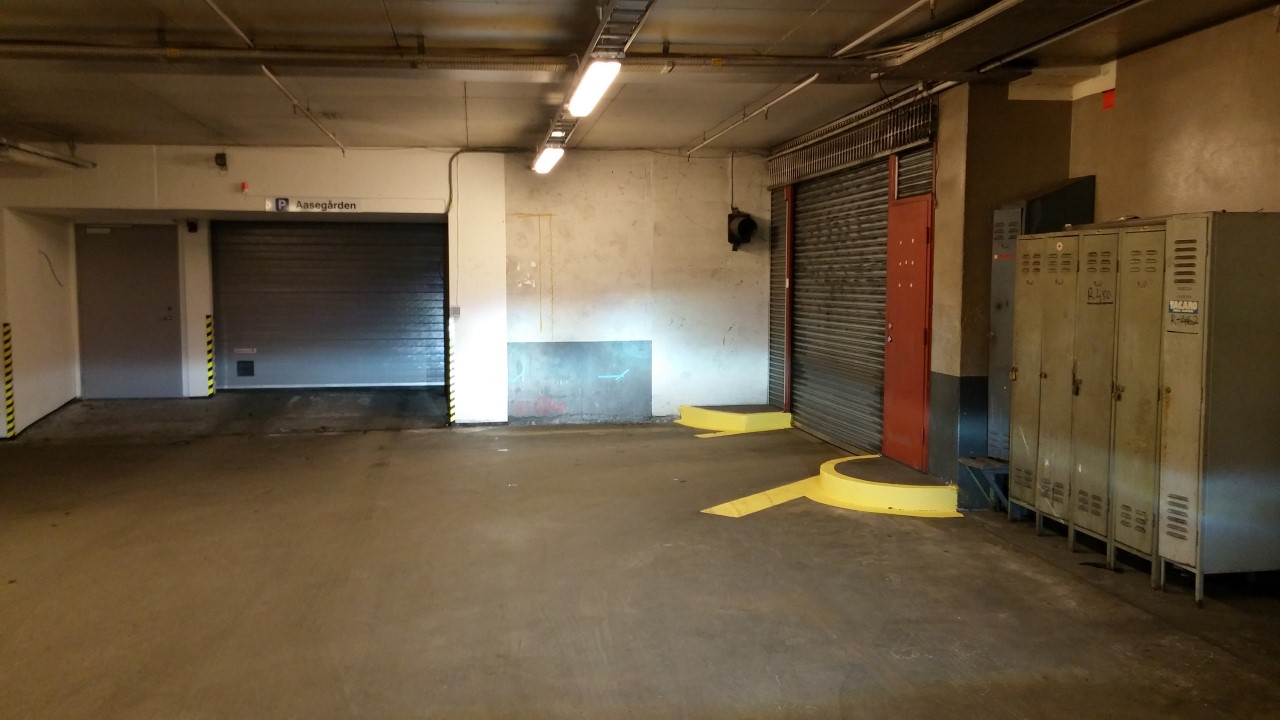 EvoX-R low beams: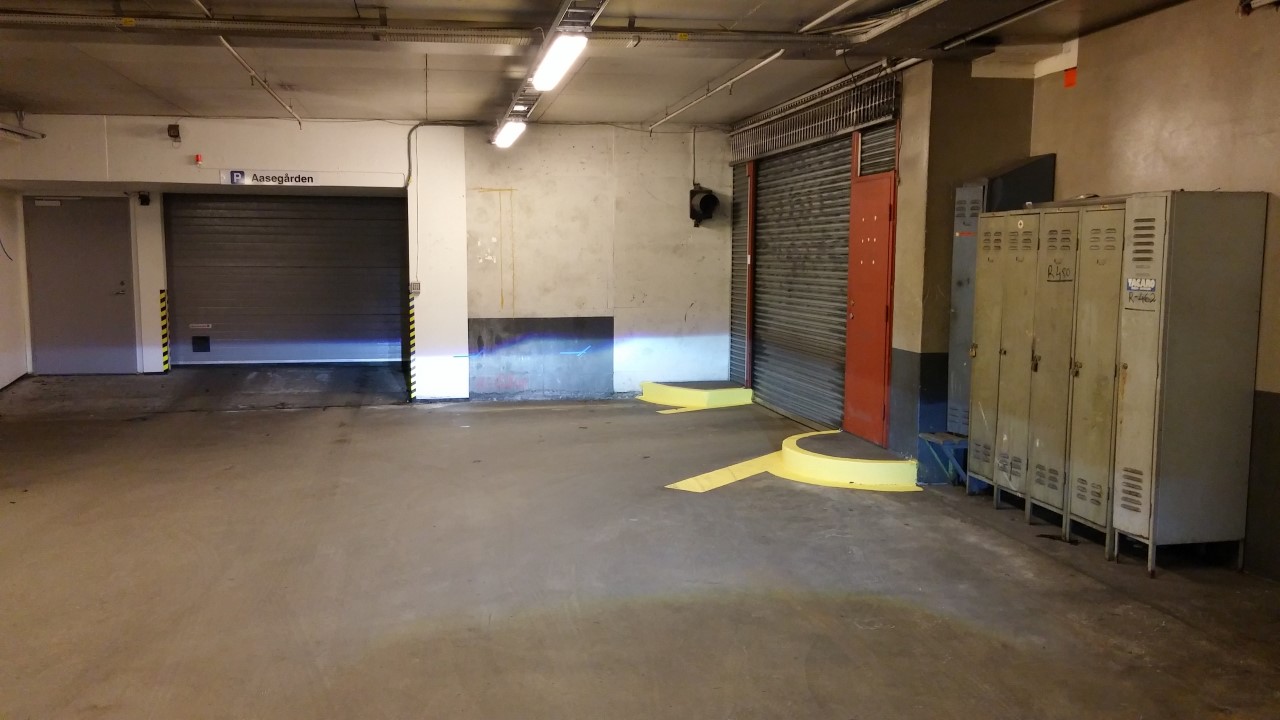 And high beams: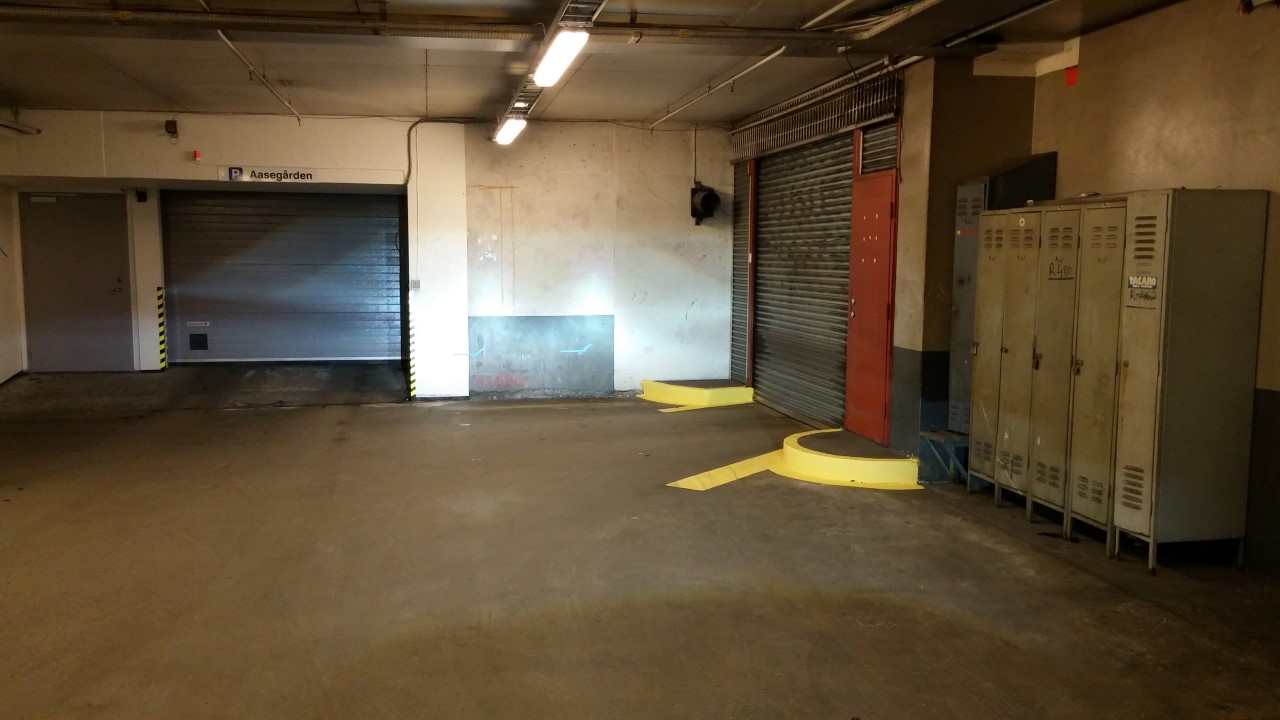 Both pairs, lows: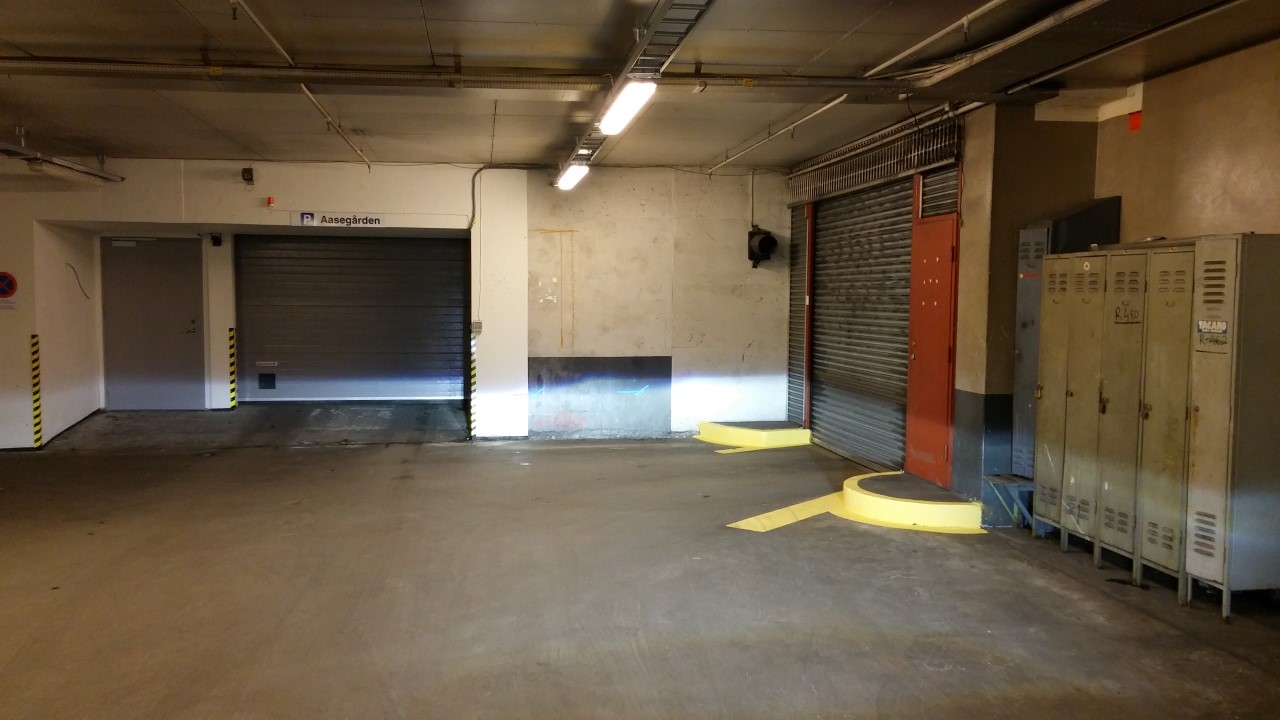 Both pairs, highs: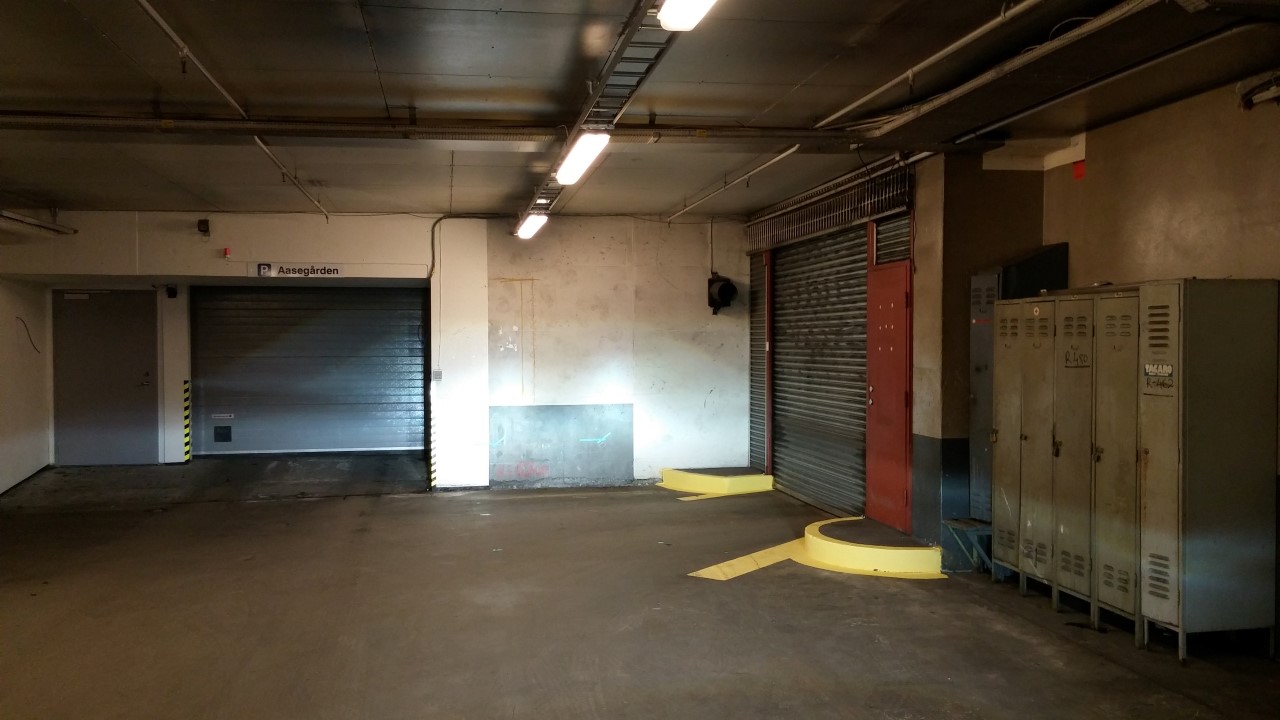 Wall shots in the dark!
RX350 lows: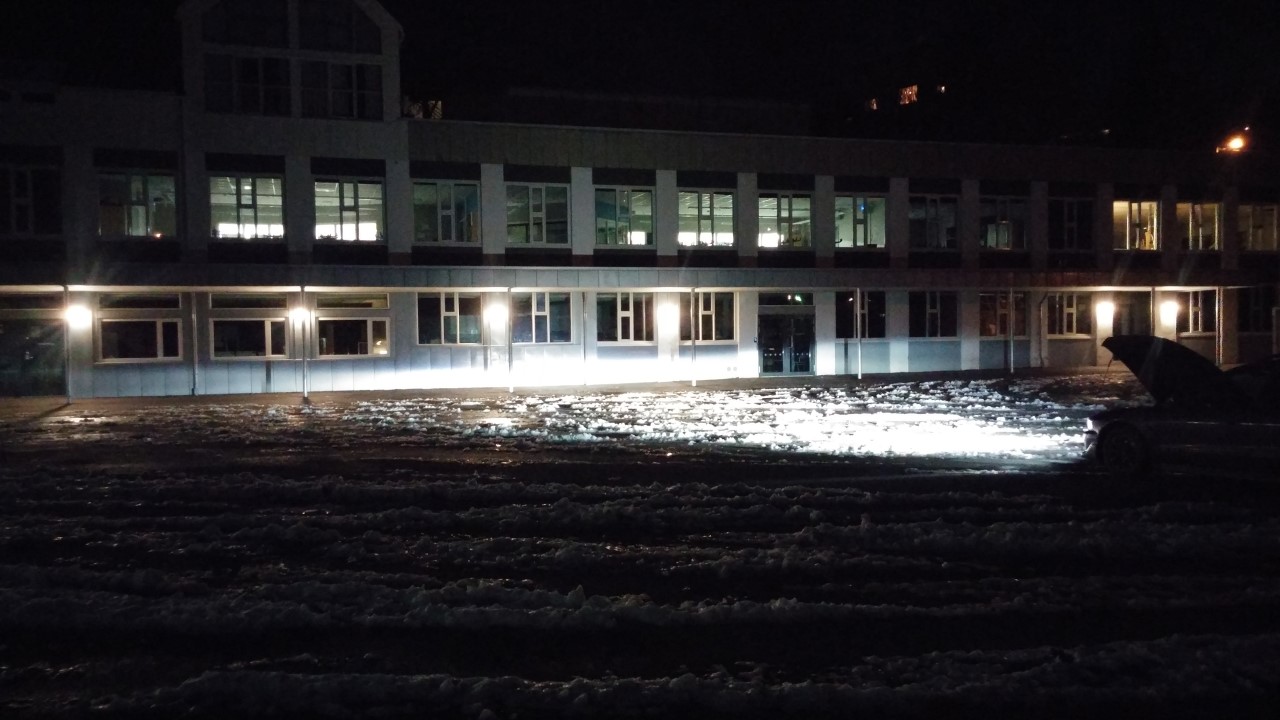 Highs: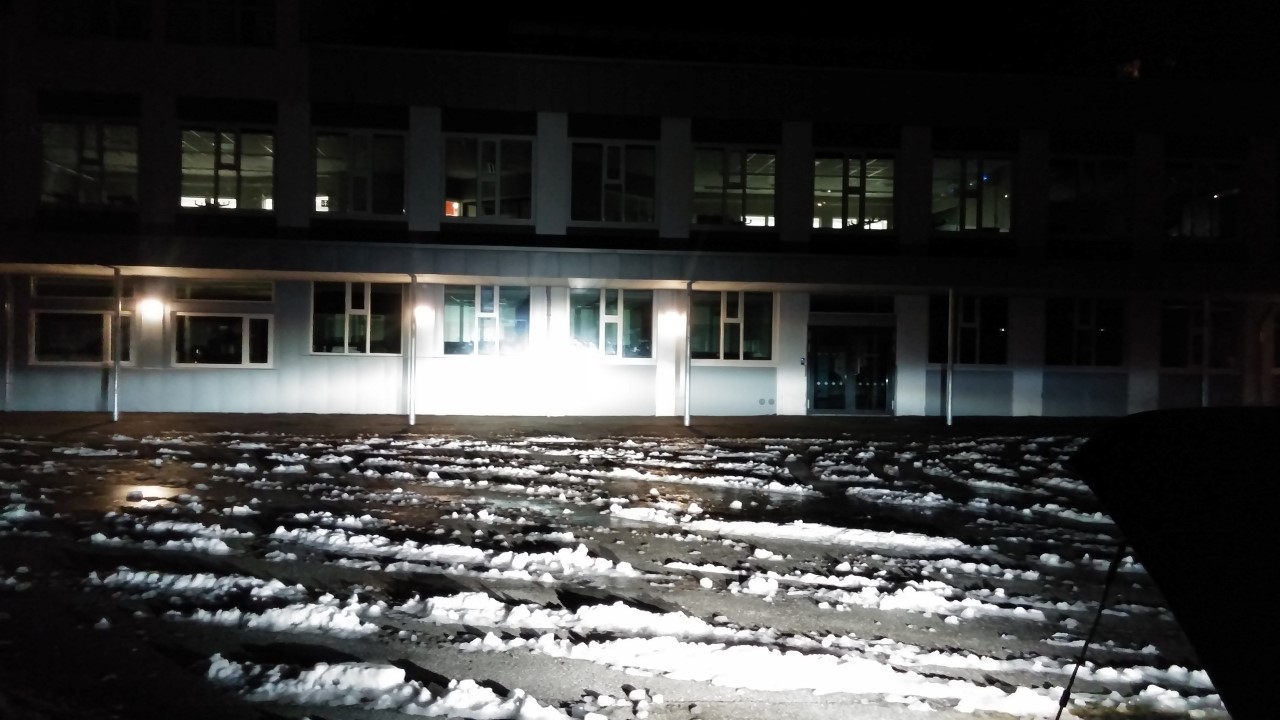 EvoX-R, lows: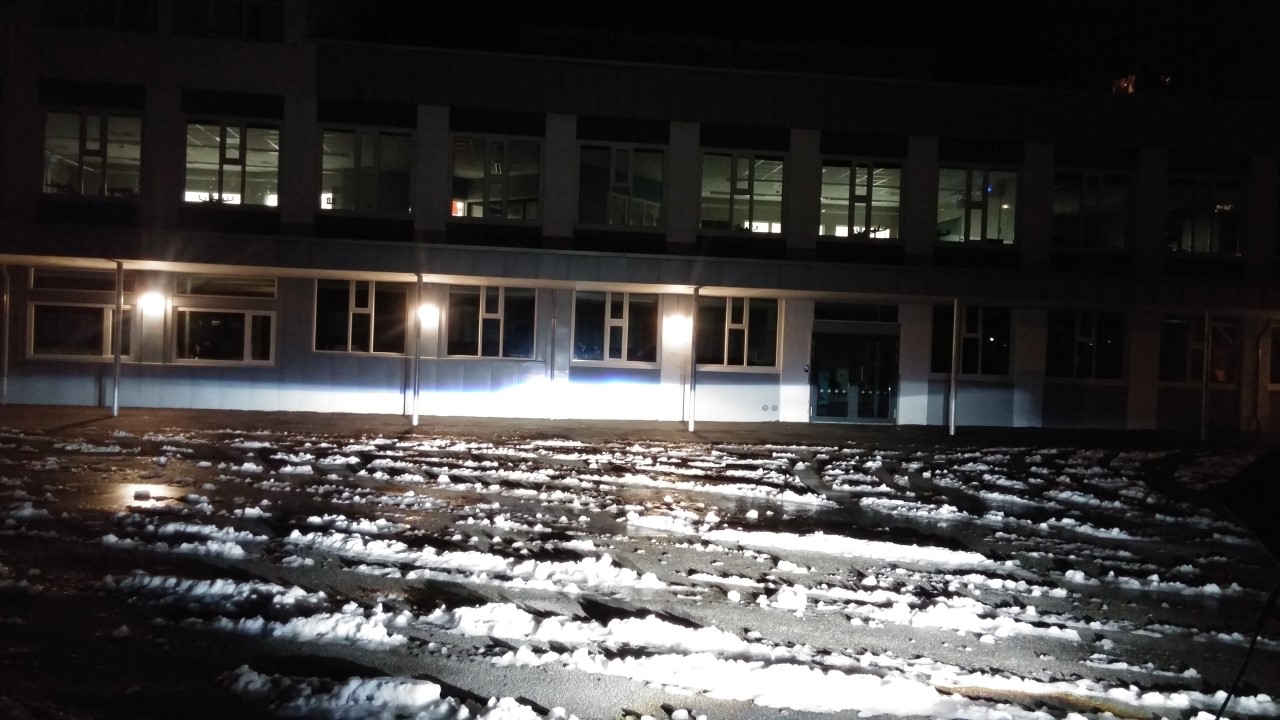 Highs: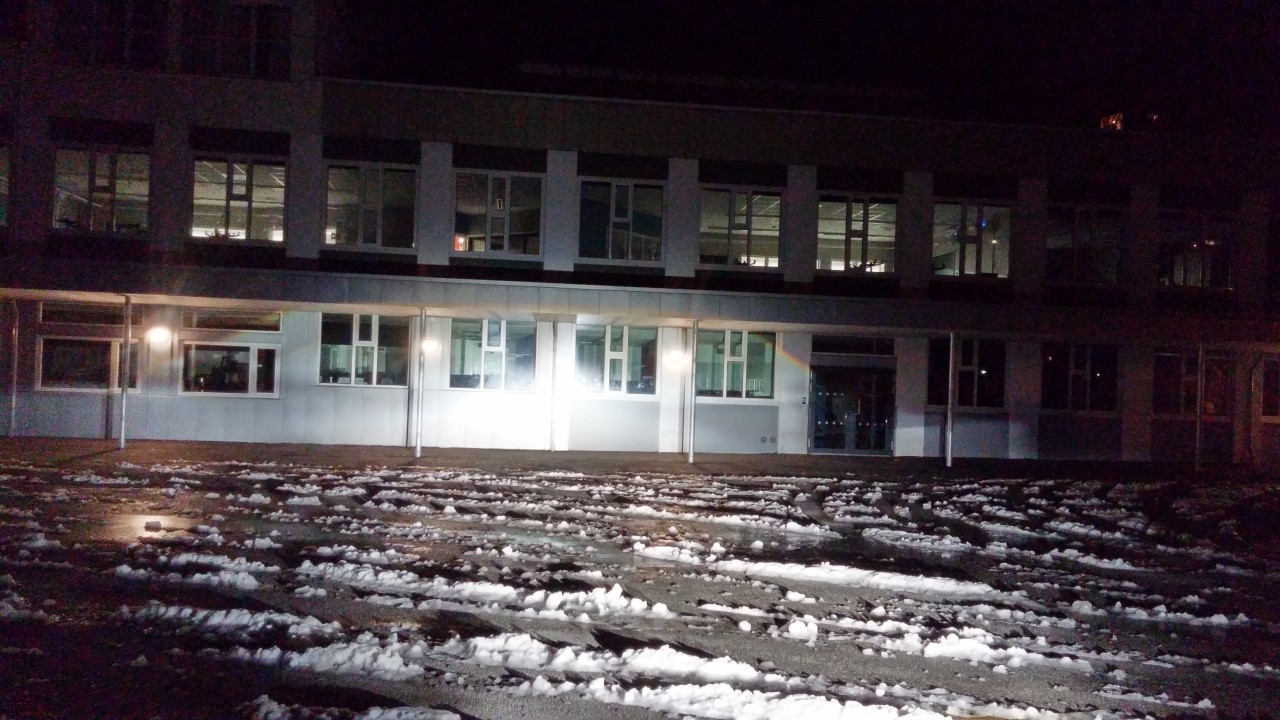 Both pairs, lows: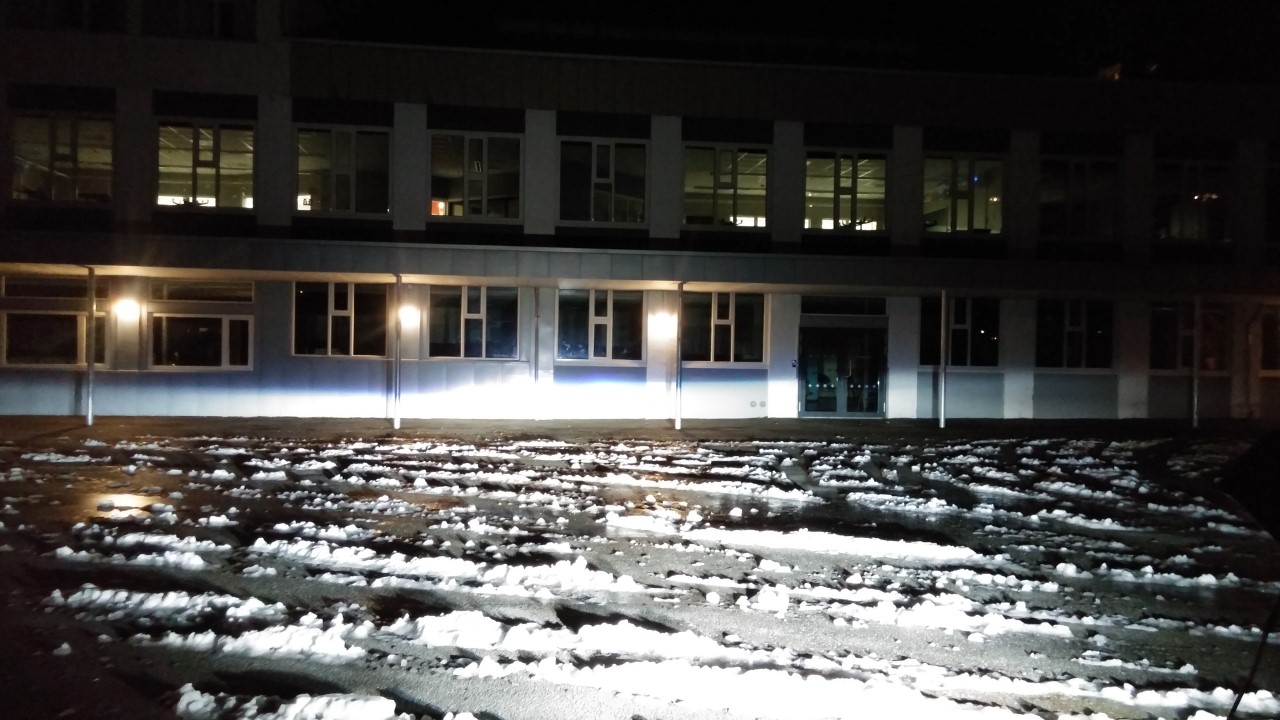 Both pairs, high beams: