This is a retrofit I did for a friend of mine back in November.
Hardware:
Depo JDM-style one-piece Galant headlights, retrofitted with FEUN projectors, one low beam and one high beam. Both projectors were identical, except the high beam had its shield removed.
China edition of the Mini D2S 3.0 LHD O Lens
EvoX-R
Iris shrouds
Philips 85122 D2S bulbs
4x F3 Fast Bright 35W ballasts
2x TRS HD Relay harnesses
These lights were originally bought for my car and used for about three years, but as time progressed, the light output went away due to the bowls being burnt. Stuffing 50W ballasts and bulbs in there didn't help matters any. Surprisingly, after years of abuse, the FEUN high beam projectors were still shiny, but the low beams were shot.
I did a temporary retrofit with these lights and ran Mini H1 projectors in place of the FEUN low beams for a while, until they were to get some proper projectors...
Measurements quickly indicated that there was no way the EvoX-R would fit in the high beam reflector. It was simply too big, so I had to come up with another approach. I got some old parking signs from work, made from aluminium, and sketched out the placement of the reflector legs. Drilled holes and put new adjuster mounts in the holes.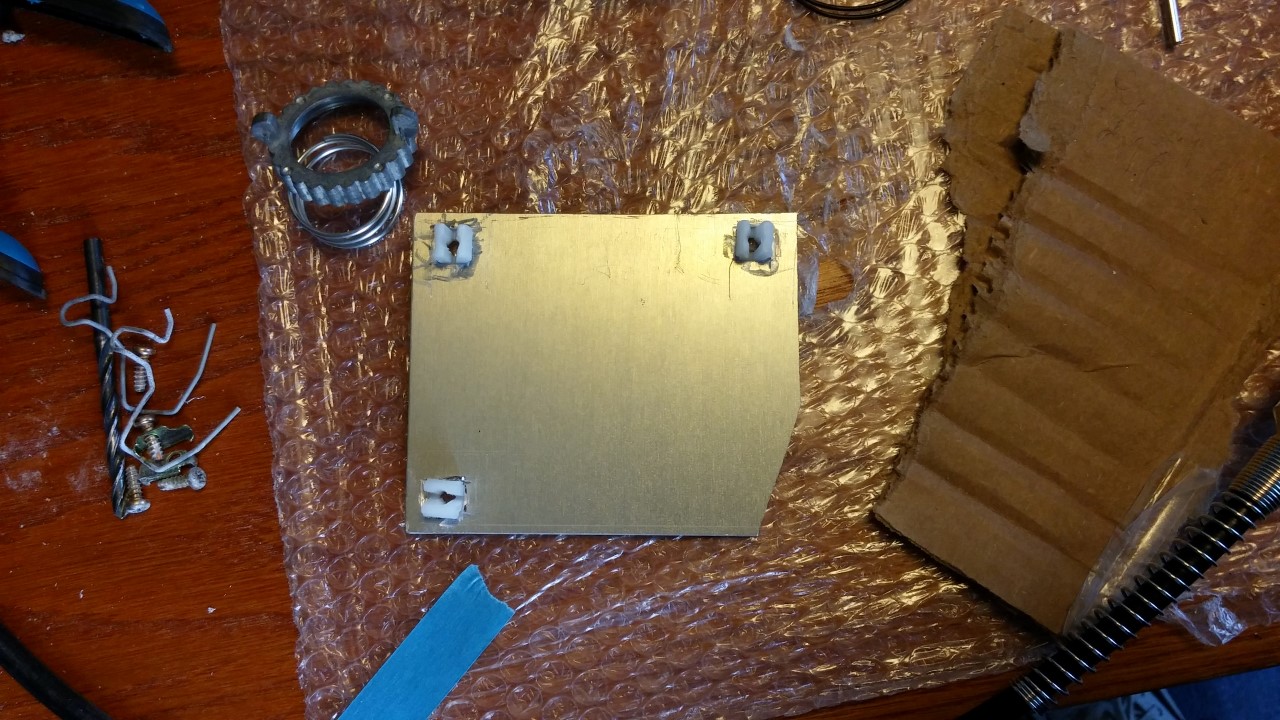 I then proceeded to cut out the middle to accommodate the projector bowl from the EvoX-R: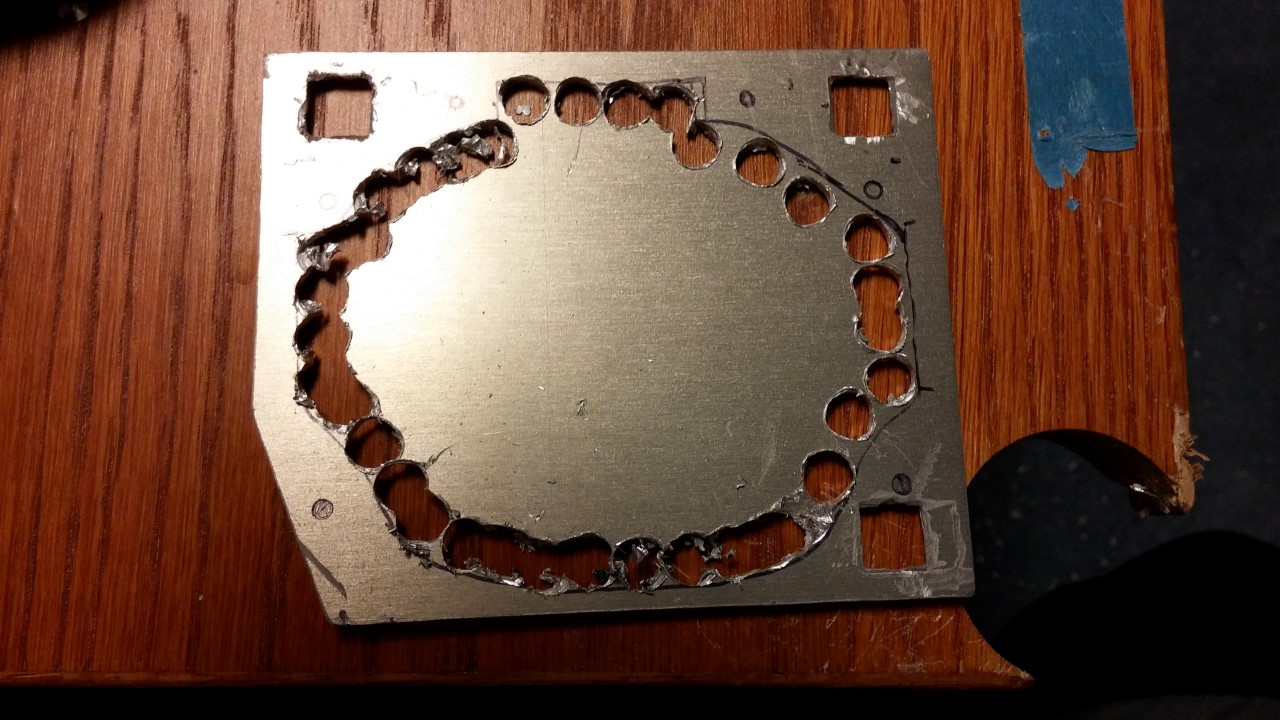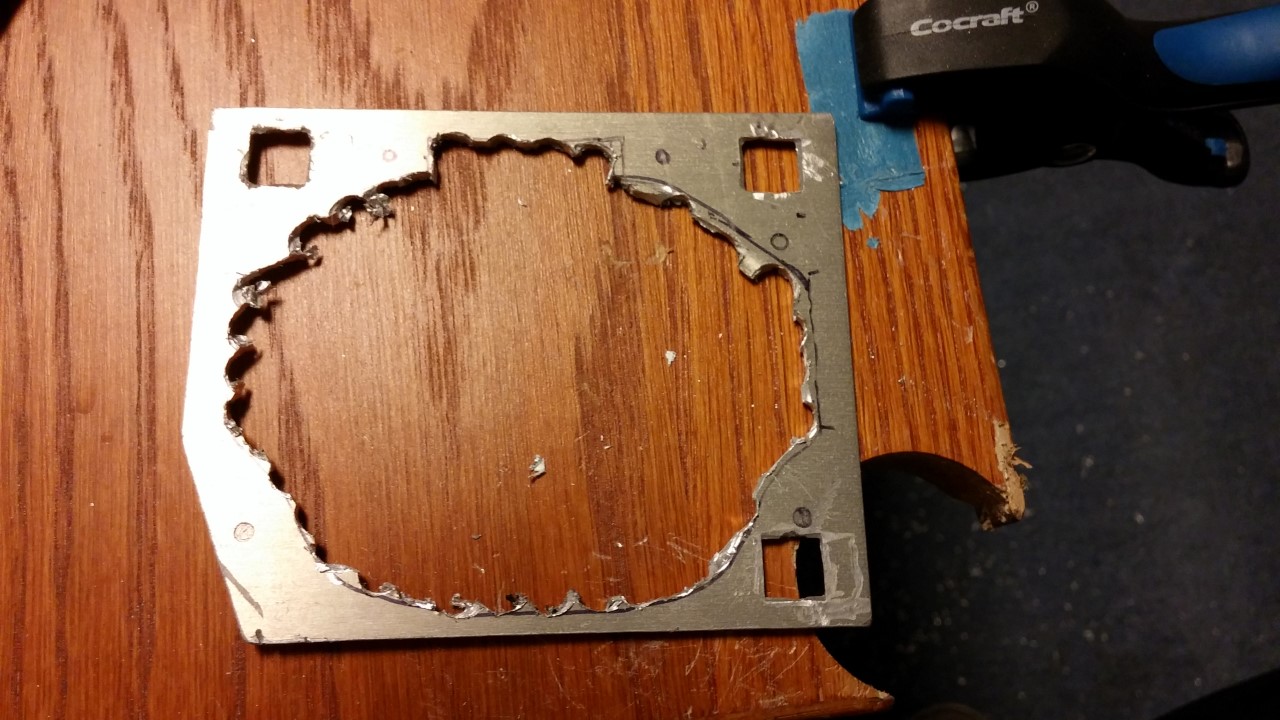 Test fit. I had to cut off one of the legs from the reflector and epoxy it to the bracket for the adjuster screw to even reach the mount.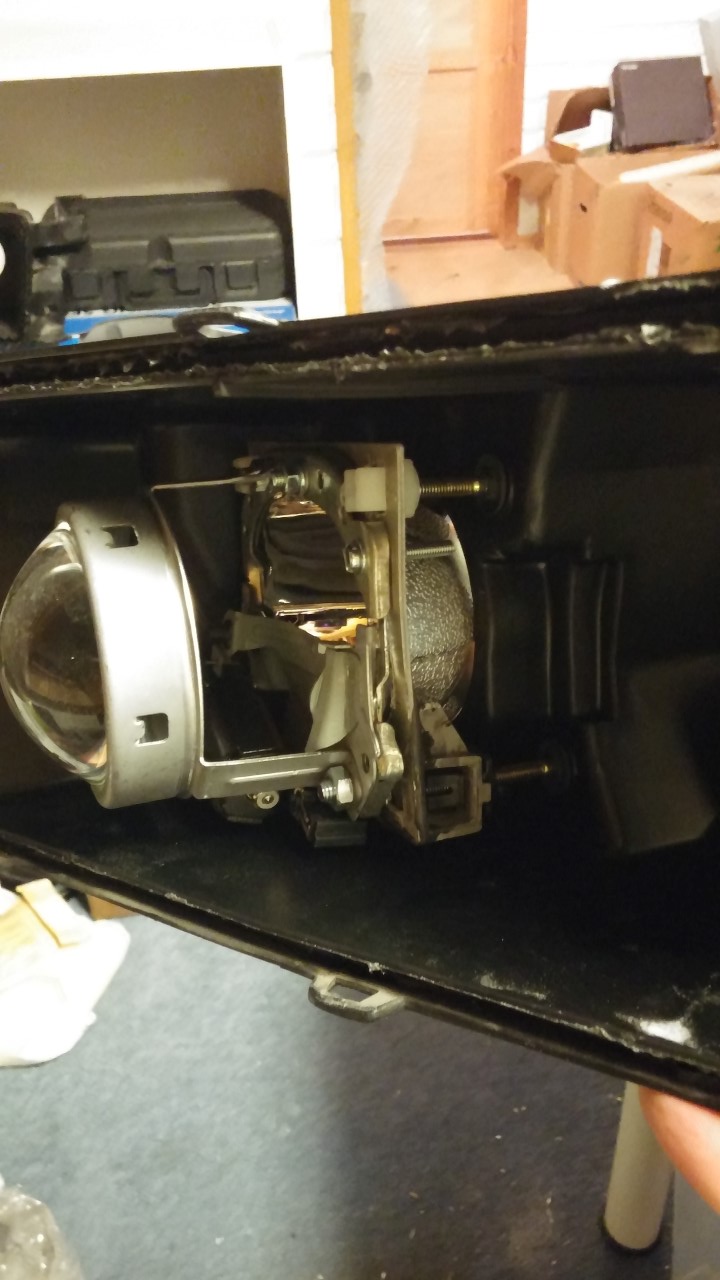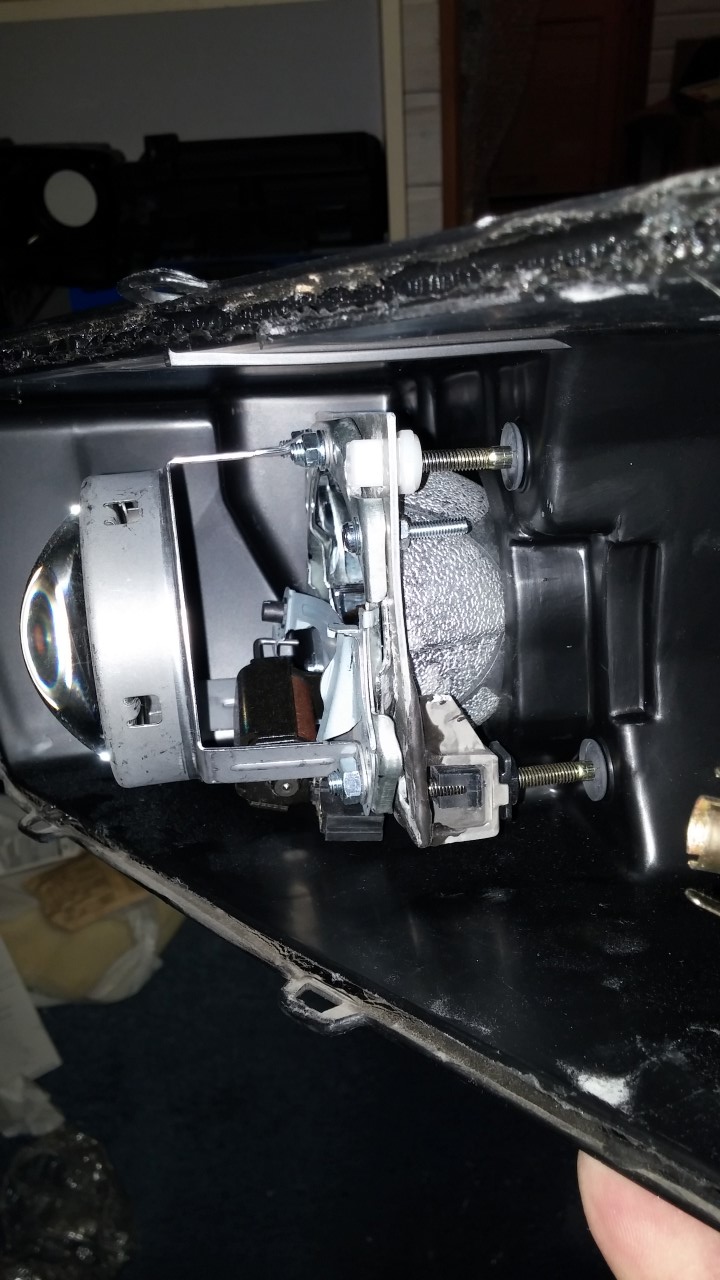 Angles look alright, not that sitting flush in any indicator whatsoever that the light is directed where it should go...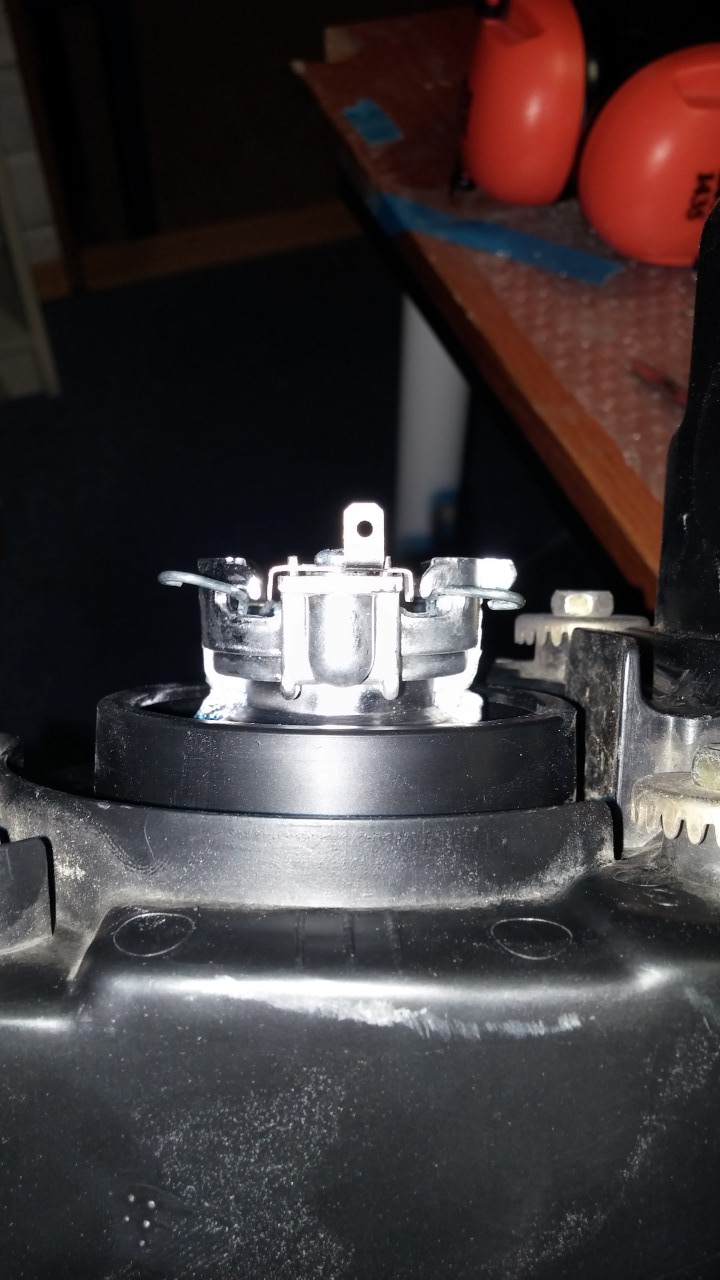 Nice and centered... The bulb holder was slightly too large to go through the bulb hole, so that took a bit of... convincing... to get through.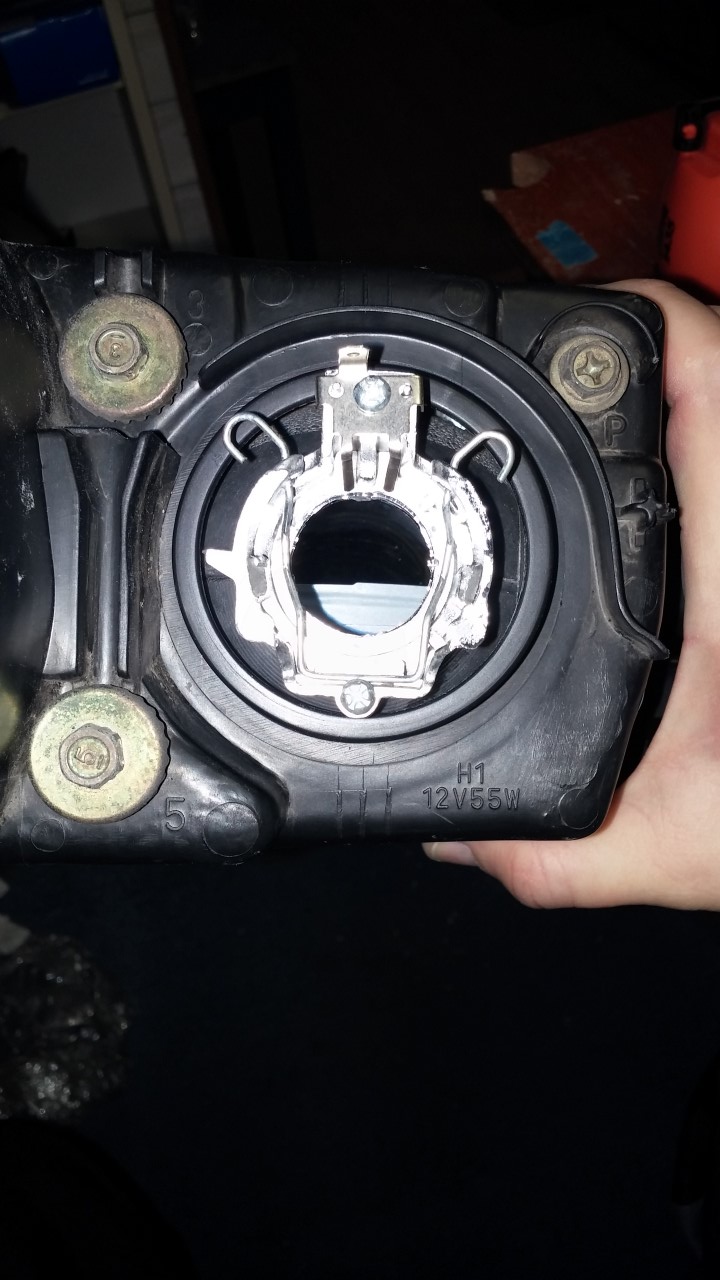 And installed: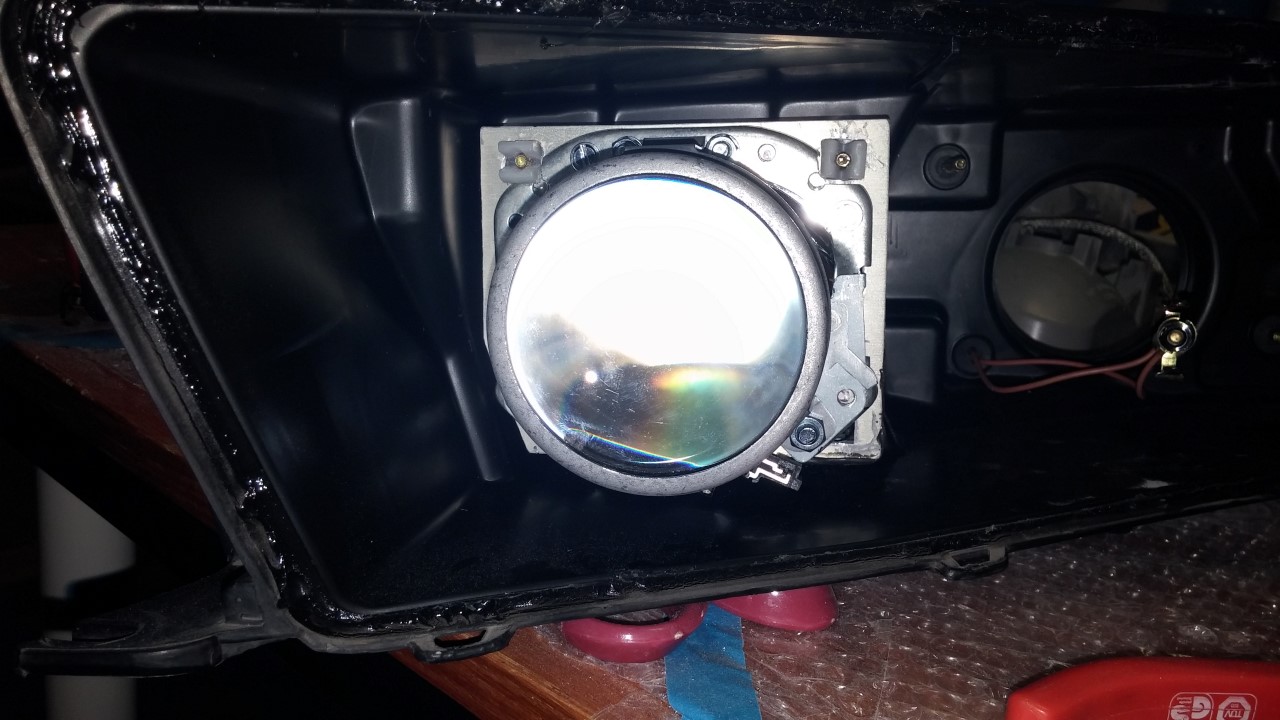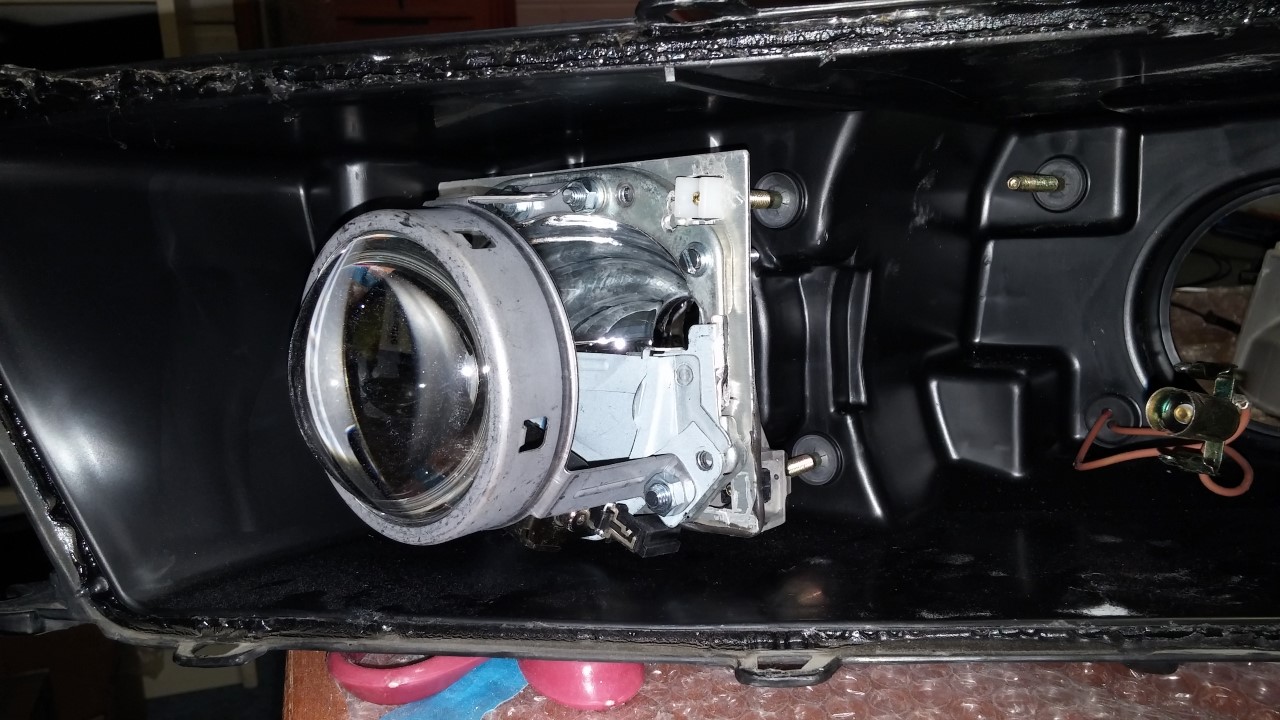 Mini D2S install and adjustment: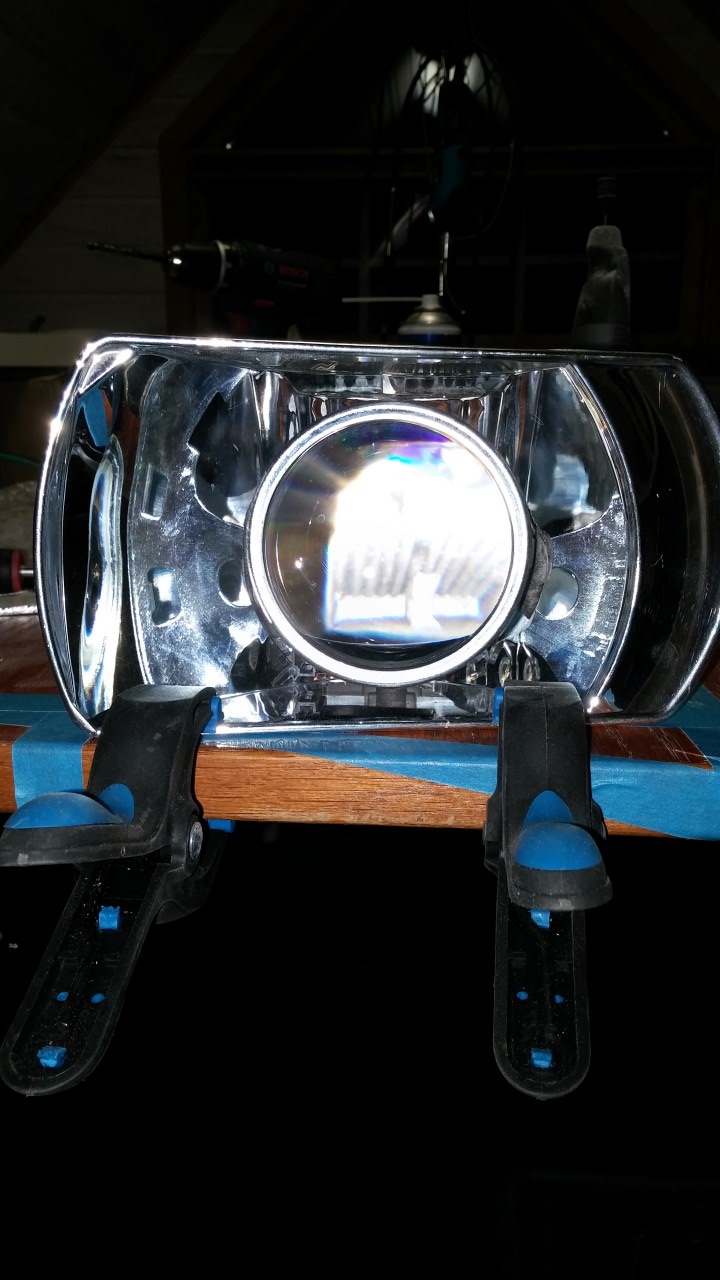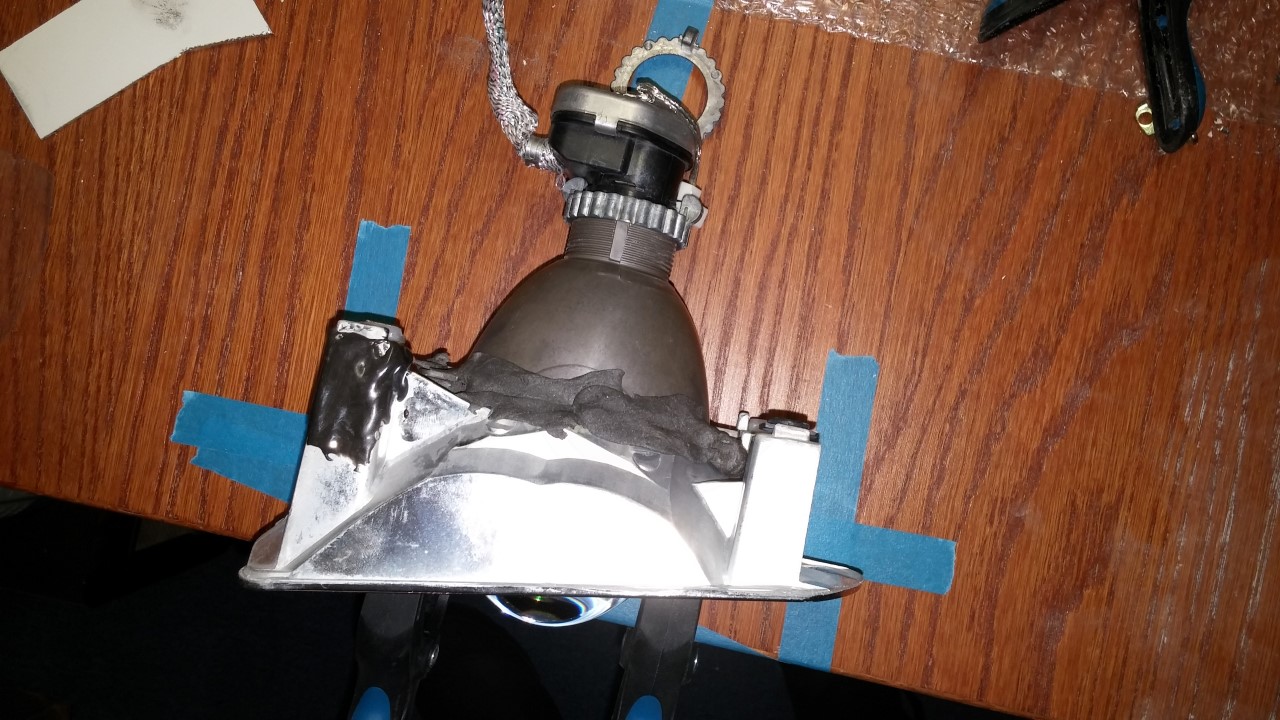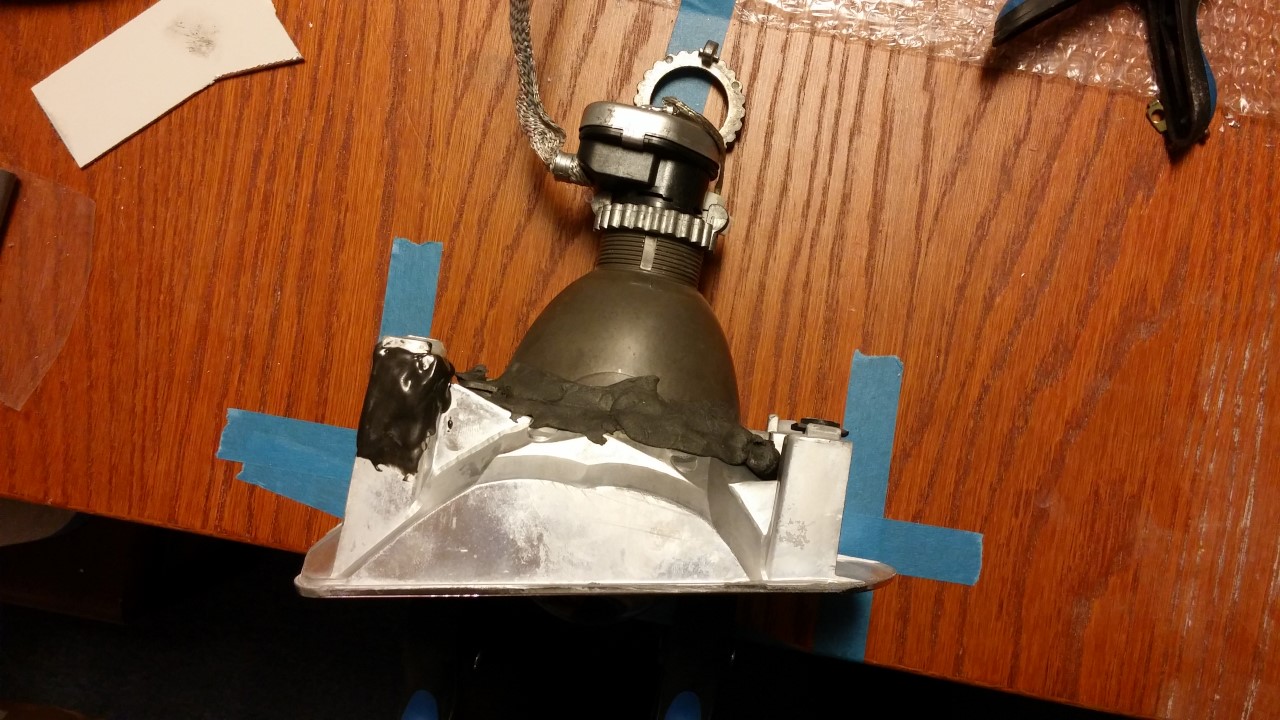 Low beam reflector in place as well, with Mini D2S in place, as well as the lens bezel.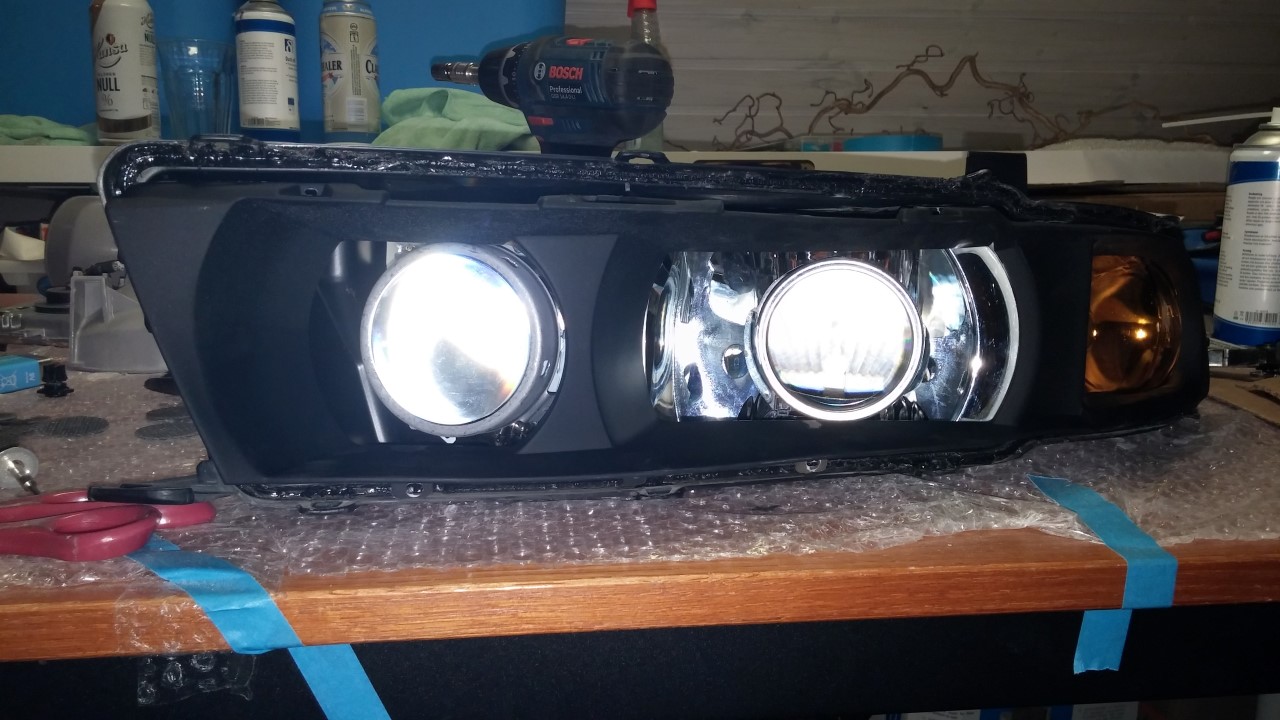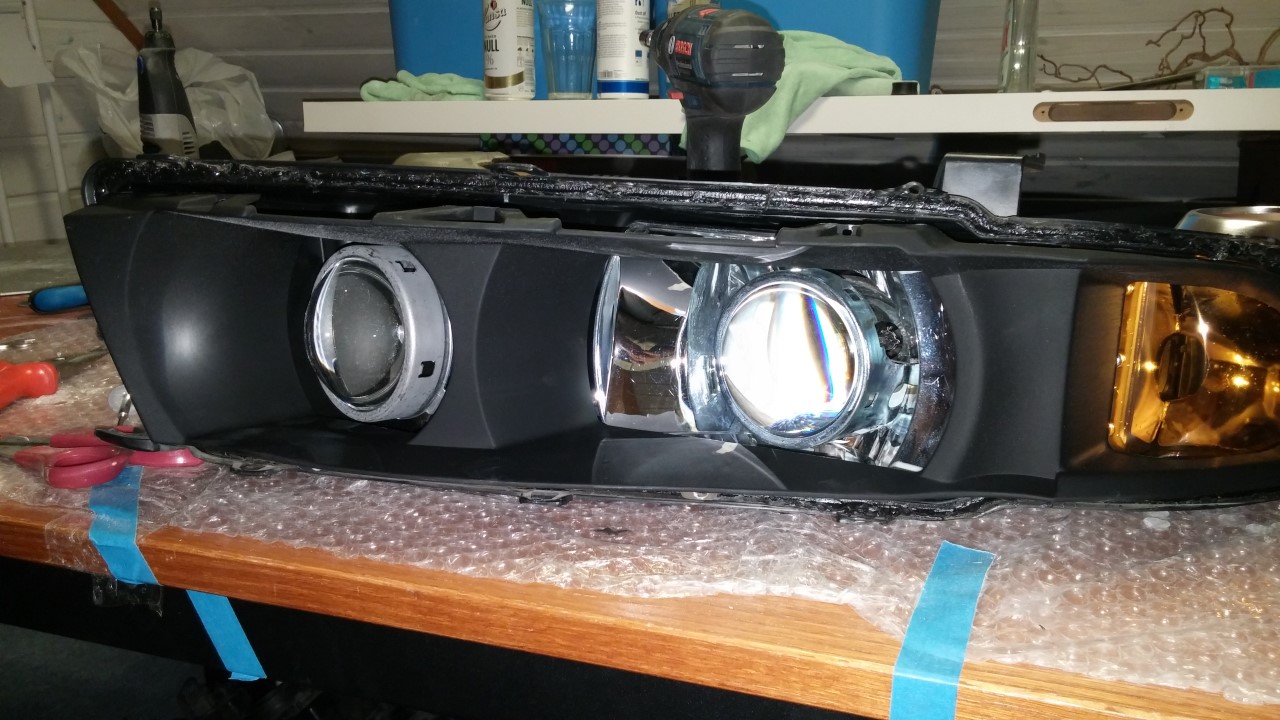 I realized the EvoX-R was sitting too far back in the housing, because there was absolutely no leeway at all to make adjustments. The rear of the bowl sat against the floor of the headlight housing, so I had to cut off the rest of the legs from the high beam reflector and epoxy them onto the brackets. This meant easier installation on the adjuster screws as well as making it possible to adjust the "high beam" projector.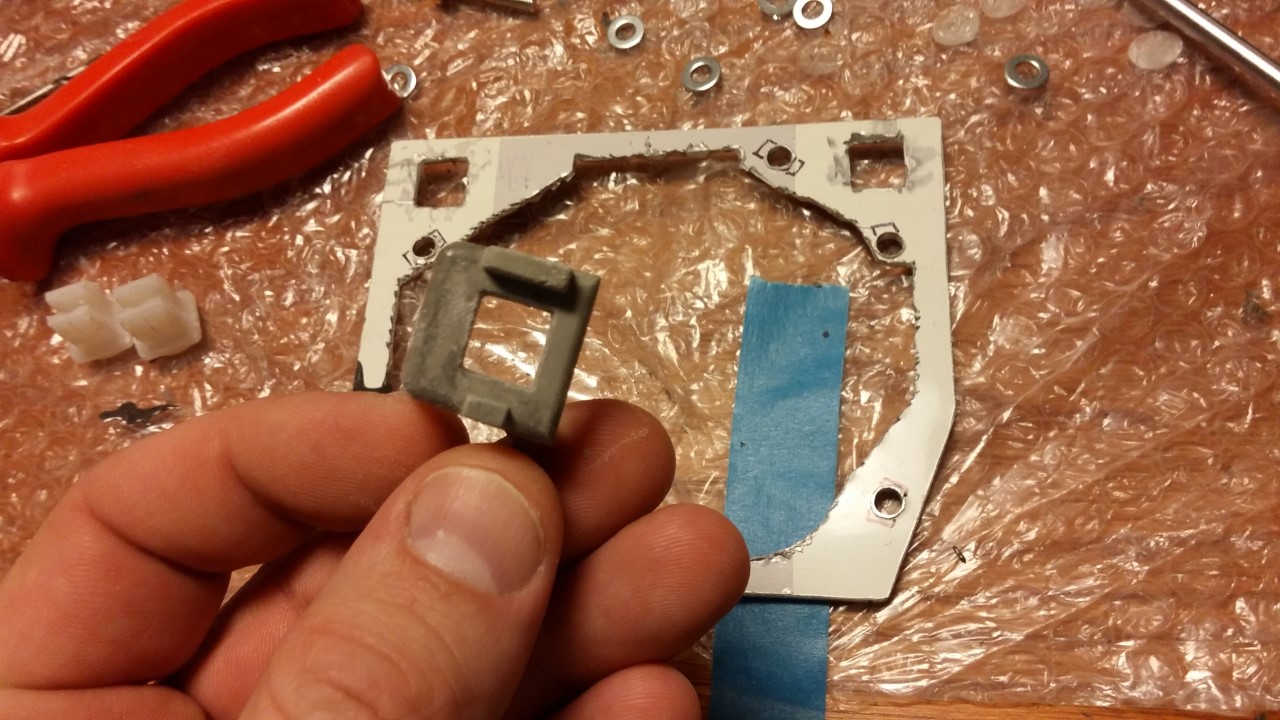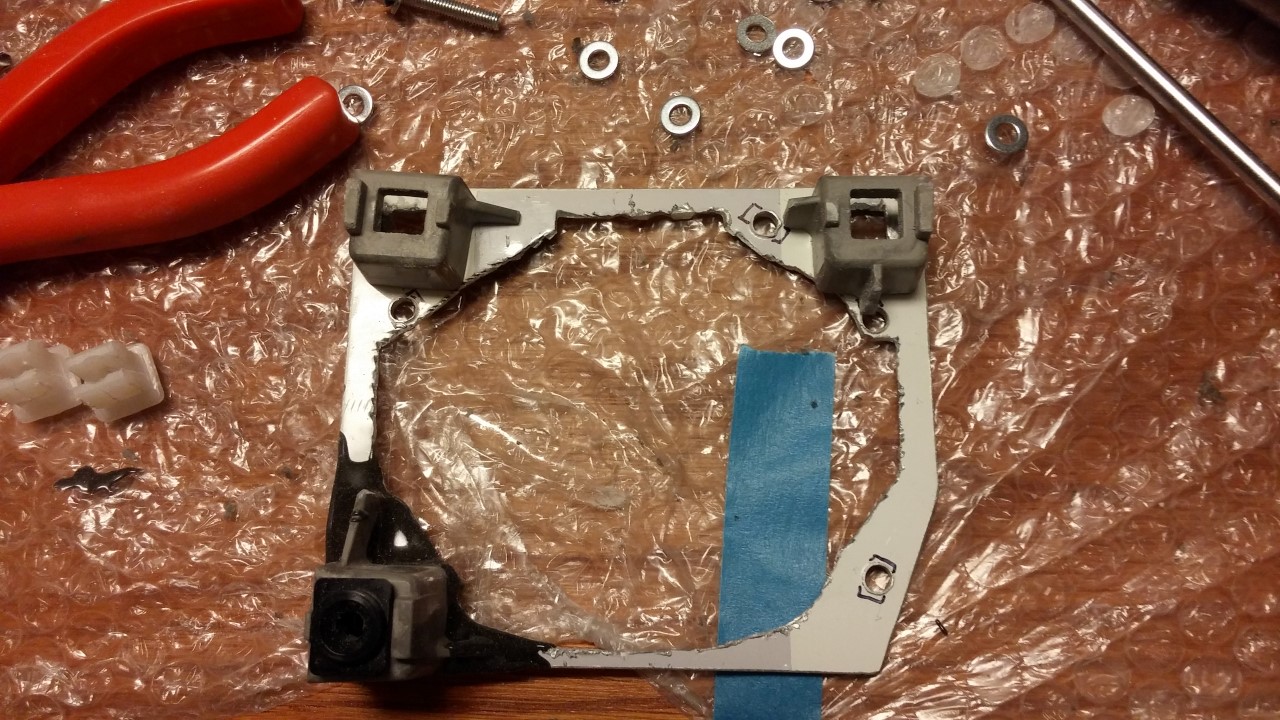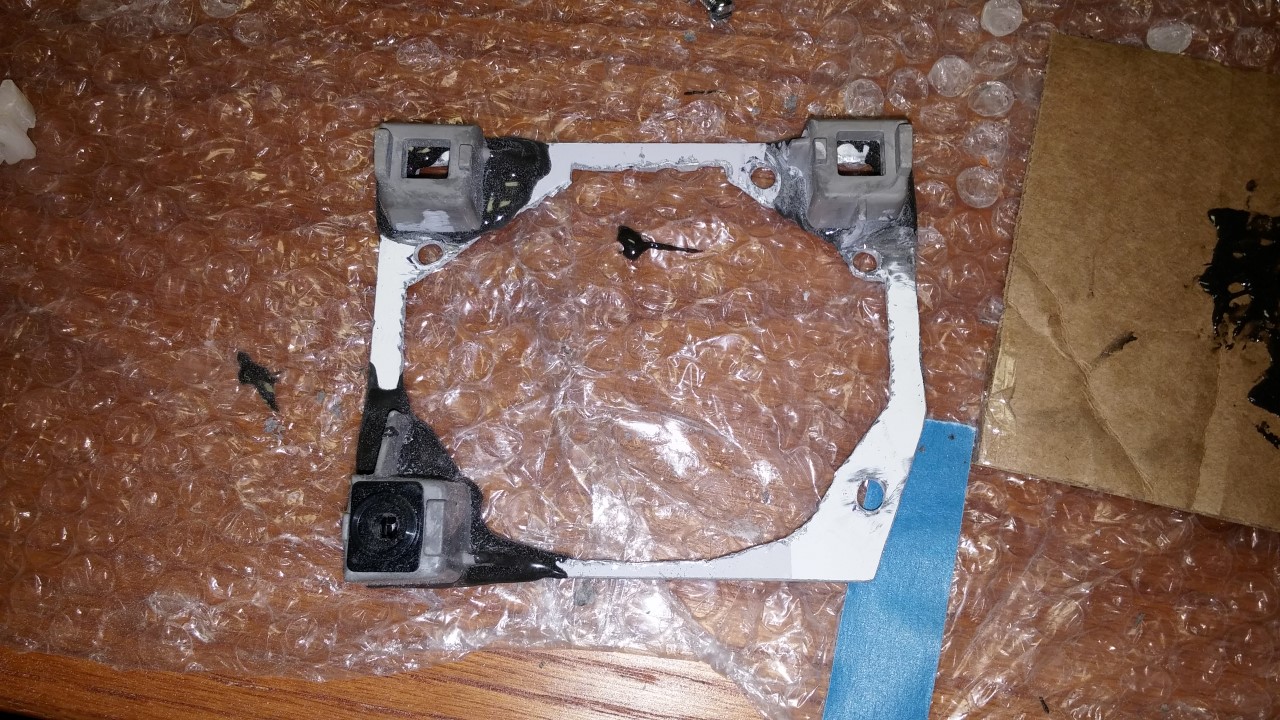 One done, one to go: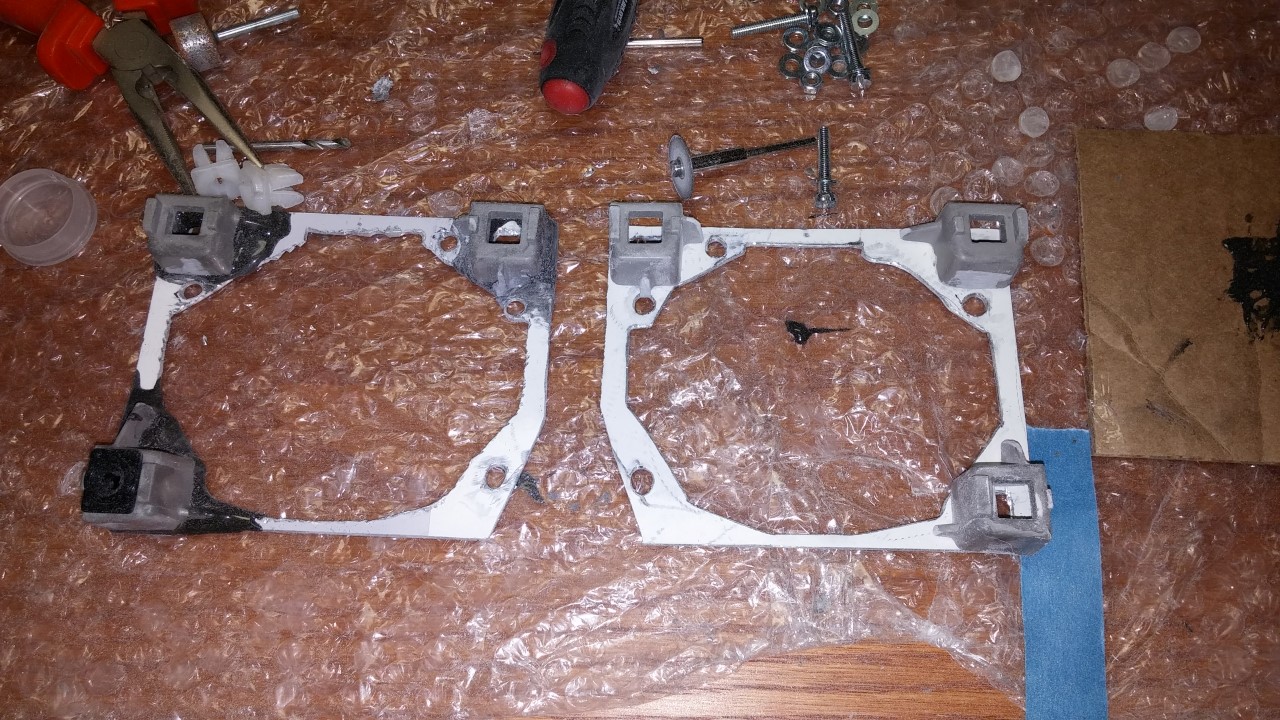 Mini D2S cutoff: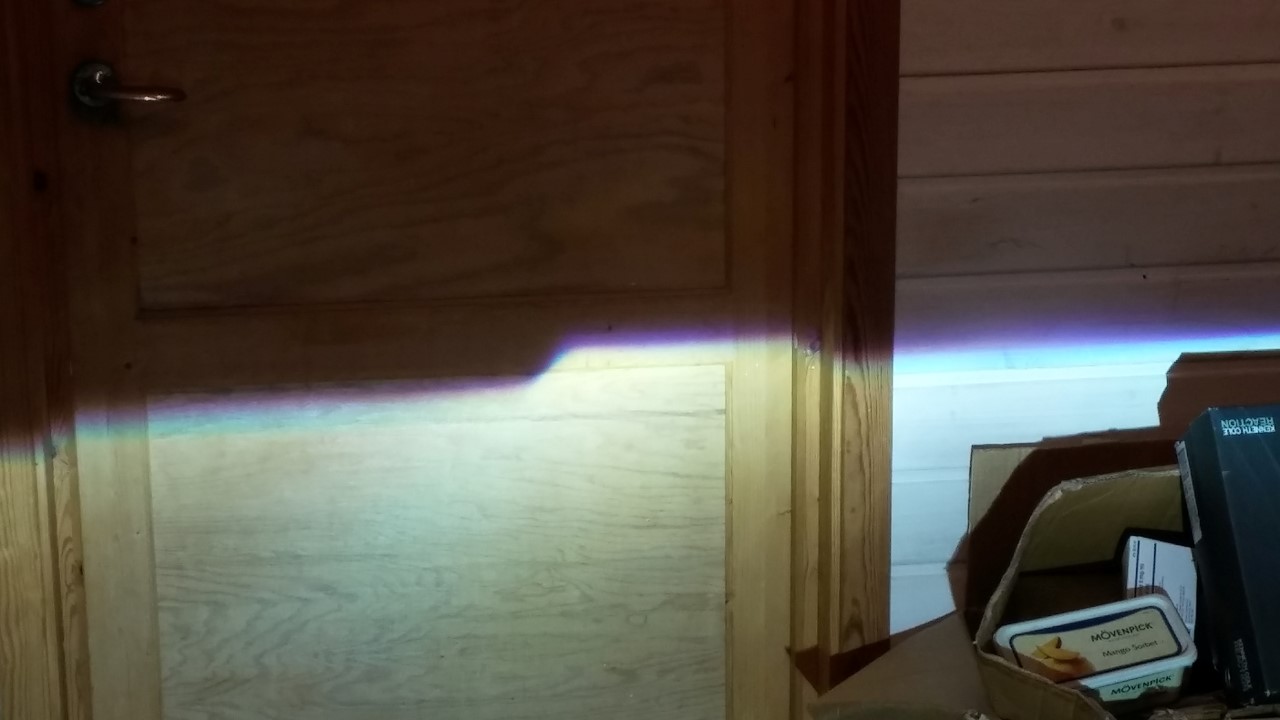 For some reason, my phone activated HDR mode, so if the following pictures seem strange in any way, that's why. Plus, I'm not a good photographer.
The smoke is to better visualize the light leaks out the rear of the reflector and is just vapor from my electronic cigarette, it's not real smoke.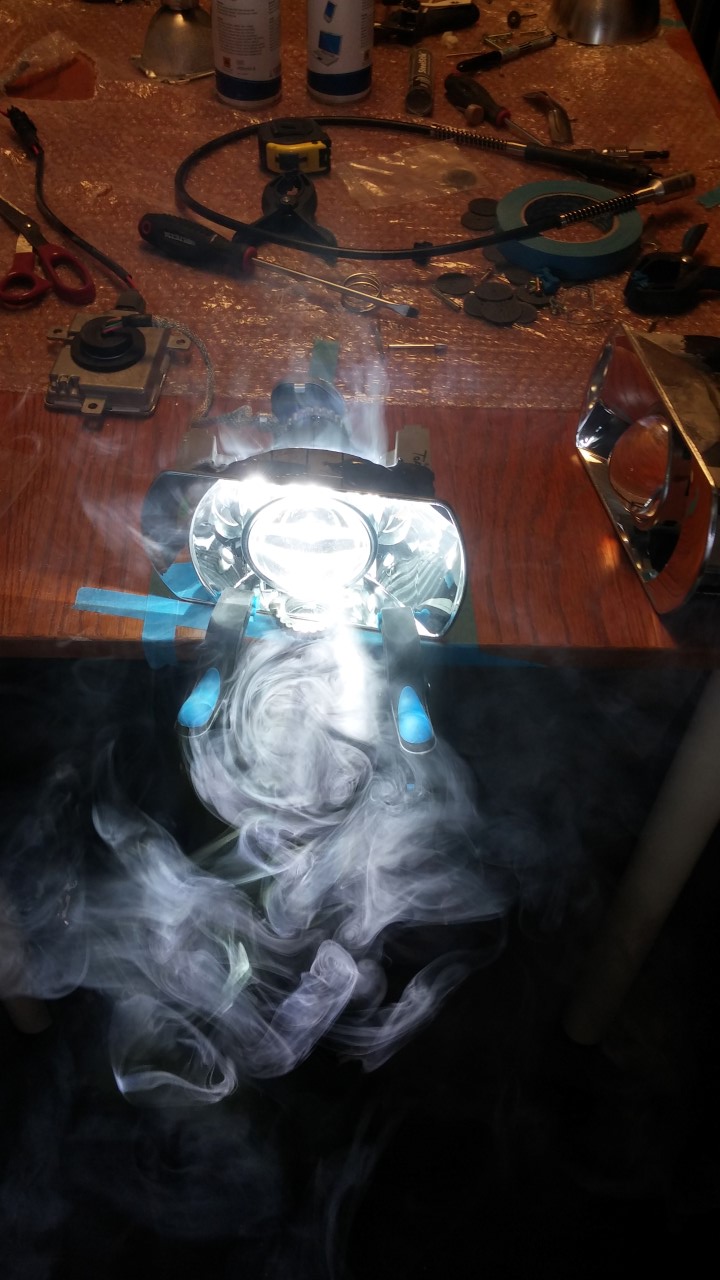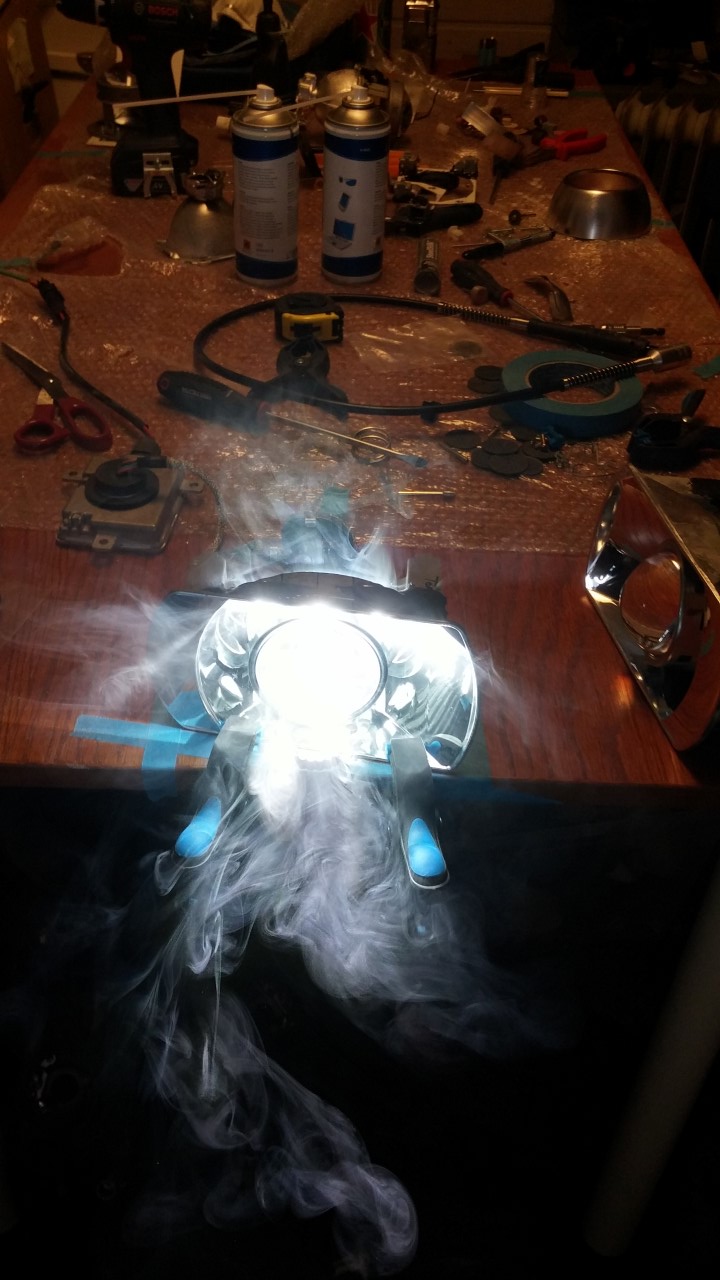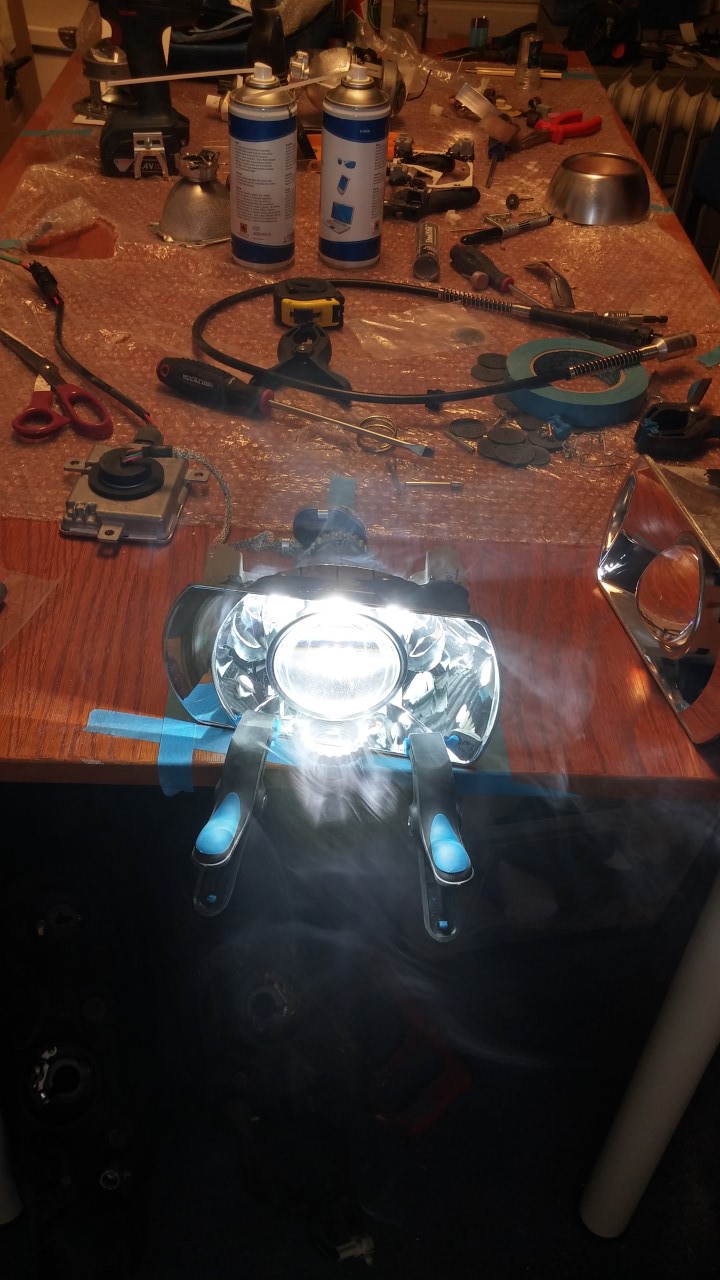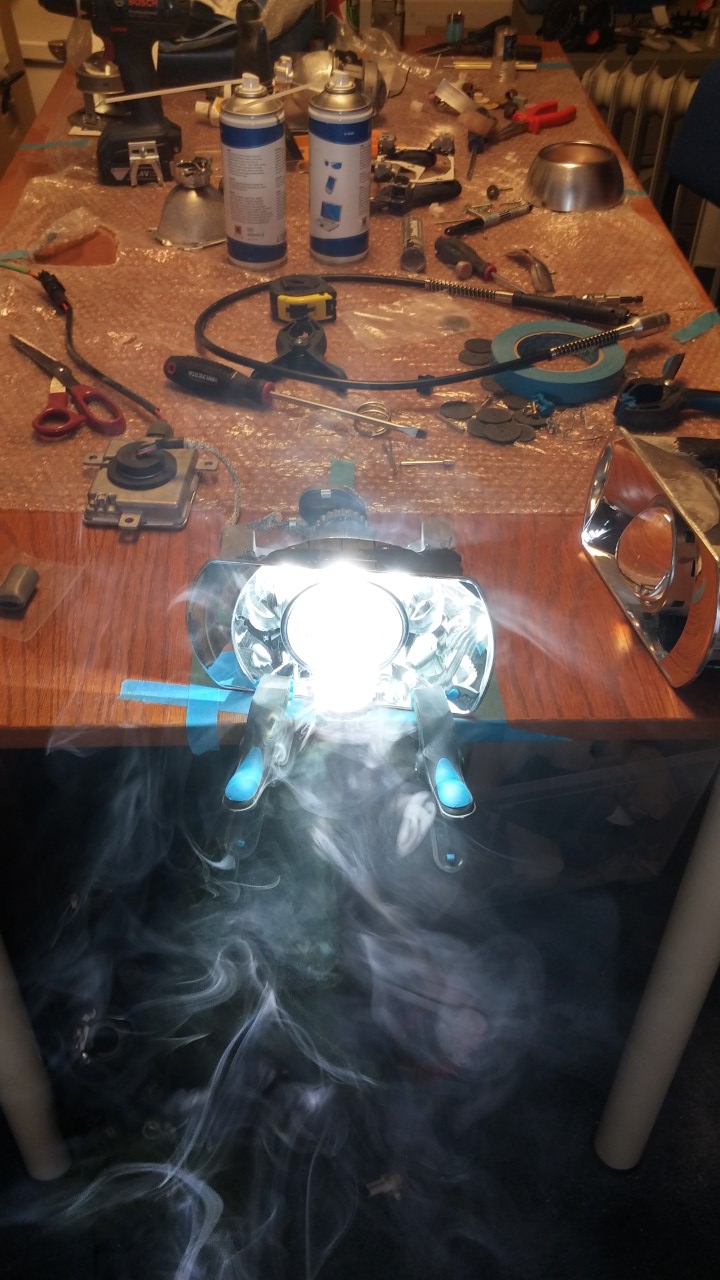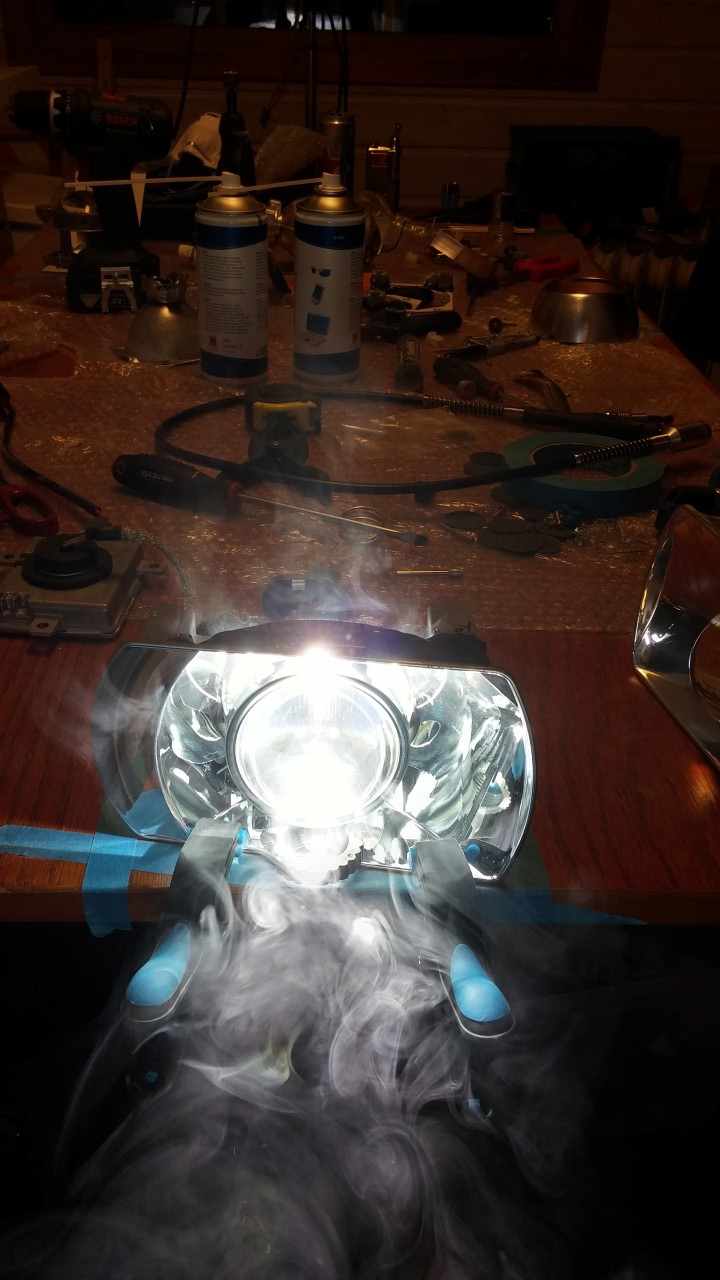 Test fitting an aluminium shroud after cutting it with scissors. I thought it looked very nice, but it was impossible to make it sit right.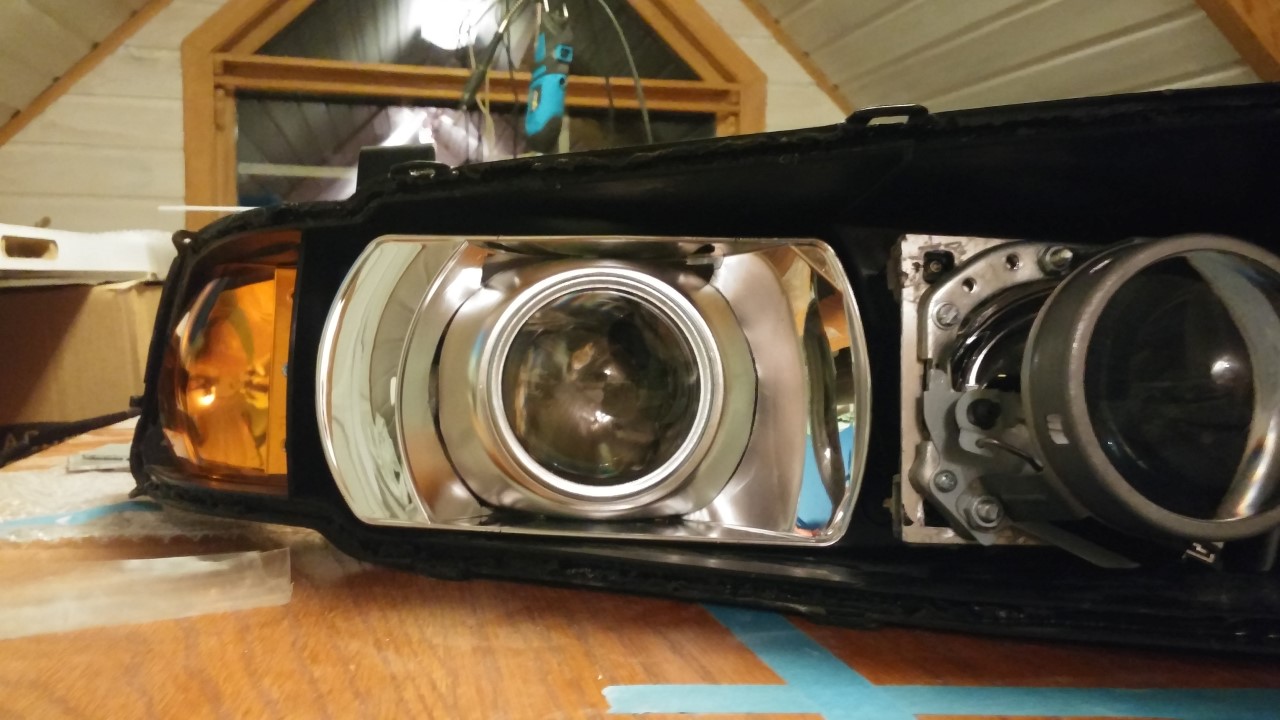 From a distance, it also looked a bit bland: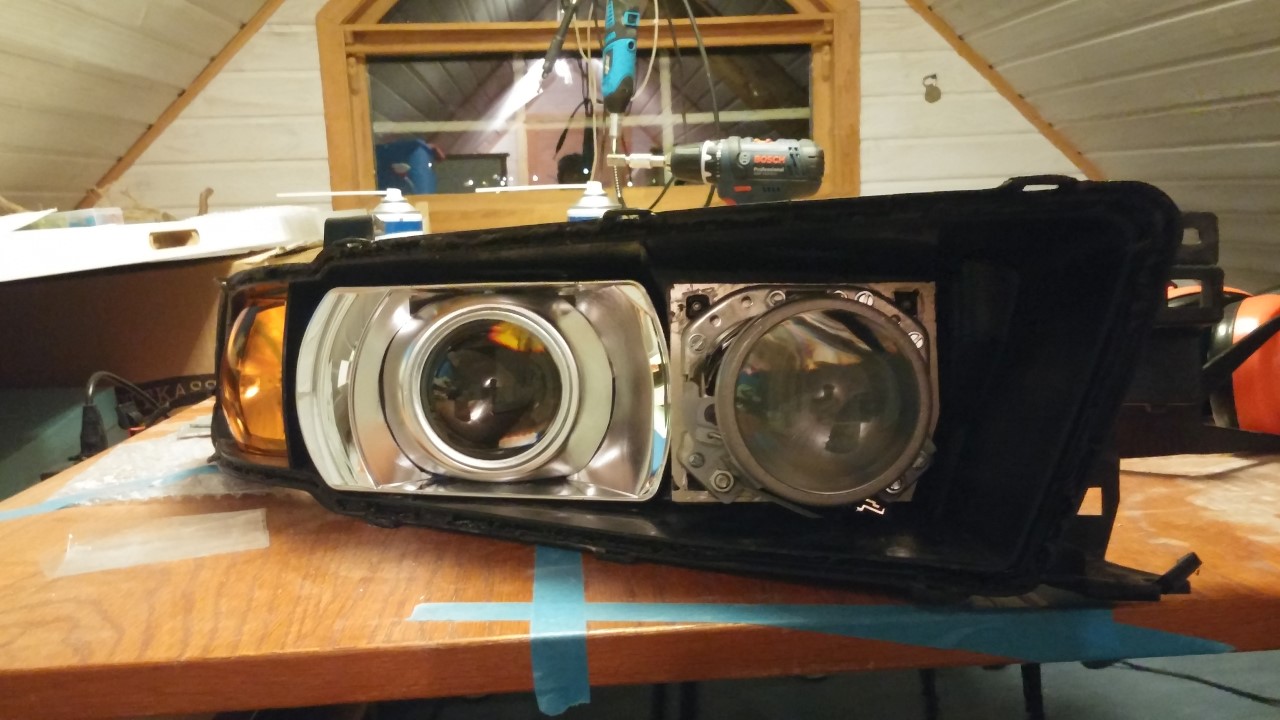 While working on the passenger side, the top of the reflector gave in and cracked off (likely due to the excessive cuts you can see above the projector, so the top had to be epoxied back on. At the same time I realized this also had become a paint job. The customer wanted the reflectors chrome for a more OEM look, but as this was no longer possible to do and have it look nice, I told him what happened and that a quick paint job was in order. He agreed (not that he had much choice...) and I set off to find some paint that could potentially mimic the OEM shinyness.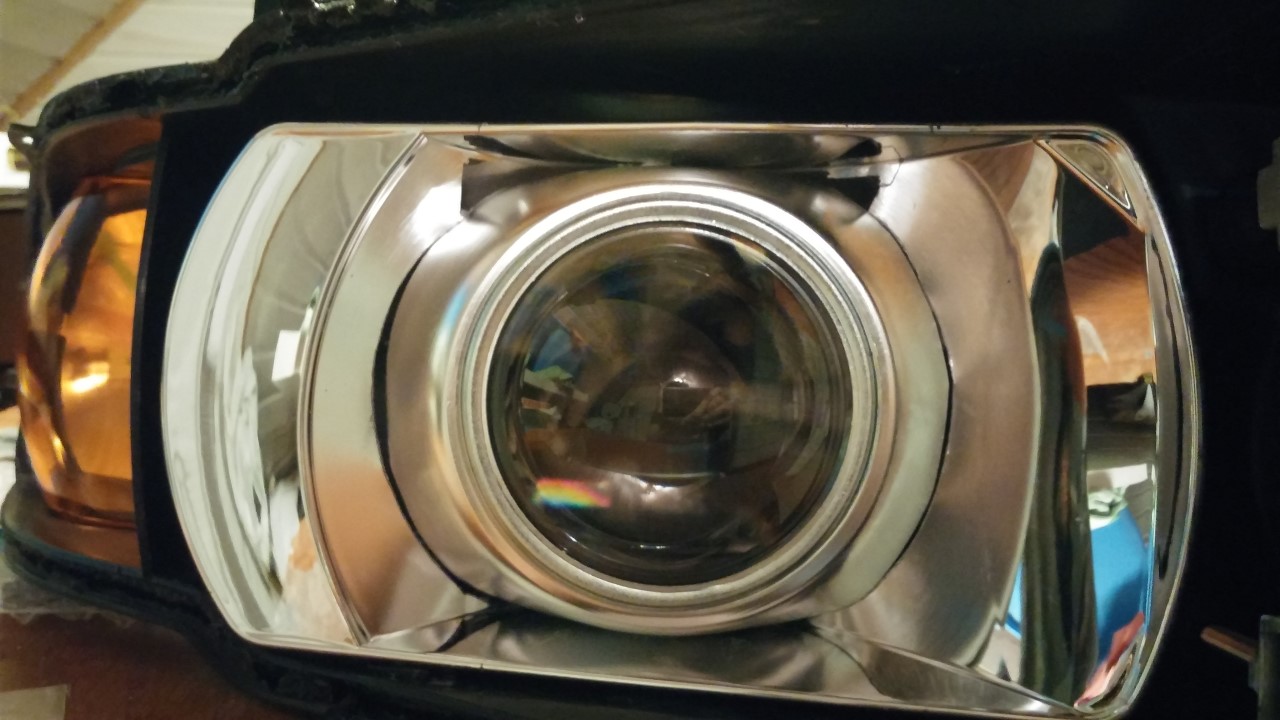 The shooting range. The door is about 15 feet from the projector.
Lights off: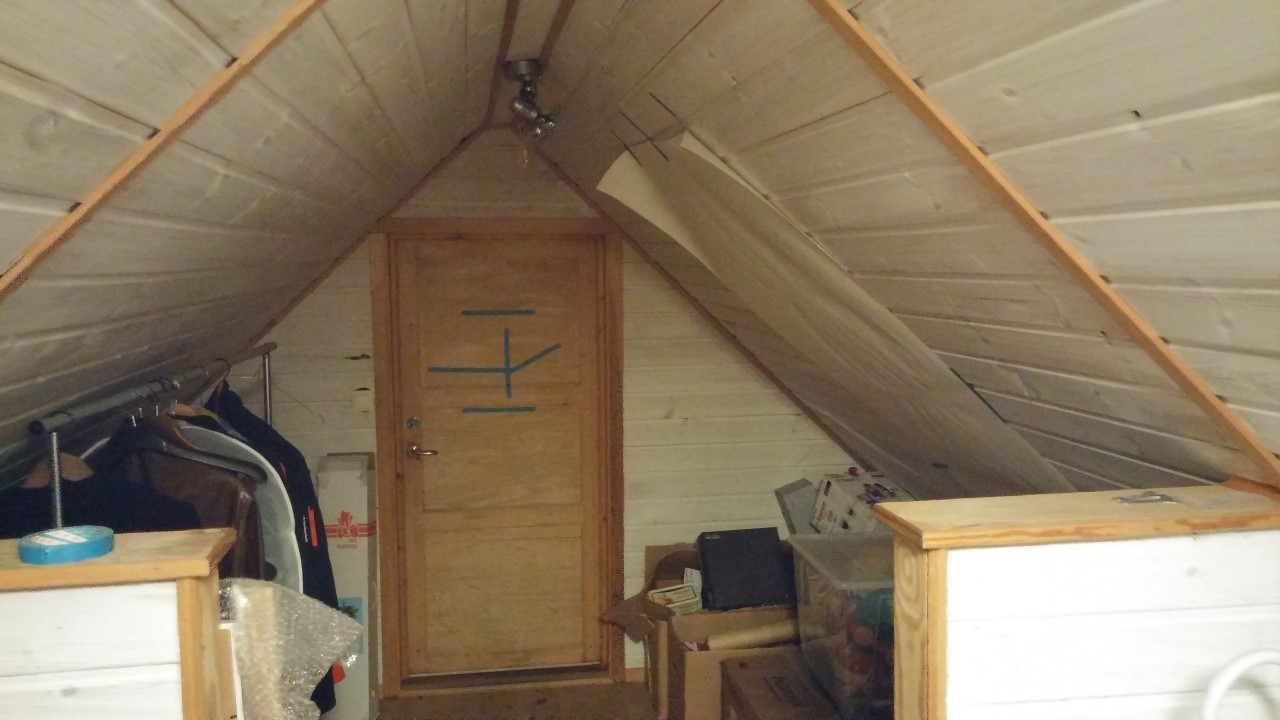 Low beams on: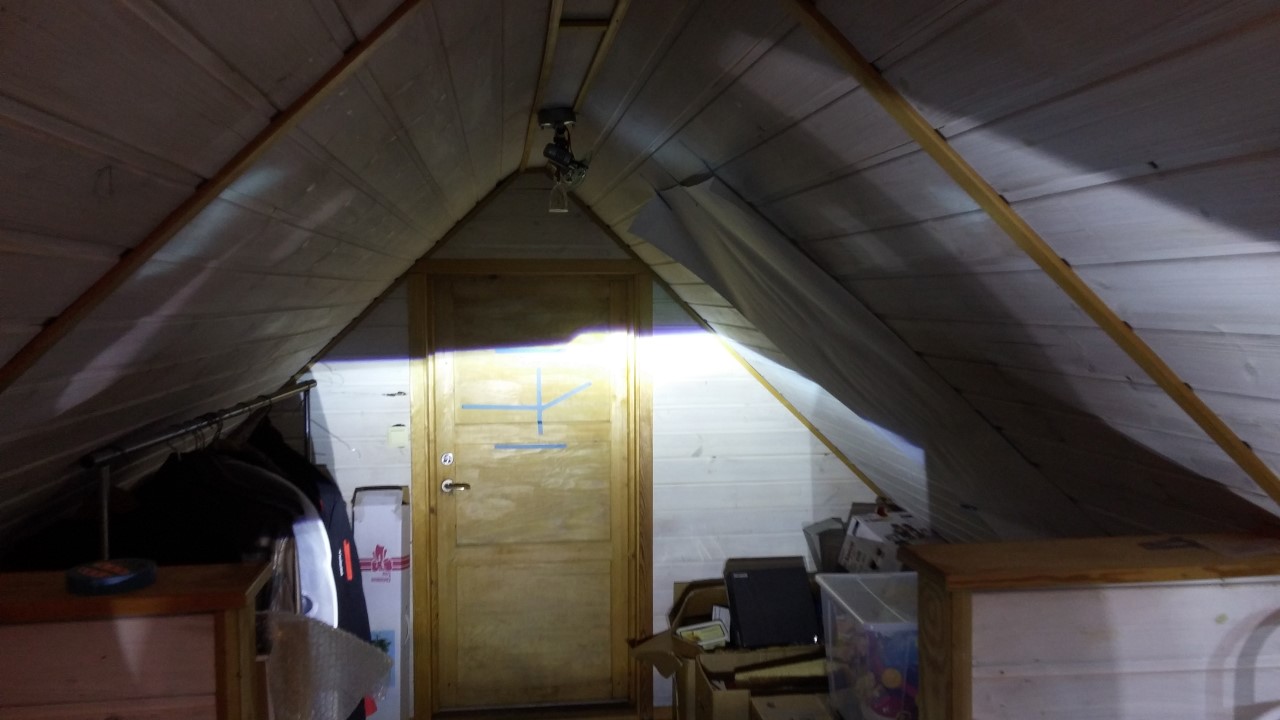 Rotation issues %!)&(!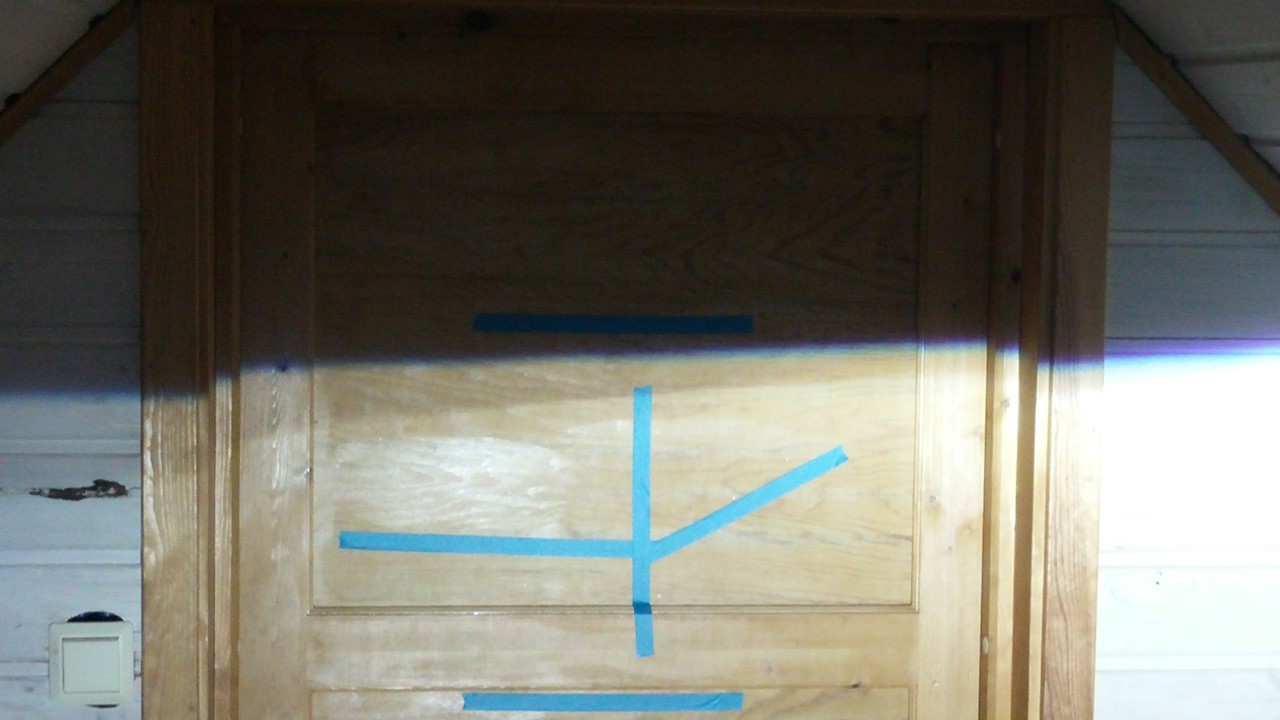 Mini D2S high beam: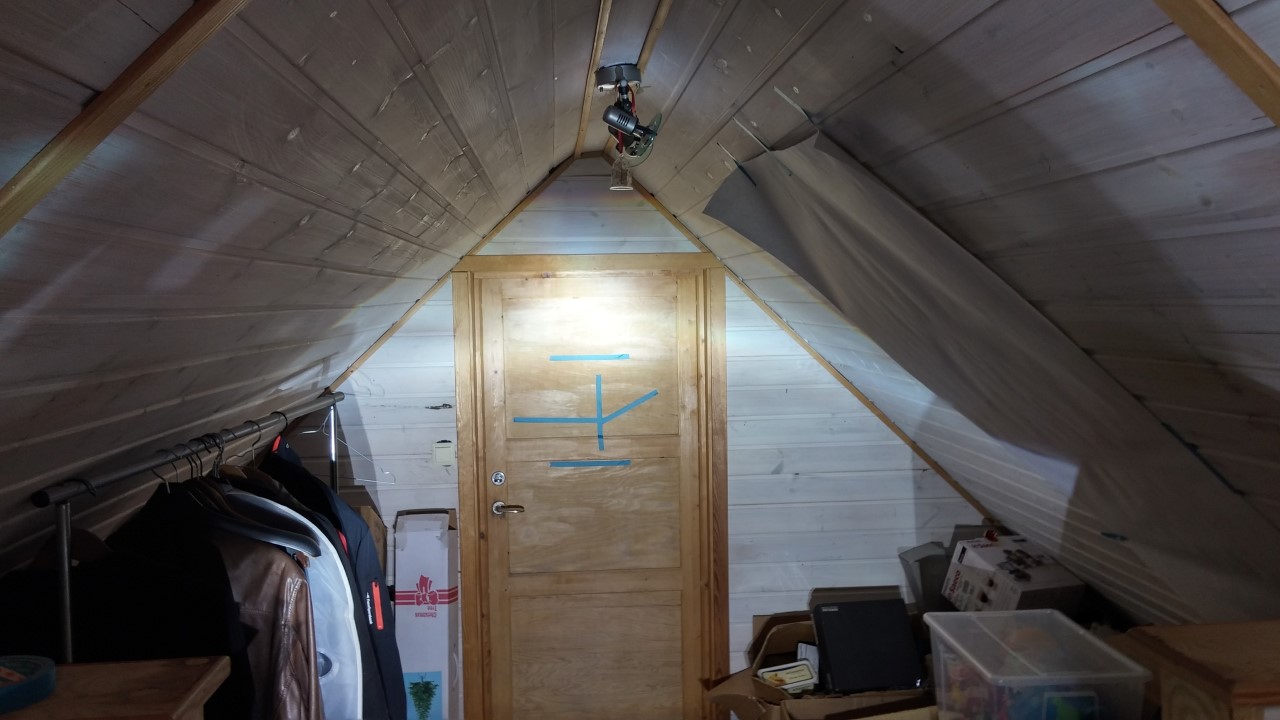 New day, new shroud!
After having used the Iris shrouds for the previous Galant retrofit, I knew how to cut them to make them fit, so I just went with what I knew. This time, however, the projector sat further back in the reflector, so I didn't have to chop the top and bottom off the shroud, because it cleared the headlight bezel with 3-4mm to spare for future adjustments.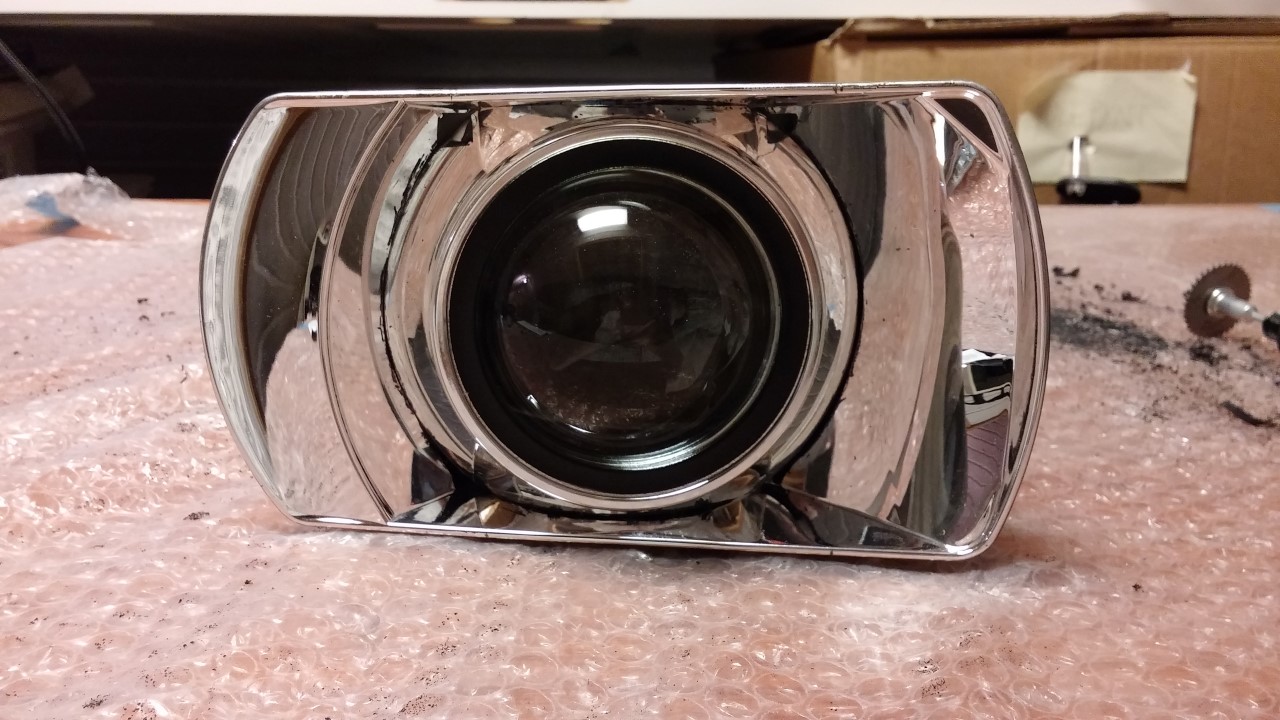 Passenger side with shrouds: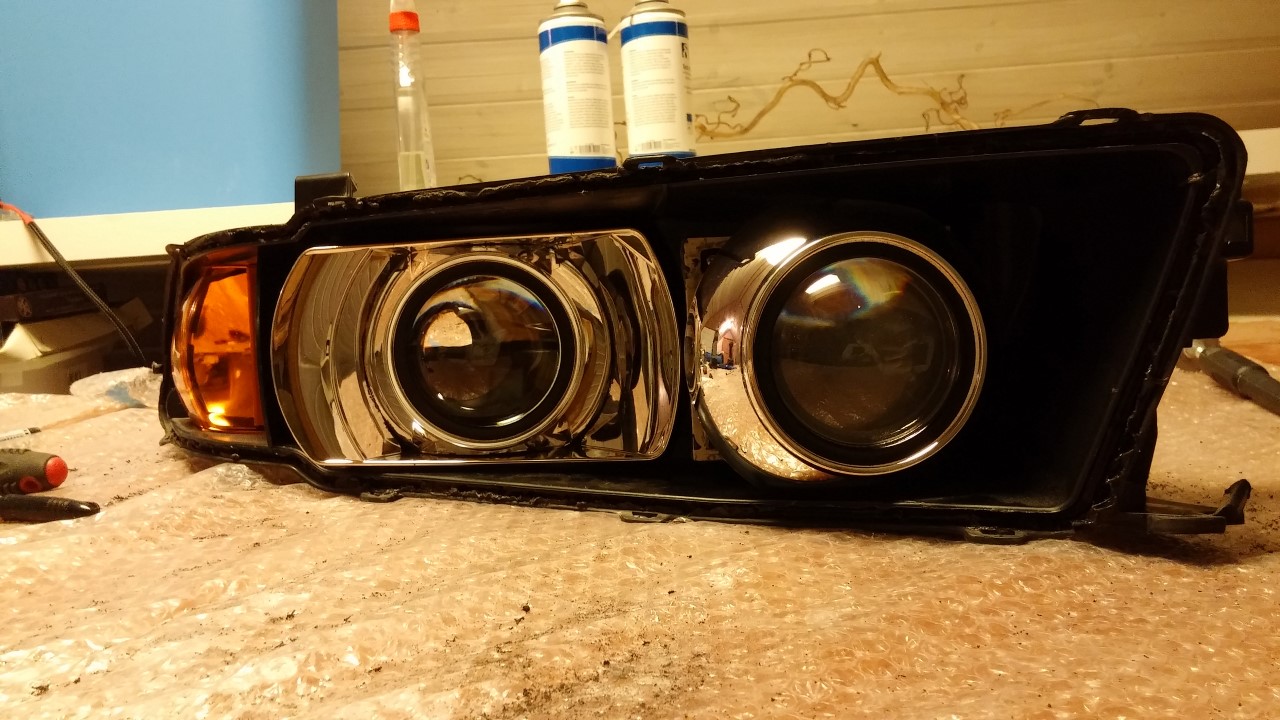 Again, with flash: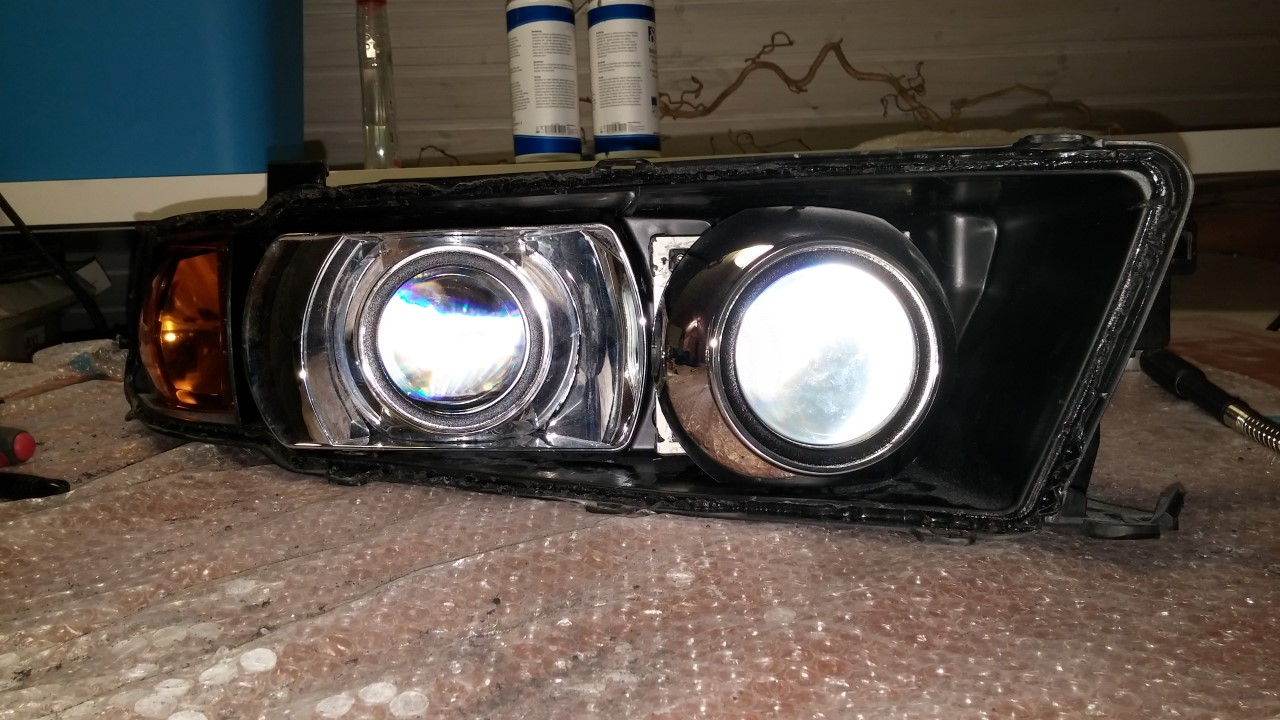 With bezel and a flush mount LED as parking light: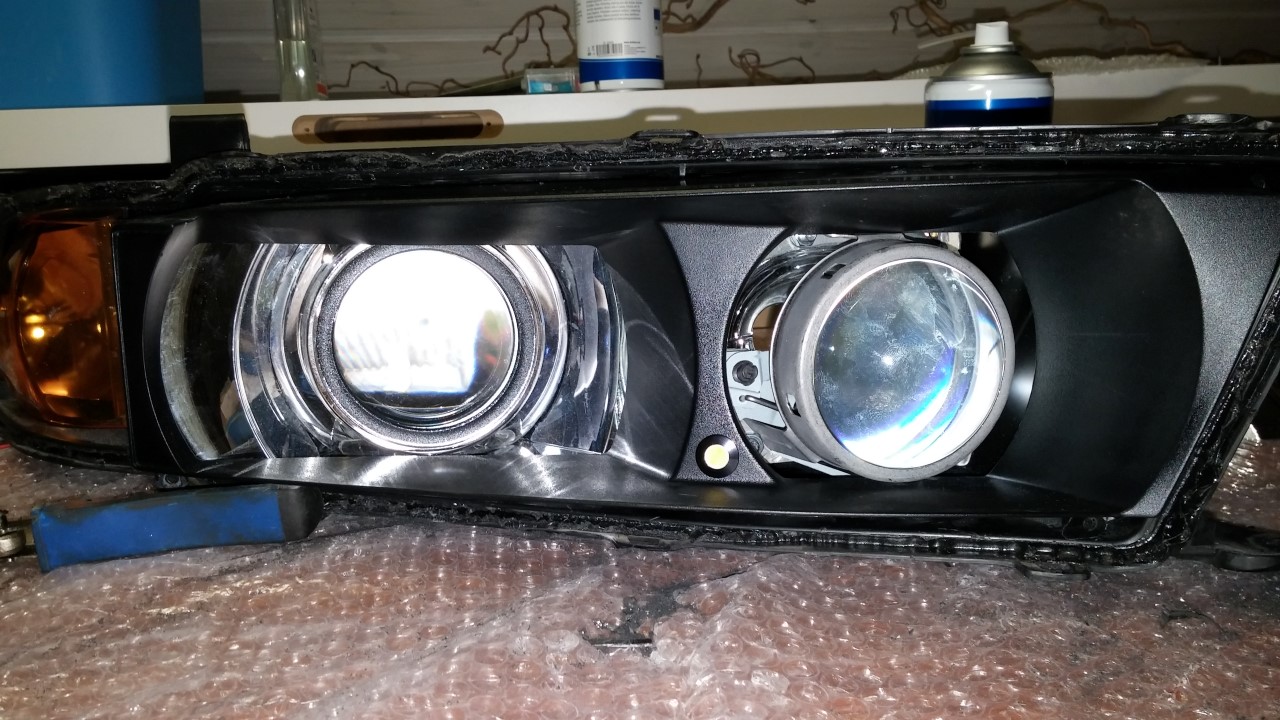 Without flash: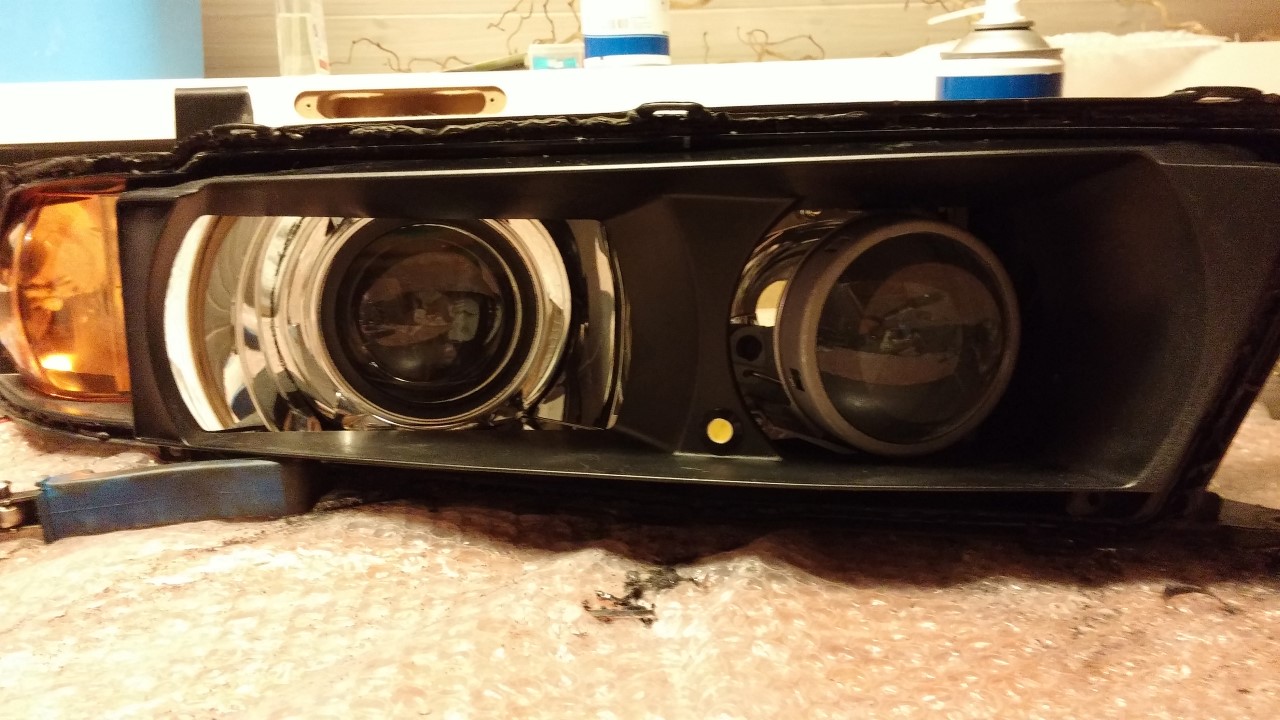 LED on: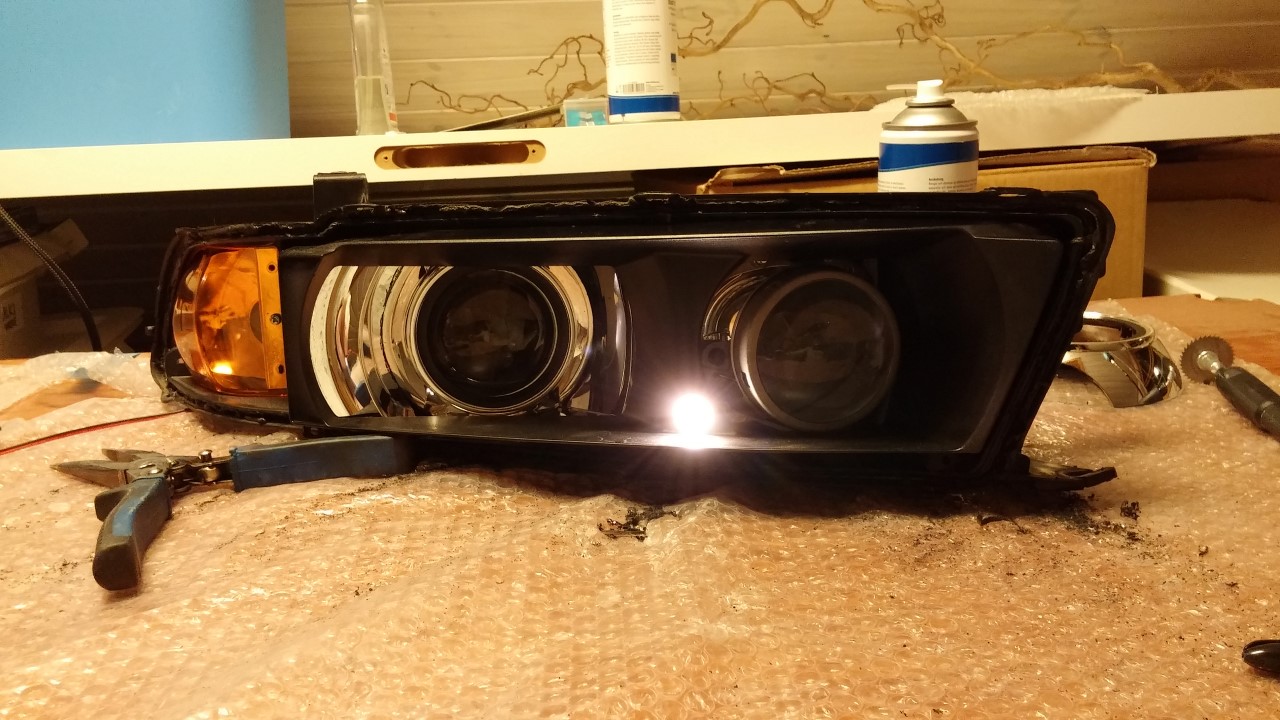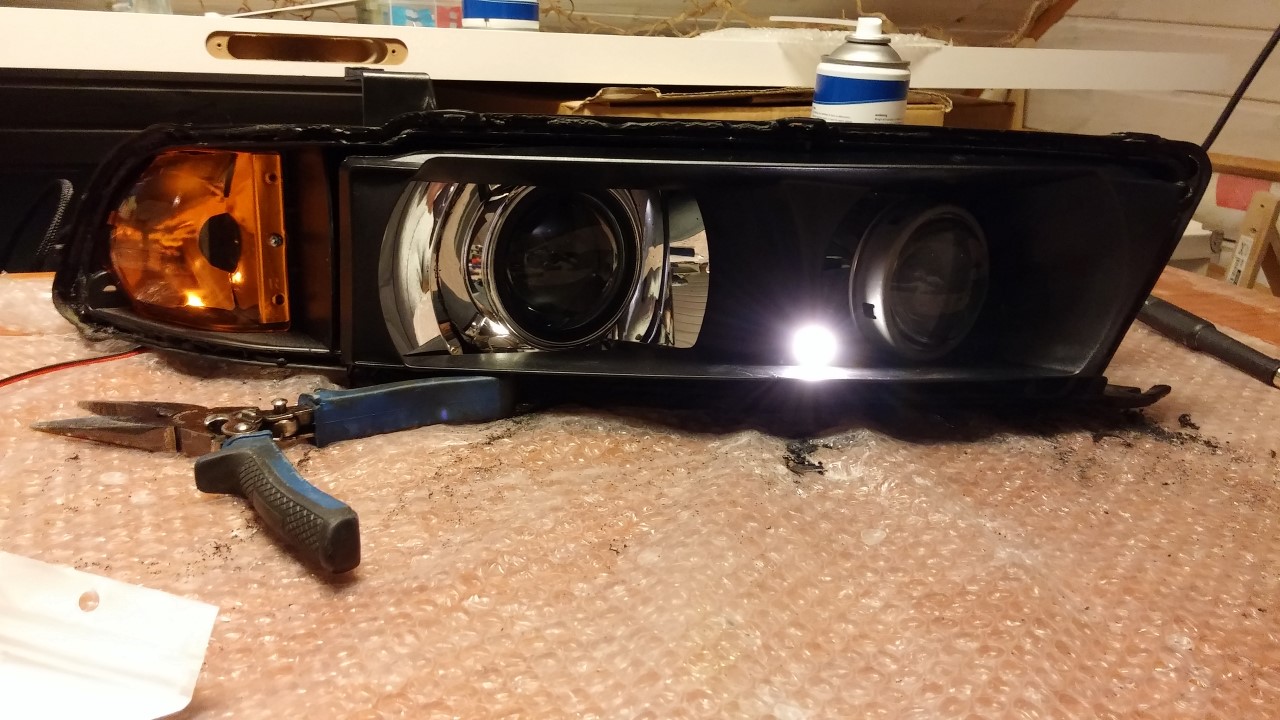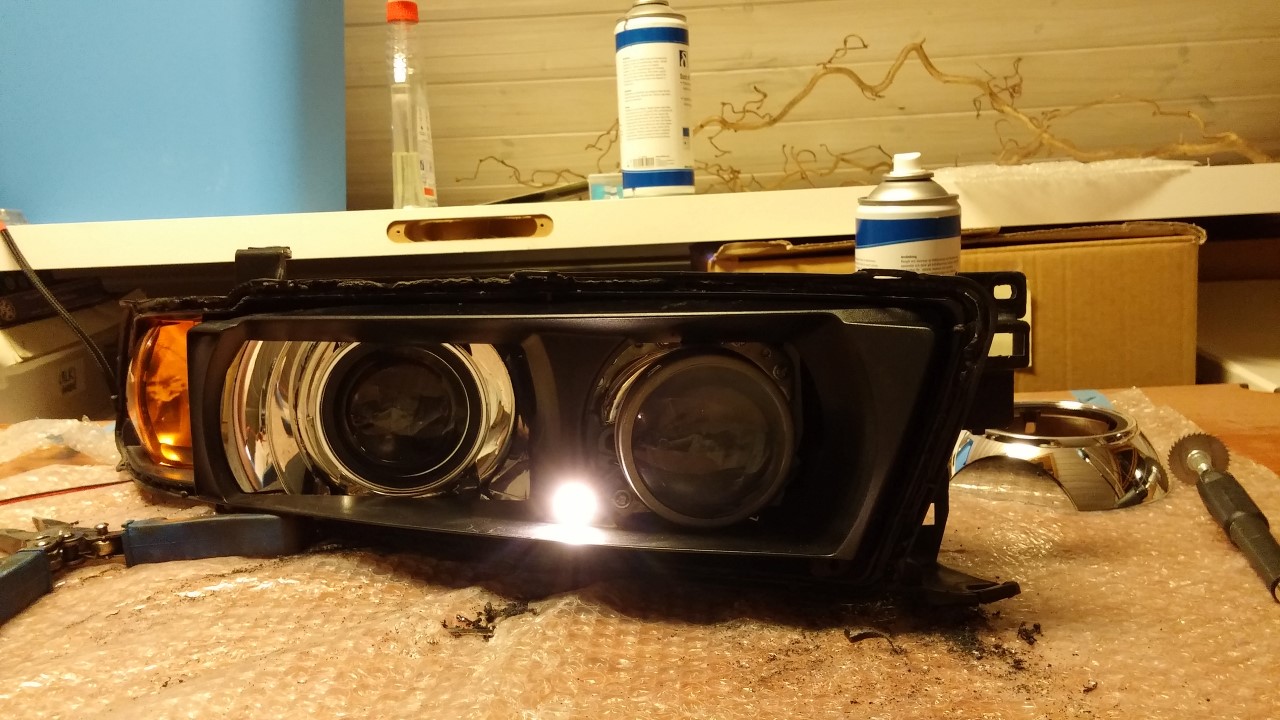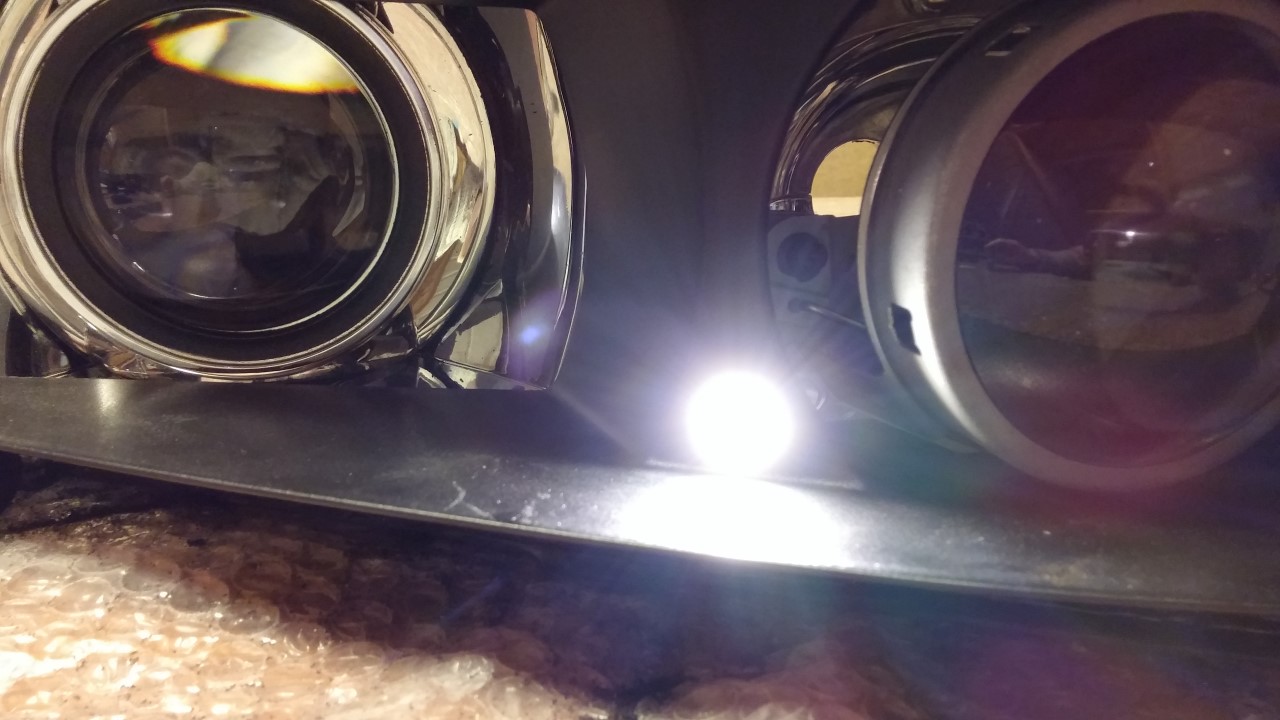 Closeup: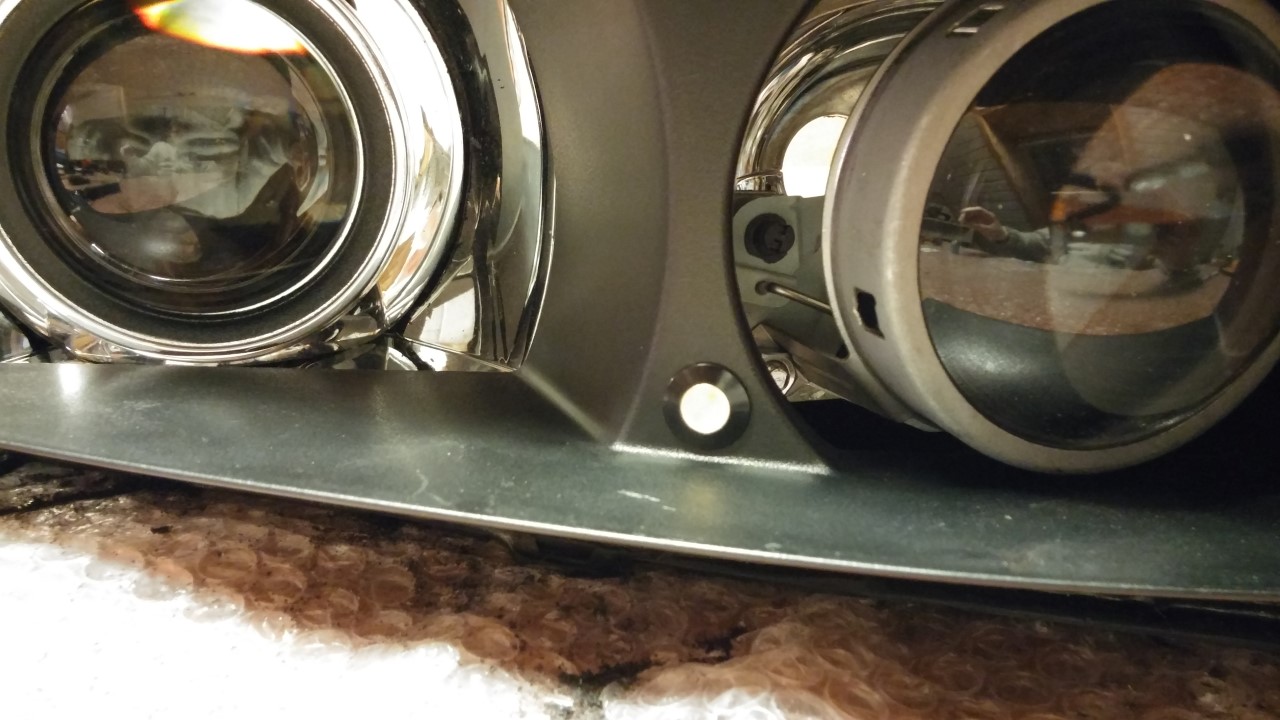 With lens on and original bezel (the other one was a test):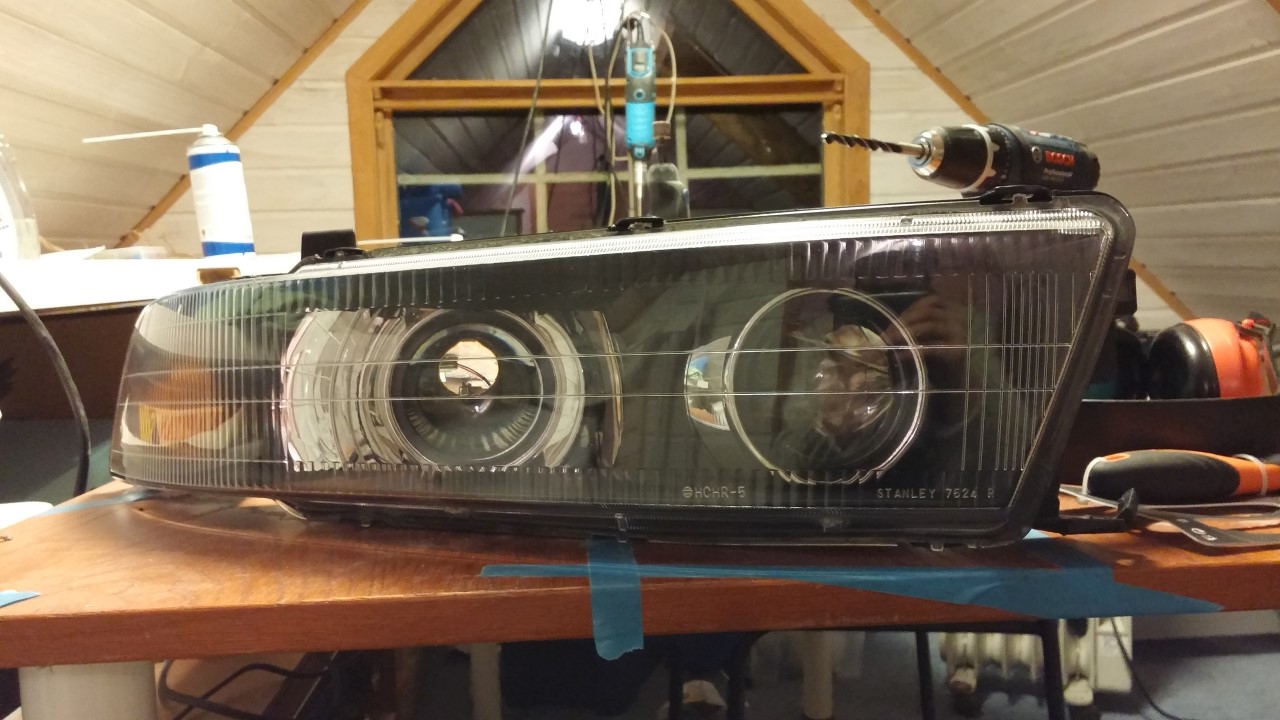 Reasons why this suddenly included a paint job: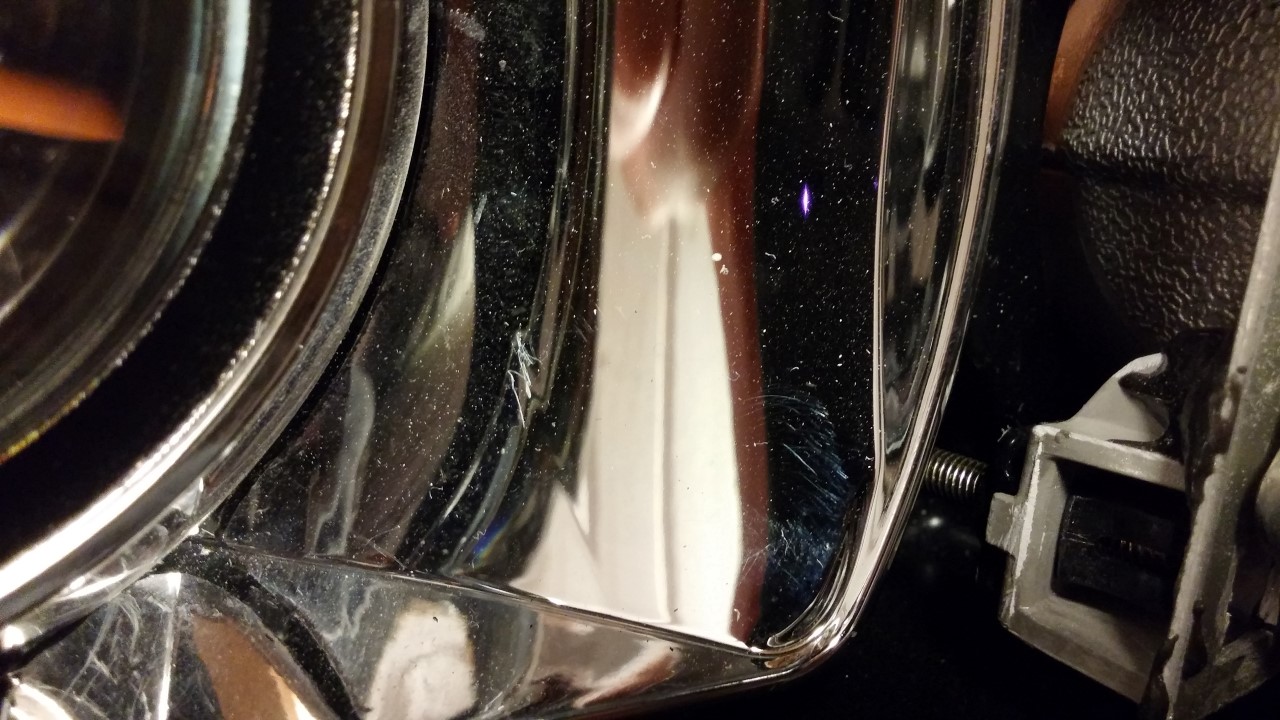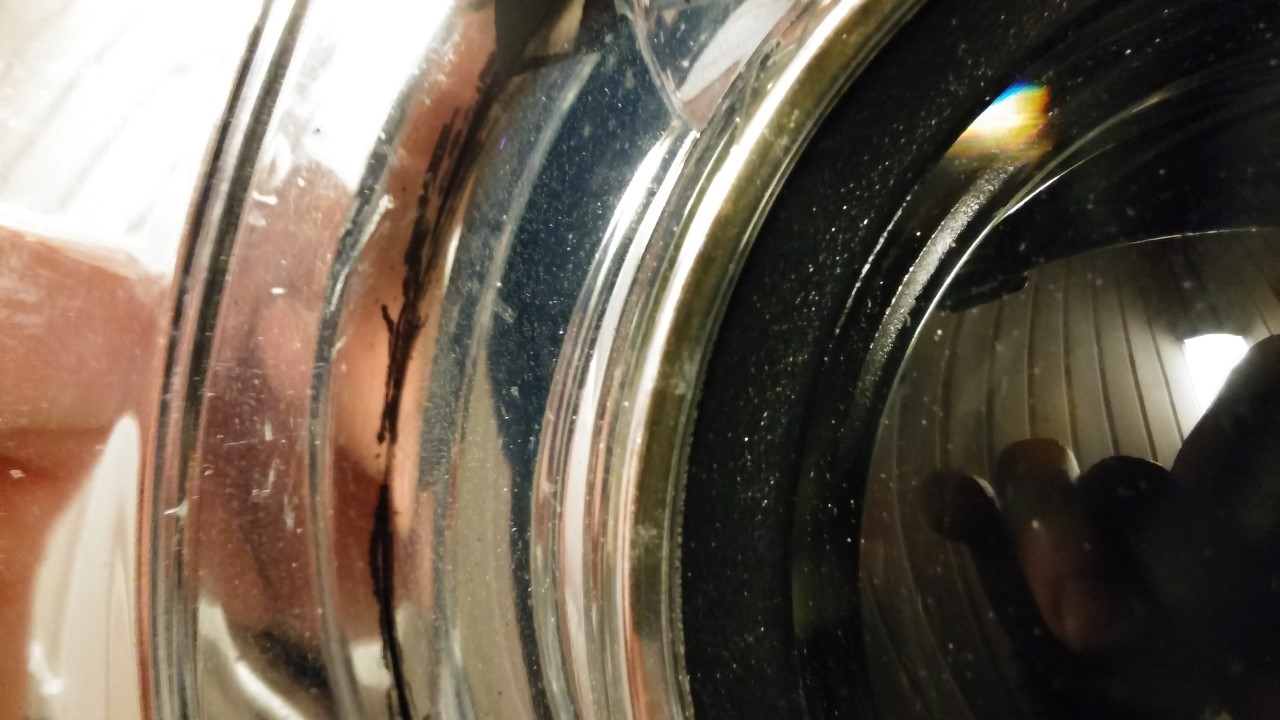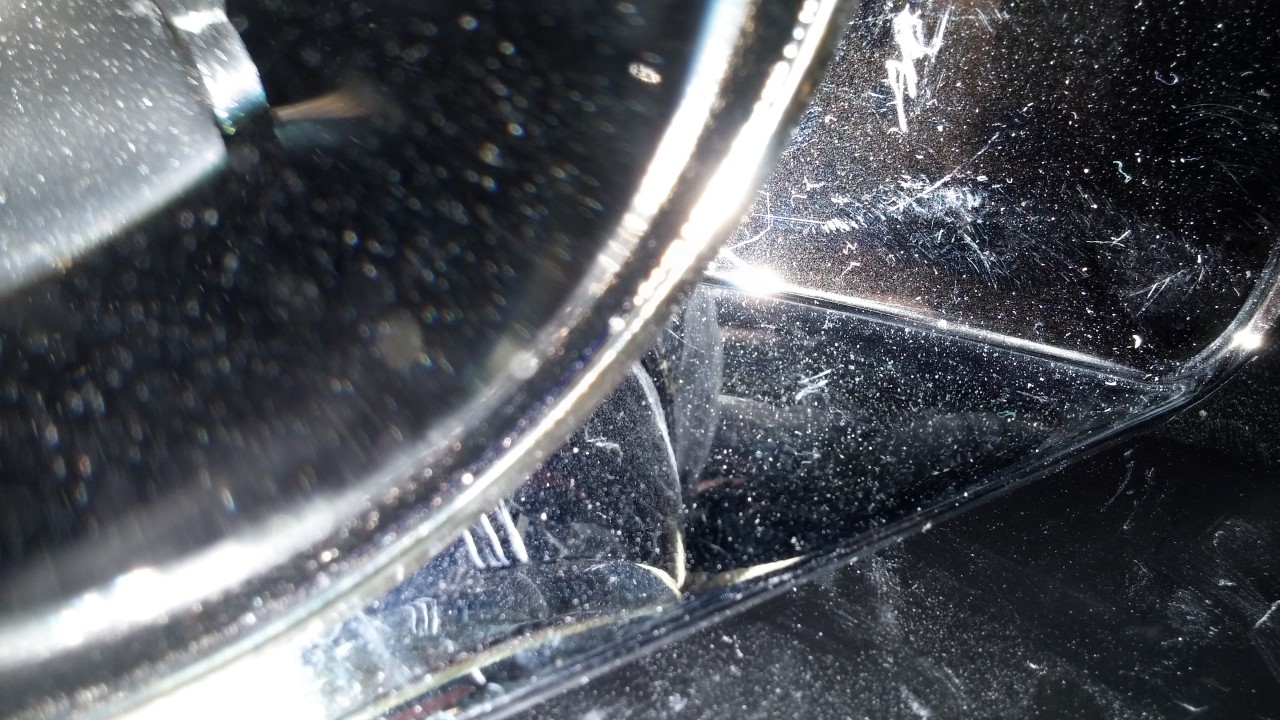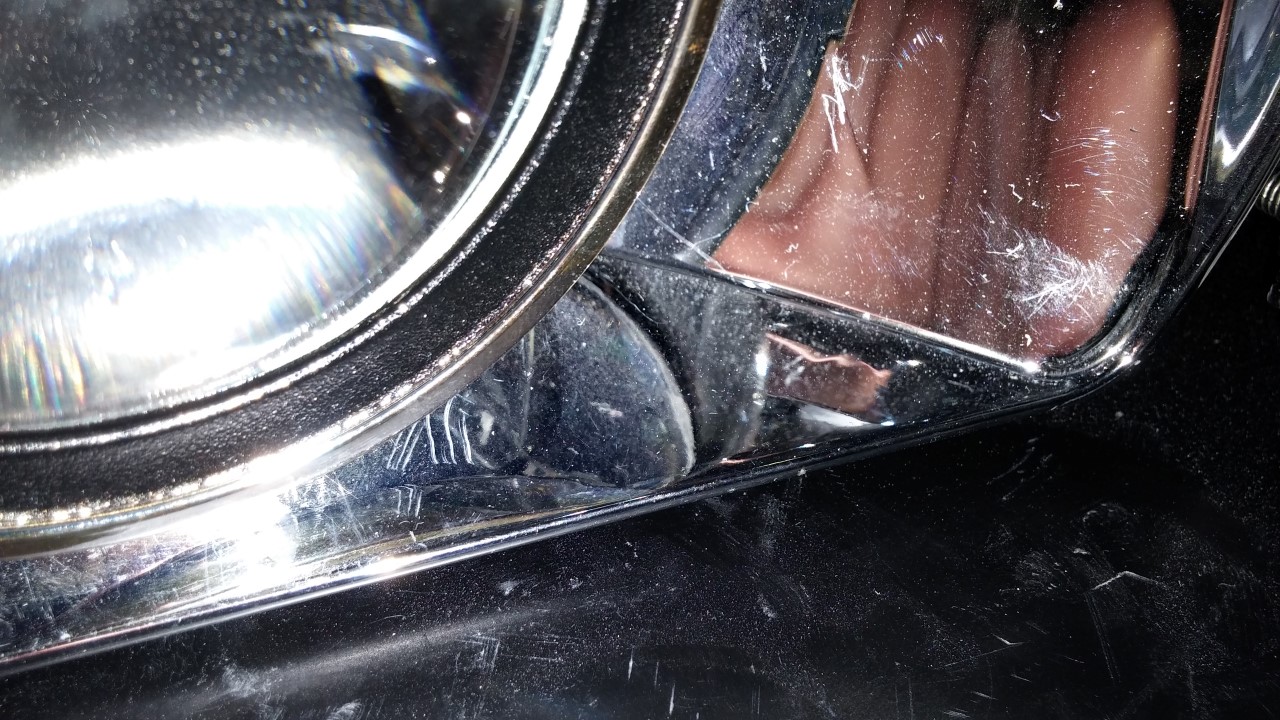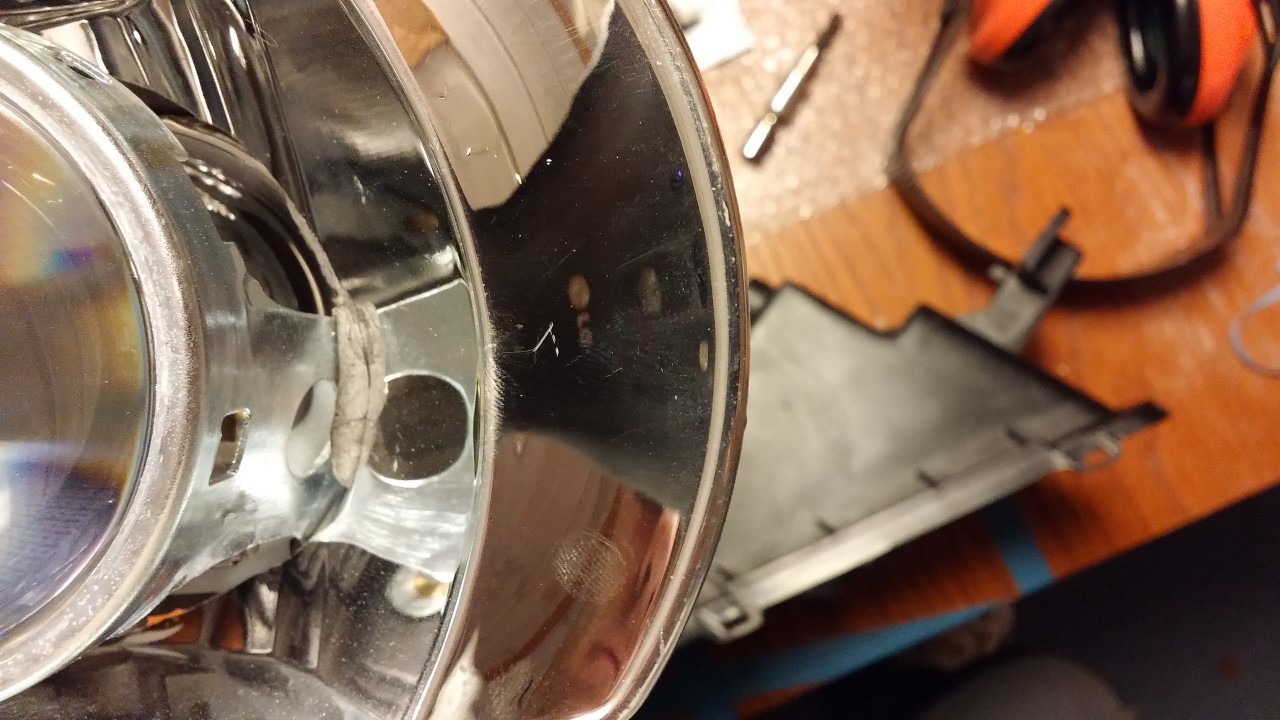 Since I never think to paint before I install the projectors, I always end up with fun masking jobs, like this... took about an hour to get it done properly so that paint wouldn't get into the projector: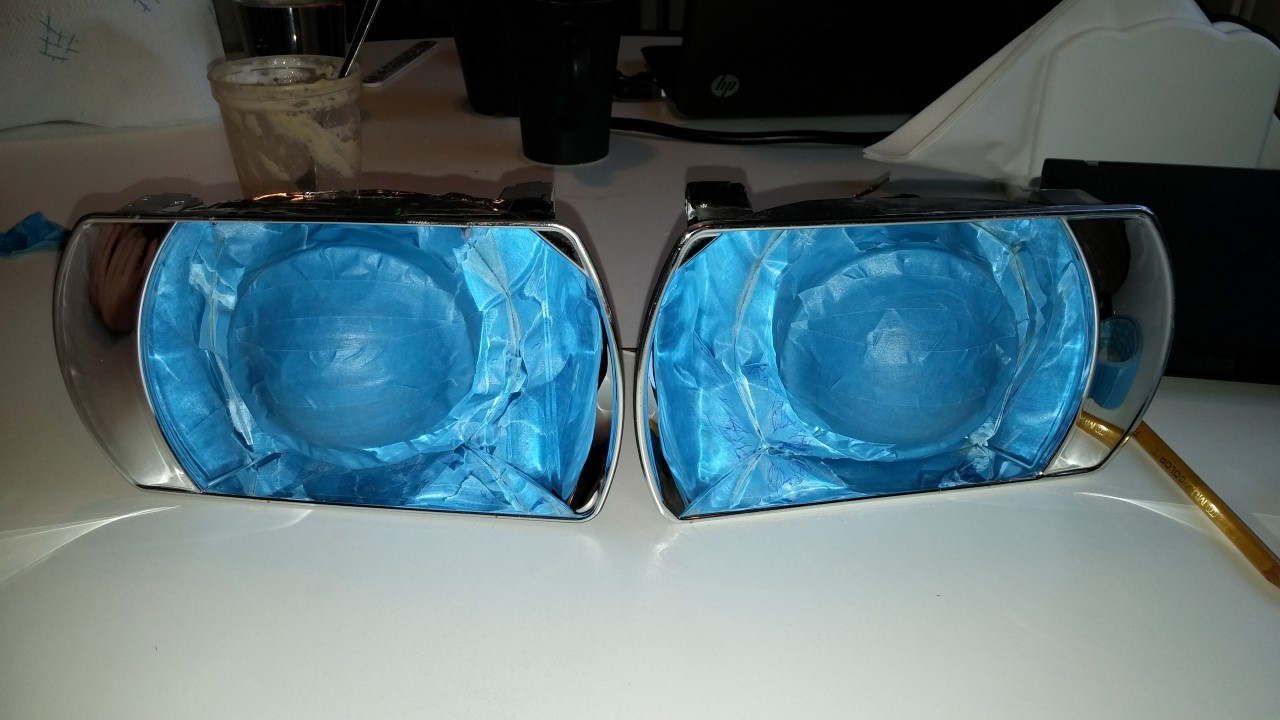 One-piece bezels with holes drilled for the LEDs: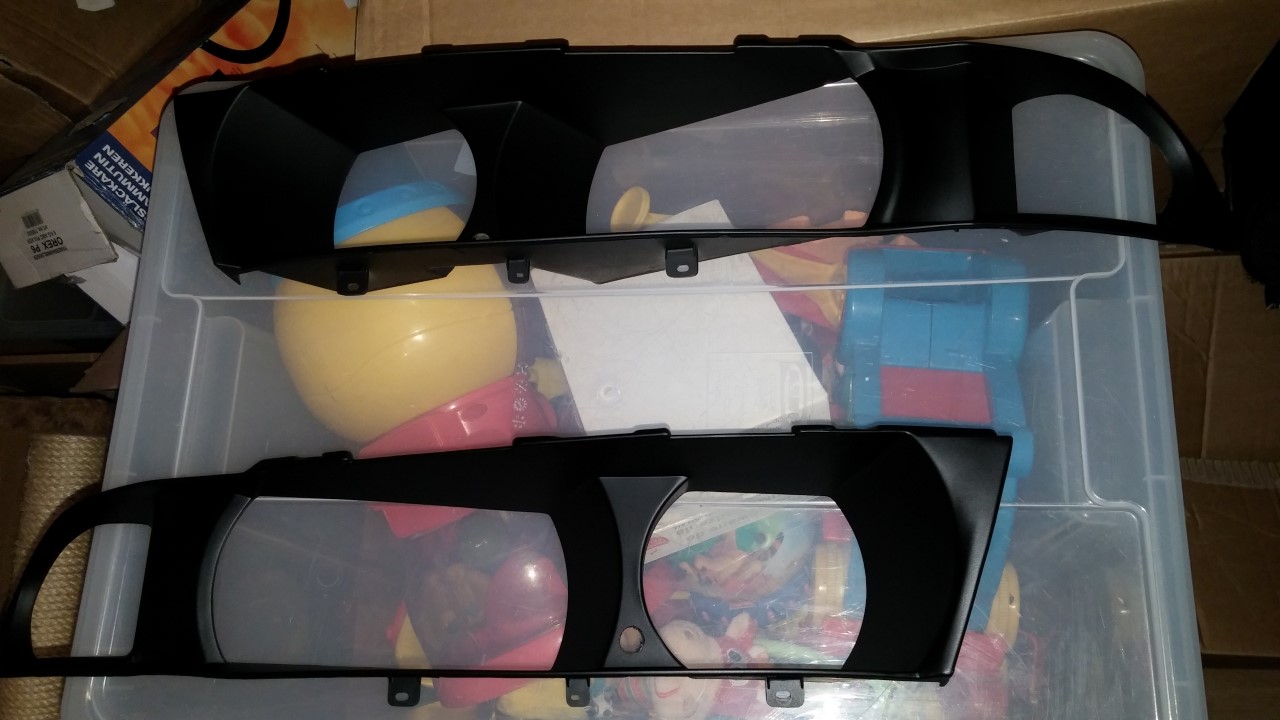 Not the nicest job in the world, but I needed a 10mm hole and only had an 8mm drill bit. The jagged edges will be covered by the LED anyway, so no worries.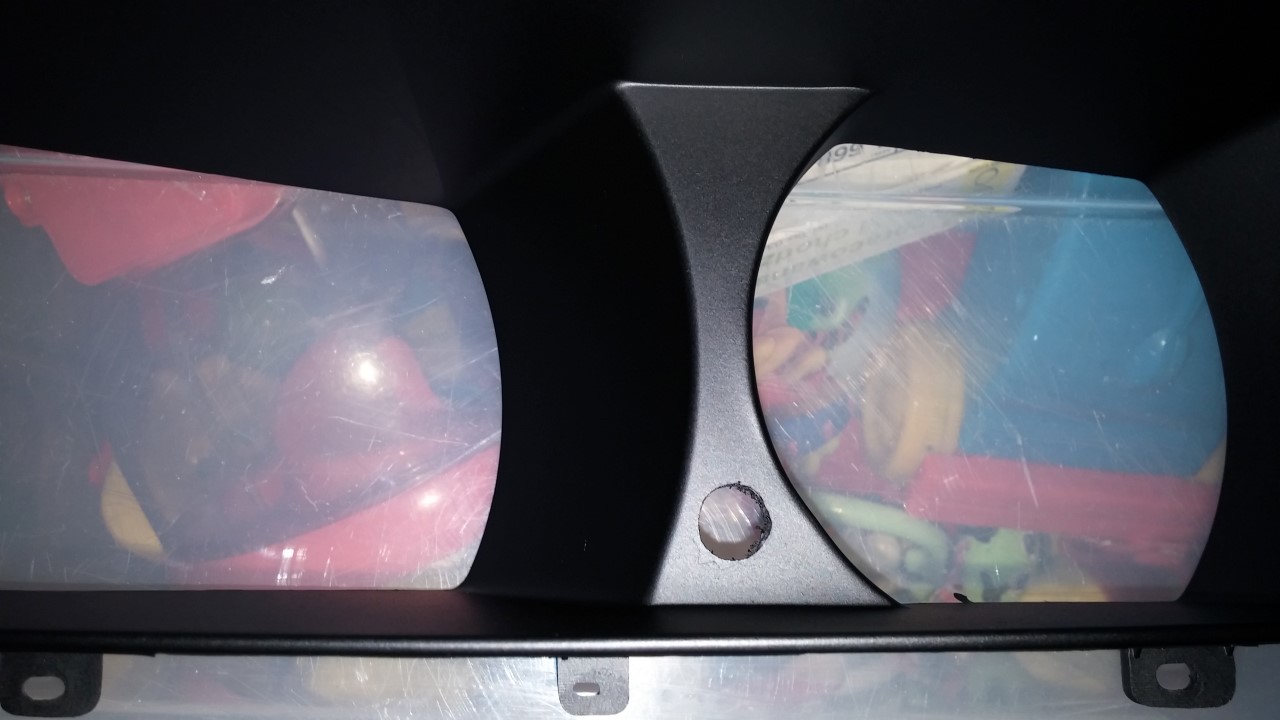 All scuffed up and ready for paint: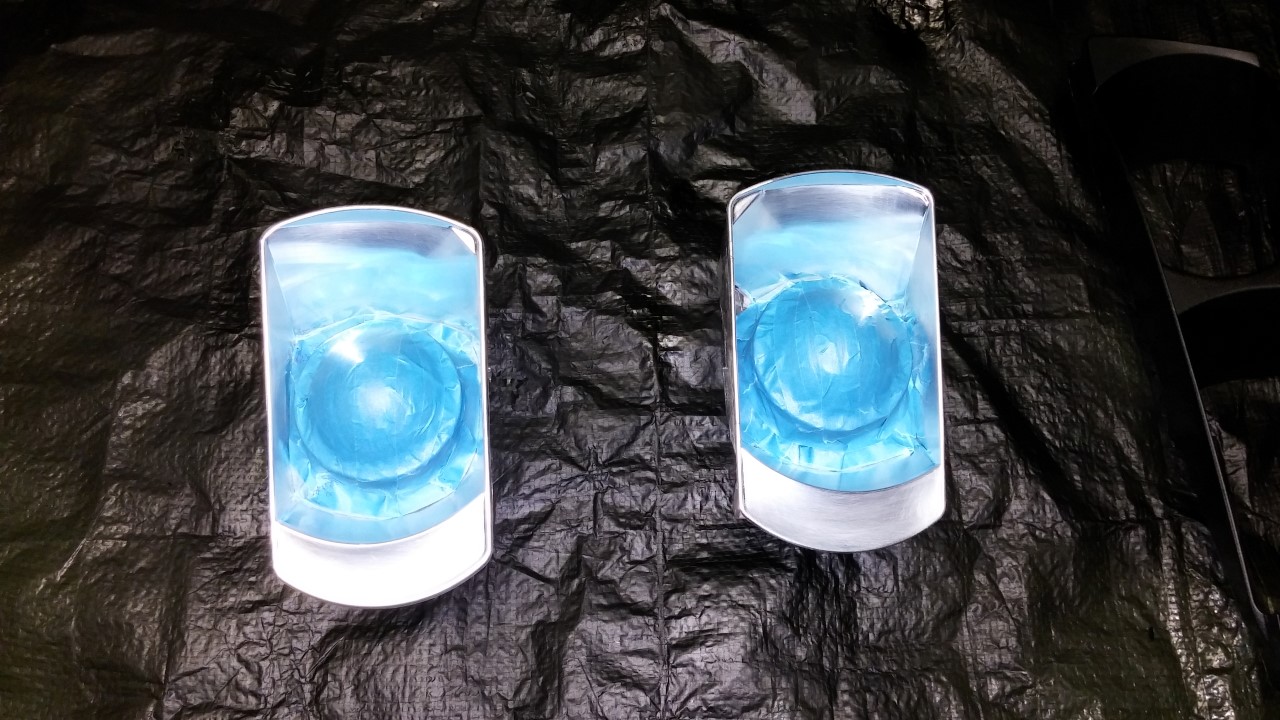 After paint: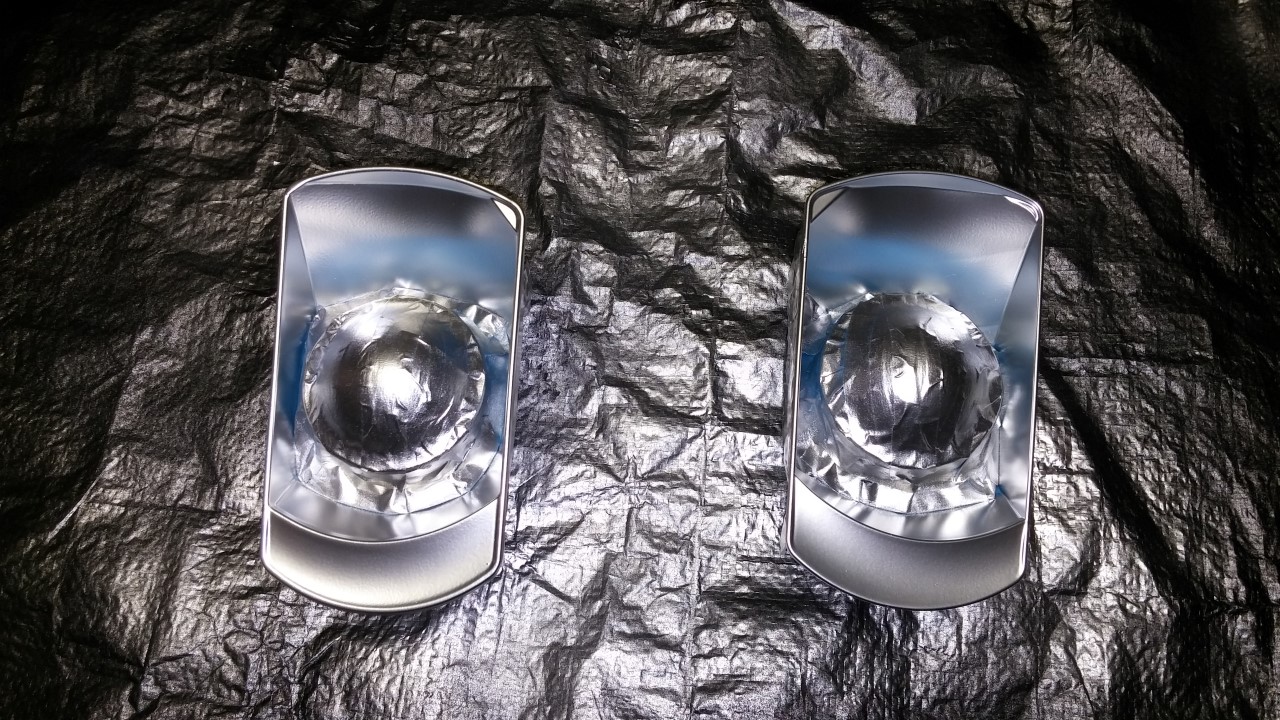 Finished!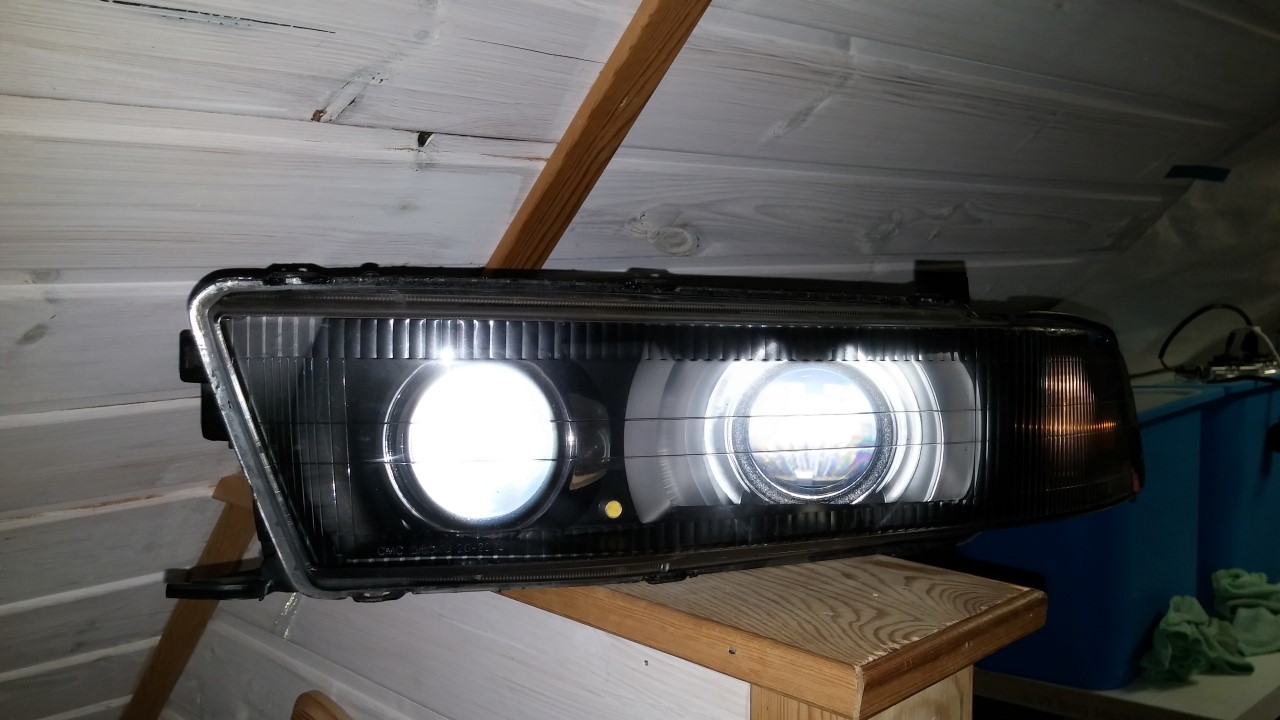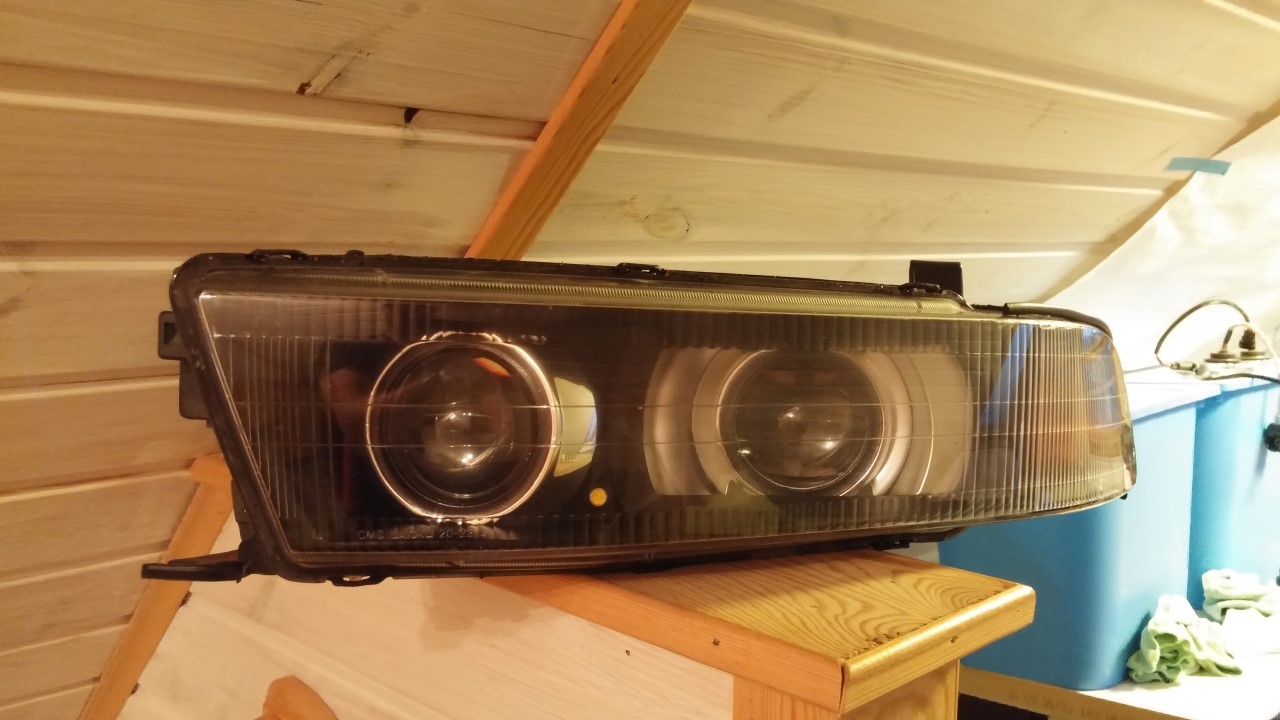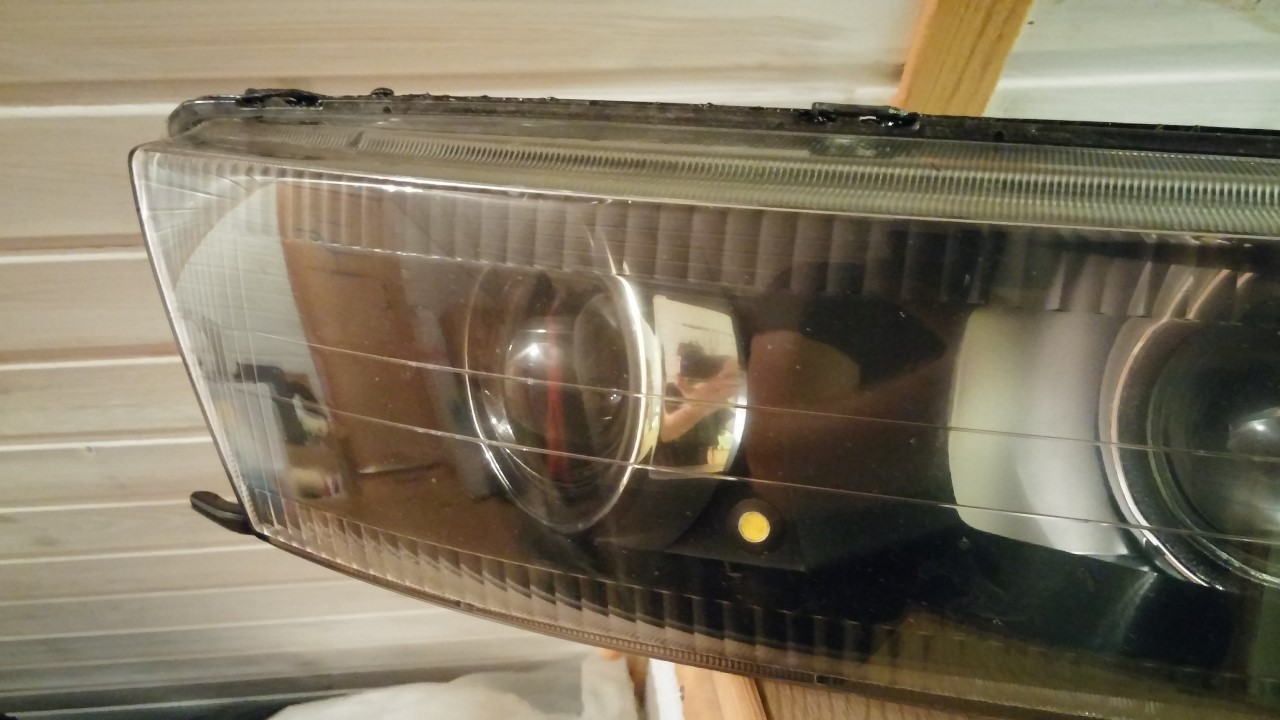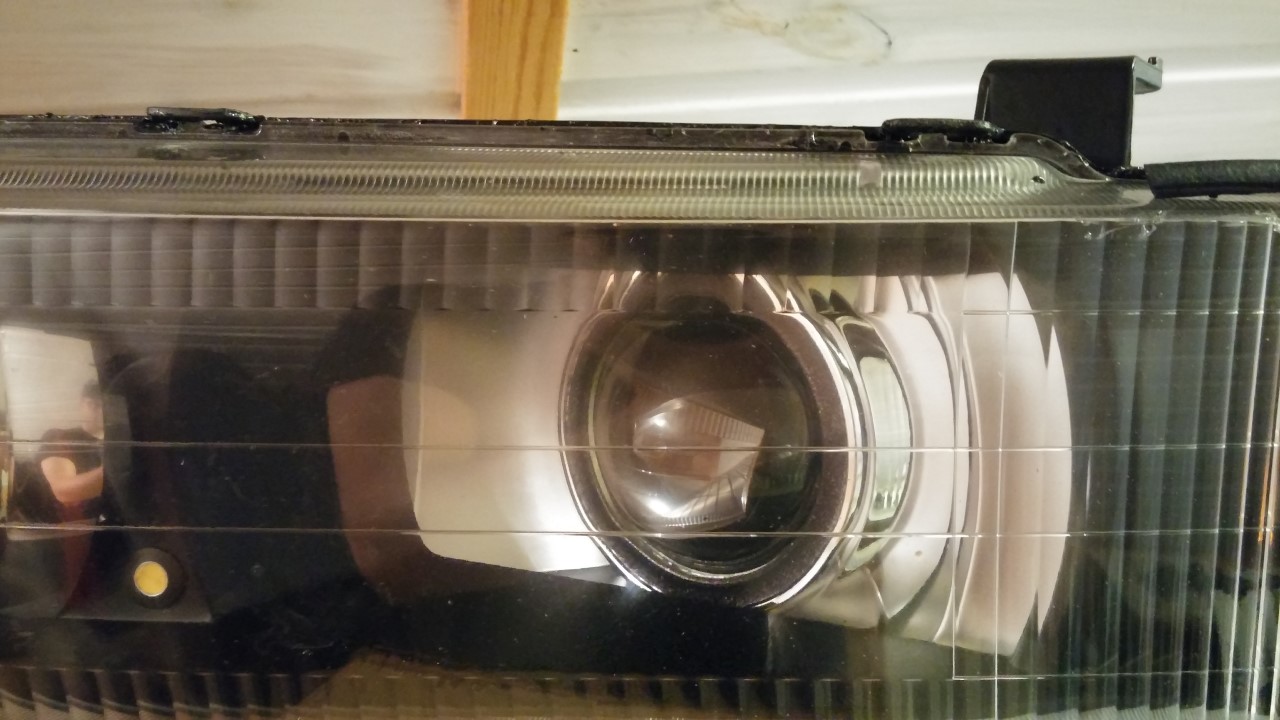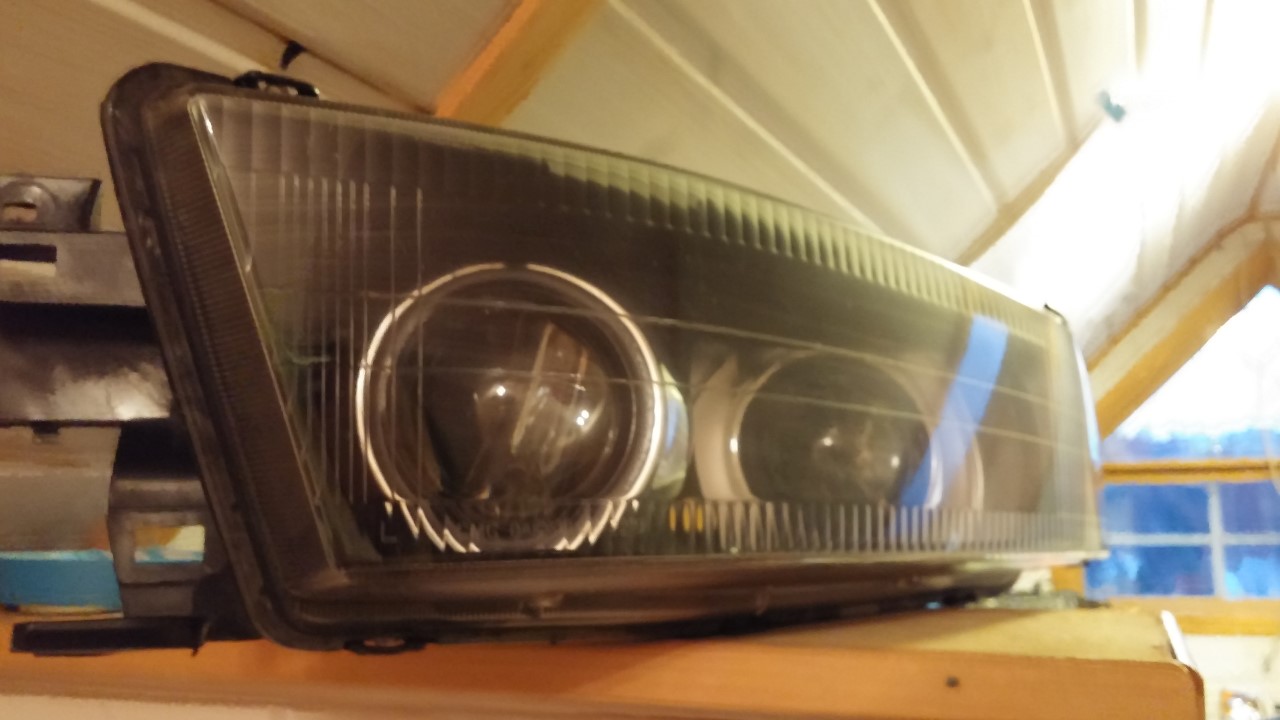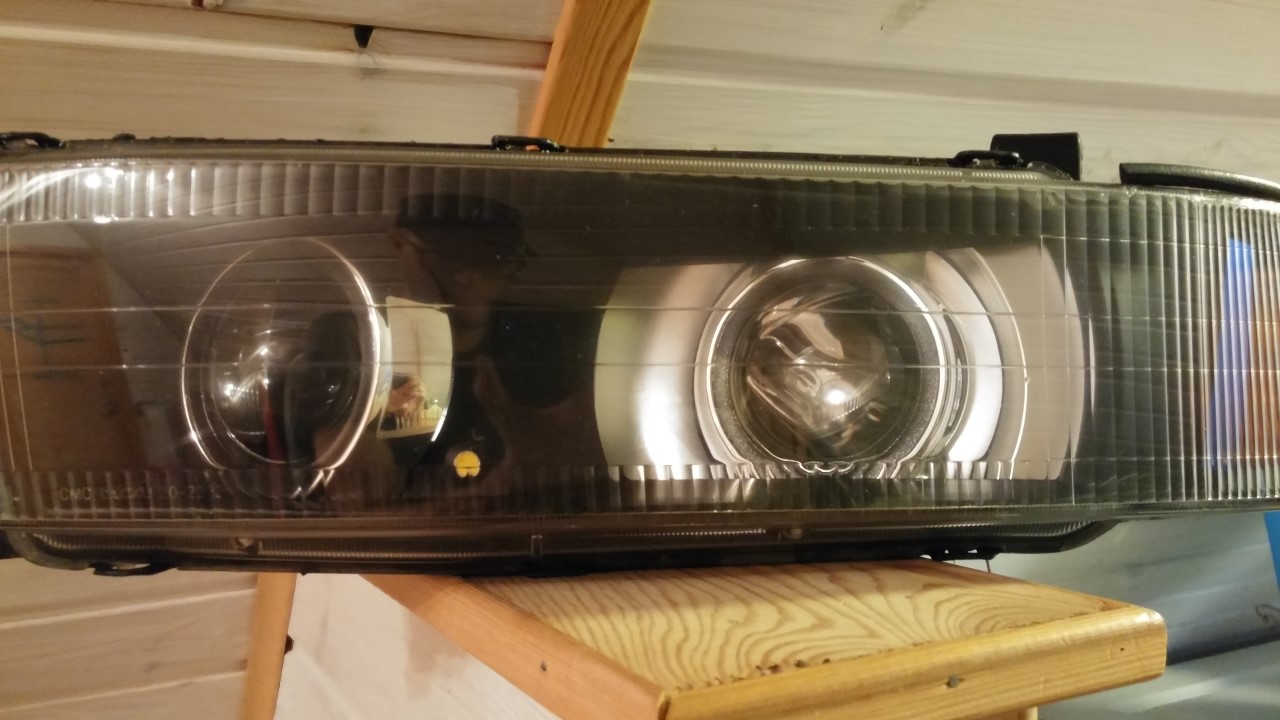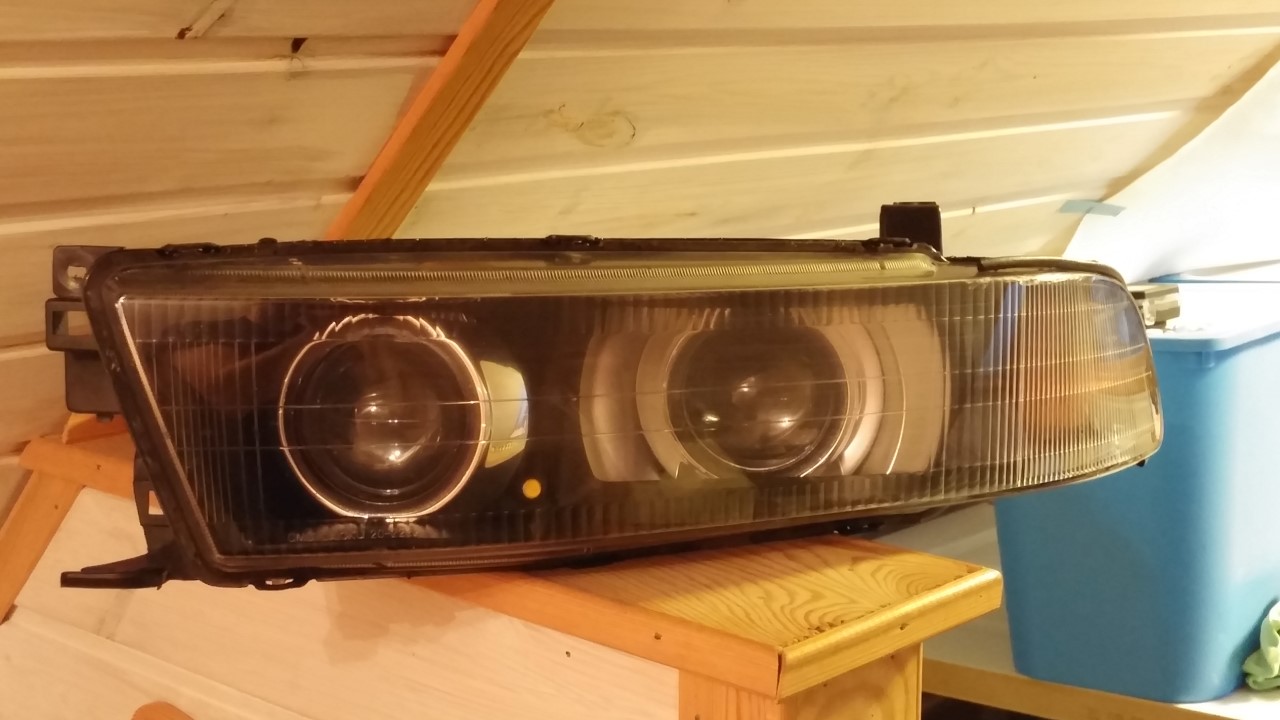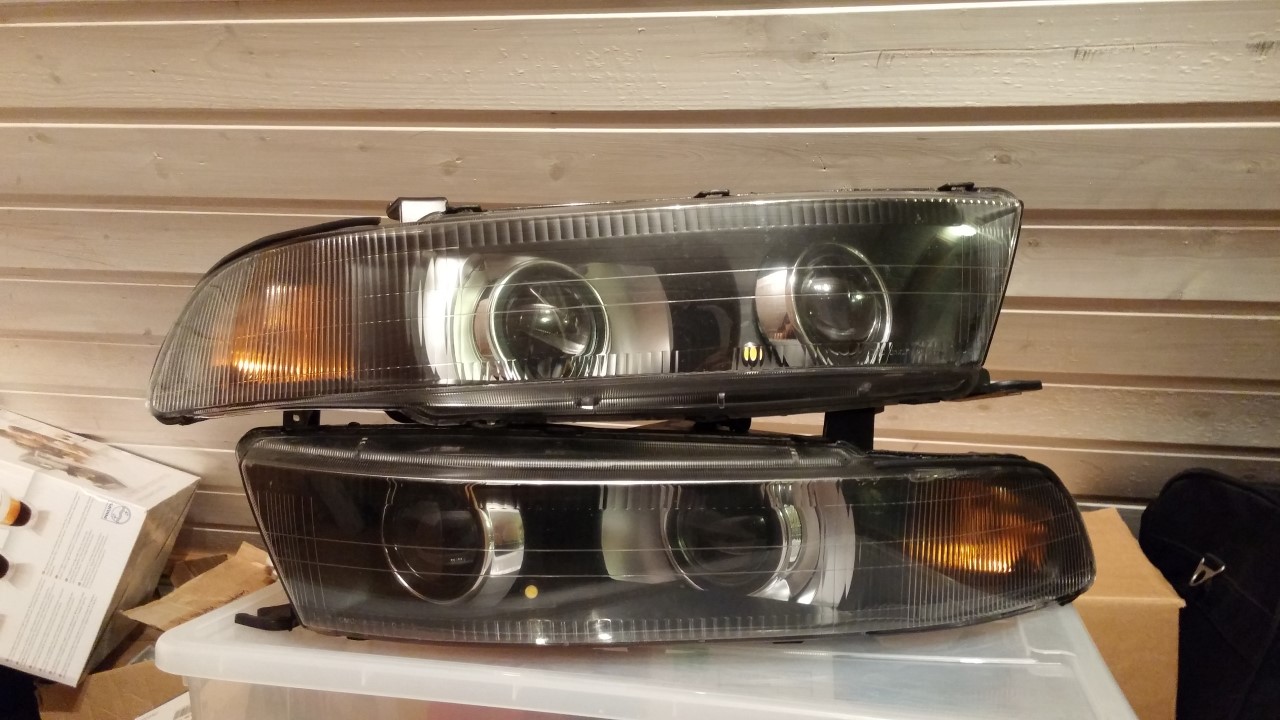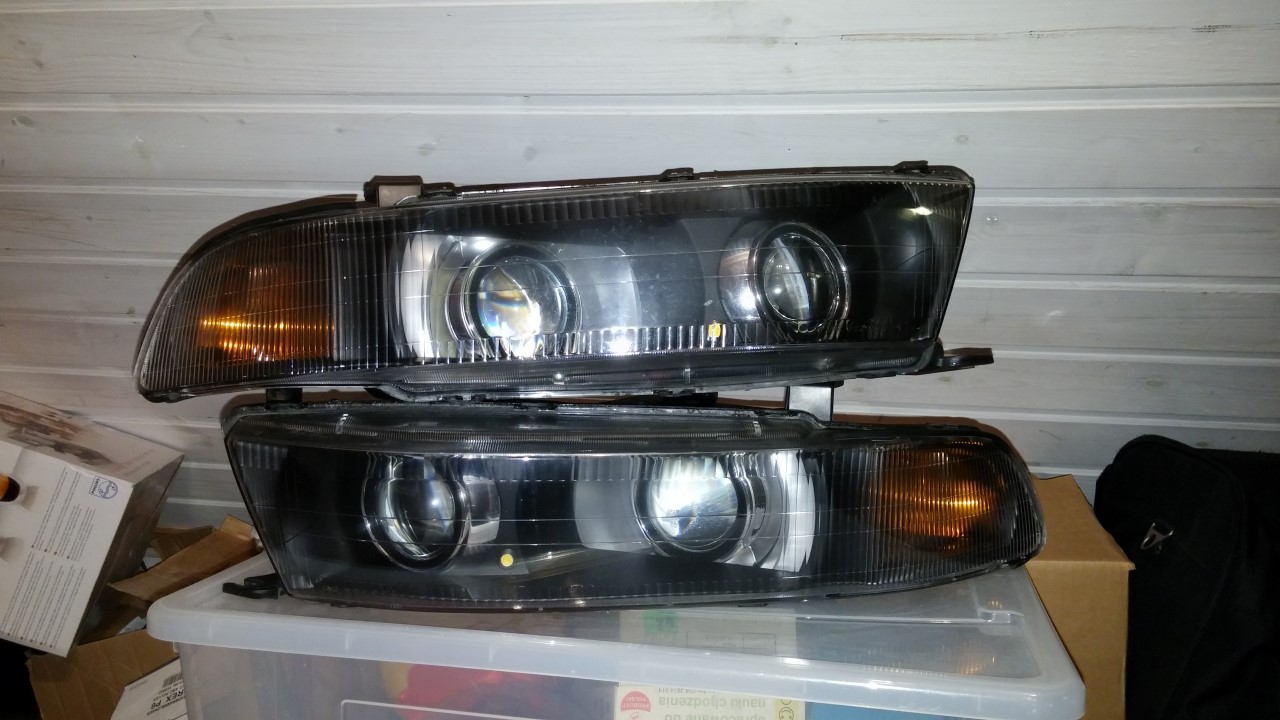 I thenk put everything in the car and drove to meet my friend, who lives about three hours south of where I live, including a 40 minute ferry ride... I hate ferries.
OEM halogen low beam: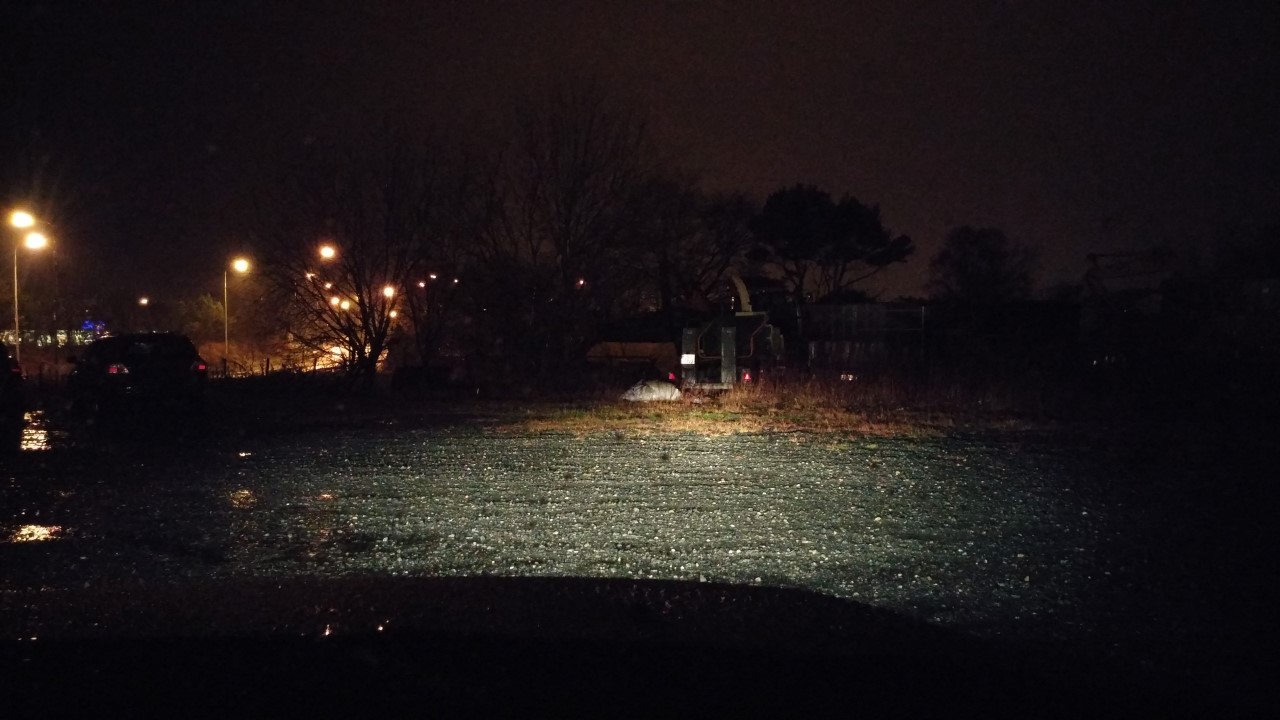 OEM halogen high beam: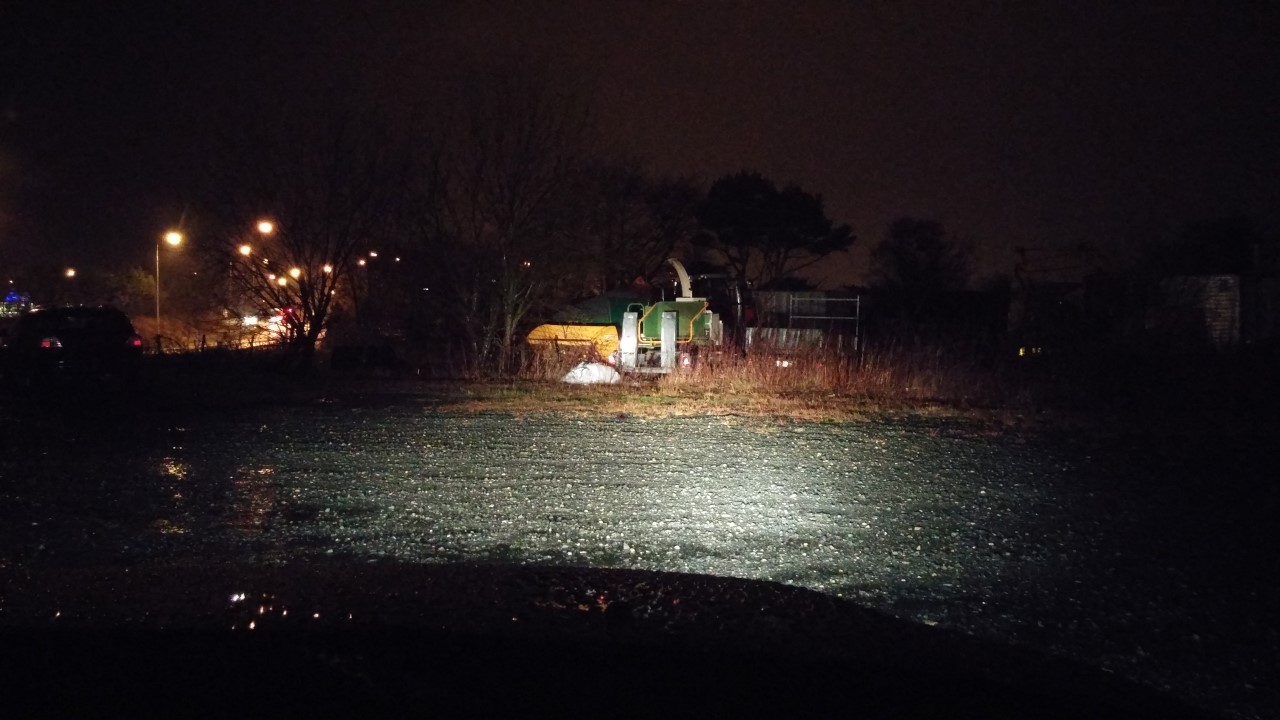 OEM two-piece halogen lights: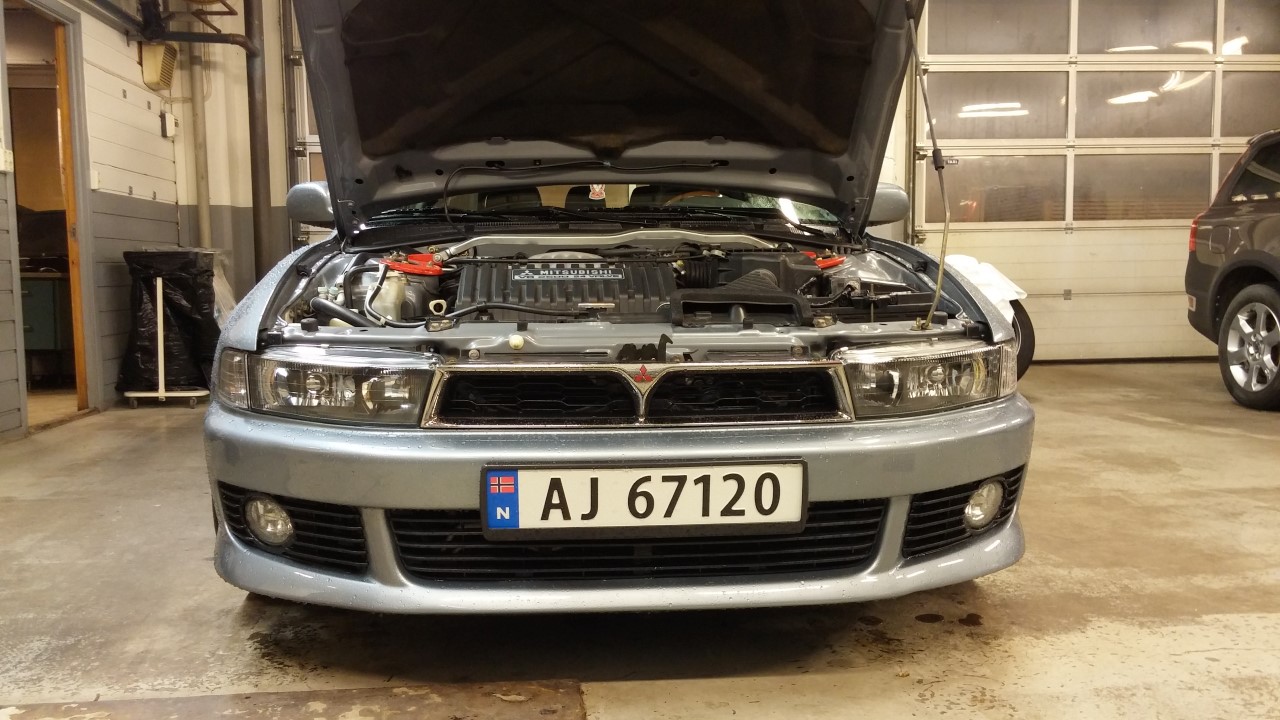 Halogens on (low and high):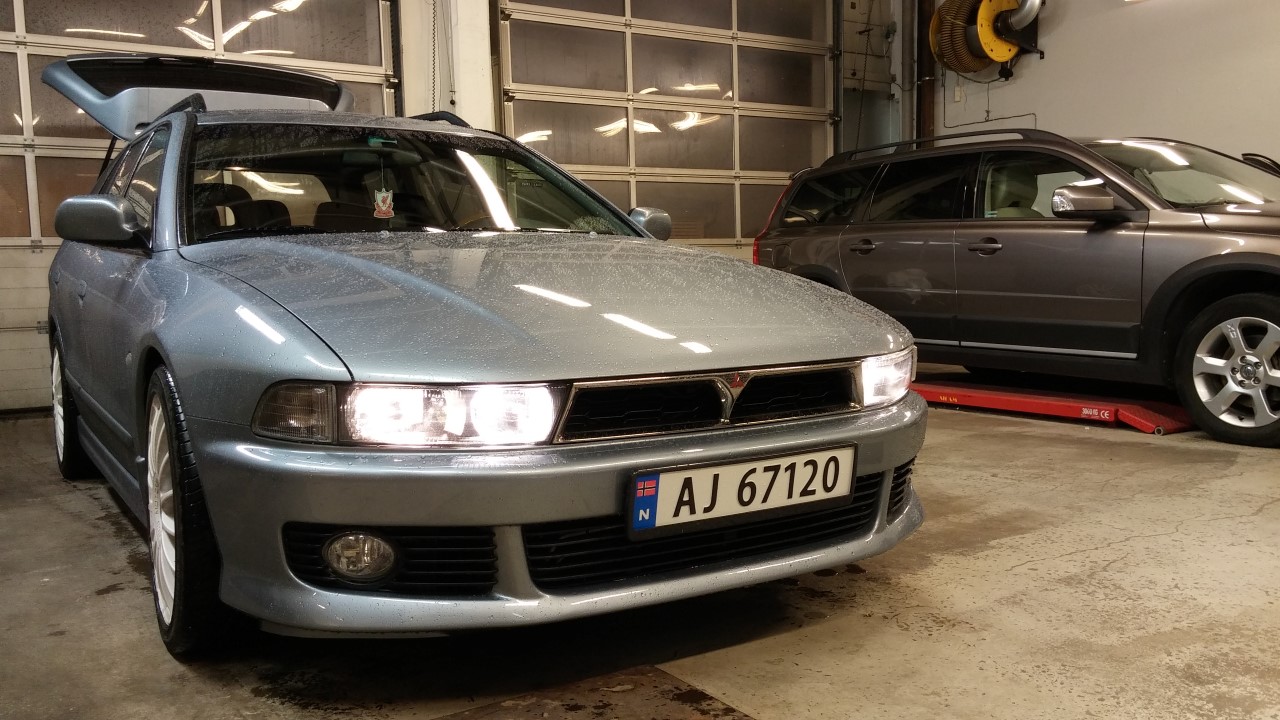 HIDs installed and on ("low" and "high"):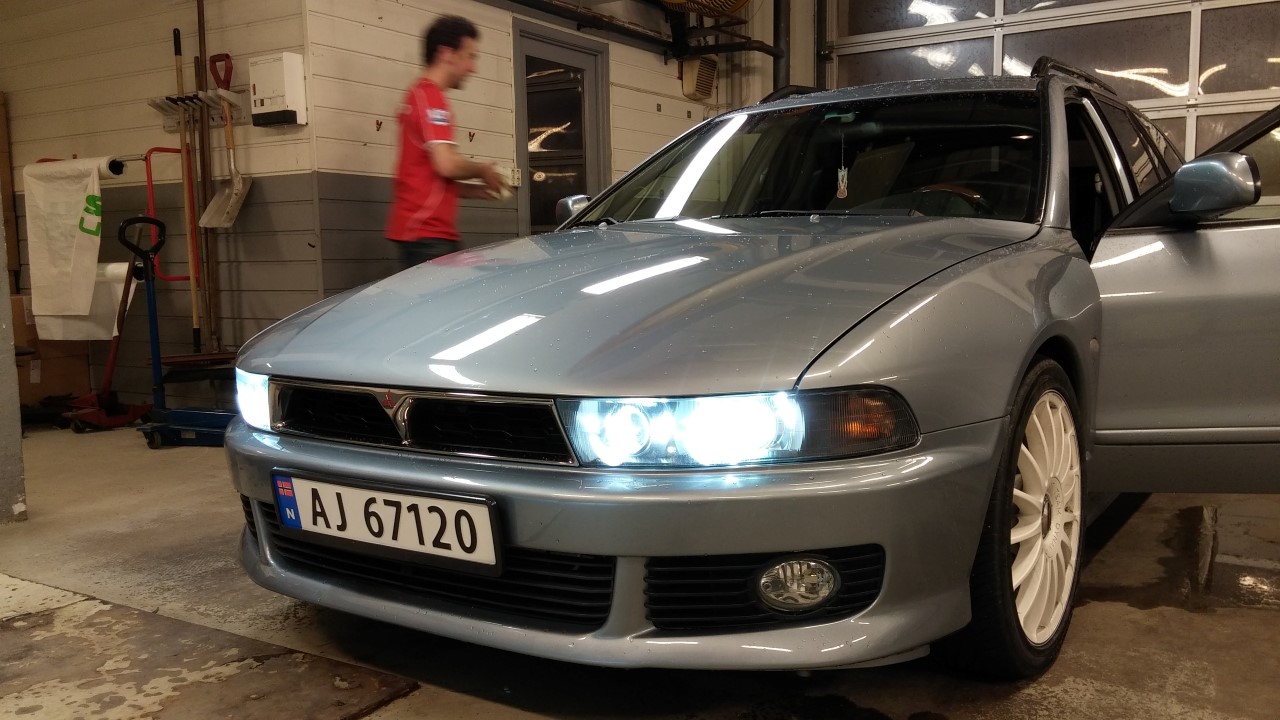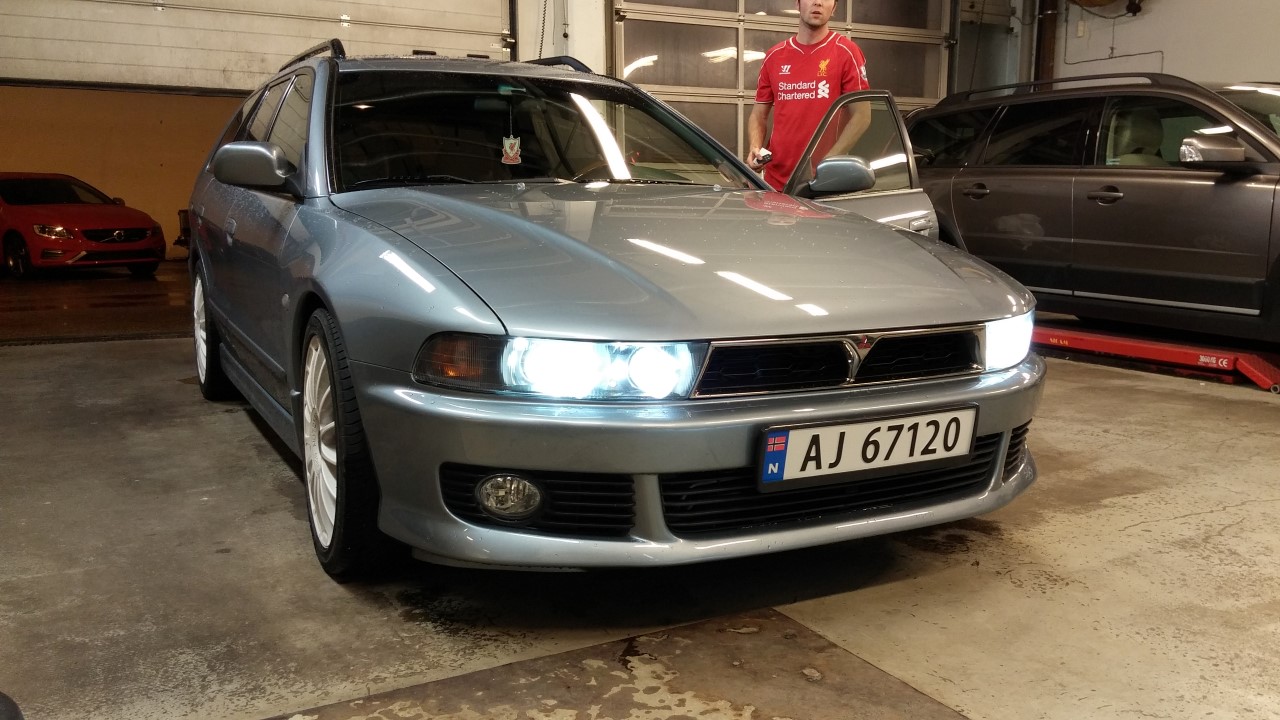 Low beam: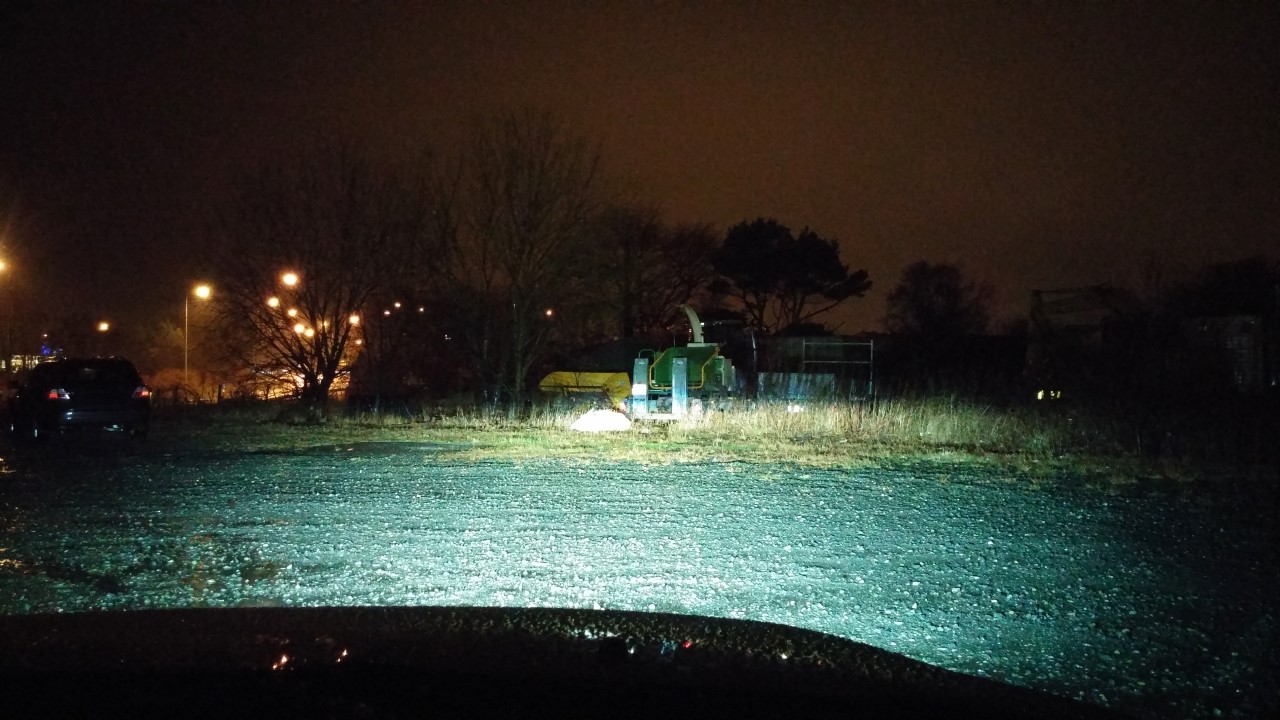 High beam: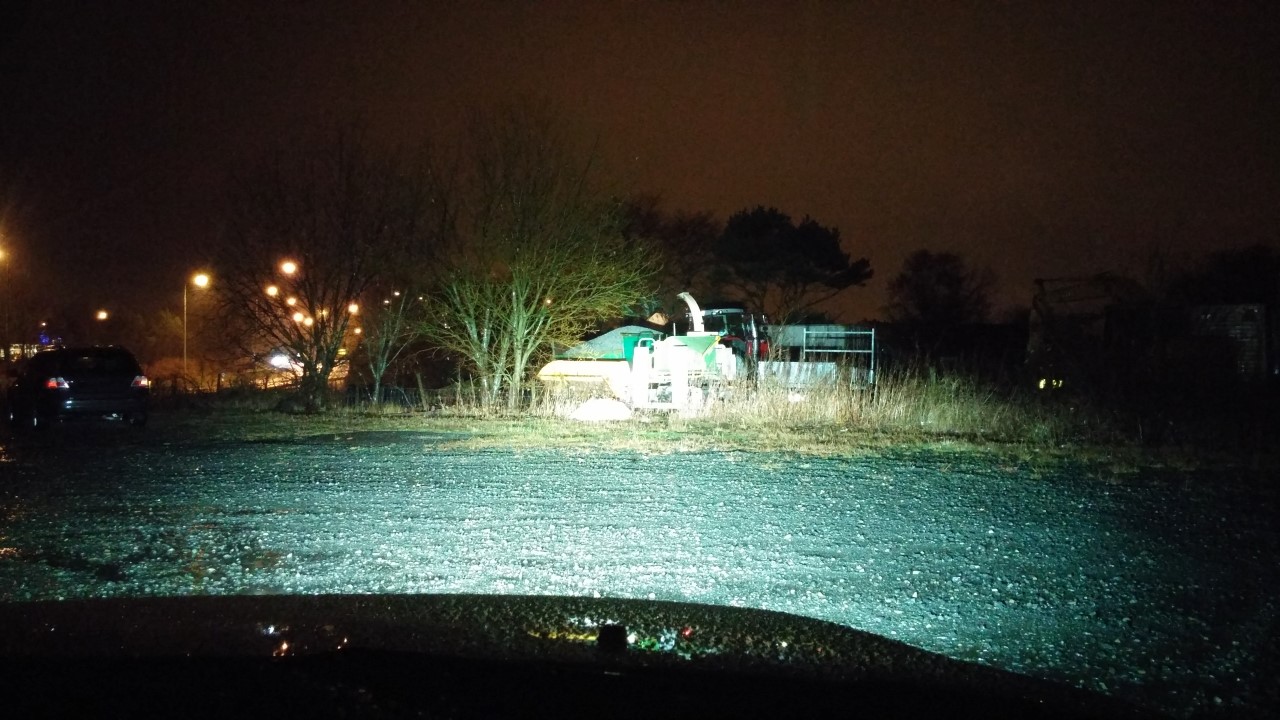 The setup was hooked up as a permanent quad with everything on at all times, but he later receonnected things so that he only runs the outer projectors (Mini D2S) as running lights, and has hooked the EvoX-Rs up as high beams only - basically mimicking the OEM setup. This was what he originally wanted too, but there was some miscommunication in the initial phase of the job; he didn't understand what I meant even when I made him a drawing, and I didn't realize he wanted OEM functionality. If those issues had been cleared up before I started the job, I'd gone with a dedicated low beam projector and a dedicated high beam projector (or the EvoX-R with shield delete). He was extremely happy with the light output in any case.
...and two months after having them installed, he's selling the car. C'est la vie.