I renewed my old TSX retrofitted Mazda3 headlamp now into TL retrofitted.
Below blue writing is side story if anyone extremely bored..
My car got in accident at parking space, when I came back from shopping, lol my retrofitted driver side headlamp was smashed (>_<)
inside was OK, but housing nicely smashed. Ended up almost close to total loss! Can't believe how other driver was doing in parking space...
Impact from driver side, push entire front structure to passenger side, couldn't even open Passenger side door..must have been hard hit.

anyway,,,so body shop called me,,, hey, your VIN indicated that you have halogen housing, why yours is HID hosuing? I said, well, I put it myself. At this point, I knew inside was OK, as long as whatever even halogen housing are obtained, I can swap inside anyway...so really didn't care much.

they said,, but all wiring are altered, extra connectors,,,etc,,,they worked to quote me upgraded lamp. their insurance also said ok. Lucky!

So they tried to find OEM HID housing for my Mazda3 Sedan which was quoted $900(without ballast, bulb)
And their parts shop keep sending them Hatch back model..

Shop said,,,well we can't let you wait any longer, we will glue your damaged housing tab to make it derivable and we adjust quoted price of headlamp, find it yourself.

No hesitation for me lol Plan has changed, with extra budget,, I can find it like $300 range for ok condition used one. ( after all I found it at $213 with ballast bulb all included)
So I got new housing to work on,,,why just install and not retrofit something... there are few TL projectors in my junk box.. story continue...


Needed very very minor headlamp housing extension and some minor trimming to fit TL projectors.
Finished view
Nothing special looking as I only swap inside, no shroud work etc,, all original mount so no need of building mount either.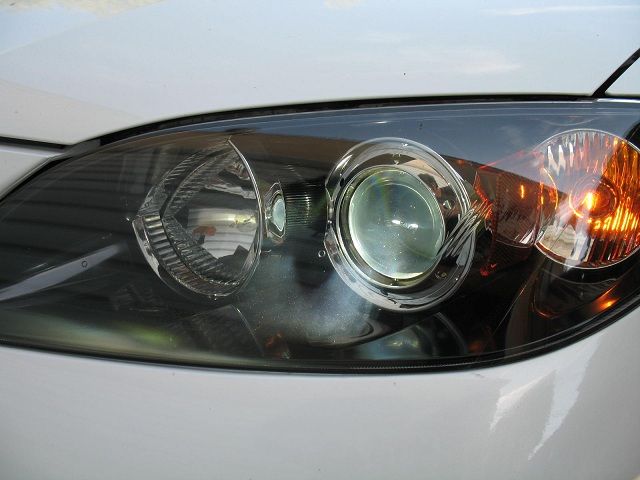 Guts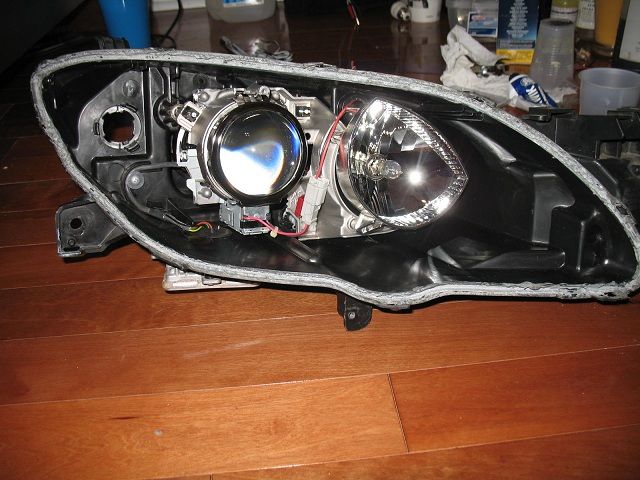 Trimming on projector and mounting structure.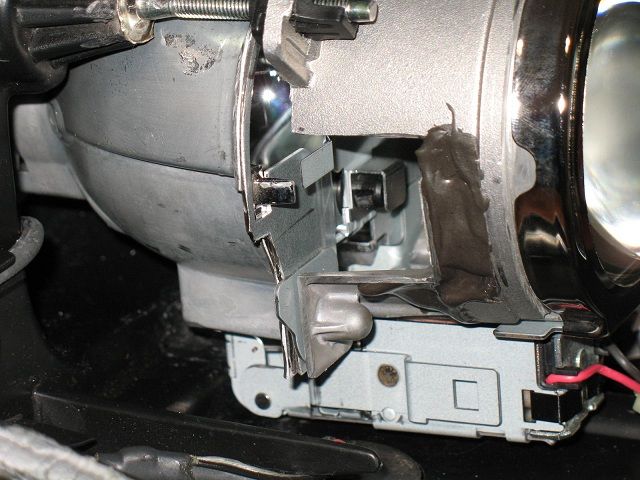 Original Mazda3 shroud? bezel needed part trimmed, but this gave enough space for solenoid clearance and hid it well.
Luckly, Mazda3 uses 3" lens(much high refraction rate and taller than TL lens) Shroud size worked perfect.
Passenger side headlamp housing needed slight extension. It needed about 3mm extra space for solenoid to securely work and better aiming range. As housing material is PP, only method I trust is heat putty fusing with same PP material.
Old housing turned into heat putty lol. Like welding for sealed container, always work from inside.
Bit messy after all, but better than get crack and moisture gets in later on.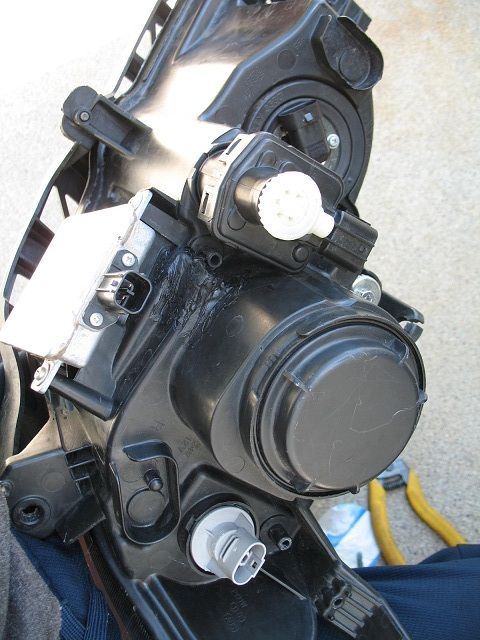 Solenoid wired are arranged into "position lamp socket" US model doesn't come with position lamp(city light) in top part of high beam reflector.
But somehow,,socket is available, housing has cut line, telling me to cut here,,,so this was my solution.
Cut along line and socket goes right in. Socket was cut to as short as it can.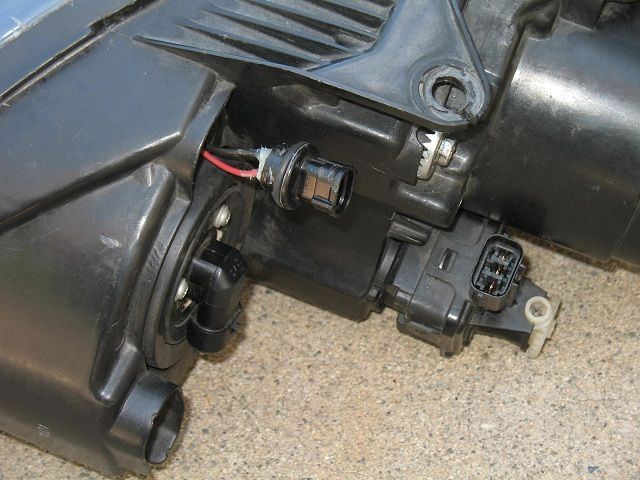 Bit tight fit, aiming range isn't too wide, but just enough.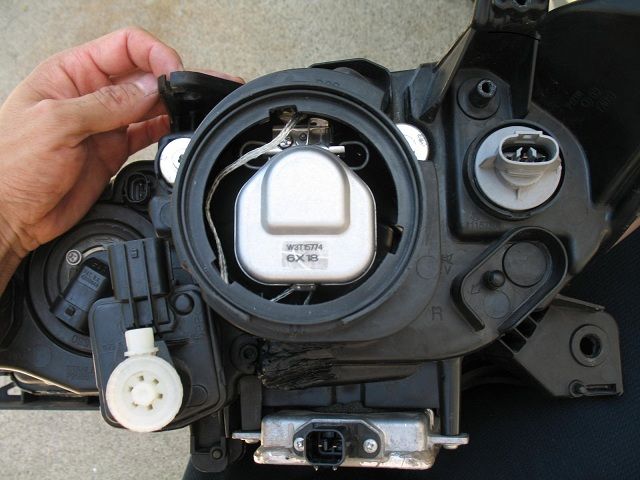 Just like my old ver. TSX retrofitted one, externally, nothing looks different.
wiring was bit of work for me, as I made my own DRL using very much analog hand made PWM dimmer, so couldn't simply tap solenoid trigger from high beam line..
I had to run one wire from junction box which is behind glove box..
Originally my halogen housing Mazda3 didn't have manual headlamp leveling adjust(control height from dash leveling switch dial)
It only came with HID equipped model..(not even auto leveling, just be able to adjust 4 level position by switch)
So I added myself, just hack into 4 position resistance and power and GND.
Long time ago, to make this I run one wire from junction box to headlamp leveling actuator.
Now, knowing I need leveling for HID equipped vehicle(well mine was 06 production, didn't exactly have to have), I took cheap short cut stealing this wire for high beam solenoid trigger.
Because of massive TL projector, aiming range isn't full..with leveling position, 2 out of 4 position is available but can't adjust very low, which I never felt like needed to be anyway..
I ditched leveling actuator control, used it for high beam solenoid trigger. Saved me time running extra wire through.
So my setting now is
9011 40% for DRL 100% for High beam
TL Bi-Xenon Hi/Low
DRL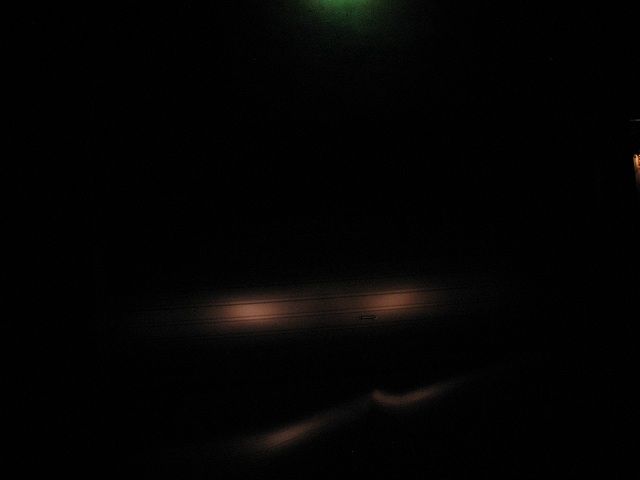 Low
Hi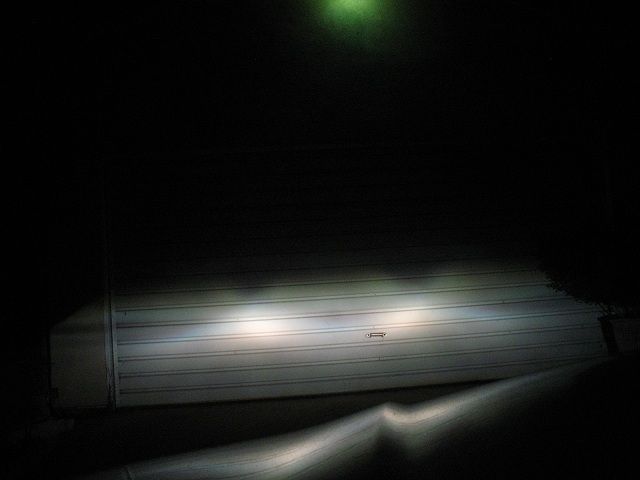 Sorry for only close wall pic so far,, high looks pointing more center but it's because high beam IS inside layout..with distance, line up with low beam elbow point.
For those who first gen Mazda3 owner(factory HID housing), it can be fitted with minor trim, extension work
For halogen model, need more extension work. But can be done reasonably.