Anyone who has driven a f250 superduty knows the light output is pathetic to say the least, this project aimed to change that while giving the truck a new unique look as well. Unfortunately I did not like the look of the aftermarket headlights available so that left redesigning the factory headlights to get that unique look. The biggest challenge designing the headlights was to make them look like they belong on the truck (the aftermarkets do not), thus I drew inspiration off the superchief concept truck; the influence can mostly be seen in the daytime running light LED clusters. The lighting goodness of this project will be delivered by a pair of HID rx350 bi-xenon projectors coupled with a clear lens upgrade, Osram CBI bulbs, and 35w morimoto ballasts.
The f250 superduty is a rigid, durable truck, and I wanted these lights to be the same way. The projectors will be mounted to an aluminum plate to ensure a solid mounting and adjustment mechanism. All electronics will be sealed inside the light creating a single, self-contained unit to insure optimum water proofing and durability. The wiring solution to run these I designed in such a way so that if the headlight unit fails, it is extremely easy to re-install the factory lights; everything is plug and play. The wire harness is also designed to not allow the HID units to be flashed when the headlights are not on, rather a dedicated high beam projector will flash in their stead.
Anyway enough with the introduction, here are the lights I have made.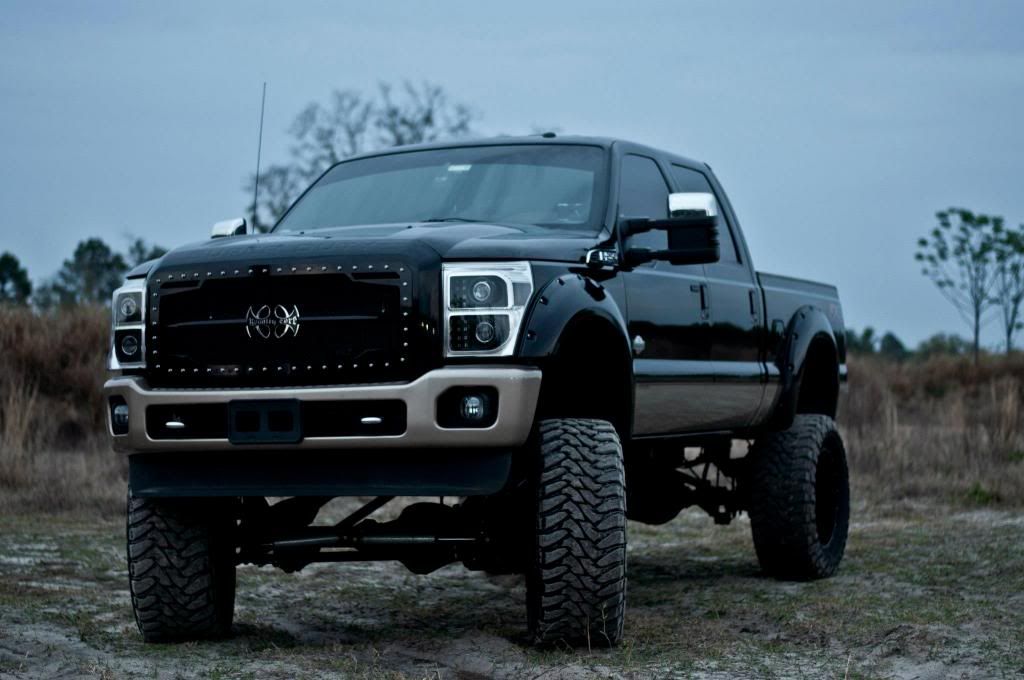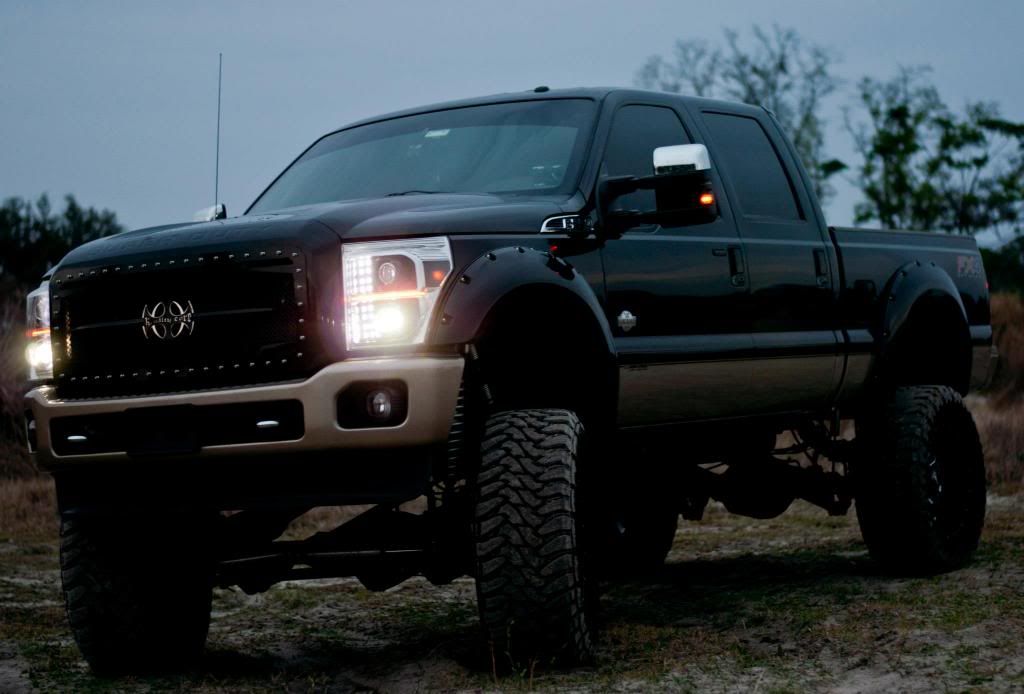 HID Components:

projectors: Lexus rx350 3" bi-xenon with STi clear lenses
bulbs: Osram Xenarc 66240 CBI
ballasts: Morimoto 3FIVE ballasts

Turnsignals:

led's: 30x Cree P4 70deg Amber (each side)

control circuit: custom built PWM circuit using 555 timer, credit goes to this guide: http://www.doctronics.co.uk/555.htm circuit #4
turnsignal LED stip functions for both the parking lamp (dimmed by PWM) and the turnsignal (full brightness)

DRL LED Array:

led's: 32x Cree P4 60deg White (for each side)
custom etched boards for each array
wired to switch in cabin

Highbeam Projector:

hybrid of Morimoto mini h1 front and Acura H11 mdx bowl
resulting optics allow for light to be "thrown" slightly above low beam
mostly intended as a "flash-to-pass" when low beam HID's are off

Shrouds:

custom designed in ProE
3D printed on a Felix printer (http://www.felixprinters.com/)
printed with white 1.75mm PLA plastic
bondo work to correct imperfection from printing
Painted black using Dupli-Color Black Acrylic Lacquer

Wire Harness:

dedicated wire harness for each light
dual relay to not allow HID's to be flashed with the high beams when the low's are not on; reference: http://www.hidplanet.com/forums/show...flashed-on-off
16 AWG wire
6A diodes
15A fuses on each harness
single plug and play solution to the headlights

Table of Contents

Thank you for looking, feel free to share your thoughts. Here it the link to my photo album, it contains additional photos not found in this thread.
CLICK HERE for more photos!