My daily ride is 00 Maxima SE 5 Sp. I like the car, got good mpg, plenty of room for the kids, cheap to own, and has pretty good power too ( VQ30DE ). Bought the car 2.5 years ago and the only thing I did back then was lowering it using Tein H-Tech and new KYB GR2 Shocks. Lowered about 1.7" front and 1" back. Coming from Honda world, the only thing that I hate about the Maxima is the handling, especially for 13 years old car with 150K miles on it. My wife 2012 Sienna can corner way much faster than this floaty boat
Well, late summer this year I finally said this is enough and I need to start improving the handling.
1. Decided to add Addco Rear Sway Bar and changed the leaky Rear Trailing Arm bushing with Energy Suspension Bushings since I have rear wheel hop when you hit the bump or during high speed cornering.
I'm glad I bought spare OEM bolt and nuts since I stripped the lateral link nut when torque it to 83 ft-lb. I couldn't get the driver side TA pivot bolt to torque to spec, but I think it's close. I don't have tall enough jack stand and my torque wrench has 2 feet lever, so it was hard to manuver around. I bought extra SuperLube and lubed the brackets and the outside wall of the RTA bushings. I didn't even have to hammer in, just give it a good push and it went right in nicely. I didn't need to use torch to remove the rubber either. I used sharp serrated blade and walked around it few times till it was separated, then I used long screw driver to wingle it around till it pushed out. Once I took the metal retaining ring, the rubber just felt apart. I didn't lube the OD of the bushing since the instruction said not to do that. I did put a little at the lip just to get started. I used C-Clamp and PVC extention and worked real nice.
Yep.. This is pretty much what the rear suspension is minus the struts. Pretty basic..or I should say...sucks! All 4-5.5th gen Maxima and some Sentra use this same principle.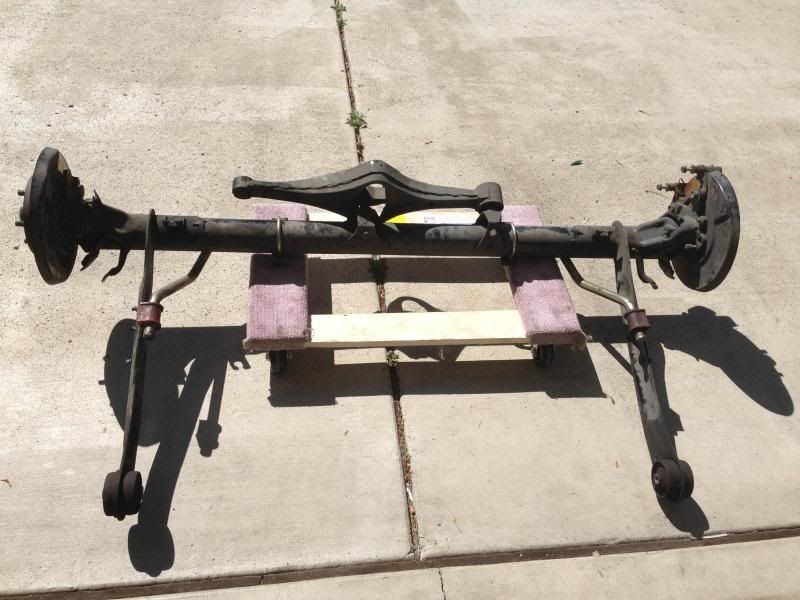 It's leaking but it wasn't as bad as I thought
I used these to get the center core out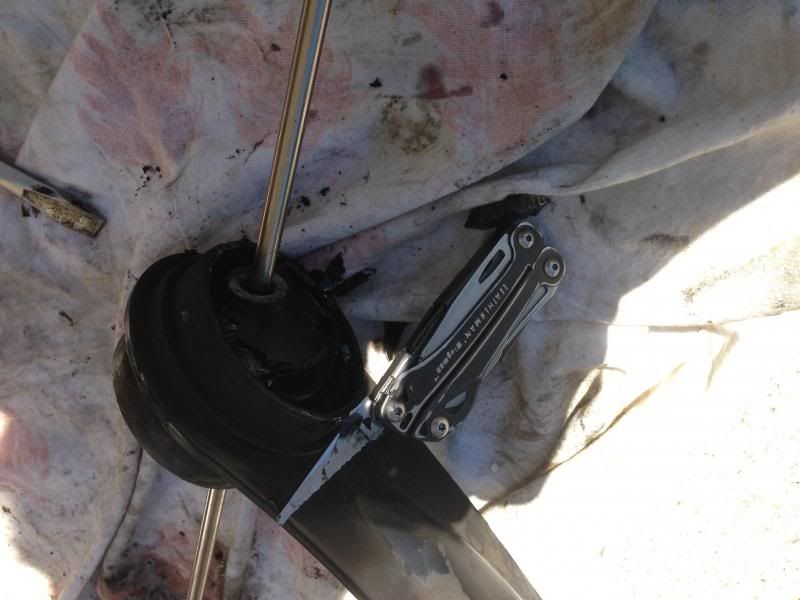 This was what it looked like after the metal rings were take out, pretty clean actually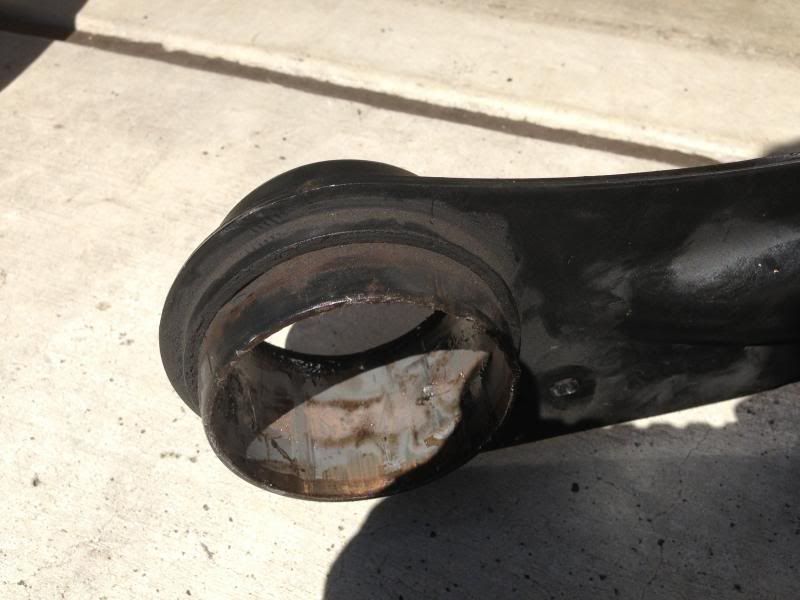 Grind the lips
Pressed in new bushings
Driving impression:
The Rear Sway Bar is helps alot during high speed cornering. The weight tranfer is reduced thus the body roll is also reduced. With the new ES bushings, I can fell every bumps, crevices, rocks, etc it was kinda weird at first. Going to rail road crossing was also bumpy like airplane turbulance sort if. The best part about the ES bushings is that no more wheel hops over bumps and corner dips. Going 35 mph on 15 mph hair pin wasn't so scary anymore. It is actaully oversteer a little now...but maybe that's just my perception. The front still feel sloppy, but I hope that would change when I replace all the bushings with every available ES.
Now that the rear end is healthy, I moved to the fronts.
2. Replaced stock worn Front Sway Bar bushings with Energy Suspension (ES) bushings and MOOG Sway Bar End Links. The steering respond on my max is horrible, there are tons of play and the car doesn't track straight when you floor it. Car also exibit clunking from worn sway bar end link. The Moog End links are heavy duty, thicker than stocks plus it has grease fitting.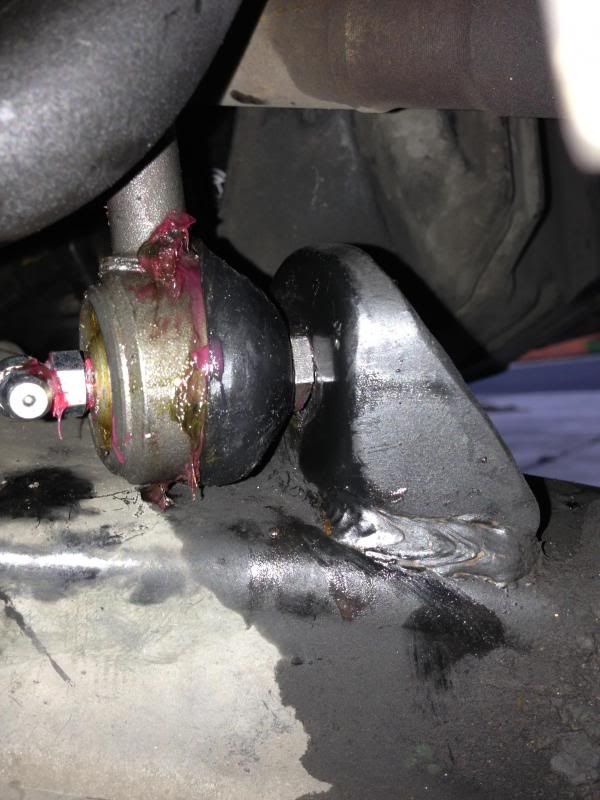 3. Replaced the stock sub frame bushings with ES.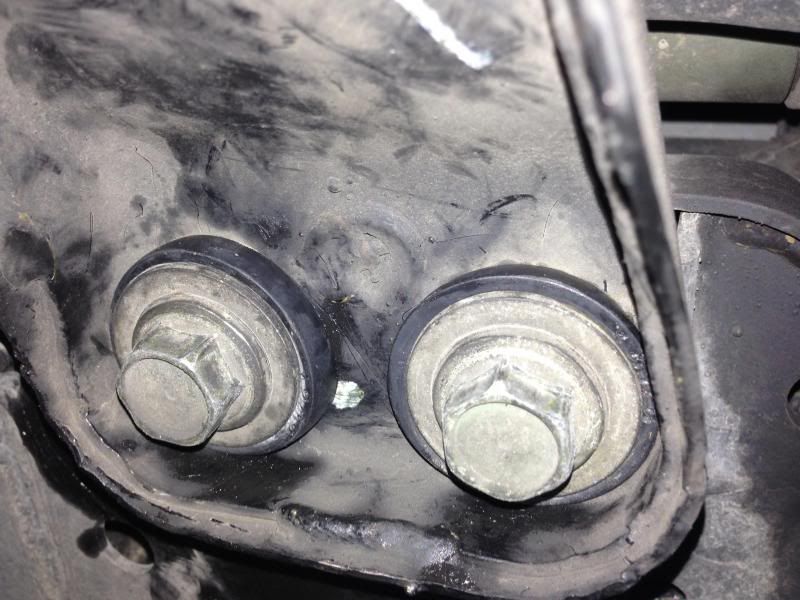 Driving Impression:
The Moog End Links and ES Sway Bar bushings helps to stiffen the front end a bit, especially the steering respond. It is noticably better but not to my liking yet. It also helps the car track straigher too under heavy acceleration and braking. All of these helps make the car feels more solid. The ES sub frame bushing didn't helps much IMO.
So far, I'm not seeing night and day result. The RSB was close, but I wanted more. Even with all of these mods, and stiff strut/spring combo I still have body roll that is not to my liking. I started to think about stiffening the chassis. I decided to attack the Lower Control Arm(LCA).
4. LCA Brace. The left and right control arm pivots can be subjected to high stress under hard cornering that can flex the pivot. This changes the wheel suspension geometry that results in camber reduction and overall weight transfer (body roll). Armed with used, cheap HF Welder and tube bender, I started to fabricate my own LTB ( I couldn't buy this anywhere, other thatn Ebay ones that I thougth was overpriced for what it is).
Made a template for the front LCA bar out of thin plate. They are not as simple as the one on the back. The pivot is angled at 2 different planes. With this template, I'll make the real one out of 1.5" X .75" X .085" tubing. Really wish I have tubing bender.....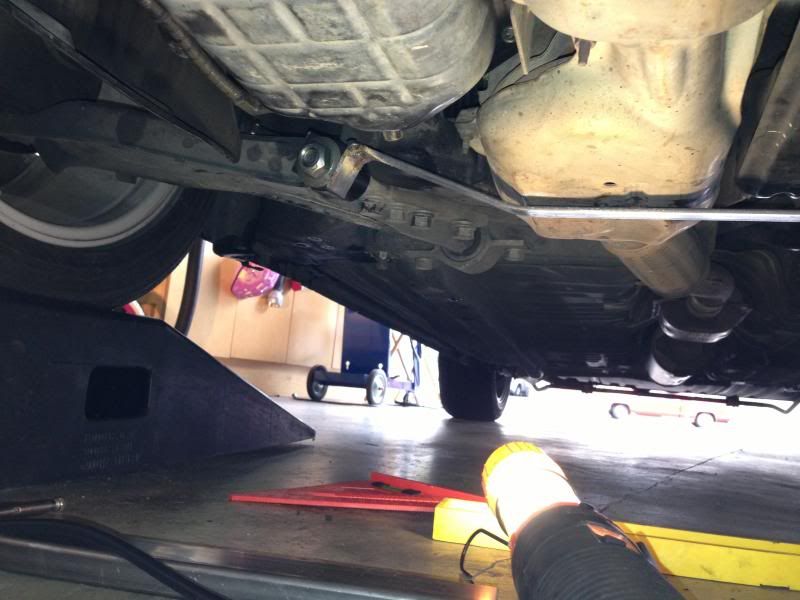 Once the template was done, I started to make the real bar out of 1" tubing x .095" wall thickness.
The red background is because my welding screen.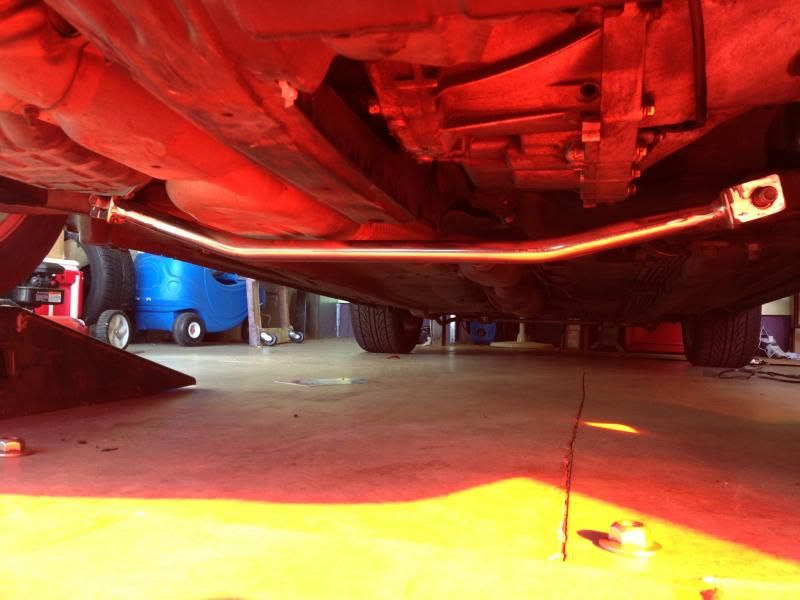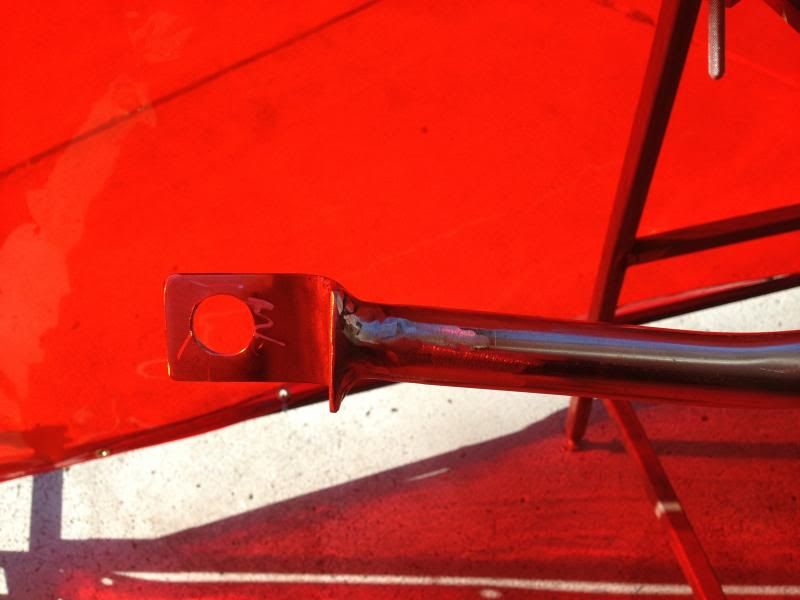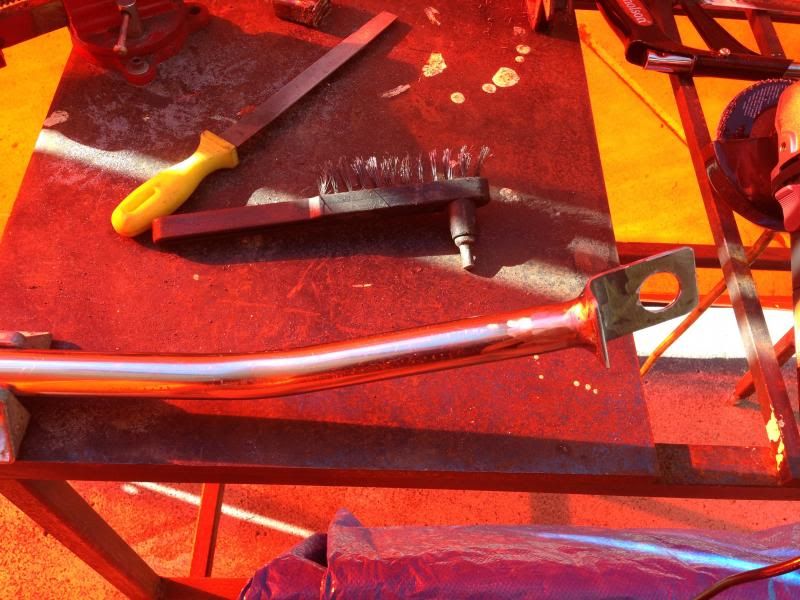 I added a second bar behind the LCA mount to "box" in sub frame that hold the suspension, engine, and tranny.
Changed the color to RED, it's going to add 10 mph
.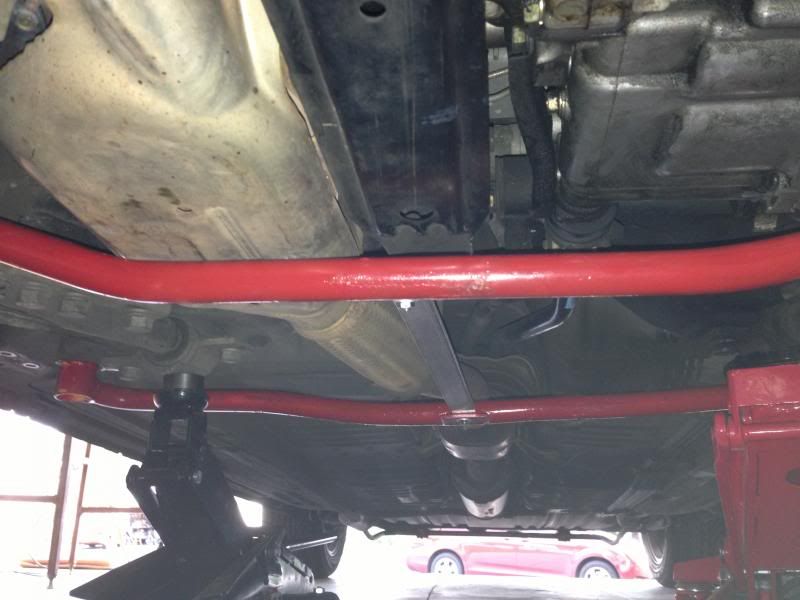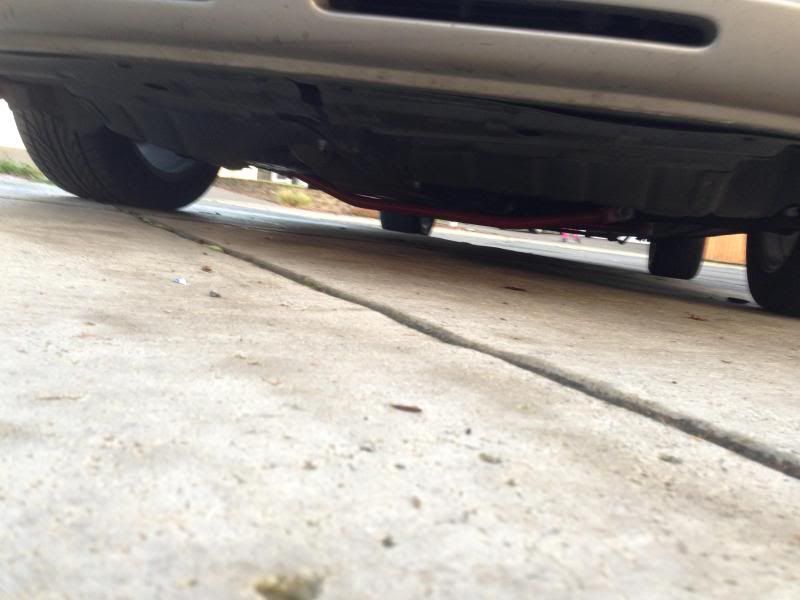 5. Front Tower Strut Bar (FTSB). The FTSB completes the "box' in structure of the front end compartment. It helps to stiffen it up in conjunction with LCA Brace.