Sorry for making a new thread as my first post, but I feel like I have a pretty specific set of questions. If I'm wrong then you can lay into me and I'll understand completely.
I asked on my350z.com but I figured people would be more knowledgeable here for lighting questions.
Anyway, I just installed new (used) OEM '03-05 headlights on my car to replace my headlight which shattered when my brother hit a deer when using my car
. Now, let me just say first that I never noticed any issues with my old lights, but I'm not happy with the way these new ones are working for me. My 350z is a 2003 touring edition, so it has D2R HIDs for the low-beam and halogens for the brights.
I'm not sure if "hot spots" is the correct term for the issue I'm having, so please correct me if that's not the right terminology. The cutoff (at least to me, a noob when it comes to the world of HIDs) looks pretty poor when looked at from 10' back (pictured), but when I drive, the low-beam seems perfectly fine. The issue I have when driving is with the high-beams. The road is lit up very well, and I have no issues seeing where I'm going, but there are two concentrated parts of light that are shining either down on the road or up in the trees depending on how the lights are adjusted (I have the lights adjusted to about 26" vertical from 8' back. This makes the hot spots shine into the trees. When they were set to 24" they were definitely too low; I couldn't see far at all).
Are these "hot spots" caused by the bulbs, the lenses, or the housings? The bulbs I'm using are the same bulbs that were in my previous set of lights, however I didn't realize at the time that you weren't supposed to touch the glass on the bulb. Now, I didn't intentionally touch them, but I'm thinking I may have done it by accident, not knowing to stay away from them. The plastic covers (are they still called lenses?) on the housing are in good condition, better than my previous lights. I have not opened the lights to look at/clean the glass lenses for the projectors.
So what's most likely causing these hot spots?
Hopefully I explained what I was trying too and wasn't just typing gibberish.
Here are some pictures. Mind you, these are taken against a yellow garage door which is why the lights look so yellow.
Low-beam
High-beam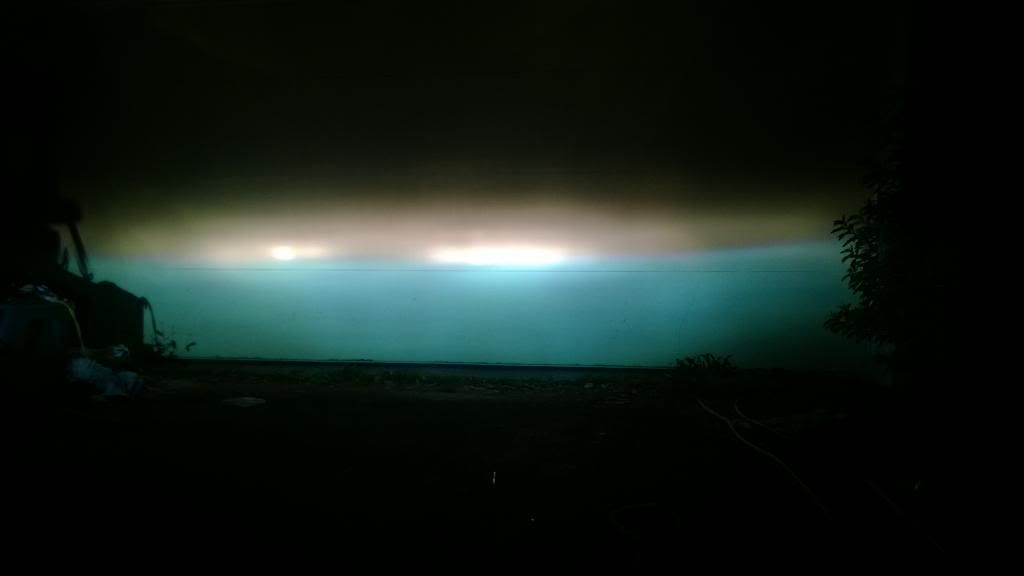 Low-beams
Low-beams
Lights off (obviously)