Earlier this Summer I purchased a 2004 RAM 1500 for my son and we've been working to replace various things on the truck which needed attention (we've put on new brakes, rotors, upper / lower control arms, 3" lift/level kit) and dress it up in other ways (new bed rail caps, spray in bed-liner, new tires). There was a pair of what I think may be aftermarket, bulb reflector headlamps with smoked lenses where the coating appears to be breaking down inside - visibility is crap and I want better lighting for my sons truck.
Looked for quality aftermarket HID headlamps and not impressed with anything, so we're going to do our own. Was going to go for a set of black housings to work with, but again, not impressed what what I was reading on quality of the housing itself in terms of plastic quality and adjusters, etc. Did not want to spring for OEM at $250/housing, so went with a set from 1A Auto as the connectors and the adjusters all looked to be better quality - though the interior its chrome, but that's OK - it will get painted.
The truck is Flame Red, with black trim - some chrome on the bumper, etc - but those likely are getting replaced eventually will all black..... so we're thinking all black on the headlamps.
Here is the headlamp in question.....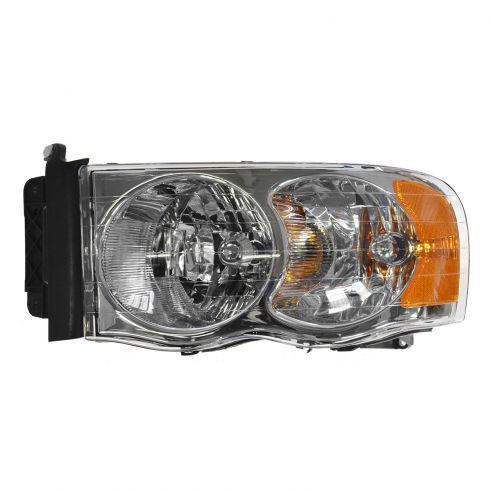 This fixture has a dual low/high beam, and then an amber turn-signal bulb on the outer reflector bowl
A few questions.....
- By law the amber reflector has to remain - correct? Are there options to maintain legality but tone it down in some way....
- Plan to black out the reflector bowl for the low/high beam, but would be we creating a problem by removing the chrome and blacking out the turn-signal bowl?
- Plan to replace the turn signal bulb with a switch-back LED - recommendations?
- Any specific paint needed (regular rattle can auto paint ok, or would high-temp be needed - for the housing / bowl or on the projector shrouds?
- Plan to use Morimoto bi-xenon projectors - any recommendations on which one given the size of the housing?
- May install Halo rings on the project - if so, most likely would do switch-backs - Morimoto??
- Thinking about using some form of LED switchback "rope" light in the housing - perhaps one of those that is "animated" - recommendations here?
There will be more I'm sure, but wanted to make sure I get this off on the right foot.... thanks in advance!