I've been hesitant over the years to try an do any upgrades to the incandescent lights due to the fact that the LED have generally looked worse during the day verses the incandescent. And have had poor viewing angles other than from directly from the rear. But it seems that they are getting better and may be at a point they can perform better without any of the negatives.
If I can find suitable replacements then I do know the whole community around this car will appreciate it. To get this bit out of the way, there has been a few companies selling LED replacements for this car, but none of it was more then finding bulbs that would fit and make most people reasonably happy. Furthermore they marked up the price way too much and have recently went out of business.
I would first like to focus on the rear tail lights, mainly to improve safety from visibility. This is a small car that people seem have a hard time seeing sometimes and brighter lights I'm sure will help.
Without further to do, here are the rear tail lights. I should mention, I am looking at a PNP type solution at this time. More people can benefit from this then a full custom job. I do have a design in mind for a custom made LED tail light that has a completely different look/design from OEM but its a big project that I won't be getting into anytime soon.
(not my pictures)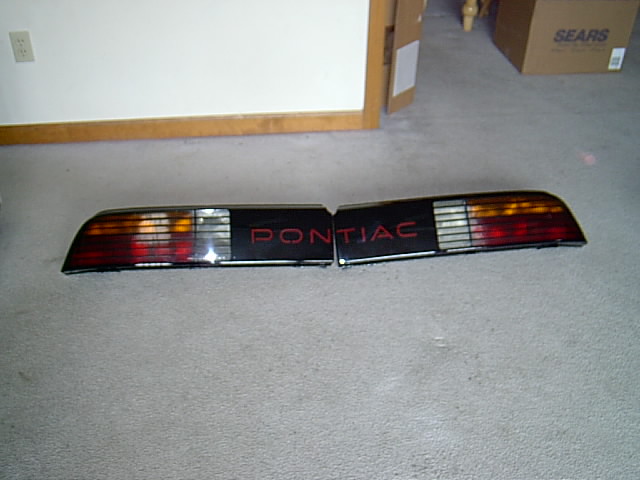 They consist of three parts, the rear reflector, a middle diffuser/colour lens and finally an outer clear lens.
The blue box is where the "pontiac" red plastic piece sits to make those letters red with lights on or off. The white box in the reverse light, I have fdriller9 bulbs in there. Yellow box is turn signal, and red box is the brake lights.
Bulb types are
"pontiac" = 194
Reverse = 1156
Turn = 2057
Brake = 2057
So far the only thing I've found that look good are for the reverse lights
Reverse 1156
, look a lot like the
Auxito
that people like.
I can't seem to find any amber/red LEDs in a 2057 (ba15) that are like the Auxito/Alla where they have their own socket and a wire with the bulb base on it. I'm kind of assuming with no evidence that they would be brighter than the plug in type. Even if they aren't brighter, I like the fact they at least have a heatsink. Though I'm not sure how much extra room I have behind the lights. Either way I don't see any glowing reviews for anything specific.
I should also mention I really do not want any "spotlight" effect and want the light to fill out the coloured section completely, or as much as possible. I also don't want an ugly colour if it can be avoided, just a nice deep red. And as bright as possibly without getting into overheat or burning issues. These lenses are current not replaceable and extremely valuable. Thankfully there is some working being done to make reproductions but they aren't available yet and still won't be "cheap"
This video shows some PNP LEDs installed. For the most part it shows everything I don't like with using LEDs. The turn signals are the exception as they do look as if they are nice and uniform but it's hard to tell and of course the video was done in low light and shining directly at the camera. Otherwise, the red brake lights have that bright hotspot/spotlight and are a ugly almost orange colour. The hotspot gets even worse with brakes on. The reverse light looks ok but I'm less concerned about it. Finally the bulbs for "pontiac" look terrible, sure they are brighter the colour is all over the place, kind of white and has random hotspots.
From reading around here it sounds like I need an LED that will flood the large reflector. And I'll want to avoid LEDs that have the projector optics or LEDs that are firing straight back. While looking at LED lights for my other car, I came across these:
Amber
or
Red
**, which look good and will be placing an order and trying them out on that car. They look like right design that would work in this application but I can't seem to find any for this bulb type. They are actually what prompted me to revisiting the idea of LED bulbs for this car. Can anyone else find something suitable or nudge me in the right direction? Is it possible to convert these somehow to work in the 2057 socket? Though realistically I don't have these in had so I don't "really" know how they perform.
**The red ones aren't designed for brake lights and are not to be used in that application so they technically aren't really right for this. Furthermore the red ones even from the pictures look to perform much worse than the amber.
Figured I would through in a picture how they look stock when on.