But just to clarify, its not the package size that matters (insert joke here
) but rather the DIE size. Since it is the die area that emits the light.
The ETi chip die area = 4.66mm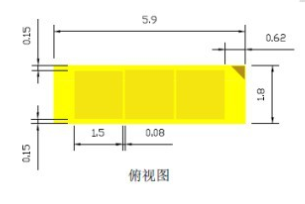 And halogen bulbs have different length filament coils so a one size fits all LED chip model is not always ideal.
And it isn't always just about matching the size exactly.
IMO, I think each bulb application must use a specific designed chip size that works best with that application.
H4 = 5.5mm / 4.5mm
H7 = 4.1mm
H9 = 4.8mm
H11 = 4.5mm
H13 = 4.6mm / 4.6mm
HB3 = 5.1mm
HB4 = 5.1mm
I find it interesting that Philips has chosen to use a chip that has a die area of 3.36mm in length for the H4 application (shorter than halogen) and for the H7 a chip with a die area of 4.51 (slightly longer than halogen). Do they know something we don't?