I finally got my hands on a 2017-2018 Nissan Sentra headlamp. What makes this headlamp so unique? Well for starters the middle and premium trims come with mono LED projectors. At first glance I thought, hmm ok, well maybe its just another Koito sample found on many other import vehicles? But I quickly discovered that it was none other than Hella. Was this Hella's attempt at providing an economy LED projector to the market? Perhaps trying to bite a piece of the pie that Koito has been chomping on for quite some time? We know that Hella is no stranger to LED forward lighting and they have many offerings on the Mercedes and BMW luxury market. But those are complex systems which do not make for quick and easy retrofit solutions. And as salvaged LED headlight parts become to be more available (and affordable), could this Hella unit be worth retrofitting? Let's take a closer look...
First impression when holding it is it seems large when compared to the Koito. And it is. Its wider and longer but overall weight feels the same (unmeasured).
Of course the body is an aluminum housing. Lens is plastic as well as the holder. The lens is glued on however the holder is screwed onto the housing. I suppose if anyone really wanted to tinker with the beam they could notch the holes on the holder to move the lens forward some to see what the affect would be. It appears to be possible and quite simple to do.
Now lets remove the reflector and see what's under her skirt! *always my favorite part
*
So we've got 5 teeny tiny Osram Oslon Compact CL chips (LUW CEUP.CE). True to their name, they are compact indeed. Their actually slightly smaller than the Luxeon Z ES chips. These Osrams are specifically designed for automotive lighting.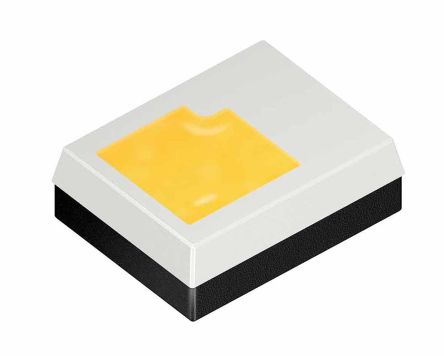 Based on their positions under the reflector its pretty interesting how they shape the beam. Its as if the middle one is used to create the hotspot and the outer ones to create the left and right halves of the pattern. The shield (metal) is attached to the reflector with 2 screws. Interestingly its a flat black color. I suppose this could be to minimize any unwanted glare due to reflection. Other projectors I've disassembled are either a natural silver metal color or chrome.
The LED circuit board appears to be aluminum however I have a suspicion that it may be copper with a coating over it. I say this because inside the notch holes is clearly a copper tone. I tried scratching the side of the board to see if it would reveal copper but it did not. Although I didn't get too crazy. I could be totally wrong and there might be a perfectly clear explanation for this.
And as I had the projector in my lap inspecting it, I turned it upside down and THIS happened...
The board just fell out. I was like WTF! Luckily it was on my lap and not the concrete basement floor. I then looked closely and low and behold I could see that there was NO THERMAL PASTE. Zilch. Nada. Could this be a goof in the production plant? Or intentional by design? I'm no engineer but how can you map a good thermal path just by sandwiching the board to the heatsink with screws? Perhaps for low powered LEDs maybe but not a low beam headlight. Who knows. Lets see how hot it gets when we turn it on.
Power is supplied through an external driver by Continental. And here I thought they just made tires? 12V results in a 1.38A current draw which is
16.5W.
First impression, to my naked eye, of the beam was a noticeable bright hotspot as well as good width (more so than the Koito). The cutoff is also much sharper with a more defined step. Color band along the edge is about the same as the Koito however slightly tighter with less red/orange hue. The only spot with the red/orange hue is at the step. After reviewing the images though you can clearly notice some shading towards the left & right of the hotspot up against the cutoff. The lower portion of the beam is filled in quite nicely without any excessive foreground cluster.
After about 20 minutes of on-time I grabbed the projector and the heatsink housing was warm maybe border line very warm. It was not hot as I could hold it comfortably in my hand. I'll admit I thought for sure (at 16.5W) that this thing would be pretty hot especially with no thermal paste. Power draw was rock steady the entire time with no indication of heat exhaustion. I think the driver module got more hot than the projector!
Now lets see how it stacks up against the Koito. I don't have the original driver for the Koito and I could not find any published specs on the wattage so I went with 15W as this seem to be appropriate. If someone knows the official specs please let me know. I know when I power the Koito too hard it color shifts which indicates I'm pushing it way beyond its limits. I just can't recall how high that was.
As you can see both are quite different. My lux measurements read Hella 223 lx / Koito 192 lx @ 10ft. Despite the shaded areas on the Hella it seems to pick up illumination beyond that and onto the shoulders. I think both have their positives and negatives. You'll have to decide which is more important for your project.
In conclusion, I hope that this was helpful to you. Let me know if you have any questions.