The latest offering from Osram is a clear capsule hid bulb that runs at 5000K and 3400 lumens. This may be the answer everyone is looking for: whiter light and no lumen loss.
Now Available at TRS!
http://www.theretrofitsource.com/pro...ducts_id=10591
----------------------
Here are various experiences and pictures posted by HIDplanet members:
------------------------------------
All the pic show the 85122+ on the top.
What doesn't help is the garage door is blue! At least you can see both bulbs in the same pics though. Please trust me though, they are whiter on the road. Sorry the pics are not brilliant. I did take some of the pics with different camera settings one was auto with no flash, the other was manual night setting, no flash. All hand held freezing me bits off!
----------------------------
And a couple of comments from the first impression of using (igniting and watching) the new bulbs:
1. When they start up the CBIs are having purple tint (instead of the 85212+ blueish). On the way this purple becomes pure white (w/out any color tint, certainly not blue), while the 85122+ becomes... yellowish white.
2. The CBIs produce an extremelly colorfull cutoff band: blue, purple, cyan, a little bit of yellow line... and a bit orange (when shinning far away) in the RX-330 AFS (clear lensed projector).
3. I have the impression they are "wider" than the Philips. I mean the "end of the projector light (right side - passenger) is much more "filled" with light, and so is the opposite (left) side (driver's). On the road there seems to be more light.
I'm going to drive them tonight, get some pics if possible, and I promise I'll post my news tomorrow!...
Till then... enjoy the pics!...
Costas
---------------------------
My friends,
I just got back from my first night drive with the new CBIs.
If anything else, guys, these bulbs are really INTENSE !...
They're also COOL BLUE, compared to my good-old Philips 85122+s.
One thing I noticed very well is their intensity.
Of course the 85122+ is a very bright bulb. But guys, these Osrams are (I think) a bit brighter. Keep into consideration that my 85122+s are almost 6 months old (with low use) and these CBIs are brand new. I believe as soon as they get used for a few hours they'll become even brighter, as their "salts" will mix better, and the metal halides will evaporate repeatedly (due to their use). Still they are very bright. Of course one has to keep in mind this 5000K fact. Yes these are 5000K bulbs. Though they do not have (at least for now) this blue tint (usually met in a/market - non OEM bulbs rated @ 5000K). Instead they produce nice tones of cyan - and even light greenish tones, but their overall output is clearly "colder" than any 4100-4300K OEM bulb. To be honest, I didn't really like that. I'm used to the yellowish tinted white produced by the Philips 85122+. Even the CRI of the 85122+ must be better than this of the CBIs. At least for my eyes. What I really mean is that I suppose I have to get used to these new bulbs. When driving with low speed I could clearly see (and understand) easier the various grass, mud, stones and other items seen at the edge of the road. But... when I was driving a bit faster, I had the impression that (especially the grass and some herbs) seemed like as if they were "dusted" or "lightly snowed" - if you see what I mean.
The overall performance is: cooler, wider... different !...
I think I will need an "adjustment" period for my eyes to get used to this new color. I must say that I took me some time to get used to the 85122+s too, since till then I was using some 5000K aftermarket (terribly bluish) bulbs, and I was "annoyed" (as I am now) by the yellowish output of the 85122+. Now, I'm on the "other side" of this road. I must get used to less yellow and "cooler" driving conditions.
One other thing is that the width is definatelly broader. I don't know how this happens, but I can see in a much wider area than before (using 85122+). Also, I have the impression (perhaps due to the cooler tint of the light) that on certain surfaces the output looks dimmer (than with the 85122+) but certainly not on the road. On the road I have much more light, and I must get used to it!...
Is it worth using them? I think yes - as a first impression. They don't luck output, they don't look yellowish at all, they're not blue - like most of the silly a/market hid kit bulbs, they give the impression you're driving in a "cooler environment"... One thing is for sure: we both (the CBIs and I) need some time for "adjustment". Then, I will be really able to say if this bulb is worth its (dear) money or not.
I'll be back soon, with more night drive experiense (as soon as I gain it)!...
I think you can clearly see: 1. the "snowed" feeling - notice both edges of the road, 2 the nice thick blue cutoffs.
Please notice that the road I'm in is covered with "whitish" dust. Still it's "super white" thanks to the CBIs.
I'll be back soon !...
Costas
---------------------------------
A new "comment" for the CBIs: it's the first time, in the last 3 years that I'm using my retrofitted headlights, that
I CAN SEE my headlights on the street and on the sidewalks
, under very intense public illumination !...
And you know what?... I like it a lot!...
---------------------------
and this one from the passenger's side at 43w power
The light is toooooo much!... anyway (35W or 43W).
I hope you receive your CBIs soon, so I could see some more "decent" shots than mine. Also, I'm curious to read your impressions on these bulbs.
----------------------------
Well after putting around 5 hours on them I must say I'm in love with driving at night again haha
I got lucky Sat. night and ran into my buddy Efren in his 2003 S2000. He is running the oem bulbs for his year model, Philips 85122 +'s. My car is a 2001 and came factory with the non + Philips and in time I've heard they get more and more blueish in color.. also as the bulbs age they lose lumens.
(Excuse MY typo on 'Philips' not 'Phillips' Sleep deprivation from night driving =D )
Oh and all the pictures are from my Droid X phone so it could have been much better quality. They don't do the light justice at all.
Now for the side by side shots =] Keep in mind his car is about an inch lower than mine but that is no excuse for him hahaha
------------------------
It finally warmed up enough to go outside at night. Took some pics of the Osram 66240CBI bulbs in TSX projectors using my Nikon D5000 Digital SLR camera.
These shots have not been edited in any way.
Camera settings
Exposure Program:
Shutter Priority
WB:
4200k
ISO:
200
Flash Mode:
No Flash
Exposure Time:
Varies (See image description)
Aperture:
Varies (See image description)
Focal Length:
Varies(see image description)
F-Stop:
Varies(See image description)
Exposure Compensation:
0

--------------------------

The numbers are off the wall in favor of the CBI's. I attach a string to the projector at a fixed distance and attach to other end to a remote sensor. I let the ballast and bulb warm up then I find the best reading by moving the sensor up down right left. It's in no way an exact measurment and is really measuring the hot spot.
I used a RX350BX for the test with a STI-R lens. I did this three times with each bulb in rotation and the number came up the same for each bulb (within 1 or 2 lm).
The closer to the lens you get the higher the numbers go so you can't compair these lumens to the number the OEM says on their data sheet. They just show the difference between these three bulbs.
66240 CBI 4143lm @ 173 degrees
66040 2740lm @ 174 degrees
85122 2554lm @ 169 degrees
I couldn't believe the CBI were so much higher but like I said above I did this three times in rotation, changing the bulbs and letting them warm up each time with almost the exact same results.
-------------------------
Have a look at my new retrofit:
OEM (Valeo) headlights with RX-330AFS (colormoded by Stefanos) with OSRAM 66240CBI.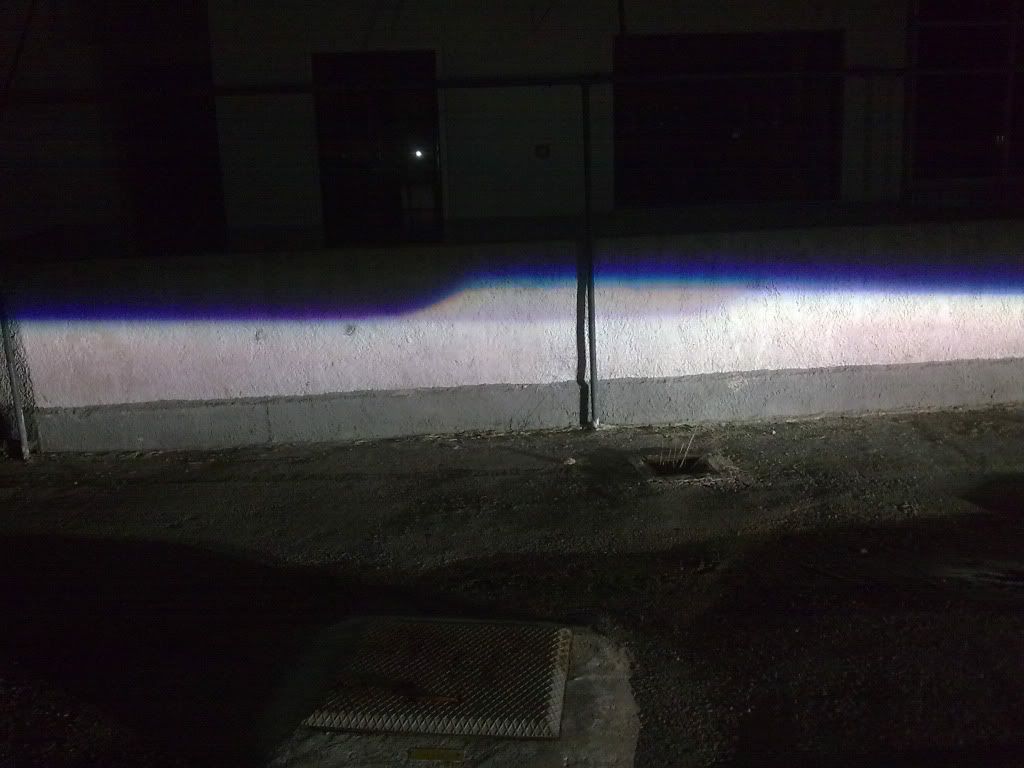 -
-------------------------
Here's a pic of a loose RX350bx with a new 85122+ and below is my civic with the CBI's with the RX350bx's. The CBI's are behind a lens the other is not. I locked everything in my camera this time and the picture looks very close to what I see on the dirty garage door. Only thing a little off is the top projectors light looks more uniform in person, and I think I got the upper one too close to the cutoff on the civic so it washed a little color out of the cutoff.
You can also get a good look at the dark box they put in this projector under the cutoff in the top picture.
After preveiwing this picture there is way more color both in my original pic and in person.
'
------------------------------
Well my first impressions are going to sound about the same as everyone else:
Before my retrofit I had a 5000k kit (bad, i know) and switched to the 85122+ bulbs after I got projectors (S2k). I loved the white I had before and couldn't stand the yellow of the Philips. When I put the CBIs in, they were a bit dimmer than the Philips, and just
barely
whiter. I wasnt very impressed.
After about three hours of usage, they got noticeably whiter and brighter. The beam was just as wide as before, but there was definitely more light to the sides. At this point they were already brighter than the 85122+'s and the white light definitely stood out much better than the yellow of 4300k. The cutoff was easily seen far in the distance on a brightly lit highway. There is still a little bit of yellow in the beam, but it is disappearing quick.
I was considering 55w before, but these bulbs definitely don't need it.
Mind you, this is just after 3 hours. I'm pumped to see how they look after they finish breaking in.
And no, thats not overexposed. Thats what color the sky actually was there.
----------------------------
another happy customer. newer audi a4 with bixenon and CBI bulbs (in hi beam mode). who likes daytime at night?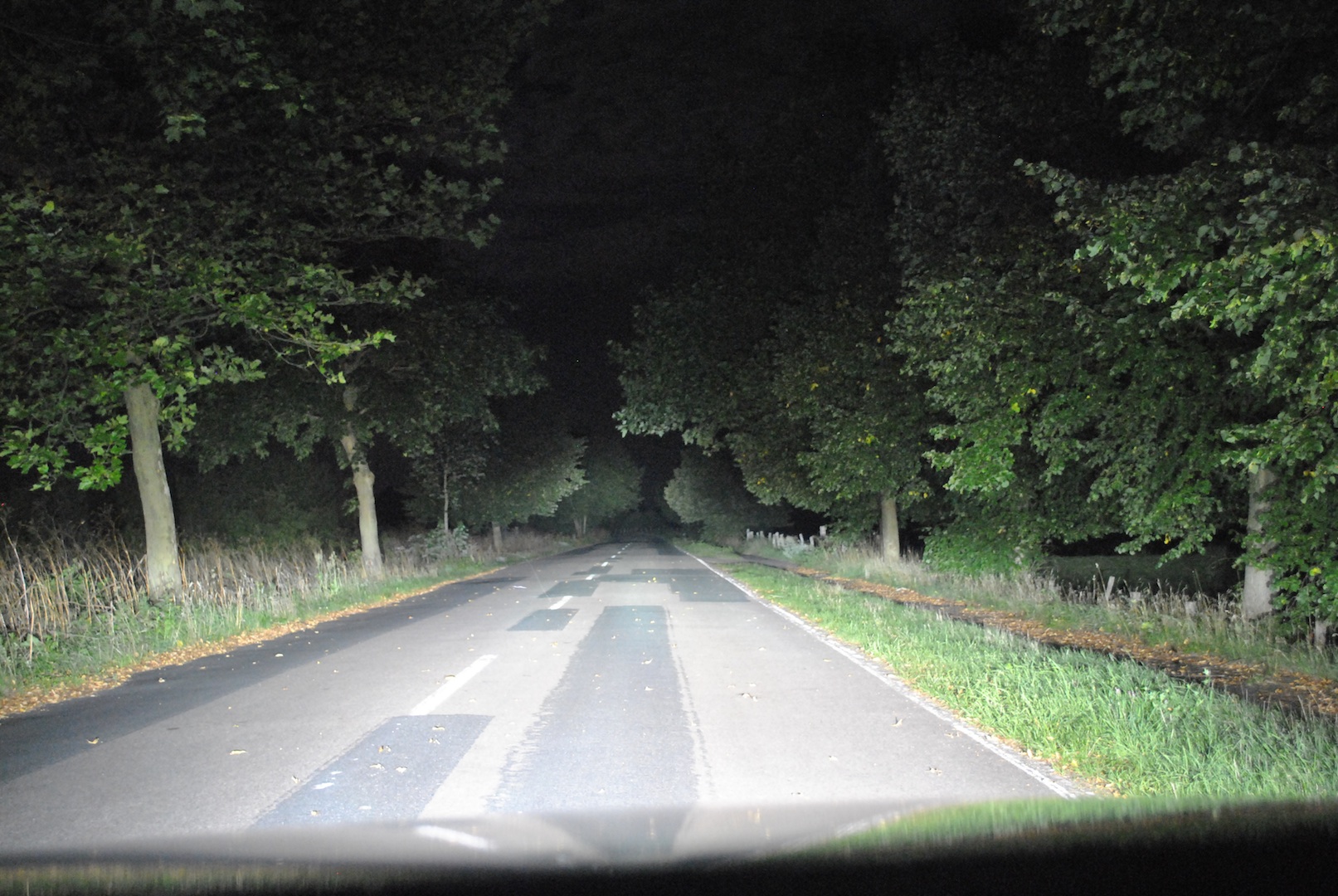 --------------------------
In response to my previous post, here are some pictures I took tonight for your viewing pleasure. The CBIs 100% overpower those nasty orange lights they use downtown. (Mind you, this was a pretty lit area... I could easily drive with my lights off).
Mine are fully broken in now and I love em in s2ks
k
--------------------------
Got together with a friend who has the same projectors as me modded in a similar manner. I've got the Osram CBIs, he's got Philips 85122 (+ I think). My car's on the left, his car on the right
Sorry about the iPhone 4 photo. He took some pics with his Nikon D50 that he'll email me later. Still, I think this shows that there's a considerable brightness difference
---------------------
To all those with FX projectors, heres a comparison. I don't know if the projectors have issues with these bulbs or not. Sorry I could not do this on a bigger wall, but this should at least give you an idea of color
81522+ on top (4300k)
CBI on bottom (5000k)
---------------------------
Alright guys ,I try to save time for some pics , few bad things that I didn't have a big wall +not good at camera either so this what we'll get (I don't think is help for compare ),may be just for fun/share
Both are Osram
ld style (66040 50hrs) VS new style (CBI)
All pics 24 ft from projector to wall with diff position on camera
OEM S2000 stock (so much for a razor cutoff I heard about before buy )
66040
CBI
----------------------------------
Top is fresh out the the box from Matt marked CBI 35w 66240 bottom I got from Germany in retail boxes marked 66240CBI and has 20+ hrs on it.
-----------------------------------
Well I tried to take pics but I suck @ it so heres some shots that dont look shitty...puts out a wider, brighter, super white light...again these are new so once they are burned in I will post pics comparing the before and after...Keep in mind that pics never do lights with enough justice...
l
-------------------------
comparison of fake chinese philips CM bulb (1000 hrs) on the left and new osram CBI on the right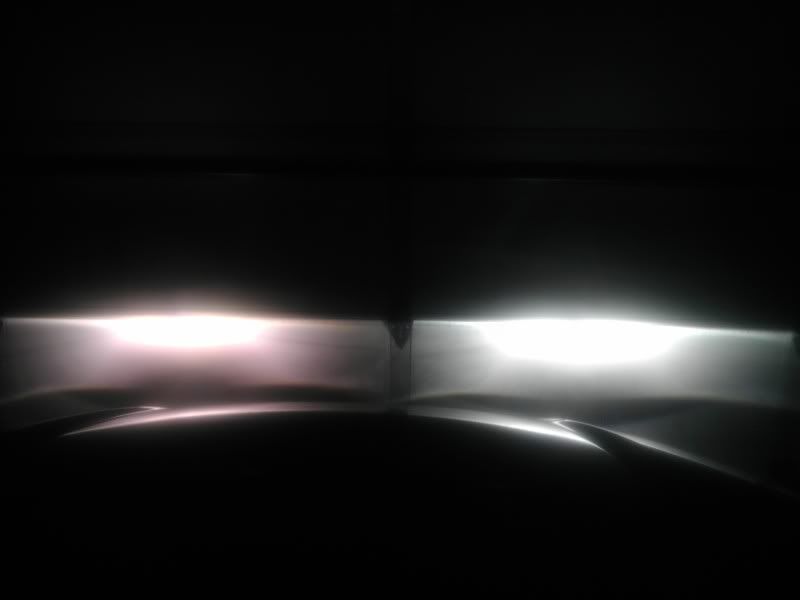 --------------------------
lexus IS oem reflector hids with CBI left and morimoto 5000k right.
---------------------------
In LS430 projectors:
CIMG5946-2
by
gold94corolla
, on Flickr
IMG_9278-2
by
gold94corolla
, on Flickr
------------------
Comparing CBIs and Morimotos:
http://www.hidplanet.com/forums/show...ed-Take-a-Look